White Oak is white hot for bass
May 12, 2021
Randy Zellers

Assistant Chief of Communications
CAMDEN — Stephen Tyson Jr. nearly called his shot on the timing when double-digit fish would start to show at Lower White Oak Lake in Ouachita County. He'd been gradually catching bigger and bigger fish on the recently renovated lake during the last few years, and this March, he finally connected with a true 10-pounder.
"I've just about lost track of the number of 8-pound fish I've caught this year, but I know I've caught more already than I caught all last year," Tyson said. "This year was the first 10 pounder I've caught from the lake. It came this March on a jerkbait. I've caught another that was probably 10, but I didn't get a chance to weigh it."

Tyson has been fishing the lake since he was able to hold a fishing rod, and has gained a solid reputation as one of the anglers to look for on both Upper and Lower White Oak lakes.
"I probably fish here at least 16 times a month," Tyson said. "I live about 20 minutes away, so I'm out here a lot when I'm not fishing tournaments in other parts of the state."
Built in 1960, White Oak Lake is the second largest of AGFC lakes but it is in two sections. The unusual facility is actually two lakes separated by a dam. Together they cover more than 1,700 acres. Forget map directions, Upper White Oak Lake is the southern lake, while the northern portion of the complex is Lower White Oak. The "upper" and "lower" designation refers to how water flows through the system. White Oak Creek flows from south to north to meet up with the Little Missouri River northeast of Bluff City.
The 1,100-acre lower lake was drawn down for a major renovation in 2012, when the gates in the water control tower had finally deteriorated beyond repair from old age and had to be replaced to prevent the lake from draining. During that drawdown, AGFC staff took advantage of the situation to boost the habitat and increase boating access in the aging reservoir. Gravel beds were placed on the lakebed in some areas to promote spawning habitat; and nearly 100 fish attractors created from dead and dying trees, each about the size of a semi truck, were placed throughout the lake. Rock piles and catfish "clubhouses" also were placed in key areas of the lake to offer a variety of cover. More than 1,100 tons of lime was applied to make the lake more receptive to future fertilization efforts. Boat lanes also were improved to help with navigating the lake.
"Watching it get redone was a hard hit on me," Tyson said. "And with all the new vegetation and cover, it was a different lake. It was almost like those fish were confused, but they're getting adjusted and it's one of the best bass lakes in the state."
Part of that success may also have to do with the lake's fishery management plan developed by biologists with input from public meetings in 2013. The meetings were used to gauge anglers' desires for the newly renovated lake. With that information, biologists crafted a plan to try to meet the public's expectations.
The first step toward rebuilding the fishery and addressing anglers' expectations was the establishment of a robust forage base. Andy Yung, regional fisheries supervisor at the AGFC's Camden office, says the first year the water refilled, AGFC hatchery trucks added tons of threadfin shad, fathead minnows, redear and other forage species to get them going. The lower and upper lakes have seen regular stockings of Florida bass, including some adults in the lower lake that first year to help control rough fish and give it a genetic boost while the lake was refilling.
"We followed it up with an initial stocking of about 113,700 largemouth bass fingerlings in 2014, but those adult fish from the year before likely produced more than that," Yung said. "Some of the big fish being caught now are likely some of those original stockers or their offspring from the first year. We've heard of a few double-digit fish in the last couple of years and we saw one 9-pounder in our surveys this spring, so they're in there."
Tyson thinks changing the slot limit through the years has been instrumental in growing and protecting White Oak bass, too.

"When they first opened it, it was catch and release only, then they moved to a slot limit to help those mid-size fish grow," Tyson said. "You started to see a lot of fish in that size range, then they opened it up a little more. Now it's got a one over 20-inch regulation that's letting folks keep some of those small fish and saving a lot of the big ones." Editor's note: The complete black bass regulation for Lower White Oak Lake is a daily limit of 10 with only one allowed over 20 inches. The upper lake has no length limit in place.
Yung says this sort of adaptive management is helpful in offering local anglers the ability to enjoy some harvest without compromising the lake's ability to produce some good-quality fish.
"In some of the larger Corps reservoirs in other parts of the state, people tend to catch-and-release so much that slot limits don't really work," Yung said. "It's sort of like passing a rule against eating liver and onions to someone who doesn't like liver and onions anyway. It's not going to matter. But we see a good amount of anglers visit White Oak that do want to harvest some bass, so regulating it to focus harvest on some of the smaller fish helps free up some of the lake's forage to keep feeding those larger fish and keep them growing. As a fisheries biologist, you don't get the opportunity to hit the reset button on a lake that often, so we've tried to keep that trophy potential around as long as we can and still satisfy some of those anglers who want to keep some fish."
When asked if he's worried about the lake getting crowded from promoting it, Tyson has to smile.
"There's plenty of unpressured water on that lake," Tyson said. "I've posted a lot of big fish photos on my Facebook page and never said outright where it was at, but somehow folks figured it out anyway. If I had to send someone to a lake where they had a really good chance at hooking into a trophy bass right now, White Oak would be at the top of the list. I've even seen folks from other states, including Texas and Louisiana making the drive up to fish it lately. There aren't many places you can be confident launching the boat saying, 'I'm going to go catch a 7-pounder today,' but White Oak can be that good."
---
Recent News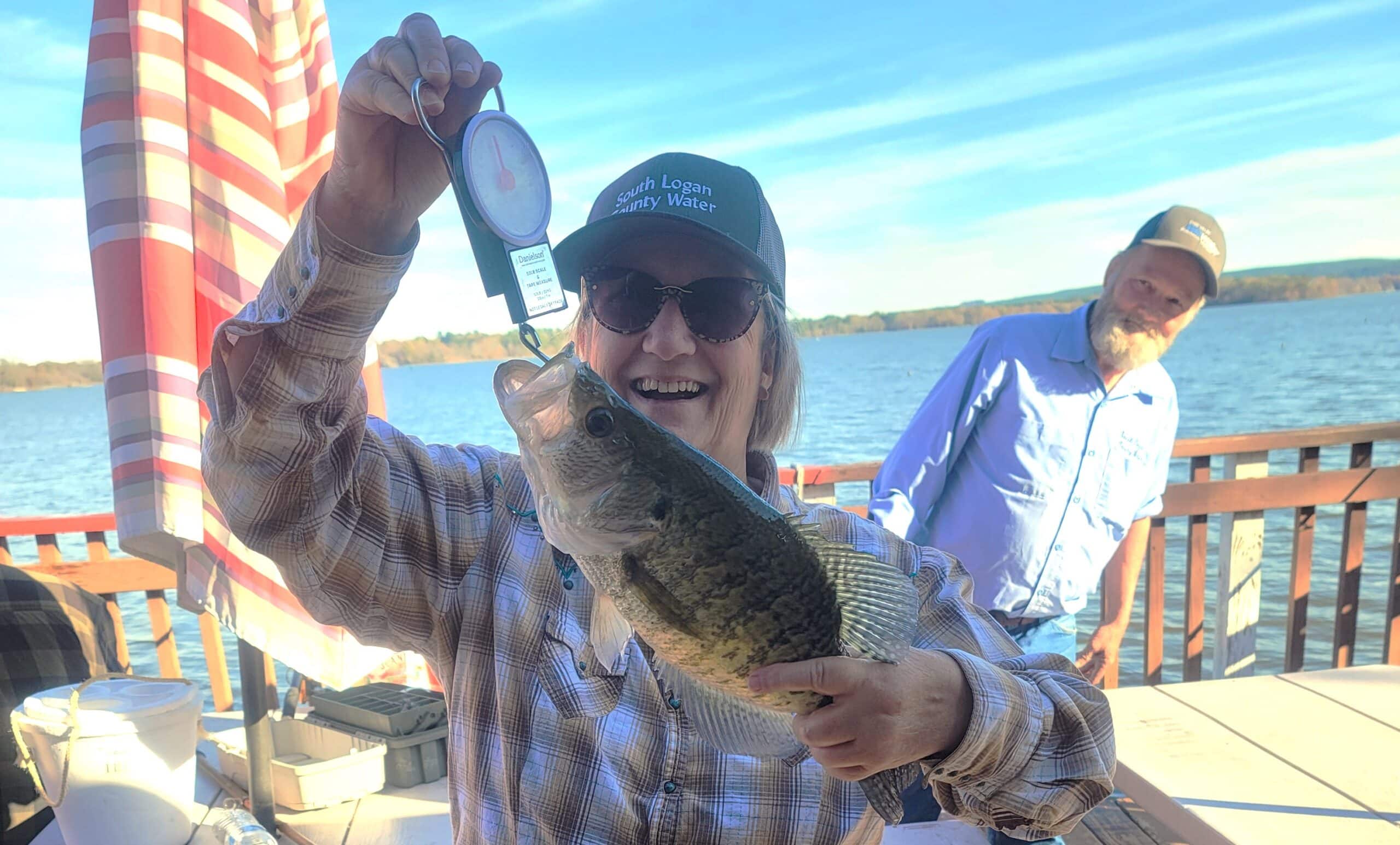 Subscribe to Our Weekly Newsletter E-mails
Don't miss another issue. Sign up now to receive the AGFC Wildlife Weekly Newsletter in your mailbox every Wednesday afternoon (Waterfowl Reports are published weekly during waterfowl season and periodically outside the season). Fishing Reports arrive on Thursdays. Fill in the following fields and hit submit. Thanks, and welcome!