Who Needs a Boater Education Card?
Anyone born on or after Jan. 1, 1986, and of legal age to operate a motorboat or sailboat, must have successfully completed an approved AGFC Boating Education Course and carry proof while operating a motorboat or sailboat on Arkansas water.
Age Requirements for Operating a Boat
To operate a motorboat powered by an engine of 10 horsepower or more, a person must be 12 or older, or be under the direct supervision of a person at least 18 years old.
To operate a personal watercraft, a person must be 16 or older, be 12 to 15 years old and be under the direct supervision of a person at least 18 years old, or be under 12 and be under the direct supervision of a person at least 21 years old.
Once you have your boater education card, it's good for life. However, if you happen to lose it on the water, you can always order a replacement boater education card.
Sign Up for Boater Education Online
Now, there are two ways to take boater education online.
The Original Arkansas Boater Education Course
$34.95
Want your course to feel like a movie? The original Arkansas boater education course offers live-action, high-definition videos featuring a combination of professional educators (who double as professional actors), entertaining storylines and up‐to‐date scenarios that give you one of the most effective ways to learn safe boating practices.
The New Interactive Arkansas Boater Safety Course, ilearntoboat
$49.50
Gamers, this is the course for you. ilearntoboat is a gamified boater safety course, built around real-life scenarios. Your character is put in the driver's seat, allowing you to put your boater safety knowledge to the test. As you make decisions for your character, you move through the levels of the course.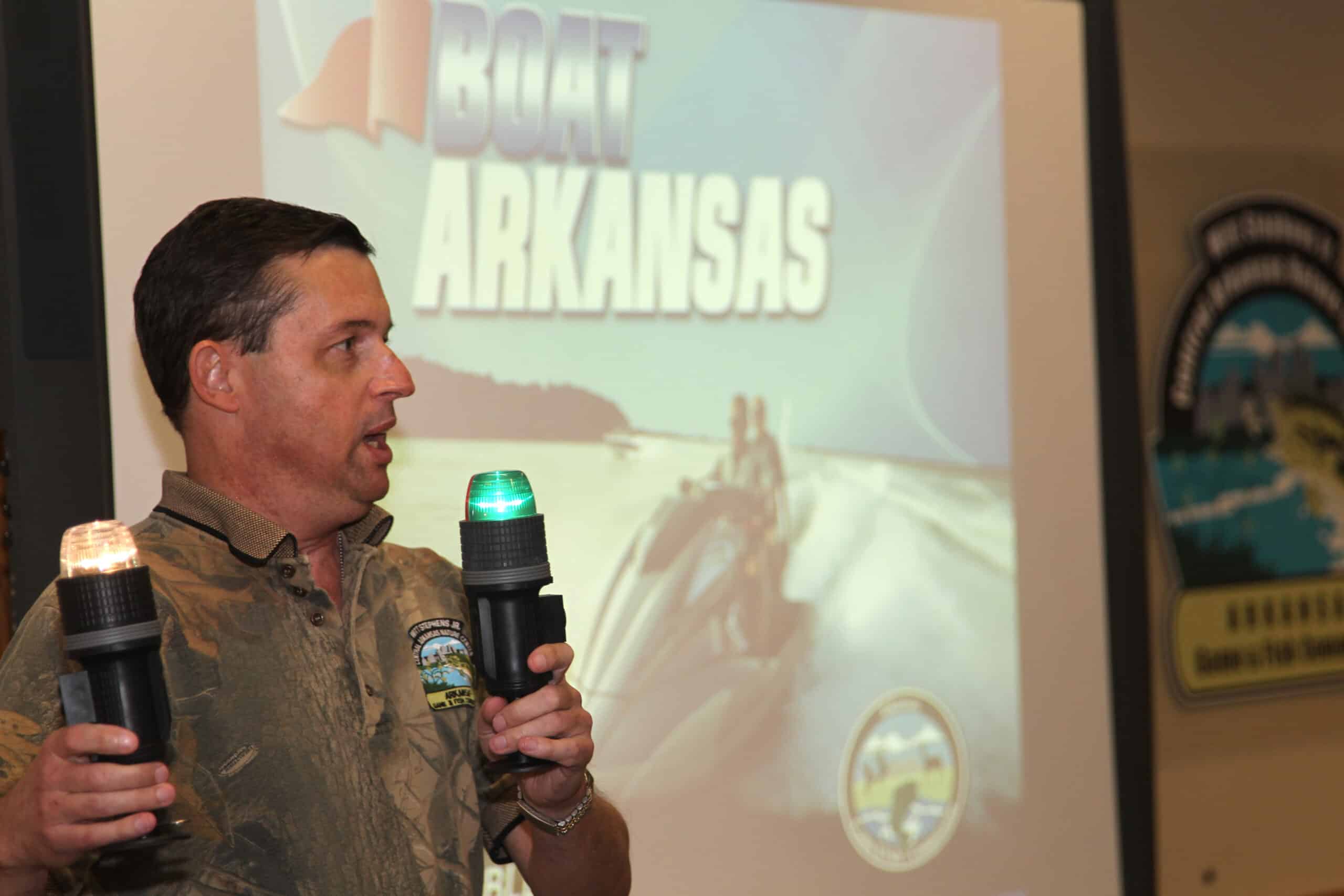 Take Free, Instructor-Led Boater Education Classes
The traditional method for boater education is an instructor-led class. These classes may last a couple of hours each night for three to four nights or a full Saturday. Instructor-led boater education classes are free.
Replace Your Boater Education Card
Lose your boater education card? Replacement boater education cards are available for a small fee online or by calling 1-800-830-2268.
Boating Regulations
Arkansas is blessed with more than 600,000 acres of lakes and more than 90,000 miles of rivers, streams and creeks. Boating is big fun, but it can be dangerous if protocol is not followed. AGFC works to minimize accidents on the water through education and enforcement of boating regulations.
Use the resources below to learn to enjoy the water the right way.
If you would like to become a Boater Education instructor, please reach out to one of the staff members below.
Aimee Swaim
Interim Archery in the Schools Coordinator
Joe Huggins
Hunter Education Coordinator