North Arkansas resident honored at 7th annual AGFC Enforcement Awards
March 5, 2020
Jim Harris

Managing Editor Arkansas Wildlife Magazine
LITTLE ROCK – An Arkansas resident of Midway, near Mountain Home, was the first civilian honored in the seven years of the Arkansas Game and Fish Commission's Enforcement Awards. The honorees, including 10 AGFC enforcement officers, were feted Tuesday, March 3, at the Crowne Plaza Hotel in west Little Rock.
Richard Fischer became the first honoree to receive the AGFC Enforcement Civilian Medal. Major Glenn Tucker said the medal is awarded "to an individual who has demonstrated courage, resourcefulness and unselfishness, including high regard for others safety, alongside or in service to the AGFC Enforcement Division."
Fischer was on Norfork Lake in north Arkansas in late November 2018, about to finish up his fishing for the day in his 2002 Ranger Cherokee, when he heard a thump and then a young girl screaming. He estimated Tuesday that he was about a quarter- to a half-mile from the problem: a man had fallen off a pontoon boat and his daughter was in the 45-degree water trying to rescue him. The pontoon boat was circling them. The man had been struck by the boat's propeller.
"The first thing I did before heading to them was to call 911," Fischer recalled. Fischer was able to get the girl out of the water, but the injuries the man had received forced Fischer to hold him along the side of the boat while driving them to shore, about 50 yards from the accident. By quickly calling 911, an emergency team of local firemen was already on site when they reached the shore. The girl survived, but her father suffered severe injuries and did not. "The young girl was amazing, she was the real hero. Her father sunk probably three times but she wasn't going to let him go. It was very traumatic. My whole goal was to get inside the circling pontoon and get them out of harm's way."
Fischer was joined at the luncheon by friends Carol Balance and Fred Gordon, fellow members of the Twin Lakes Walleye Club from the Mountain Home area. Gordon noted that Fischer's nickname is "Go Fisch." Fischer retired to that area 15 years ago after living throughout the U.S.
"I heard about (the area) from a guy who opened a fly store in west Yellowstone (National) Park 20 years ago and told me about the White River, the big browns. And when I was going to retire I said, 'Where can I go to live that I can afford?'"
The walleye club put in a recommendation for Fischer and Jeremy Risley of the AGFC Fisheries Division office in Mountain Home wrote the nominating letter for the award, Fischer said. "I feel so honored," he said. "God put me there at that moment."
William Cheers was awarded the AGFC Lifesaving Medal, which goes to wildlife officers who, through direct personal intervention, sustain the life of another person.
Last August, Cheers was on duty when he heard over his radio a call for help for a person injured in a shooting. Cheers was nearby and found a male victim lying on the ground with a gunshot wound to his right thigh and an arterial bleed. Cheers retrieved his first-aid kid and trauma pack from his vehicle, applied a tourniquet above the injury, and waited until an ambulance arrived. The victim made a full recovery.
Nine AGFC officers received letters of commendation, which are awarded to individuals who through their actions have demonstrated performance above and beyond normal duty requirements and who have demonstrated traits such as courage, resourcefulness and unselfishness, including high regard for others' safety:
* Late last May, during a major flood season, Lt. Jerry Smith, Senior Cpl. Jay Hagans and Cpl. Chad Cruce responded to a call of a truck being swept off a low-water bridge by floodwaters and a woman inside the vehicle. Local firemen had tried unsuccessfully to reach the truck with a bulldozer. Cruce, using his swift-water training, geared up, attached safety lines, and began to make his way to the woman through the water. Cruce chose an area with a boulder field and several small trees as his path to the trapped vehicle. He reached the woman, put a rescue vest on her, and had her climb down from the vehicle onto his back. He then secured a rope to her lifejacket, with support from his lifejacket, then assisted her through the flooded creek to safety, with Hagans and Smith assisting.
"Due to these three officers working together as a team with quick thinking and calm professionalism, they were able to successfully rescue the woman and prevent this dynamic situation from becoming a tragedy," Tucker said.
* In April of last year, Cpl. Jonathan Byrd and Wildlife Officer Chris Crawford took a call about a man stranded in floodwaters on a wildlife management area. WMA personnel had come across a male subject in the upper weir who they said seemed disoriented. They'd tried to help the man and bring him out by boat, but he refused. Byrd and Crawford, along with two other staff members, took boats back to the area. The found the man standing outside his car in floodwaters. While talking to the man they discovered that he had been there for 10 days. He was possibly diabetic and his mental state was altered due to the extended stay in the elements along with the lack of food and water, they reported later. The man told them he had been drinking rainwater, eating bugs and taking anxiety pills to stay alive. The officers assisted the man into the boat, put a life jacket on him, and gave him Gatorade. They took the man to an awaiting ambulance and, although at first the man refused to go to the hospital, the officers were able to talk him into going for further medical evaluation.
"Due to the quick thinking, professionalism and ability to relate, these officers successfully rescued this man from a dire situation," Tucker said.
*In February 2019, Cpl. Brett Ditto and Officer Jeff Dalton responded to a call to assist Randolph County personnel with a suicidal subject who had just committed an attempted murder and domestic battery – a woman had been stabbed in the chest and the subject had fled the scene. He was found in a field next to a pond, and as deputies approached he began walking into the water. After futile negotiations with the subject, the sheriff's officer asked Ditto and Dalton to assist with a boat. Along with a dangerous subject, the air and water temperatures were near freezing. After more futile talk and darkness approaching, Dalton and Ditto decided to launch the boat and make their way to the subject. Finally, they were able to talk the man out of the pond and into a deputy's vehicle. After visiting a medical facility, the subject was later charged with second-degree attempted murder and first-degree domestic battery.
"Due to these officers' verbal skills, selflessness and high regard for others safety the subject was taken into custody with no further harm to himself or others," Tucker said.
* Last November, Cpl. Logan Brown was called to assist the Union County Sheriff's Office with a missing hunter. Talking with the man's hunting camp members, Brown ascertained that he was having medical issues related to diabetes. The man had told one of the club members by cell phone that he was tracking a deer he shot but his blood sugar was getting very low. Without any specific location to search, Brown used the limited information he had to determine the most likely place to begin the search. After making his way through the thickly wooded area, Brown found the hunter lying face down. Brown rolled him over and propped the man on his leg. He was breathing and opening his eyes but was unable to communicate. Brown alerted a deputy to bring an ATV to the location so they could get the man to an ambulance. The hunter was taken to a nearby hospital where he spent five days recovering.
Wildlife Officer Troy Sayger responded to a call to assist a man in floodwaters who was screaming for help. When Sayger arrived he was met by a lady waving her arms and screaming, "Help, he is over here." At the water's edge Sayger could hear the man screaming for help but could not see him. Sayger did not believe he had enough time to get a boat so he put on his lifejacket and began to swim to the man's voice. He constantly yelled to the man to continue talking so he could pinpoint his location and make his way to him. Once Sayger located the man, he was hanging onto an overturned boat and the man's dog was standing on the top of the boat. Sayger removed his life jacket and put it on the man. The man was complaining of chest pain, so Sayger attempted to calm him down and got him to lie still on top of the boat. Sayger worked to push the capsized boat toward the bank, but when another vessel came by, Sayger put the man into that vessel, then was able to get the dog to safety. The man received medical attention at a local hospital.
Tucker said the awards start with an officer's district administration recognizing effort "that goes above and beyond what we as AGFC officers normally do. These awards are not for an officer who is simply doing their job."
---
Recent News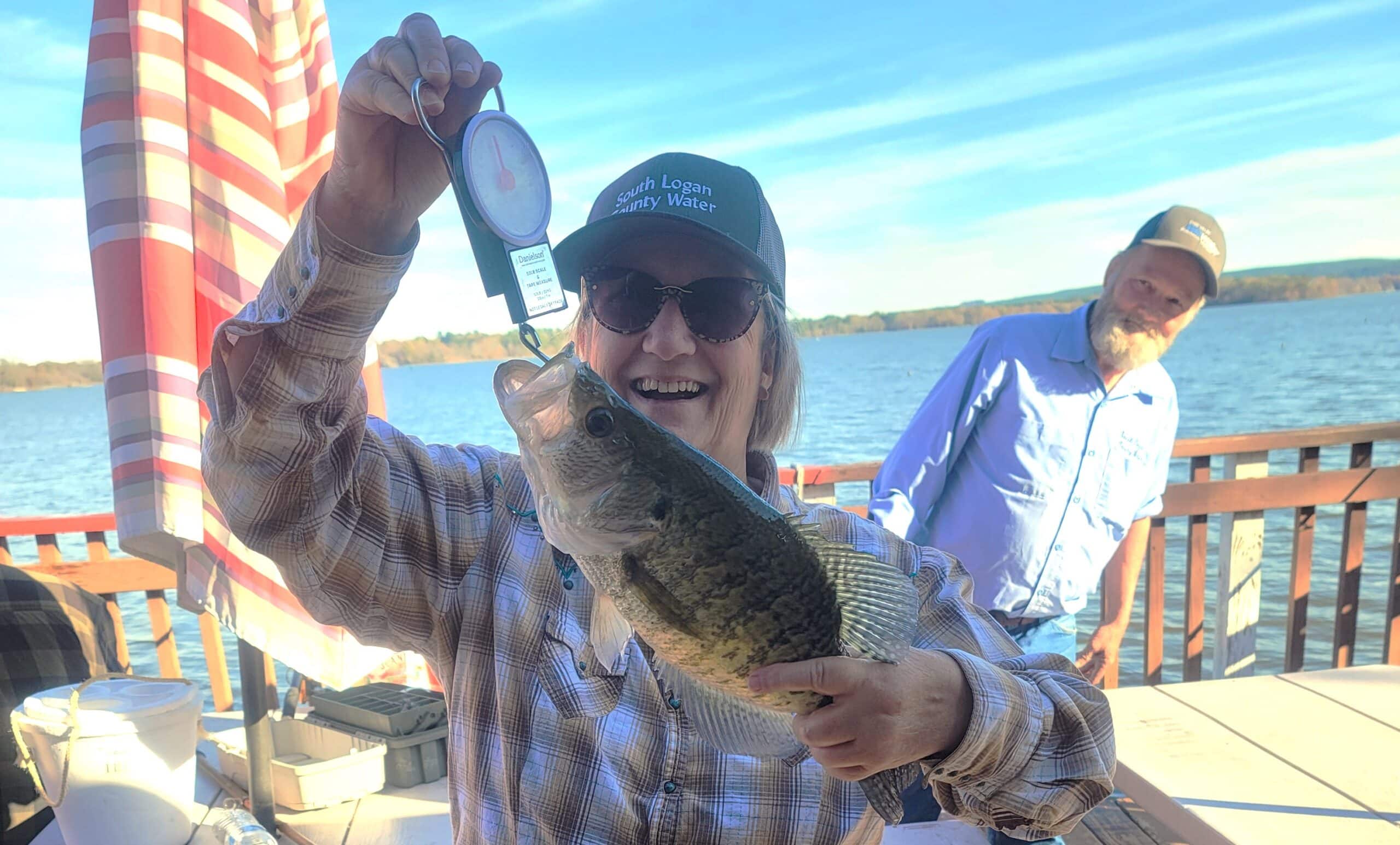 Subscribe to Our Weekly Newsletter E-mails
Don't miss another issue. Sign up now to receive the AGFC Wildlife Weekly Newsletter in your mailbox every Wednesday afternoon (Waterfowl Reports are published weekly during waterfowl season and periodically outside the season). Fishing Reports arrive on Thursdays. Fill in the following fields and hit submit. Thanks, and welcome!