Arkansas Wildlife Weekly Fishing Report
Sept. 8, 2022
Reports are updated weekly, although some reports may be published for two weeks if updates are not received promptly or if reporters say conditions haven't changed. Contact the reporter for current news for the lake or stream you plan to fish.
---

TOP AND LEFT: Tommy Laird, an Arkansas Game and Fish Commission assistant chief in the Fisheries Division, helps with the stocking of rather large blue catfish that were donated recently to the AGFC for use in the agency's Family and Community Fishing Program ponds. The catfish producer from south Arkansas who wished to remain anonymous, donated more than 10,000 pounds of blue catfish, with most fish weighing more than 7 pounds and some giants tipping the scales at the 30-pound mark. The AGFC typically stocks channel catfish when providing catchable-sized fish for anglers in ponds, but these blue catfish will offer even more fight and provide excellent table fare for those anglers lucky enough to hook, and land, these larger targets. The FCFP has nearly 50 fishing locations around the state. Visit www.agfc.com/familyfishing to find one near you.
Quick links to regions:
Arkansas River and White River levels are available at: http://water.weather.gov/ahps2/index.php?wfo=lzk
For real-time information on stream flow in Arkansas from the U.S. Geological Survey, visit: http://waterdata.usgs.gov/ar/nwis/rt
For water-quality statistics (including temperature) in many Arkansas streams and lakes, visit: http://waterdata.usgs.gov/ar/nwis/current/?type=quality
Download the Fish Brain app and follow AGFC at: https://join.fishbrain.com/agfc-page
---


Craig D. Campbell Lake Conway Reservoir
(updated 9-8-2022) Bates Field and Stream (501-470-1846) said bream are good on redworms, crickets and hair-tie jigs. Crappie are good on minnows and small jigs. Catfish are good on bream, nightcrawlers, shad, stink bait, skipjack, chicken liver, black goldfish, trotline minnows and dough bait. Bass are fair on Rebel Pop-Rs, crankbaits, spinnerbaits, Rat-L-Traps, frogs and worms. Water is slightly low and the normal Lake Conway stain.
Little Red River
The Army Corps of Engineers reports the outflow at Greers Ferry Dam to be 20 cfs (turbine) as of noon Thursday, Sept. 8. Generation on Wednesday reached maximum flow (6,245) at 5 p.m., lasting until 7 p.m. Greers Ferry Lake is 5.7 feet below normal conservation pool. Check with the Army Corps of Engineers website for real-time release data or by calling (501) 362-5150). Also check the Southwestern Power Administration website (swpa.gov) to see forecast generation schedule.
(updated 9-8-2022) Lowell Myers of Sore Lip'em All Guide Service (501-230-0730) said Greers Ferry Dam generation release varies daily between two and four hours of release. These releases occur in the afternoon on weekdays and weekends. This pattern will provide wading opportunities on the upper river in the mornings and on the lower river in the afternoons. Lowell suggests small pheasant tails, hare's ear, Frenchies and midges for fly-fishing. For Trout Magnet fishing, he recommends hot pink and cotton candy colored bodies on chartreuse or gold jigheads. Always check before heading to the Little Red River by calling the Army Corps of Engineers Little Rock District water data system(501-362-5150) for Greers Ferry Dam water release information or check the Corps of Engineers website (swl-wc.usace.army.mil) for real-time water release and the Southwestern Power Administration website (swpa.gov) to see forecasted generation schedule.
(updated 9-1-2022) Mike Winkler of Little River Fly Fishing Trips (501-507-3688) said that with Greers Ferry Lake at 5.3 feet below pool and daytime temperatures in the low 90s, the Southwestern Power Administration has been running a fairly consistent generation schedule on weekdays usually starting at 3 p.m. and going till 5 p.m. of 7 p.m. with two units of water running. The weekend generation schedule has been basically the same with some reduced flows. Mike says he would expect the same schedule to continue. Always check the USACE Little Rock app before heading out.
The current generation schedule has opened up the entire river for wade fishing. The best bite has been early mornings before it starts to get hot. Try fishing the deep holes and oxygenated riffles and alongside the moss beds. Pheasant tails, Guide's Choice Hare's Ears, sowbug patterns and midges have been working great while fishing underneath an indicator.
Fishing the falling water from the boat has been good while drift-fishing.
The streamer bite has been producing some nice browns while stripping small streamer patterns on a sink line or intermediate sink tip while fishing the falling water from the boat.
(updated 9-8-2022) Fish 'N Stuff (501-834-5733) in Sherwood said water is clear. Trout are good on one-eighth-ounce Rooster Tail, pink Trout Magnet or worm, as well as one-sixteenth-ounce olive Maribou Jigs above or just below the shoals.
Greers Ferry Lake
As of Thursday noon, the Army Corps of Engineers reports the lake's elevation at 456.86 feet msl (normal conservation pool: 462.54 feet msl, top flood elevation 487.0 msl).
(updated 9-8-2022) Tommy Cauley of Fishfinder Guide Service (501-940-1318) said the water level at Greers Ferry Lake is at 456.86 feet msl, or 5.68 feet below normal pool for this time of year.
"I want to give a big shout out to the Arkansas Game and Fish Commission Fisheries Division staff of Jeff Buckingham; Nick Feltz; Kris Nault; Jeff Newman; our new district biologist, Jeremy Risley; and the new Black Bass Program coordinator, Vic Dicenzo, for the work put into our new 2022-2031 Reservoir Black Bass Management Plan going forward, and also to the AGFC's Matt Schroder as well – great planning, partners and coalition of all for good things to come at Greers Ferry as well as the whole state with input from all over the world. (Don't forget: The last Reservoir Black Bass Management Plan public forum of their series of forums is THURSDAY, SEPT. 8, at Fish n' Stuff in Sherwood starting at 6 p.m.)
Greers Ferry Lake water is cooling, of course, and days are shorter and fish are feeding well. Crappie are being caught shallow to 45 feet using a variety of baits. Just stay close to bait. Walleye are more active as well roaming flats in groups and looking to feed. Try crawlers or crankbaits in 18-45 feet. Catfishing is good all over the lake and rivers using everything from soap to hot dogs – just pick your poison. Black bass are scattered from super shallow out to 60 feet. Lots of good fish are coming in on a variety of baits, and keep that topwater handy. Bream are guarding fry and chewing well, up shallow out to 25 feet, on crawlers and moving baits. Hybrids and white bass are roaming flats as well as eating and being aggressive eating baits from 25-60 feet. Spoons, inline spinners, swimbaits and hair jigs working. Be safe.
(updated 9-8-2022) Fish 'N Stuff (501-834-5733) in Sherwood said water is a few feet low and clear. Bass are good in 22-25 feet of water on drop-shot or a single swimbait (2.5-3 inch) and using underspin. Crappie are good in 25 feet of water drop-shotting minnows around the base of standing timber. Walleye are good drop-shotting nightcrawlers on main lake points in 25 feet of water
Harris Brake Lake
(updated 9-8-2022) Harris Brake Lake Resort (501-889-2745) said crappie are good on minnows and jigs in the early morning. Catfish are good at night. Bream are good at night on redworms and crickets. Black bass are good as well, though no baits were suggested (topwaters will work now, though, as well as soft-plastic worms). Water is low and muddy.
Lake Overcup
(updated 9-1-2022) Johnny "Catfish" Banks at Overcup Bait Shop and R.V. Park (501-354-9007) off Arkansas Highway 9 said Overcup's water level is about 1.5 feet low and clarity is murky. Surface temperature is around 82 degrees. Bream are slow and not many are being caught, except little ones. Black bass are slow as well. Crappie are hard to fish because of the stumps. Catfish are being caught on trotlines baited with Zote soap and nightcrawlers. "Can't say much because there's not a lot of people fishing now," Johnny added. "We have all the minnows, crickets, worms and goggle eye in stock. Come see us at Overcup Bait Shop off Highway 9."
(updated 8-25-2022) Lacey Williams at Lakeview Landing on Arkansas Highway 95 (501-242-1437) said the water level is low. The bream are biting early in the morning. Use redworms. You may be able to catch a bass or two in the morning or late evening; use minnows.
Brewer Lake
(update 9-8-2022) David Hall at Dad's Bait Shop (501-289-2210) says fishing has been consistent for several weeks now. Bass are coming up to the top in the afternoons around the shoreline on white spinnerbaits, plastic minnows, worms and crickets. Bream are good on redworms around the brush. Crappie are 6 feet deep over underwater brushpiles in the channels spider-rigging on crappie minnows and Baby Shad plastics. Catfish are good on small goldfish and stink bait and nightcrawlers on the bottom. Water is normal level and a little cloudy.
Lake Maumelle
(updated 9-8-2022) WestRock Landing in Roland (501-658-5598) reported water temperature in the low 80s. Largemouth bass reports have been good. Reports have largemouths being found shallow around the grass chasing bait. Some are also being caught on topwater lures. Other reports say they are deep after 9 a.m. and will respond to a drop-shot. Try using Carolina-rigged lizards, crankbaits, spinnerbaits and drop-shots. Kentucky bass (spotted bass) are also good. There are some reports of them being bound near drop-offs around 16-20 feet and off rocky banks, and other reports of them being found on brushpiles. Try using a Texas rig on brush, or try jigs. White bass are slow. Reports have them being found deep now, around 30 feet depth. No reports on crappie. Bream are fair, with reports of them being found shallow, around 6-8 feet. Crickets and worms have been working well. Catfish are good. All species are being caught and biting on anything, but try chicken liver, worms and crayfish for best success.
Arkansas River at Morrilton
At noon Thursday, the Corps of Engineers said water flow at the Ormond Lock and Dam was 4,914 cfs. The stage at Morrilton is at 9.76 feet (flood stage is 30 feet). Flow further upriver at Dardanelle Lock and Dam the flow was 18 cfs.
Little Maumelle River
(updated 8-25-2022) Ray Hudson at River Valley Marina (501-517-1250) says water is normal and fairly clear. Temperature is in the low 80s. Crappie are good in 3 feet of water on minnows. Bass are good shallow on topwater baits and plastic worms. Catfish are good on chicken liver. No report on bream.
Arkansas River (Maumelle Pool)
On Thursday, the Corps of Engineers said water flow at the Toad Suck Lock and Dam was 4,370 cfs.
Arkansas River (Little Rock Area Pools)
On Thursday, the Corps of Engineers said water flow at the Murray Lock and Dam was 4,717 cfs. The elevation is 249.27 feet msl and the tailwater is at 231.10 feet msl. The stage in the Little Rock pool was at 7.41 feet (flood stage is 23 feet). Flow at the Terry Lock and Dam was 5,325 cfs.
(updated 9-8-2022) Fish 'N Stuff (501-834-5733) says water is about normal and is stained, but clearing up some. Black bass are good on the main river on jetties or sandbar drops in the early morning or late evening on topwaters (bone-colored Spooks or white/black buzzbaits). Bass are also good during the day around sandbars on Carolina rigs, shaky heads and flutter spoons. Anglers also report them biting well on the jetties on five-sixteenth-ounce and seven-sixteenth-ounce finesse jigs, Texas-rigged worms and shaky heads.
(updated 9-8-2022) Hatchet Jack's Sports Shop at Crystal Hill (501-758-4958) says catfish are good on skipjack in the river. Bream are good on redworms. Fishing is hit or miss overall, but anglers at the hydroelectric plant at Murray Lock and Dam say that flatheads are good.
(updated 8-25-2022) Zimmerman's Exxon (501-944-2527) said black bass are schooling in the Little Rock pool on square-billed crankbaits, topwater baits and Whopper Ploppers. Crappie are good in 8-10 feet depth off the end of jetties. Bream are good in the backwaters on crickets. Catfish are fair below the dams on skipjack.
Peckerwood Lake
(update 9-8-2022) Donna Mulherin at Herman's Landing (870-626-6899) said crappie are good on minnows and jigs. Catfish are good on chicken liver and hot dogs. Water is low and stumps are showing. No reports came in mentioning bass or bream.
---
White River
(updated 9-8-2022) Cotter Trout Dock (870-435-6525) said, "We're enjoying the last of summer here in Cotter with a week of respite from the heat. I'm even seeing a little change in the color of the leaves signaling a start to autumn."
Bull Shoals Lake is 2 feet below power pool "so we're treated to very low water in the morning hours and varying amounts of generation in the afternoon, anywhere from 3,000 cfs to 18,000 cfs. The river level returns to near minimum flow amounts by dawn and remains that way until the mid-afternoon rise. Great for fishing from the river's banks and for wade fishing but requires extra attention on the part of john boat pilots.
"Once you get used to the lower river levels, you'll find that it makes for a great time to catch trout. Sunrise-colored Power Eggs have been a favorite this week for both shore fishers and anglers in boats. The browns continue to favor sculpins and soft-shell crawdads (keep the Rebel Wee Craw handy) with a rare but exciting bite on yellow PowerBait. A lightning bug fly (there are many variations, but look for one with red highlights) or the ruby midge have been the go-to flies. Grasshoppers are still prevalent in the area, so keep your hopper flies handy. Keep anglin' and we'll see you on the river.
(updated 9-8-2022) Dave McCulley, owner of Jenkins Fishing Service in Calico Rock, says fishing in the past week was great some days and not good on others. The thunderstorms Friday night muddied up the river Saturday and fishing was poor at best.By Sunday the water cleared and fishing was back to being great again. On Labor Day the fishing was tremendous; it wasn't uncommon for a boat with two people fishing catching 40 or more fish before noon. "We saw a couple of days of low water flow resulting in depths as low as 3 feet. With the water that low, throwing quarter-ounce gold-colored spoons or Rapala Countdowns produced some nice fish. When the water was higher, drift-fishing using silver bladed in-line spinners with Power Eggs and shrimp proved the most effective.
"This week the Arkansas Game and Fish Commission used their pontoon raft to stock 4,800 fish between Calico Rock and Sylamore Creek. The advantage of when they use the raft is the fish are more widely dispersed.
"Stay safe and good fishing."
(updated 9-8-2022) John Berry of Berry Brothers Guide Service said that during the past week they had a major rain event dropping 3½ inches at Cotter, warm temperatures and moderate winds. The lake level at Bull Shoals fell 0.1 foot to rest at 0.8 foot below power pool of 661 feet msl. This is 34.8 feet below the top of flood pool. Upstream, Table Rock Lake remained steady at 4.9 feet below power pool and 18.9 feet below the top of flood pool. Beaver Lake fell 0.4 foot to rest at 1.4 feet below power pool or 10 feet below the top of flood pool. The White has had more wadable water this past week. Norfork Lake rose 0.2 foot to rest at 0.3 foot below power pool of 555.75 feet msl and 24.5 feet below the top of flood pool. TheNorfork tailwater has had more wadable water. All of the lakes in the White River system are now below power pool. With the current lake levels, expect lower flows and more wadable water.
He said, "On the White, the hot spot has been the Rim Shoals. We have had lower flows in the morning that have been fished very well. The hot flies were Y2Ks, prince nymphs, zebra midges (black with silver wire and silver bead or red with silver wire and silver bead), pheasant tails, copper Johns, pink and cerise San Juan worms, gold ribbed hare's ears and sowbugs. Double-fly nymph rigs have been very effective. Try a pheasant tail nymph with a ruby midge dropper."
Bull Shoals Lake
As of Thursday, the Army Corps of Engineers reported the lake's elevation at 660.05 feet msl (normal conservation pool: 661.00 feet msl; top flood elevation is 695.00 feet msl). Total outflow from the dam at noon Thursday was 2,840 cfs, with release on Wednesday between 2 and 6 p.m. of 13,000-18,300 cfs. The reported lake elevation at Table Rock Lake was 912.00 feet msl (normal conservation pool: 917.00 feet msl; top flood elevation is 931.0 feet msl), with outflow of 1,245 cfs.
(updated 9-1-2022) Del Colvin at Bull Shoals Lake Boat Dock said Wednesday that the lake is almost back to normal water level. The constant generating has stopped. Water temperature is 84 degrees, give or take a degree. The typical summer patterns are working. The cooler nights have the shad starting to move. There are always shallow fish, especially with recent rains. Target channel swings, points and ledges close to deep water. Whopper Plopper, buzzbaits and topwater Lucky Craft Gunfish are working early in the day. When the topwater bite slows, use a half-ounce flutter spoon in a shad pattern and a small swimbait. Then move to a Mooneye Tater shad or drop-shot a Jewel Spoon.
Most of the shad are suspended at 30-35 feet. Almost all species are present. A lot of fish have moved up into the brushpiles and are coming into play with lowering water levels. The creek fish have pulled back with the water coming down. The morning topwater bite will slow down when the sun starts getting high. Move out with a Jewel Special Ops Football Jig in green pumpkin-orange variations and keep the boat out around 40 feet. Fishing is good around channel swings, standing timber, ledges and laydowns. Use Beaver or a Big Worm Ole Monster in green-pumpkin red or red shad plum. Fish the conditions.
Del regularly posts new YouTube videos. Visit his YouTube site (Bull Shoals Lake Boat Dock) for more information and tips on fishing Bull Shoals Lake.
Norfork Lake
As of Thursday, the Army Corps of Engineers reported the lake's elevation at 555.40 feet msl (normal conservation pool: Sept.-April, 553.75 feet msl; April-Sept. 556.25 feet msl; top flood elevation 580.0 feet msl). Total outflow from Norfork Dam at noon Thursday was 206 cfs. Heavier generation was seen Wednesday (about 5,000 cfs) between 3 p.m. and 9 p.m.
(updated 9-8-2022) Steven "Scuba Steve" Street at Blackburn's Resort said the lake level is 555.46 feet msl and is dropping very slowly with minimum generation. The White River at Newport is 6.81 feet, so they are not letting out much in any of the area lakes. The surface water temperature is at 83 degrees and it is also dropping slowly with the shorter days and night time lows in the 60s. The creeks are still stained and the main lake is still a little cloudy from the boat traffic on the holiday but is clearing again quickly. The thermocline is at 30 feet. Crappie fishing is the best now on brushpiles that are 35 feet at the bottom and 20 feet at the top. The crappie are schooled and at 30 feet. Small spoons, jigs, grubs and live minnows on a slip float are all working. You have to get down to them. Black bass are in the same area and biting a little bigger spoon. Catfishing is fair on jugs and throw lines baited with live bluegill back in the creeks and are mostly channel cats. The temperate bass that are being caught are mostly small and coming out of deeper water. It does not look like there will be a striper kill this fall so far and it mostly affects the big ones. Bluegill fishing is good off docks on crickets. The walleye that I am catching are mostly short. There are a lot of baitfish out there with several being on the brushpiles drawing the game fish. Scuba diving conditions are fair to good but getting better as the cooler water clears. Try spooning brush on main lake channel swings on steep banks in 30-35 feet near the bottom for walleye. There is still a topwater bite early for a few minutes that is mostly bass.
For a daily fishing report and lake condition go to www.blackburnsresort.com and click on Scuba Steve's Blog.
(updated 9-8-2022) Lou Gabric at Hummingbird Hideaway Resort said, "I had a much better day getting striped bass bites (Wednesday) morning. I was looking and fishing within a couple miles of the dam and found fish on two different main lake points. The fish were in 40-44 feet of water in both areas. The first main lake point that I found holding fish was a big round point. I landed a striped bass and missed three others, basically all caught in the dark or at twilight. By 7 a.m. the fish disappeared from this area. The second point that I found holding fish was a long rocky point. I landed a big hybrid and another striped bass. Until I saw the hybrid, I thought I had a really big catfish on the line. No big runs, but the fish continued to dig for the bottom every time I would gain a few feet. It took me over 10 minutes to land this guy. What a great battle.
"Today all fish were caught or missed vertical-jigging a white with chartreuse top, three-quarter-ounce spoon or a 1-ounce white spoon. The fish were mainly hitting the spoon on the fall. Fish were still on this second point when I left at 10 a.m. Yes, I fished later than normal. By the way, there is also a good late afternoon bite for striped bass in the same general area."
The surface lake temp was a little above 83 degrees this morning. The lake is holding fairly stable with a little rise then a little fall, and sits at 555.47 feet msl. The lake remains in great shape. "Happy Fishing and enjoy Norfork Lake."
Lou posts nearly daily on his Facebook page with photos and where the fish are biting and what's biting. Check it out.
Norfork Tailwater
(updated 9-8-2022) John Berry of Berry Brothers Guide Service in Cotter (870-435-2169) said Norfork Lake rose 0.2 foot to rest at 0.3 foot below power pool of 555.75 feet msl and 24.5 feet below the top of flood pool. There has been more wadable water on the Norfork in the morning and it has fished a bit better. The most productive flies have been small midge patterns like zebra midges (black or red with silver wire and silver bead). Grasshoppers have produced fish, particularly when used in conjunction with a small nymph dropper (try a size 20 black zebra midge). Double fly nymph rigs have been very effective. Try a small bead-headed nymph (zebra midge, copper John or pheasant tail) suspended 18 inches below a brightly colored San Juan worm (hot fluorescent pink or cerise). The fishing is much better in the morning and late afternoon and tapers off midday.
Dry Run Creek has fished moderately. School is back in session and the creek is not as busy. Weekends can get quite crowded. The hot flies have been sowbugs, various colored San Juan worms (worm brown, red, hot fluorescent pink and cerise) and white mop flies. Small orange or peach eggs have been very effective. Be sure and carry a large net, as most fish are lost at the net.
Remember that the White River, Norfork tailwater and Dry Run Creek are infected with didymo, an invasive alga. Thoroughly clean and dry your waders (especially the felt soles on wading boots) before using them in any other water. Many manufacturers are now making rubber soled wading boots that are easier to clean and are not as likely to harbor didymo.
John also said, "Last week my wife sister, Terri, and her husband, Larry, came to Cotter to visit Lori and me. They are both avid fly-fishers and Terri is an avid kayaker. She recently bought a kayak at the kayak shop here in Cotter. She keeps it in our garage with our kayaks and tries to take a float every time they come up for a visit.
"They were very interested in kayaking on this visit. The first day they went wade fishing at the Narrows and did incredibly well, catching almost 70 trout in a half-day of fishing all on olive Woolly Buggers. They were stoked. It was one of the best days that they had ever had here. I suggested kayaking and fishing on the Norfork the next day.
"I was interested in accompanying them. I wanted to fish the upper part of the catch-and-release section, also called McClellan's, a historic trout dock on the Norfork, where I first fished the river over 40 years ago. Larry was not interested in kayaking, but he was interested in fishing. He dropped us and our kayaks off at the dam and then drove down to the Ackerman Access. The idea was that we would float down and link up with him there.
"When I first got into my boat, I noticed that I was not nearly as nimble as I used to be. Getting in was reasonably easy but getting out was more of a challenge. At 75 I am still able to do it.
"When we were on the ramp I noticed a black sludge on it. It was very slippery and I was glad to have my studded wader boots. I noticed this sludge all the way down stream and it made wading difficult. I also noticed that the water was lightly stained. It was not nearly as clear as the White had been a few days earlier.
"When we got to McClellan's, I did not recognize it. I had fished through it on high water but I had not waded it in low water in years. Before I began fishing, I walked around looking for my favorite spots that I have fished for years. They weren't there. I kept looking and found some new spots.
"Lori and Terri were catching trout on olive Woolly Buggers. I tried other flies to see what else would work. I finally had some success with Dan's Turkey Tail Emergers, my brother's favorite fly that he developed on this section of the river many years ago.
"We fished a while longer but headed out to beat the expected water rise. We linked up with Larry. He was fishing near Charlie's and had done well. We floated down to Ackerman and loaded the boats onto our kayak trailer. We ended the day with lunch at Heidi's Ugly Cakes in Norfork.
"The float was great, but I am concerned about the black sludge I saw and the lack of water clarity on the Norfork. Something is amiss."
Buffalo National River/Crooked Creek
(updated 9-8-2022) John Berry of Berry Brothers Guide Service in Cotter (870-435-2169) said Crooked Creek and the Buffalo River are low. With cooler temperatures, the smallmouths are more active. The most effective fly has been a tan and brown Clouser Minnow. Carefully check the water level before entering Crooked Creek or the Buffalo River. There are no dams on these streams. They both have large drainages and are prone to flooding during and following any rain event. The water can rise very quickly.
---
Beaver Lake
As of Thursday, the Army Corps of Engineers reports the lake's elevation at 1,119.90 feet msl (normal conservation pool: 1,121.43 feet msl; top flood elevation is 1,130.0 feet msl). The release at the dam as of noon Thursday was 20 cfs. The Corps released about 3,800 cfs between 2 p.m. and 8 p.m. on Wednesday.
(updated 9-8-2022) Jon Conklin with FishOn Guide Service (479-233-3474) said Beaver Lake continues a slow drop in levels, and water temps are dropping also and are in lower 80s and had some 78-degree water in river arms yesterday. Fishing is still fair to good depending on the day. Stripers are fair with some big fish put in boats last week. Look around the dam. This is where some pretty nice fish have been caught lately on live shad and brooders.
Walleye have been moving and are scattered with not any area better than the other. Still, crawler harnesses and drop-shotted minnows and crawlers are the way to go. Crappie are scattered from really shallow to still being caught trolling suspended. "I personally have had some great catches on my guide trips with some truly nice crappie for Beaver. I have been catching them on the troll on pitching jigs to shallow structure."
Catfish are good on any method; look on flats with a lot of shad present. The fish will be there.
"Fall is approaching and usually the bite is great. Have fun and enjoy the better weather coming up."
Visit Jon's Facebook page for latest updates, FishOn Guide Service Goshen AR.
(updated 8-25-2022) Southtown Sporting Goods (479-443-7148) said fishing is fair. Water is normal and clear. Crappie are fair on minnows and jigs around brush. Bream are fair on redworms and crickets. Walleye are good dragging bottom bouncers and spoons in deep water. Bass are fair at night on spinnerbaits, plastics and jigs around brush and rocky banks. Stripers are fair. Catfish are fair on jug lines and rods-and-reels on chicken liver and worms.
Beaver Tailwater
(updated 9-8-2022) Guide Austin Kennedy (479-244-0039) said this week has been good on the tailwater, and nothing drastically has changed since the last report. The Army Corps of Engineers still has been generating pretty much starting at 10 a.m., "but that has not stopped the bite. In fact, it increases the bite in most cases. Most of our fish were caught using light terminal tackle and Pautzke Fire Bait. When the sun moved higher in the sky, we would switch it over to quarter-ounce spoons and coat the spoons using Pautzke Fire Gel. Try letting the spoon sink a bit before retrieving, due to the water still being a little deep. The water levels are still low and continue to fall, it seems like each day. If we can get some overcast or rainy days, the bite should pick up alot!"
This week's hot spot for trout has been above Spider Creek. Try hitting the deeper holes and looking for slack water during generation. The white bass and walleye are still up toward Holiday island, but you need to look for them. Jigging live minnows off of points and humps have done the trick. There are still quite a few males in the river, so get after them.
"Remember, for additional tips, visit my fishing Facebook page (Busch Mountain Fishing Guide Service). Hope you all are able to get out and catch some fish."
Lake Fayetteville
(updated 9-8-2022) Lake Fayetteville Boat Dock (479-444-3476) said Wednesday that the water is murky. Crappie are good mainly on jigs but also biting minnows. Black bass are good on topwater lures, frogs and plastic worms. Bream are fair on redworms and crickets. Catfish are fair.
Lake Sequoyah
(updated 9-8-2022) Lake Sequoyah Boat Dock (479-444-3475) has had no recent reports. As school begins at Fayetteville and temperature drops, they expect more anglers out.
---
Lake Charles
(updated 9-1-2022) Shelly Jeffrey at Lake Charles State Park (870-878-6595) said the bream bite continues to be good. Worms, crickets and jigs are all working. Catfish are good on worms and blood bait. She's heard no reports on other species (crappie, bass et al.) Water temperature was up a little from a week ago, recorded at 80.7 degrees on Monday. The lake is its usual murky and the elevation is high. Shelly says that Sept. 6-10 should be "good" days based on the moon times.
Lake Poinsett
(updated 9-8-2022) Seth Boone, the superintendent at Lake Poinsett State Park, said bream are biting well on worms and crickets. Bass and crappie are unknown at this time, though some anglers have shared limited success with spinners for bass. Catfish have bitten in the evening on stink bait, worms and livers. Remember that bass and crappie are catch-and-release at this time as the sport fish population rebuilds following the lake renovation.
Crown Lake
(updated 9-8-2022) Boxhound Marina (870-670-4496) reported that fishing has been consistent over the past couple of weeks. Bass are good on topwater baits and plastic worms. Bream are good on crickets and redworms. Catfish are fair on chicken liver and shrimp. Water is fairly clear and the level is about 1 foot low.
Spring River
(updated 9-8-2022) Mark Crawford with springriverfliesandguides.com (870-955-8300) said that over the last month the Spring River has been flowing at around 350 cfs, about average. Rain last few weeks has the level up to 450 cfs this week, running about a foot above normal. The clarity has been a very productive heavy green stain. Just take extra care wading with the higher river flow.
"Woolly Buggers have been hard to beat in olive and brown, but hey, they always work on the Spring," Mark says. "Dry fly action with caddis, mayflies and stones can be found, just be aware we have huge shad that are a blast on dries, too. Nymphing big nymphs size 8-12, prince nymphs, and pheasant tails work great especially on tough days – it's probably our favorite way to fish the Spring. The pocket water on the Spring River was made for nymphing! Y2ks always work, too.
"We're catching plenty of rainbows in all sizes, and the browns are there. We chase them all the time and have seen huge brown trout and walleye chase big streamers, but after over 20 years of guiding on the Spring River, I have caught all my best, biggest fish – browns, walleye, smallmouth bass – on a bead head olive Woolly Bugger.
"Construction on Jim Hinkle is coming along nicely! The new silos are up and I can't wait to see it all up and running soon. This will create a lot more opportunities for the Spring River and all trout waters in Arkansas.
"The canoe season is over on the Spring River. Labor Day weekend was the last blowout. Now it will get back to that quiet, wild little river we all love. Many Islands and Spring River Oaks will close at the end of September and will reopen the first of April. Riverside Resort is open year-round.
"Stay tuned to our blog for the latest river conditions and what's working on the river on our website springriverfliesandguides.com."
(updated 9-8-2022) John Berry of Berry Brothers Guide Service in Cotter (870-435-2169) said the water level on the Spring River is fishable. This is a great place to wade fish when they are running water on the White and North Fork rivers. Canoe season is in full swing and the boats and rafts are here. Wear cleated boots and carry a wading staff. There is a lot of bedrock that can get very slick. The hot flies have been olive Woolly Buggers with a bit of flash, cerise and hot pink San Juan worms and Y2Ks.
White River
The Army Corps of Engineers reported Thursday that the White River stage at Batesville was down Thursday, at 7.51 and rising slightly, and about 7.5 feet below the flood stage of 15.0 feet. The Newport stage continues to drop noticeably, sitting at 6.55 feet (flood stage was 26.00 feet). The stage at Augusta is down significantly from last week, too, at 18.12 feet, and almost 8 feet the flood stage of 26.00 feet.
No reports from this section of the White River.
---
Arkansas River (Pine Bluff Pool)
On Thursday, the Corps of Engineers said water flow at the Emmett Sanders Lock and Dam at Pine Bluff was 0 cfs. The stage at Pine Bluff is steady at 31.31 feet (flood stage is 42 feet). Further upstream, the flow at the Maynard Lock and Dam was 4,110 cfs.
(updated 9-8-2022) The University of Arkansas at Pine Bluff Bass Fishing Team reports water temperatures in mid- to low 80s. Visibility is about 8-12 inches in most areas. River flow has been mostly zero for weeks, with occasional bumps in flow around storm events. During flow periods, black bass on the main channel are more concentrated on obvious current breaks, jetty points and jetty openings to the main channel, eating shallow to medium crankbaits and other moving lures. Fish can also be caught along water willow beds on the lower end of the pool with small Texas-rigged plastics, finesse jigs, spinnerbaits, bladed jigs and topwater lures early. Focus on areas that are in shade. Larger fish are coming from Lake Langhofer brushpiles using similar lures. Fall transition should begin in a few weeks and black bass activity will increase along with reduced fishing pressure. We're still in summer pattern as of now.
---
Millwood Lake
As of Thursday, the Army Corps of Engineers reports the lake's elevation was 259.67 feet msl (normal pool: 259.20 feet msl; top flood elevation is 287.0 feet msl). Total outflow at the dam is 919 cfs, an amount being steadily released this week and for several weeks.
(updated 9-8-2022) Mike Siefert at Millwood Lake Guide Service said Wednesday afternoon Millwood Lake was about 6 inches above normal conservation pool and is steady. Clarity improved this week along Little River and oxbows. Millwood Lake tailwater elevation was near 225 feet msl with gate discharge at the dam of four gates at 0.5 feet, near 920 cfs in Little River, according to the Army Corps of Engineers. Check the most recent lake level of Millwood Lake on the guide service's web page linked above, or at the Army Corps of Engineers website, for updated gate-release changes and inflow rates with rising and falling lake levels. Surface temps are stable this week, ranging in 84-89 degrees depending on location and the time of day. Current along Little River slightly cleared up this week further up Little River with river clarity ranging 8-15 inches visibility depending on location. Clarity of oxbows is heavy stain and visibility is about 20-30 inches depending on location. Further up Little River near White Cliffs and Wilton Landing has heavier stain conditions. Clarity and visibility can change dramatically on Millwood in just a few hours with high winds, gate discharge, rain or thunderstorms.
Numerous areas on Millwood Lake are fully choked with alligatorweed mats and are inaccessible for navigation or fishing. The USACE is monitoring.
At Yarborough Landing, the concrete under water on the easternmost side of the ramp furthest from the concrete pier has been broken for quite some time and boaters are backing their trailers off the end of the broken concrete. There is a huge slab of broken concrete someone dragged up on the bank with a tractor, that Little River County has neglected to repair. Use extreme caution on the boat ramp.
Siefert offered these details of the fishing over the past week:
* For the past few weeks, the largemouth bass have responded well, with best topwater feeding activity at daybreak or first light until around 9-10 a.m. Bass have been fair to good over the past couple of weeks on topwater lures around lily pad stands, cypress trees and vegetation on a variety of topwater plugs. Chunky 2- to 3-pounders have been the most aggressive at daylight on shallow flats near stumps and laydowns for the past few weeks. Good bass activity and topwater action are random, hitting Spit'n Images, Chug Bugs, Pop R's, Bass Assassin Shad or topwater plastic frogs in the pads early.
These chunky 2- to 3-pound largemouths, with an occasional 5-pounder blowup, are random and scattered horizontally along the edge of vegetation, lily pad stands near 4-6 feet deep flats with stumps tapering out into 9-12 feet of depth. "Best reaction we have seen over the past several weeks is at daylight on a variety of topwaters. Best reactions have been in the clearer water in oxbows near deep drops. Bill Lewis Stuttersteps, Storm Chug Bugs, Shad Assassins, Heddon Spit'N Images, Cordell Crazy Shads and Jitterbugs all have been drawing good, random reactions on topwater at daybreak for several weeks now."
Best colors of the soft plastic 5-inch Bass Assassin Shads have been Salt n Pepper Silver Phantom, Houdini and Pumpkinseed, and they continue drawing good reactions with some JJ's Magic chartreuse dye dip for a flash of color. Junebug, black or pumpkinseed colored Horny Toads and soft plastic frogs, fished in clearest water you can find in the oxbows, are working for a random blowup.
Several schools of juvenile class bass were ganged up at creek mouth junctions and dumps into Little River last week. The first and second entrances to Mud Lake and Hurricane Creek, Horseshoe and White Cliffs were holding adolescent and juvenile-aged schools of largemouth and Kentucky bass. These fish were randomly breaking on shad, and were eager to bust a Rat-L-Trap or shad-colored square-bill Little John and Bill Lewis SB-57 crankbait.
Wacky-rigged 5-inch and 6-inch Bang Fat Jobs, Trick Worms, Yum Dingers and Salty Rat Tails in Houdini, Watermelon Candy and Junebug/red colors were working from 5-10 feet deep in Mud Lake, Horseshoe and McGuire oxbows around grass mats and lily pad stands after the morning topwater bite subsides, and in the same areas where the topwater early bite is aggressive. Continue moving deeper near where creek channels and ditches cut through flats, or to the points where the creek junctions dump and drain into the oxbow, as the sun rises and begins to heat up the flats adjacent to creek channels.
Once the sun gets up over the tree line after 9-10 a.m., switch over to medium-diving crankbaits like custom painted Little John Square Bills and Bill Lewis MR-6 or SB-57 square-bill cranks across 6-10 feet deep flats adjacent to 12-15 deep creek channel swings in the oxbows. Bomber Fat Free Guppy and Fingerling's Crankbaits continue working along deep creek channels and points reaching out into Little River and 8-12 feet deep creeks that dump into Little River. These square bills continue working with Millwood Magic, Sneaky Shad, Tennessee Shad and Citrus Shad colors drawing best reactions from chunky largemouths along the oxbows of Horseshoe and McGuire where the water clarity is much improved this week. Brazalo Spinnerbaits in Millwood Mayhem Bream, white/chartreuse and Spot Remover are still working around vegetation mats and stumps from 6-9 feet deep near stumps on windy days in the oxbows.
* Whites/hybrids continue roaming Little River and the oxbows, and have been caught on vertical-jigging spoons along Little River. Tail Spinner Trap Rat-L-Traps in Millwood Magic, chrome/black back and chrome/blue back caught some 2- to 3-pound whites in McGuire last week. Fat Free Shad crankbaits in Citrus Shad color, Little Georges, Beetle Spins, Rooster Tails and Rocket Shads, fished 8-10 feet deep near ledges and vertical structure, were catching whites randomly in the oxbows. Schooling whites have been noted in the back of McGuire and Horseshoe oxbows off Little River early at daybreak on flats adjacent to deeper drops in the depths from 5-10 feet deep at random intervals over the past several weeks. Most of the white bass schools are still random and broken, although a few whites have been found up Little River near White Cliffs campground.
* Catfish have been best over the past couple of weeks at night on trotlines and yo-yos set along outer bends of the river in stump rows of old river timber from 15-20 feet deep, baited with chicken livers, hearts, gizzards, cut buffalo and blood bait. They were working late over the weekend, and also in the oxbows on yo-yos hung from cypress trees if you could keep all the alligators off them and retrieve the fish quickly once hooked, before the gators got to them. Alligators also have been noted hung up and dragging noodles around after eating the catfish or bait attached for several weeks.
* No reports on crappie or bream. Crappie are scattered, scared and will run from a minnow on LiveScope.
Lake Columbia
No reports.
Lake Erling
NOTICE: The American Gamebird Research Education and Development Foundation, under recommendation from the Arkansas Game and Fish Commission, is conducting a 5-foot drawdown of Lake Erling in Lafayette County to combat the spread of giant salvinia, a highly invasive aquatic plant species not native to the United States. Giant salvinia, a free-floating South American plant that has become a major threat to fisheries in the southern U.S., was first spotted on a small portion of Lake Erling in 2018. Since that time the AGFC and AGRED, the lake's owner, have worked together to monitor and minimize potential spread of the invasive species through information campaigns. With the recent detection of the plant at nearby Mercer Bayou and the spread of the plant within Erling, AGRED worked with the AGFC to determine a plan that would help combat the aquatic nuisance species. The drawdown will remain in effect until March 1, 2023, at which time the 7,000-acre lake will be allowed to refill.
(updated 9-1-2022) Lake Erling Guide Service (870-904-8546) reported Wednesday afternoon that the water is back to normal, a little dingy and muddy. Catfish are really good. Crappie are scattered right now, but anglers are catching them on silver shiners and hand-tied jigs. Bream are good on crickets. No reports on bass.
Lake Greeson Tailwater
Visit www.littlemissouriflyfishing.com for a daily update on fishing conditions.
Lake Greeson
As of Thursday, the Army Corps of Engineers reports the lake's elevation at Narrows Dam was 541.39 feet msl (full pool: 548.00 feet msl).
DeGray Lake
As of Thursday, the Army Corps of Engineers reports the lake's elevation was 400.10 feet msl (full pool: 408.00 feet msl).
De Queen Lake
As of Thursday, the Army Corps of Engineers reports the lake's elevation was 432.24 feet msl (full pool: 437.00 feet msl).
Dierks Lake
As of Thursday, the Army Corps of Engineers reports the lake's elevation was 523.18 feet msl (full pool: 526.00 feet msl).
---
White Oak Lake Area
(update 9-1-2022) River Rat Bait in Camden (870-231-3831) has opened back up after being closed for a couple of weeks. Call for latest conditions.
---
Lake Atkins
(updated 9-8-2022) Donald Ramirez at Lucky Landing (479-641-7615) says black bass are starting to bite on Carolina rigs, topwater baits and frogs. Catfish are doing well on worms. Crappie have been great on jigs and minnows. Everything else is slow. The water remains low and is murky in clarity.
Lake Catherine Tailwater (Below Carpenter Dam)
For weekly flow releases from Carpenter Dam, visit www.entergy.com/hydro
(updated 9-8-2022) Shane Goodner, owner of Catch'em All Guide Service, reported that very small numbers of rainbow trout remain in the tailrace below Carpenter Dam. The trout season normally comes to an end in early July but good numbers of large rainbows remained in the lake all through August. The fall trout stocking schedule is slated to begin in mid-November and quality trout fishing will resume for the public. Water temperature below the dam is 66 degrees and climbing to 70 degrees below the bridge. Clear conditions exist with a healthy summer environment created by a normal nunning of water through the dam. Generation keeps the water cool and prevents an overgrowth of moss and tall grass from dominating the area. Huge schools of threadfin shad are moving in and out of the tailrace, which brings white and hybrid bass in to feed. The majority of action occurs in the late evening when the turbines are running. Zara Super Spooks in clear or silver colors have taken numbers of white and hybrid bass in the 2- to 4-pound range. Trolling shallow-running crankbaits against the current will also target feeding bass below the bridge. Walleye are also present in the tailrace and can be caught trolling or tight-lining live minnows around the bridge pilings. These fish will migrate in and out of the area following the shad schools and can be observed feeding when numbers are right.
Anyone planning on navigating the Carpenter Dam tailrace is urged to be aware of the generation schedules posted weekly on the Entergy website. Always wear a life jacket when on the water and remember to follow all park rules and regulations.
Lake Dardanelle
As of Thursday, the Army Corps of Engineers reports the lake's flow at Dardanelle Lock and Dam as 0 cfs. Elevation was 337.66 feet msl and the tailwater was at 284.57 feet msl. (Top navigation pool is 338.2 and bottom pool is 336.0.) The stage is at 4.29 feet (flood stage is 32 feet).
Lake Hamilton
(updated 9-8-2022) Greeson Marine, hometown dealer of the Arkansas-born-and-bred Xpress, all-welded, aluminum fishing boats in Hot Springs reports Lake Hamilton water levels are normal with clarity slightly stained due to rains and very heavy pleasure boat traffic. Water temps average around 83 degrees. Bass, especially largemouth, have been fair at best. Lately the lake is experiencing the side effects of the fall pre-transition and heavy boat traffic. This is the "lull" in between seasons that can be very frustrating. Although the days remain warm, the light levels are fading and the days getting shorter. The fish sense this much more than we do. Bass can be caught breaking under bridges and off of shaded deep points in the morning and evening using a Whopper Plopper or "Spook-style" walking bait in pearl colors. Most of these fish will be 12 inches or less. Bigger bass that will actually eat remain in hard-to-reach areas under docks and heavy cover and the best bet is to drag a large black worm through that heavy cover and hope there's an aggressive bass down there. Baitfish are really "balling" up off points right now but it's all timing to get a bite. When they are in a frenzy and the predators (bass) are attacking schools of baitfish, life is good! All other times they will not approach ANY baits.
Crappie have been spotted suspended over brush in 25-40 feet of water. Use live minnows when possible, as suspended fish are tough ones to catch. Bream are still good everywhere at 20-25 feet near vertical structure. Worms or crickets will fill a bucket. No hybrid/striper report as the water has been too rough to target these deep fish.
Lake Nimrod
As of Thursday, the Army Corps of Engineers reports the lake's elevation was at 342.87 feet msl (normal pool: 344.51 feet msl; top flood elevation is 373.0 feet msl).
(updated 8-25-2022) Andrews Bait Shop and More (479-272-4025) said Wednesday that fish have moved up into more shallow water. Crappie are good pulling crankbaits and little Bandits in 4-6 feet depth. Catfish are good on shad and perch. Flathead cats are good on limb lines with live bait. Bream are fair up in the river on redworms and crickets. Black bass are good on Rat-L-Traps in shallow water. Water has cooled off to 82 degrees and is clear.
(updated 8-25-2022) Hatchet Jack's Sports Shop in Crystal Hill off I-40 (758-4958) heard from anglers that crappie are good on jigs in 15 feet of water and bream on crickets at 2 feet deep in the middle of the lake. Bream are good anywhere around the beds on crickets and redworms. Catfish are good on the river on shad and skipjack.
Lake Ouachita
As of Thursday, the Army Corps of Engineers reports the lake's elevation at Blakely Dam was 570.02 feet msl (full pool: 578.00 feet msl).
(updated 9-1-2022) Todd Gadberry at Mountain Harbor Resort and Spa (870-867-2191/800-832-2276 out-of-state) said black bass are good. Topwater baits and swimbaits seem to be working best. Walleye are still good. A three-quarter-ounce CC Spoon vertically jigged near structure should produce some of these fish, and a nightcrawler fished on a drop-shot or bottom bouncer will work, too. Stripers are very good. Live bait and trolling hair jigs are working best now on the eastern part of the lake. Bream are fair on crickets or worms in 15-25 feet depth on structure. Crappie are very good on small jigs or minnows. Try brush in 20-30 feet depth. Catfish are fair on rod-and-reel with hot dogs or nightcrawlers. Water temperature is steady at 80-84 degrees as of Thursday. Water clarity is clear. Lake level is 570.13 feet msl. Call the Mountain Harbor fishing guides (Mike Wurm, 501-622-7717, or Chris Darby, 870-867-7822) for more information.
Blue Mountain Lake
As of Thursday, the Army Corps of Engineers reports the lake's elevation was 384.88 feet msl (full pool: 387.00 feet msl; top flood elevation is 419.0 feet msl).
No reports.
---
White River/Clarendon Area
The Army Corps of Engineers on Thursday reported the Clarendon gauge is steady at 16.18 feet, almost 10 feet below the flood stage of 26.00 feet.
Cook's Lake
(updated 9-8-2022) The AGFC's Wil Hafner at Potlatch Cook's Lake Nature Center (870-241-3373) says the action has been hit or miss in the last week. The lake has seen another2-foot drop in the last week, which continues to make for some tough conditions. Some crappie are being caught on black and chartreuse jigs slowly dropped vertically into hollow trees in about 5 feet of water. What black bass are being caught are on white spinnerbaits slow rolled near deeper trees. No reports on other species this week.
Cook's Lake is open to fishing for youths under 16 or mobility-impaired anglers, and up to two helpers (who may also fish). Cook's Lake will be open to fishing during normal business hours Tuesday through Saturday 8 a.m. to 4 p.m., water level pending. Fish from the 140-foot mobility-impaired accessible dock or launch a boat. Please call ahead at least a day in advance to register to fish. Before launching, please check in at the Nature Center classroom and report back before leaving. For information or unscheduled closures, please call the center at 870-241-3373.
Note: msl is mean sea level; cfs is cubic feet per second.
---
Recent News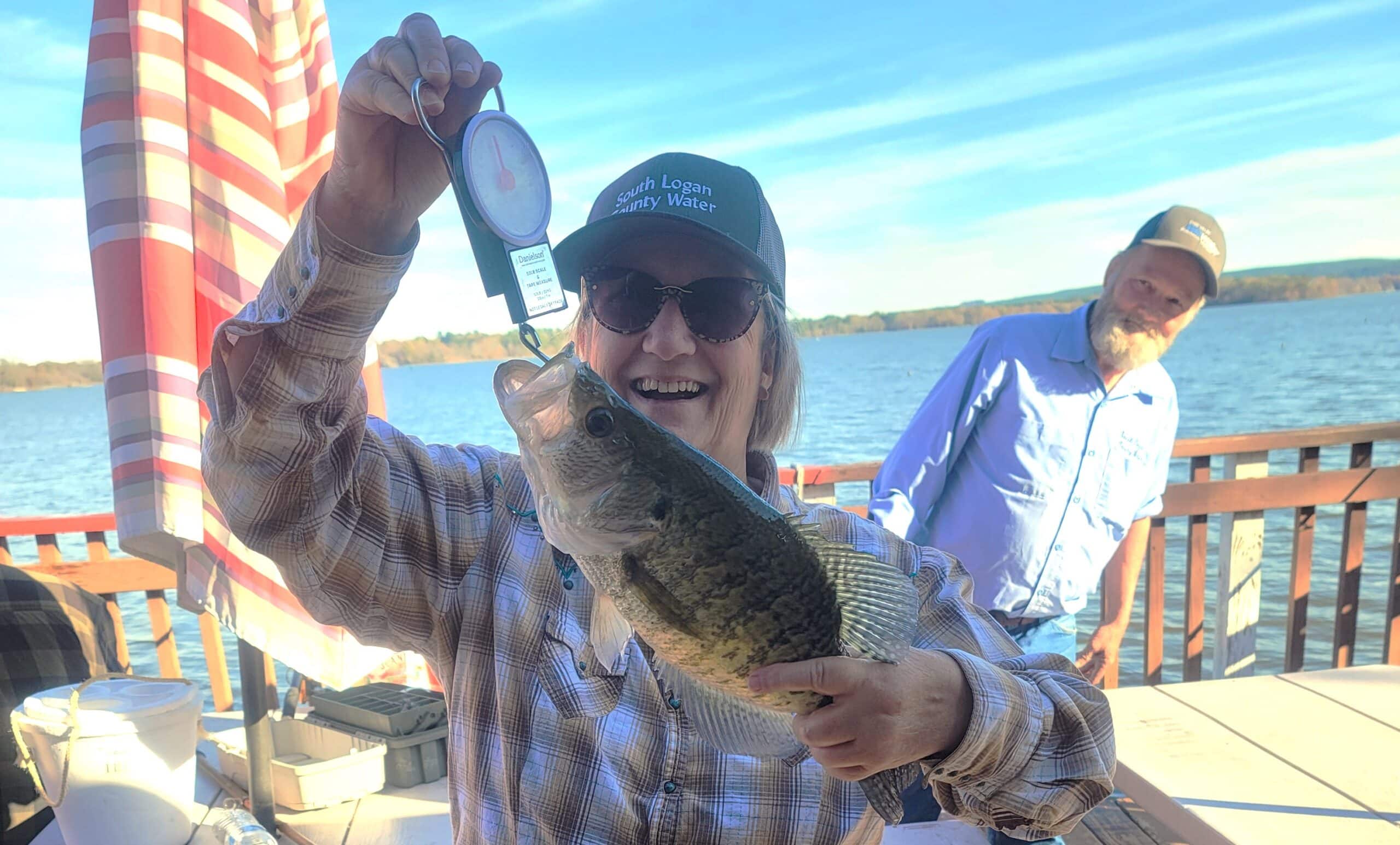 Subscribe to Our Weekly Newsletter E-mails
Don't miss another issue. Sign up now to receive the AGFC Wildlife Weekly Newsletter in your mailbox every Wednesday afternoon (Waterfowl Reports are published weekly during waterfowl season and periodically outside the season). Fishing Reports arrive on Thursdays. Fill in the following fields and hit submit. Thanks, and welcome!