Lake Conway sees Florida bass boost
June 27, 2018
Randy Zellers

Assistant Chief of Communications
MAYFLOWER – Craig D. Campbell Lake Conway Reservoir in Mayflower received a shot in the bass fishing arm last week, as biologists released more than 150,000 Florida-strain largemouth bass fingerlings into the lake via a special nursery pond on Camp Robinson Special Use Area. This was the tenth stocking of Florida-strain largemouths at Conway in as many years.
Lake Conway is known as one of Arkansas's best crappie destinations, but few anglers give it a second glance when it comes to bass fishing. The shallow lake is filled with stumps, docks and abundant aquatic vegetation, but lacks some of the deep-water structure many bass anglers enjoy during summer. Those same conditions, however, are ideal for Florida-strain largemouth bass. The lake was among the first locations stocked with this fast-growing subspecies of largemouth bass, and has seen increased emphasis on introducing genetics of these large fish.
"From 2009-15 the percent of bass with majority Florida alleles went from 2 to 29 percent," said Jason Olive, assistant chief of fisheries for the Arkansas Game and Fish Commission. "This is one of the most successful Florida bass stocking programs we have undertaken on any lake in the state."
Tom Bly, fisheries supervisor in the AGFC Mayflower office says the genetics studies from 2015 also indicated that an amazing 94 percent of bass in Lake Conway had some Florida genetics apparent in their tests.
"That 29 percent was pure Florida strain and first-generation offspring from Florida-strain bass," Bly said. "But we see Florida alleles in the great majority of genetic samples we've taken from Lake Conway bass."
Those genetics and a healthy forage base contribute to a fantastic bass fishery that receives relatively little pressure.
Cary DeBoard, a Conway angler who regularly fishes and runs bass tournaments at Conway says it may even be the best bass fishery in the state, ranking it above perennial hotspots such as Dardanelle, Millwood and Atkins.
"That lake just has an impressive number of 3- to 5-pound fish in it," DeBoard said. "During spring tournaments, if you don't have a five-bass limit weighing more than 20 pounds, you don't have a shot."
DeBoard says the stump-filled nature of lake has led to a reputation of being hard to navigate and hard on equipment. This likely is the reason behind some anglers' lack of interest in the bass fishing. Many anglers will mention not wanting to put a large boat in the lake because of its stumps, but DeBoard goes against the grain, fishing from a 21-foot fiberglass boat with no worries.
"My dad and I helped mark some of the boat lanes on the lake a few years back, and I'm very familiar with them," DeBoard said. "If you don't know your way around, play it safe and take it easy, but that shouldn't keep you from fishing here."
DeBoard says the lake's shallow nature really pares down lure selection to a few mainstays. According to him, anglers should always have the following lures rigged and ready on their deck – a white spinnerbait, a black or blue Texas-rigged worm, and a buzzbait or frog fished on the surface.
"You'll have to figure out what sort of cover they want to stay around that day, be it docks, stumps, brush or vegetation," DeBoard said. "But once you figure that out, you can load the boat running that same pattern."
The source of Florida-strain bass has varied between hatchery-raised fingerlings and bass grown directly in the lake's nursery pond. According to Olive, the nursery pond has been used to raise Florida-strain largemouth five times since 2008.
Bly says this year's Florida-strain largemouth stocking included 144 adult bass that were retired from production earlier this year. Each of these bass weighed between 1½ and 4 pounds.
"Hatcheries retire fish after they've successfully spawned for six years to ensure they always have brood stock that are at the best age for reproduction," Bly said. "Trophy-class fish may have a lot of eggs in them, but they are not as viable as eggs from a 3- or 4-year old bass."
The brood stock are moved to the ponds to reproduce without any competition from other species. The pond is then fertilized to produce abundant plankton, which will feed the bass fry and fingerlings. Fathead minnows are added to the pond to feed the brood stock during the spring as well. Once fingerlings have reached an average size of 3 inches, the pond and all fish in it are drained directly into Lake Conway.
On years when no brood stock are being retired, the nursery pond is used to grow advanced Florida largemouth fingerlings. Fingerlings from the Andrew Hulsey State Fish Hatchery in Hot Springs are transplanted into the fertilized pond and grown out to roughly 8 inches before being released in fall.
"Those fingerlings will see a better rate of survival, which will continue to increase the Florida bass genetics in the lake," Bly said.
---
Recent News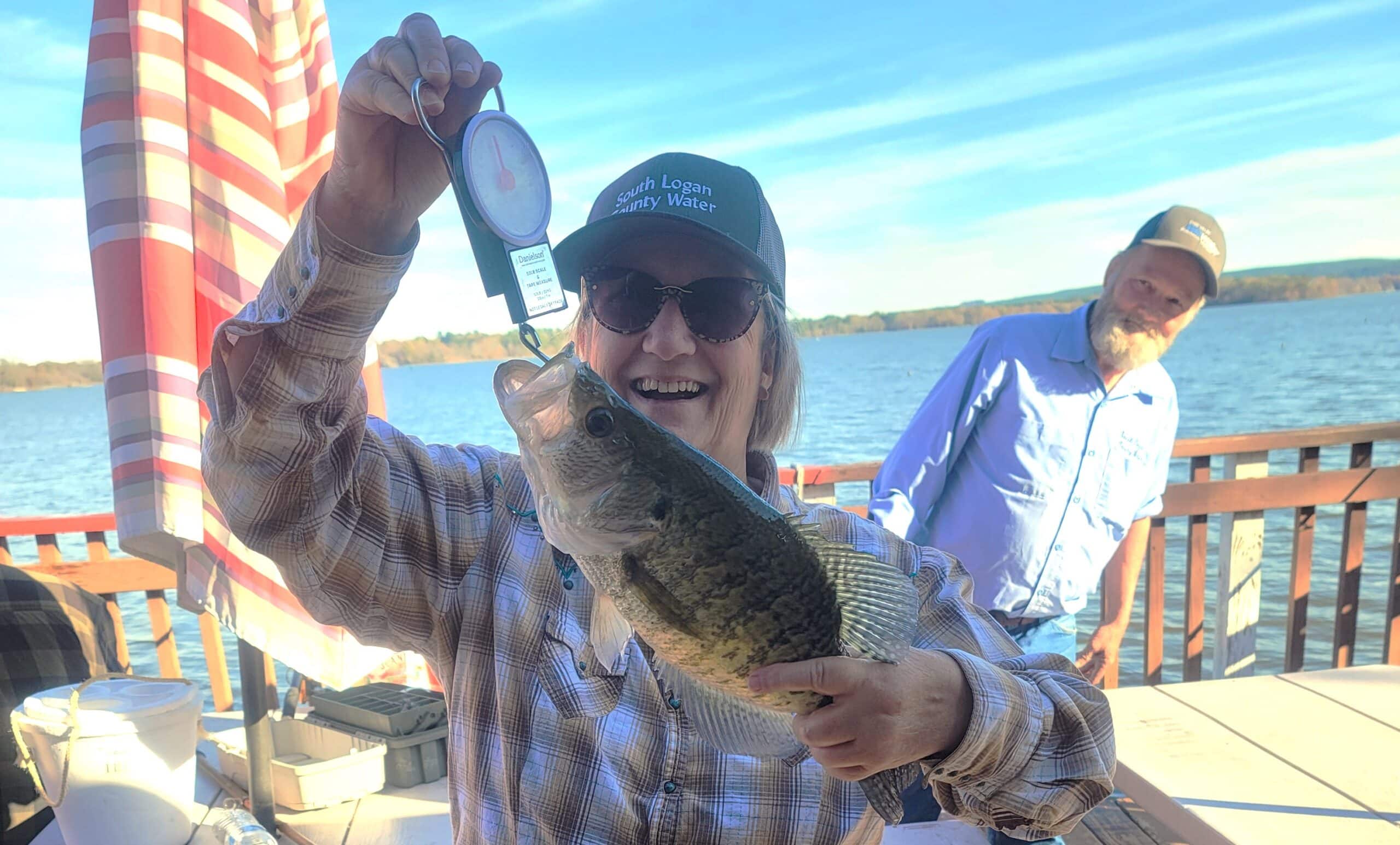 Subscribe to Our Weekly Newsletter E-mails
Don't miss another issue. Sign up now to receive the AGFC Wildlife Weekly Newsletter in your mailbox every Wednesday afternoon (Waterfowl Reports are published weekly during waterfowl season and periodically outside the season). Fishing Reports arrive on Thursdays. Fill in the following fields and hit submit. Thanks, and welcome!