Departee Creek diversity surprises hunters and birdwatchers
Aug. 23, 2023
Jim Harris

Managing Editor Arkansas Wildlife Magazine
BRADFORD – Henry Gray Hurricane Lake Wildlife Management Area nearby is far more renowned, and vastly larger, but there are three tracts of land just to the north in White County that make up Departee Creek WMA, which punches well beyond its weight in terms of wildlife opportunities.
Departee Creek WMA, established as a WMA in 1998 and named for the small waterway that borders the lower third of the northernmost parcel, is only 1,415 acres total among the three parcels, but it is an attractive locale for small game hunters. When water is high enough to flood the parcels of bottomland hardwood, which are just a few short miles to the middle of Hurricane Lake WMA, waterfowl hunters should take a look, too; an 800-acre parcel north of U.S. Highway 64 is about 3 miles west of the White River, while a smaller parcel between to the major pieces of the WMA abuts an oxbow just off the river.
Previous land use consisted of row crop, rice farmland and a commercial fishpond operation. Part of the area, the northernmost parcel, would be classified as upland, while several hundreds of acres would be described as wetland/floodplain. The parcels stretch over about 7 miles of landscape from north to south with private lands in between.
AGFC biologist Clifton Jackson, who manages Departee Creek among other WMAs in east-central Arkansas like Holland Bottoms near Jacksonville and Prairie Bayou WMA near Carlisle, says Departee Creek "is kind of similar to Prairie Bayou (in its small size), but it's a little bit more diverse in a different state of succession, where trees were planted on it some time ago and they are a little older. It's wetter, for sure, most of the time."
A reclaimed bottomland hardwood area that was known as the Estep farm, makes up about 120 acres, he said. "But it's a really pretty spot," Jackson said. "And then there's the Glaise Creek addition that was annexed (by the AGFC as mitigated lands belonging to the Arkansas Department of Transportation) that's exceptional rabbit hunting. I won't say it's easy but there's still a lot of rabbits there. It's a big, open wetland."
The third parcel of Departee Creek, the northern acreage that can be seen from the four-lane U.S. 67, is an old fish farm that came under AGFC ownership. "There are several ponds and stands of pines. We've been actively managing it, trying to reduce the number of eastern red cedar there to create a bit more usable space," Jackson said.

Jackson is an avid small game hunter, and particularly likes chasing squirrels and rabbits. He says Departee Creek WMA is must-go destination for fans of small game hunting.
"The place is really nice. I see a lot of diversity," he said. "When I go over there, I even see groundhogs, deer, rabbits and even a turkey here and there." Quail can be hunted, too. The only seasons closed on Departee Creek WMA are bear and alligator.
"There's not a whole lot of places you can go, like for deer season, where it's open where you've got a pretty reasonable chance of killing a deer, but you're probably going to see some deer. Departee Creek WMA is one of (the AGFC's WMAs) that you can kind of show up without a permit draw and have a chance of killing a pretty nice deer. Any of the open deer seasons are available in the zone.
"I'm an avid rabbit hunter and there are not a whole lot of places where you can line up five or six guys or something like that and turn out eight or 10 dogs and go have a really good hunt. It's one of those places where you can do that."
The bottomland hardwood area of 120 acres, the former Estep farm, provides what Jackson says is the "quintessential" morning hunt for both fox squirrels and gray squirrels. "That would be the place to go. So, it can really have a lot of different hunts for a relatively small amount of land."
The only problem might be getting there. Besides being divided into three parcels, it's a little off the beaten path – or, in this case, off the Bradford exit on U.S. 67 or the U.S. 64 exit out of Bald Knob, depending on which parcel you're seeking. For the northernmost parcel, which you'll see from the main highway, exit right (east) away from Bradford from the four-lane and take Ridgeview Road south. Treece Road, off Ridgeview, dead-ends at the north end of the WMA to the area of the former fishpond. Wiggy Bridge Road, farther southwest off Ridgeview, takes you to the southern end of that northern parcel.

The mitigated 800-plus acres of bottomland hardwood belonging to ArDOT is north of Worden community and accessible off Worden Road off U.S. Highway 64, with Glaise Creek running through it. The third, smallest parcel lies below the Horseshoe Lake oxbow and is the hardest to access, Jackson said. The aforementioned Ridgeview Road, taken south, will eventually intersect with Horseshoe Lake Road, which then will run into Dexter Road and provide access to the 120-acre Estep parcel.
The former farm has a parking area, but finding it will require potential hunters and other users to go online at agfc.com and get the map, Jackson suggested (make sure to get the Departee Creek Map No. 2; there are two parts). "It's beautiful, but you'd have to be going there. There is nothing else over there."
From the two parcels of bottomland hardwoods when flooded to the fishponds farther north, when September's early teal season arrives and when regular waterfowl season opens in November, there will be opportunities, Jackson says.
"Absolutely. All of those old fish farms are suitable for teal. The (bottomland hardwood) property definitely has wetlands on it and it would be a good waterfowl hunt — when the water's right. Sometimes when the White River floods the Estep land it can be ocean and there's nothing, and other times it can be amazing — you just have to hit it right," he said.
The old fishponds and Departee Creek offer some fishing opportunities. Also, these ponds are excellent places for birdwatchers to observe wading birds, songbirds and other migratory species. They can be viewed from your vehicle or by walking one of the many trails in the area. Some trails may be muddy, so consider bringing knee boots.
CUTLINES:
DOG WITH HUNTER
Rabbit hunting is possible on some of the habitat at Departee Creek.
CREEK
Departee Creek WMA is a mix of old fields, bottomland hardwoods and upland habitat to offer a variety of hunting and wildlife-watching experiences.
HERON
Bird-watching enthusiasts can find many marsh birds and wading birds like little green herons and egrets in addition to waterfowl.
---
Recent News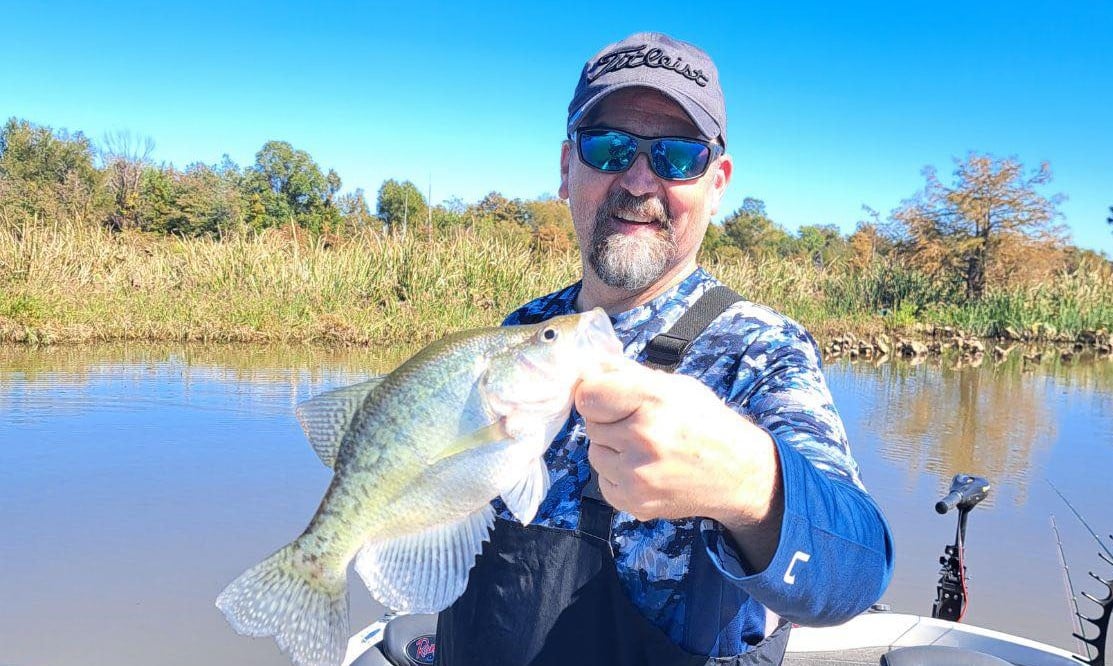 Subscribe to Our Weekly Newsletter E-mails
Don't miss another issue. Sign up now to receive the AGFC Wildlife Weekly Newsletter in your mailbox every Wednesday afternoon (Waterfowl Reports are published weekly during waterfowl season and periodically outside the season). Fishing Reports arrive on Thursdays. Fill in the following fields and hit submit. Thanks, and welcome!