Biologists use hydroacoustic technology for large lake forage study
Oct. 25, 2023
Jim Harris

Managing Editor Arkansas Wildlife Magazine
AMITY — Technology used in the study of ocean marine life has found its way into The Natural State to help Arkansas Game and Fish Commission biologists make more informed decisions for keeping sport fish healthy.
The AGFC is in the third year of a study on DeGray and Beaver lakes using hydroacoustics in combination with tried-and-true sampling methods of electrofishing and trawling to determine the status of those lakes' forage bases — the "groceries," as AGFC biologist Sean Lusk calls them.
As Lusk explained Monday night during project work at Point Cedar on DeGray Lake, the method of how sport fish populations have been studied in the past has been "flipped on its head" with hydroacoustics and studying forage. In the past, the work was more reactive in observing a sport fish's condition and growth. "When we saw problems, the problem was already there, Lusk said.
This approach starts closer to the lower end of the food chain. Shad make up those meals in the middle of a large lake for bass and other sport fish.
"This technology and methodology allows us to be more predictive," he said. "We can get out on the front end as opposed to waiting until there is an actual problem. We can address it much earlier and potentially avoid having the issues altogether."

Getting to see this project firsthand coincided with this writer joining guide and professional angler Randy Plyler on a Sunday fishing excursion at DeGray, though the areas we focused on were toward the southeast, southwest and northern portions of the lake: from the Army Corps of Engineers Spillway access to the state park marina docks, to Brushy Creek, then up to a stretch of lake past Arlie Moore where we found occasional bass action.
Plyler supplies an update in the Weekly Fishing Report. His focus is primarily on bass (John Duncan, who fishes out of Iron Mountain Marina and is also featured in the weekly report, favors crappie). Plyler had found the bass very active in recent weeks with the lake cooling down and gave me a call last Friday; starting out from the spillway midmorning Sunday, Oct. 22, Plyler had me throw either a smaller topwater lure that resembled a shad or a white/chartreuse spinnerbait that worked under the wind-whipped water, while he tossed an even smaller sky blue topwater and also vertically fished a spoon. Shad balls were obvious, though it paled in comparison to what the AGFC staff would boat the next day around Point Cedar at 5:30 p.m. when shad were feeding near the surface.
The biologists did their Monday fishing with the AGFC's electrofishing boat, manned by Hot Springs-based biologists Brett Hobbs and Andy Yung. Earlier, the trio of Lusk, AGFC Black Bass Program Coordinator Jeremy Risley and Oklahoma State University grad student Kadyn Allen ran transects covering about 19 miles of DeGray Lake with the expensive acoustic equipment and Allen's high-powered laptop to record the hydroacoustic data. The hydroacoustic portion and the electrofishing results will be combined to tell the team how much forage, and specifically gizzard and threadfin shad, they saw and how that correlates to the entire lake.
"This software largely comes from the marine field," Lusk said. "When we think about how they do these large fishery assessments of the ocean, a lot of what they are doing is hydroacoustics. Over the years, they've really developed some incredibly powerful software that can take the information you collect from doing hydroacoustics and give you an idea of how many fish you actually went over while you're doing your sampling. It is being adapted to large inland lakes"

Lusk said the hydroacoustics' transducer is similar to the fishfinder technology the average angler might possess, only this is research-grade equipment. The hydroacoustics show balls of shad at varying depths below the boat as it passes over the fish. What it doesn't show is the species composition. That's where the electrofishing or trawling for samples comes in.
The electrofishing that night produced a variety of sizes of both threadfin shad and gizzard shad. While the majority of collected shad were tiny (2 inches or so), there were quite a few shad in the 4-8 inch range with several fish over12 inches in length, which in most cases would be too big for a black bass to consume. The different sizes, though, told the biologists that they were seeing varying age classes, and therefore good annual shad production.
The electrofishing provided them with the "ground truth" to what they were seeing through the hydroacoustics information, Lusk said.
"It gives us a more holistic view of what the forage base looks like," Lusk said of the electrofishing component. "It is primarily threadfin shad? Is it gizzard shad? Are we seeing multiple different year classes? We want to see that we're getting a bunch of different spawns, which is what we have here.
"The size potential of gizzard shad is that they tend to get a lot larger (than threadfin). The value of threadfin is, they will grow up to 8 inches, which is a very large threadfin shad, but for the most part throughout their entire life they will stay in a size range where they can be preyed upon by the predatory fish that swim around here in DeGray."
There are shad all over the lake — angler Plyler backed that up when he said Sunday, "There's no problem finding shad," and bass were seen often blowing up on them — but as the season winds down, the biologists found more impressive schools in the tributaries, like Point Cedar, full of nutrients.

Arkansas is one of only a few states in the country working toward implementing a hydroacoustics program on a statewide basis, Lusk said. South Carolina is trying it on one lake, Risley added. Allen, the Oklahoma State master's student, a native of Utah and graduate of Brigham Young University, is finishing up the work started by a previous OSU master's student. He'll help the AGFC biologists run the data through the software on-site and in Stillwater.
Lusk said, "We know the volume of water we're sampling and we can predict how many fish were in that volume of water that we sampled. We can extrapolate that information to the entire lake to give us an idea of what the forage looks like on a reservoir scale."
It may seem simple when he says it, but it's not. "There is a considerable amount of analysis on the back end," Lusk said.
CUTLINES:
Biologists Looking at Laptop
Jeremy Risley (upper left), Kaydn Allen (lower left) and Sean Lusk (right) run transect lines with high-powered sonar that tallies the number of returns from transect lines to determine forage density at DeGray.
Angler
DeGray guide and professional angler Randy Plyler hooked up with a feisty bass using shad-imitating topwaters and spinnerbaits.
Shad on Board
Electrofishing samples gave comparisons on the variety of size and species of shad in the lake to correlate with hydroacoustic data.
Shad in Hand
Threadfin shad (top) remain smaller and easier to eat for sport fish for a longer part of their life cycle than gizzard shad (bottom). Threadfins rarely reach sizes over 8 inches long, while gizzard shad can exceed 14 inches when fully mature.
---
Recent News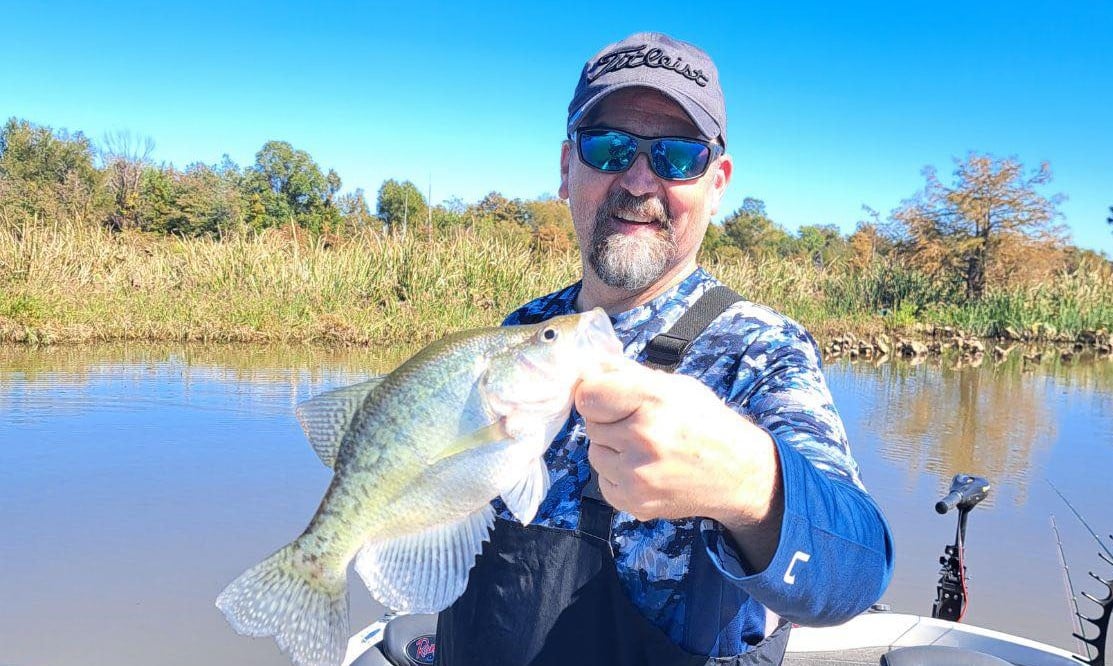 Subscribe to Our Weekly Newsletter E-mails
Don't miss another issue. Sign up now to receive the AGFC Wildlife Weekly Newsletter in your mailbox every Wednesday afternoon (Waterfowl Reports are published weekly during waterfowl season and periodically outside the season). Fishing Reports arrive on Thursdays. Fill in the following fields and hit submit. Thanks, and welcome!