Arkansas Wildlife Weekly Fishing Report
Feb. 3, 2022
Jim Harris

Managing Editor Arkansas Wildlife Magazine
This is the Arkansas Game and Fish Commission's fishing report for Feb. 3, 2022. If there is a body of water you would like included in this report, please email

jim.harris@agfc.ar.gov

with information on possible sources for reports about that lake or river. Reports are updated weekly, although some reports might be published for two weeks if updates are not received promptly or if reporters say conditions haven't changed. Contact the reporter for the lake or stream you plan to fish for current news. Note: msl = mean sea level; cfs = cubic feet per second. All Corps of Engineers lake and river readings were taken at 10 a.m. the day of publication (Feb. 3).


****Buy an Arkansas Fishing License by

clicking here

. Your purchase of a Fishing License helps support the AGFC's work in maintaining the fishing resources throughout the state.
Arkansas River and White River levels are available at: http://water.weather.gov/ahps2/index.php?wfo=lzk
For real-time information on stream flow in Arkansas from the U.S. Geological Survey, visit: http://waterdata.usgs.gov/ar/nwis/rt
For water-quality statistics (including temperature) in many Arkansas streams and lakes, visit: http://waterdata.usgs.gov/ar/nwis/current/?type=quality
---
TOP AND LEFT: A nice rainbow is displayed by an angler named Miles from Wichita, Kansas, who was fishing with guide (and Fishing Report contributor) Mike Winkler recently on the Little Red River. They were fishing pink San Juan worms on a deep-water nymph rig out of the boat with the floodgates open at Greers Ferry Dam. Photo provided by Mike Winkler.
---


Craig D. Campbell Lake Conway Reservoir
(updated 2-3-2022) Bates Field and Stream (501-470-1846) said the lake clarity is the normal Lake Conway stain and the water level is normal as of Wednesday. Bream are fair on redworms and crickets. Crappie are fair on 1- to 3-inch jigs and on minnows. Black bass are good, with anglers' best success coming on crankbaits or with anything that resembles shad or baitfish. Catfishing continues to rate good. Nightcrawlers, dough bait or stink bait were the best choices this week.
Little Red River
(updated 1-27-2022) Mike Winkler, who operates Little Red River Guide Service (501-690-9166, 501-507-3688), said that for over a week on the Little Red River the Army Corps of Engineers has been running water over the floodgates equal to one unit of generation.
Fishing from a boat has been good nymphing San Juan worms in pink. Egg patterns have also been working well.
Streamer fishing has been productive throwing articulated streamer patterns.
(updated 1-20-2022) Lowell Myers of Sore Lip'em All Guide Service (501-230-0730) said that with both generators at the Greers Ferry Dam down for maintenance, the Army Corps of Engineers is using the spillway to release water into the Little Red. Currently the release is approximately equivalent to one generator water release. This water release could change any day. San Juan worms, weighted egg patterns and streamers are recommended for fly-fishing. For Trout Magnet fishing, pink-colored body on chartreuse or gold jigheads is recommended. Always check before heading to the Little Red River by calling the Corps of Engineers Little Rock District water data system (501-362-5150) for Greers Ferry Dam water release information or check the Corps of Engineers website (swl-wc.usace.army.mil) for real-time water release and the Southwestern Power Administration website (swpa.gov) to see forecasted generation schedule.
(updated 1-20-2022) Fish 'N Stuff (501-834-5733) in Sherwood said trout are good on LiveScope and olive marabou jigs and Rooster Tail.
Greers Ferry Lake
As of Thursday, the Army Corps of Engineers reports the lake's elevation at 462.02 feet msl (normal conservation pool: 462.04 feet msl, top flood elevation 487.0 msl).
(updated 2-3-2022) Tommy Cauley of Fishfinder Guide Service (501-940-1318) said Thursday the water level at Greers Ferry Lake is at 461.99 feet msl, 0.05 feet below normal pool of 462.04 feet. Yesterday they lowered all gates but one and let it open 0.05 inches, and now Thursday morning they have started to generate at a slow rate with two running. Fishing and catching are all pretty much the same as last week and will stay that way off and on until the end of February, it appears.
Pre
Prespawn is here for some species and pre-pre-prespawn for others. Black bass are good on Wiggle Warts, Alabama rigs, Rock Crawlers, jigs, spinnerbaits, float and fly – a gauntlet of things, hair jigs, etc., they will bite right now if you stay around shad and close to shad. They are scattered from super shallow out to 80 feet. Crappie are eating and moving around a lot, especially if you are chasing them with forward sonar as they are getting spooky with all of the craze going on. Catching vertical is the best bet not to scare them, with small jigs or minnows in 25-45 feet around some timber.
No reports on bream, and no reports on catfish – just no one out doing it, but can be done especially around the shad. Walleye are staging. Some are up rivers and eating, while lake fish are still just moving up and down feeding. Crankbaits, jerkbaits and crawlers are working, as well as minnows. Hybrid and white bass are eating at will all over lake and rivers; stay around bait, 25-80 feet with spoons, inline spinners, live bait, Alabama rigs, hair jigs and swimbaits.
(updated 2-3-2022) Fish 'N Stuff (501-834-5733) in Sherwood said bass are good on Alabama rigs around main points and around brushpiles. Also try mid-diving crankbaits (Rock Crawlers and Wiggle Warts) in red/orange colors and shad-colored jerkbaits.
Harris Brake Lake
(updated 2-3-2022) Harris Brake Lake Resort (501-889-2745) said Wednesday that the clarity of the lake was "average" and the level was back to normal. Anglers are catching a few bream on minnows. They rate the catch fair. Crappie are good on minnows and jigs. No reports on black bass or catfish.
Brewer Lake
(update 2-3-2022) David Hall at Dad's Bait Shop (501-289-2210) said Sunday will be a good day for fishing after all of the inclement weather. Look for crappie around the underwater brushpiles and use minnows or jigs. Before the icy/snowy precipitation, the lake was clear and was still low by about 1 foot. Bream fishing has been fair of late on redworms and crickets are best. Crappie have been good on minnows and jigs around those brushpiles. Black bass are fair these days. Anglers were catching them in deeper water with the usual bass lures and with live bait. Catfishing was fair with stink bait and live bait.
Dad's is a 24/7 self-serve bait shop.
Lake Maumelle
(updated 1-27-2022) WestRock Landing in Roland (501-658-5598) reported that water temperature has dropped into the upper 40s this week. The largemouth bass bite is good. Reports vary from the bass being found shallow to being scattered at all depths. Some reports have them deep. Try using crankbaits, spinnerbaits or drop-shots. Their black bass kin, the spotted bass (Kentucky bass) also are good. Some reports of them being found near drop-offs around 16-20 feet and off rocky banks and other reports of them being found on brushpiles. Try using a Texas rig on brush, or jigs.
Large stringers of black bass are being caught in the Saturday tournaments. In the Bass League tourney last Saturday, John and Mason Davis hauled in 17.33 pounds with a five-bass stringer. Jack Whitbeck and Grub caught 15.84 pound of bass, including a 6.46 Bib Bass. Eric Wallace on Sunday in the WestRock Winter Series bagged 12.79 pounds and a Big Bass of 4.16 pounds.
White bass provided no reports this week, but try swimbaits if you want to go for them.
Crappie fishing remains excellent. Reports this week of the crappie being found deep and stacking off the bottom around 30-35 feet in the channel. They were still deep this week over brush. Try using jigs and minnows.
Bream are fair. Reports of bream off the bottom in deep water around 30 feet. They were biting on minnows and jigs. No reports on catfish, but this time of year they should bite chicken liver, worms and crayfish.
(updated 1-13-2022) Fish 'N Stuff (501-834-5733) said crappie are good on Monkey Milk crappie jigs and Bobby Garland Jigs in 10-15 feet depth around underwater brushtops.
Arkansas River at Morrilton
On Thursday, the Corps of Engineers said water flow at the Ormond Lock and Dam was 4,000 cfs. Flow further upriver at Dardanelle Lock and Dam was 29,711 cfs.
Little Maumelle River
(updated 2-3-2022) Ray Hudson at River Valley Marina (501-517-1250) said the river is clear and at a normal level. He said Wednesday before all the bad weather arrived that a few white bass have been caught lately. Bream are good. Fish with redworms or crickets. Bream are near the bottom. Crappie are good and being caught in 8-10 feet deep. Use minnows or jigs. Black bass are good, and like the crappie they are in 8-10 feet depth; crankbait has been the bait of choice of late. Catfish appear to be in hiding, no reports.
Arkansas River (Maumelle Pool)
On Thursday, the Corps of Engineers said water flow at the Toad Suck Lock and Dam was 17,440 cfs.
Arkansas River (Little Rock Area Pools)
On Thursday, the Corps of Engineers said water flow at the Murray Lock and Dam was 14,121 cfs. Flow at the Terry Lock and Dam was 0 cfs.
(updated 2-3-2022) Fish 'N Stuff (501-834-5733) said the river is at about 13,000 cfs. Bass are good on shad-colored jerkbaits along the jetties, and also good around grass on red or crawfish-colored crankbaits. Also fish mid-diving crankbaits (Rock Crawler and Wiggle Wart) in red and orange in deep pockets, black and blue jigs on jetties or around grass. Crappie are good on rock piles around jetties and wood in the backs of pockets on black/chartreuse crappie tubes.
(updated 1-27-2022) Zimmerman's Exxon (501-944-2527) said crappie are good on the river on minnows and jigs at the ends of jetties.=
Clear Lake (off Arkansas River-Little Rock Pool)
(updated 1-27-2022) McSwain Sports Center (501-945-2471) says the water is so low that boats cannot get in the lake, and water is also muddy.
Peckerwood Lake
(update 2-3-2022) Herman's Landing (870-241-3731) is closed for the season, as private Peckerwood Lake is turned over to waterfowl with the upcoming season. Herman's will reopen later this month.
---
White River
(updated 2-3-2022) Dave McCulley, owner of Jenkins Fishing Service in Calico Rock, says, We hope everyone is staying safe during the current winter storm. Last week there were not very many fishermen on the river around Calico Rock. Those who did fish did well on artificial lures such as spoons, Rapala Countdowns and dark-colored jigs. Several brown trout were caught that were between 19-23 inches; a lot of these brown trout will be keepers by this summer. We also saw numerous rainbow trout in the 13-15-plus-inch size. With the reduced fishing pressure, the fish have been able to eat and grow. Even the smaller rainbows had thickness to them.
(updated 2-3-2022) John Berry of Berry Brothers Guide Service said Monday that during the past week they had no measurable precipitation, frigid temperatures and heavy winds. The lake level at Bull Shoals fell 0.4 foot to rest at a 1.4 feet below power pool of 659 feet msl. This is 37.4 feet below the top of flood pool. Upstream, Table Rock Lake fell 0.6 foot to rest at 1.1 feet below power pool and 17.1 feet below the top of flood pool. Beaver Lake fell 0.6 foot to rest at 1 foot below power pool or 10.6 feet below the top of flood pool. The White has had no wadable water. Norfork Lake fell 0.6 foot to rest at 1.1 feet below power pool of 553.75 feet msl and 27.4 feet below the top of flood pool. The Norfork tailwater has had limited wadable water.
The catch-and-release section below Bull Shoals Dam closed from Nov. 1-Jan. 31 to accommodate the brown trout spawn, is now reopened.
On the White, the hot spot has been White Hole. The hot flies were Y2Ks, prince nymphs, zebra midges (black with silver wire and silver bead or red with silver wire and silver bead), pheasant tails, copper Johns, pink and cerise San Juan worms, gold-ribbed hare's ears and sowbugs. Double-fly nymph rigs have been very effective. Try a small bead-headed nymph (zebra midge, copper John or pheasant tail) suspended 18 inches below a brightly colored San Juan worm (hot fluorescent pink or cerise).
John also said, "Last week I continued the breaking in of my new outboard motor. As is my habit, I also used this time on stream to also get in a little fishing. To make the situation even better, my wife, Lori, was also interested in fishing. I went early to launch the boat and rig the rods. Lori fed and walked our Labrador retrievers, Tilley and Ghillie, before joining me.
"The conditions were near perfect. The day was sunny and reasonably warm with little wind. The water was fairly low (the equivalent of one full generator) and gin clear. I had rigged up a couple of my client rods with two fly nymph rigs (a size 14 prince nymph with a ruby midge dropper). I added an AB split shot and a strike indicator. I set the depth at 5½ feet.
"I began fishing. I had only drifted a few feet when Lori called me on my cell phone to let me know she was on the ramp. I motored over and picked her up. We began fishing. The going was slow. I missed a couple of takes before I hooked and landed a stout 18-inch rainbow. Lori responded with a brilliantly colored 14-inch rainbow. Things were looking up.
"We continued fishing and I hooked a big fish. I looked down in the clear water and I saw a fish with a broad bronze back. I got a good look at the tail and noted that it was quite wide. It took off and hugged the bottom. It pulled a lot of line off the reel. I was convinced that I had hooked up a large brown. I was stoked.
"It was fighting very hard. I carefully played it on the reel. It took a run toward the front of the boat and I asked Lori to pull the drag chain into the boat, so that the fish would not get tangled in it. It made a run to the back of the boat. I raised the motor out of the water with the power tilt feature on my Honda outboard. The fight went on for several minutes.
"It finally began to tire out. I told Lori to get her iPhone out and turn the camera on. I grabbed my big boat net and scooped it up. I looked down in the net and saw the biggest sucker that I have ever seen. At first I was disappointed. One just doesn't post a photo of a big sucker (a large carp-like fish native to our rivers) on Facebook. However, I was impressed with the quality and length of the fight. I took the ruby midge out of its mouth and released the fish.
"Don't celebrate your catch until you see it in the net!"
(updated 1-27-2022) Cotter Trout Dock (870-435-6525) said that even with steady, daily releases, Bull Shoals Lake elevation remains very near the desired power pool level of 659 feet msl. The same holds true for all the lakes in the White River watershed, so be prepared for what seems to be erratic changes in the water level but trust that the lakes are being maintained well for flood control.
Looks like our daytime temps will remain above freezing for the next couple of weeks with a few days reaching a balmy low 50-plus degrees, but other days just barely thawing. Nighttime lows are still below freezing, calling for extra layers for early morning trips to the river. Bring live worms for those early rises and turn to sturdy stickbaits when the water reaches its zenith for the day (that's been around 3 p.m. here in Cotter.) Longtime favorites for mid-January/late spawn season: silver and black Rapala CD7s or Smithwick's black-silver suspending rogues. Translucent orange egg patterns have been causing a stir among the rainbows.
Boat and wading traffic have been very light over the last few weeks and we expect that to continue for another week or two. That makes for a great time to visit the White and find all those trout just looking for an easy meal. Remember that the annual brown trout spawn restrictions end on Jan. 31; we'll be waiting for those browns that haven't already left the nests for their home territory.
Posted: Terrific fishing ahead!
Bull Shoals Lake
As of Thursday, the Army Corps of Engineers reported the lake's elevation at 657.90 feet msl (normal conservation pool: 657.78 feet msl; top flood elevation is 695.0 feet msl). The reported lake elevation at Table Rock Lake was 913.76 feet msl (normal conservation pool: 915.00 feet msl; top flood elevation is 931.0 feet msl).
(updated 1-27-2022) Del Colvin at Bull Shoals Lake Boat Dock said bass fishing has been fair. No need to get out early, especially if it's cold. There's been a good afternoon bite one-half to three-quarters of the way back, 75-90 feet into the guts of creeks. Graph to look for shad and look for loons. Active diving loons will trigger feeding activity. Offshore shade structure seems to be the predominant bite. The shad have moved even deeper as of late. Some of the fish have left the shad, so power fisherman can grind it out. Key in on windy ledges, transitions, channel swing banks with chunk rock. Jerkbait has started catching a few under a little sun and wind, and use the Rock Crawler or Wiggle Wart on windy days and cover water. You can always catch them on a jig. Fish the conditions. Clarity is good, the surface water temperature is 49 degrees. Water level is low.
See Del's YouTube site (Bull Shoals Lake Boat Dock) for more information and tips on fishing Bull Shoals Lake.
Norfork Lake
As of Thursday, the Army Corps of Engineers reported the lake's elevation at 552.59 feet msl (normal conservation pool: Sept.-April, 553.75 feet msl; April-Sept. 555.75 feet msl; top flood elevation 580.0 feet msl).
(updated 2-3-2022) Steven "Scuba Steve" Street at Blackburn's Resort reported Wednesday that the lake level is 552.63 feet msl and has risen three-quarters of an inch in the last 24 hours with little generation. The surface water is 47 degrees and the water clarity is pretty good, and you can see your lure down about 5 feet. It has been a good fishing week at Norfork with bass and crappie being the best, and trollers are also catching some stripers. A few walleye are being caught on the bottom. The weather is deteriorating as of this writing and we are expecting mixed precipitation starting Wednesday night.
"I am using jigging spoons, grubs and jigs in front of and in brush with some big fish being caught. I received my Norfork Lake Cover permit and have been putting in cedar trees. The fish are already on them The lake overall is in excellent conditions and the fish population is very good and they are healthy, and it looks to be a good spring fishing."
For a daily fishing report and lake condition go to www.blackburnsresort.com and click on Scuba Steve's Blog.
(updated 2-3-2022) Lou Gabric, at Hummingbird Hideaway Resort said, "Over the last couple of weeks, I have been concentrating my fishing habit on finding and catching striped and hybrid bass with a little bass fishing throw in. The bite has been good for me. I've used several different fishing methods to catch this species. Live bait is the easiest and a very good way to catch striped bass. You can purchase large shiners or you can try and net your own threadfin shad, but that is difficult at this time as they are deep.
"One of my favorite methods is vertical-jigging a 1-ounce spoon. My preferred color now is white. Another bait that I have been vertical-jigging is a 3-inch soft plastic split tail bait similar to a fluke with a three-eighths-ounce jighead. This method is a little harder to fish due to the lightweight bait. It falls slowly and it's hard to get the fish in a timely fashion. I fished with a guide friend, Chad Bleeker of Norfork Bayou Fishing, last week and he showed me this method. It worked really well with using his Garmin LiveScope. I have added this new electronic to my wish list.
"I also like to cast out a Kastmater blade-style bait. I let the bait sink to the desired depth and slowly reel back to the boat in a jerking motion. The fish typically hit it on the fall. I use th Kastmaster when I see the fish on my sidescan and when they are shallower, say 20-30 feet deep.
"The final method that I use is to troll a hard crankbait. I use the Berkeley Flicker Minnow sizes 7 and 9. I use the 50-50 rule with a 1-ounce snap weight, which will get the bait down to 30 feet. Use a 2-ounce weight if you want to get to about 40 feet. When I troll, I use my trolling motor and go about 1.4 mph. The key to catching these fish, once you find them, is to get your bait to the depth where the fish are.
"I have been finding striped and hybrid bass in two types of areas. They have been out in deep water near the old river channel in 70-100-plus feet of water. The second area has been on a large deep flat in 50-70 feet of water. The key clue for finding stripers is to find the baitfish. If you can find a large concentration of bait, the stripers will typically be in the area. I have found bait and fish from the Cranfield area to the mid-lake bridges, then from these bridges back to the 101 Boat Dock area. The bait has been moving back and forth in this vast area and sometimes overnight. The stripers and hybrids have been suspended from 20 feet down to 60 feet and anywhere in between.
Largemouth bass fishing has also been very good. The fish I have been finding are out chasing shad along with the striped bass/hybrid bass. The Kastmaster has worked great for me as these fish seem to be only 20-30 feet down. The second and best area for me has been in 33-40 feet of water off of long rocky points. These points are usually at the end of a bluff line that leads into a cove. The outside edge of the point has been more productive for me than the inside. I use my 1-ounce spoon and jig it slowly on the bottom. Sometimes I leave it laying on the bottom briefly and it seems the bass suck it in at this point.
Norfork Lake surface water temperature is holding in the 45-46 degree range, but may drop a little more with this incoming winter storm. The lake level is holding fairly stable at this time with minimal power generation and currently sits at 552.61 feet msl. The lake remains slightly stained.
"I post almost daily on Facebook. If you want more frequent information, please visit and like Hummingbird Hideaway Resort's Facebook page. Happy fishing and enjoy Norfork Lake."
Norfork Tailwater
(updated 2-3-2022) John Berry of Berry Brothers Guide Service in Cotter (870-435-2169) said Norfork Lake fell 0.6 foot to rest at 1.1 feet below power pool of 553.75 feet msl and 27.4 feet below the top of flood pool. The Norfork tailwater has had limited wadable water.There has been some wadable water on the Norfork and it fished well some days and poorly on others. The most productive flies have been small midge patterns like zebra midges (black or red with silver wire and silver bead). Grasshoppers have produced fish, particularly when used in conjunction with a small nymph dropper (try a size 20 black zebra midge). Double-fly nymph rigs have been very effective. Try a small bead-headed nymph (zebra midge, copper John or pheasant tail) suspended 18 inches below a brightly colored San Juan worm (hot fluorescent pink or cerise). The fishing is much better in the morning and late afternoon and tapers off midday.
Dry Run Creek has fished particularly well. School is back in session and now is a great time to fish it, particularly during the week. Weekends can get a bit crowded. The hot flies have been sowbugs and various colored San Juan worms (worm brown, red, hot fluorescent pink and cerise). Small orange or peach eggs have been very effective. Carry a large net, as most fish are lost at the net.
Remember that the White and North Fork rivers and Dry Run Creek are infected with didymo, an invasive alga. Thoroughly clean and dry your waders (especially the felt soles on wading boots) before using them in any other water. Many manufacturers are now making rubber soled wading boots that are easier to clean and are not as likely to harbor didymo.
Buffalo National River/Crooked Creek
(updated 2-3-2022) John Berry of Berry Brothers Guide Service in Cotter (870-435-2169) said Crooked Creek and the Buffalo River are still navigable. With colder temperatures, the smallmouths are not active. The most effective fly has been a tan and brown Clouser minnow. Carefully check the water level before entering Crooked Creek or the Buffalo River. There are no dams on these streams. They both have large drainages and are prone to flooding during and following any rain event. The water can rise very quickly.
---
Beaver Lake
As of Thursday, the Army Corps of Engineers reports the lake's elevation at 1,119.18 feet msl (normal conservation pool: 1,120.43 feet msl; top flood elevation is 1,130.0 feet msl).
(updated 2-3-2022) Jon Conklin with FishOn Guide Service (479-233-3474) said, "Well, as I write this the storm showed up! Looks like it will warm starting Sunday. Last week was a pretty good week for people fishing for crappie, as it has been for the last two months or so. On my guide trips, we have been breaking ice on the journey up the river arms, which is an indication of water temps. Upper 30s have been common in the arms and coves, with the main lake body in the low 40s.
"Spotted bass picked up last week on Alabama rigs and jerkbaits in the mid-lake area. Stripers are just hard to pattern as of late. A few have been picked up around Horseshoe Bend. Walleye are still elusive. All of that should change in the next few weeks as prespawn staging will start for most species.
"Biggest change for me guiding was the crappie schooled up on mud flats in 25 feet of water. A lot of crappie were joining us for the fish fry with muddy tails, which shows me they are buried in the silt, which is common on these big temperature drops. Slowly pitching plastics and Road Runners was working well. You must learn what schooled-up crappie buried in the mud look like on your graph and then fish accordingly. Good luck and stay safe out there!"
Check out Jon's Facebook page for latest updates, FishOn Guide Service Goshen AR.
(updated 1-27-2022) Southtown Sporting Goods (479-443-7148) reported the lake is a little murky and low. Walleye are spotty. Stripers are really good right now on minnows, spoons and soft jerkbaits. Bream are fair on redworms and crickets. Crappie are good on minnows and jigs; work the brushpiles. Black bass are good, with crankbaits and worms working best. No reports on catfish.
Beaver Tailwater
(updated 1-13-2022) Guide Austin Kennedy (479-244-0039) said fishing has been hit or miss this past week, but if you can drift the flowing water, you should do pretty well. Most trout are being caught between Parker Bottoms and Spider Creek. "We have had great success with quarter-ounce spoons coated in Fire gel. Light terminal tackle, fished with various PowerBaits, has also done nicely as well. You will need to cover water to stay on the bite.
"This past week we only focused on the trout. In about a month, I will have a better idea how them walleye are doing! Try to stay in the deep pockets and you should do just fine! This weekend might have some winter weather, so try to get out Friday. Good luck and catch some fish!"
Visit Austin's fishing Facebook Page (Busch Mountain Fishing Guide Service) for fishing videos and tips on the tailwater.
Lake Fayetteville
(updated 2-3-2022) Lake Fayetteville Boat Dock (479-444-3476) had no reports.
Lake Sequoyah
(updated 2-3-2022) Lake Sequoyah Boat Dock (479-444-3475) reported that the water was "beautiful" this past week but they have had no anglers. Before all the wintry weather, the lake was clear and is 1 foot low.
---
Lake Charles
(updated 2-3-2022) Shelly Jeffrey at Lake Charles State Park (870-878-6595) said the water at Lake Charles is back up to high now (Lake Charles water is used to help flood the nearby Shirey Bay Rainey Brake WMA for waterfowl season) but there hasn't been any fishing for her to gauge the bite. There were a lot of boats on the lake, though, Shelly said. Based on moon times, she said, the best fishing should be through Friday this week, and good days should be expected Feb. 13-19. Surface water temperature on Monday afternoon was 48.9 degrees. The clarity is the usual murky.
Lake Poinsett
(updated 2-3-2022) Lake Poinsett is in the process of refilling, but is rainfall dependent and the region hasn't had a lot of rainfall lately. The fishing now is predominantly catch-and-release for bream. They seem to be biting on crickets and worms. Small boats, kayaks or canoes are the only watercraft that can launch at this time.
The gate at the dam at Lake Poinsett was closed a year ago, following the completion of a three-year renovation projection, and the lake began to refilling. The lake has been undergoing an extensive renovation with a new water control structure, more than 10,000 linear feet of shoreline work, more than 100 habitat structures placed on the lakebed, and nearly 100 trees anchored for fish habitat.
Other forage species that were stocked this spring include fathead minnows, golden shiners and threadfin shad have been added in huge numbers to the lake to build up the food supply for the predators, which will be stocked this year.
Crown Lake
(updated 2-3-2022) Boxhound Marina (870-670-4496) has closed for the season and will reopen in mid-February.
Spring River
(updated 1-20-2022) Mark Crawford with springriverfliesandguides.com (870-955-8300) said water levels are at 340 cfs at the Spring and water clarity has been clear. The river has been looking great for the last few weeks. Just below average flows.
The trout have been slow on the bite, hitting Woollies and Y2ks on good days and nymphs on slow days. This is the time to catch big rainbows and browns on the Spring River. On the cloudy overcast days, streamer fishing with a olive Woolly or white Woolly can be a lot of fun. Most days tight-lining has been most productive, hitting the bite at the end of the swing. "Make sure and let the fly swing out!" Mark says. "We caught the brown with this report on a white lightning fly sold in the fly shop. It has been very hot for bigger trout this year."
With spin fishing a hot pink or white Trout Magnet has been hot. Got to get that Trout Magnet just off the bottom of the river and they will eat it up. Trout cranks on the bitter overcast days might produce a walleye this time of year, too!
"The only problem lately has been freezing temps on the water," Mark added. "Got to be safe out there! If you get wet, find a dry warm place immediately! The Spring River has a very slick rock bottom that will help you go for a swim whether you want to or not. Be safe!"
(updated 2-3-2022) John Berry of Berry Brothers Guide Service in Cotter (870-435-2169) said the water level on the Spring River is fishable. This is a great place to wade fish when they are running water on the White and North Fork rivers. Canoe season is over and the canoes are mostly gone. Fish the upper river at the Lassiter Access to avoid them or fish Dam 3 late in the afternoon, after they have left the area. Wear cleated boots and carry a wading staff – there is a lot of bedrock that can get very slick. The hot flies have been olive Woolly Buggers with a bit of flash, cerise and hot pink San Juan worms and Y2Ks.
White River
The Army Corps of Engineers reported Thursday that the White River stage at Batesville was at 7.69 feet, well below the flood stage of 15.0 feet. The Newport stage was at 7.36 feet, down almost 19 feet below the flood stage of 26.0 feet. The stage at Augusta has dropped to 19.67 feet which is more than 6 feet below the flood stage of 26.00 feet.
(updated 2-3-2022) Triangle Sports (870-793-7122) in Batesville had no reports. Water is high.
---
Arkansas River (Pine Bluff Pool)
On Thursday, the Corps of Engineers said water flow at the Emmett Sanders Lock and Dam at Pine Bluff was 12,192 cfs. Further upriver at the Maynard Lock and Dam near Redfield, the flow was 362 cfs.
(updated 2-3-2022) The University of Arkansas at Pine Bluff Bass Fishing Team had no new reports.
Lake Monticello
(updated 2-3-2022) Dam repair work has been completed by the city of Monticello's contractor, while the AGFC has been rebuilding the lake bottom and areas near where the shoreline will be for fish habitat when the lake is refilled, which will mostly be done by rainfall collection. The gates on the dam are now closed and the lake refilling is underway. Many artificial fish habitat structures have been created and put in place, and the AGFC has pumped several of the small ponds and has added rotenone to those areas for the elimination of unwanted species (i.e. grass carp, yellow bass), before the refilling of the lake began.
Millwood Lake
As of Thursday, the Army Corps of Engineers reports the lake's elevation was 259.71 feet msl (normal pool: 259.20 feet msl; top flood elevation is 287.0 feet msl).
(updated 1-27-2022) Mike Siefert at Millwood Lake Guide Service said that as of Tuesday, Millwood Lake was near normal pool, at 259.4 feet msl and steady, and clarity is good to fair stain in a few areas, the same as last week. Surface temps dropped again this week to range 40-44 degrees depending on location and the day. River discharge, current and lake elevation is about the same as a week ago.
Check the most recent lake level of Millwood Lake on the guide service's website linked above, or the Army Corps of Engineers website, for updated gate release changes and inflow rates with rising and falling lake levels.
Mike says, as far as fishing specifics:
* Not much change over the past several weeks, with the largemouth bass being hit or miss depending on daily conditions. The largemouth activities slowed with the colder water temperatures; best feeding cycles shifted to midday and afternoon. Threadfin shad were still roaming in and out of the shallow flats with any remaining lily pads, other times over drops from 9 feet to around 15 feet of depth. The black bass appear suspended near large pods of threadfin shad in the oxbows along Little River and in mouths of the creeks that junction and dump into the river. Keep an eye peeled for egrets and herons feeding on the shad. Bass will continue to suspend with current water temperatures, roaming shallow on warm afternoons up onto flats for a few hours, albeit sluggish with the cooler water temperatures. The shad schools have moved onto primary and secondary points and into the deeper depths of creek channels. Their feeding cycles have seemed to fluctuate widely over the past several weeks.
Warmer days with blue skies have been best near vertical structure and deeper drops with 6-9 feet deep flats in close range. Over the past couple weeks, bass were fair on swim jigs with thumper-tail trailers, Chatterbaits, jigs and heavy thumping 1-Knocker Rat-L-Traps. Most bass we are finding continue randomly roaming shallow on full sun and bright skies into the 6-10 foot depths of flats adjacent to deeper drops into 9-15 feet depth ranges. The largemouths, have continue randomly turning on during the heat of the day, better on bright, sunny, clear days when water temps will rise a few degrees in mid-day. Square-bill crankbaits, Chatterbaits and spinnerbaits will randomly connecting with the shallow roaming Bass. MR-6, Echo 1.75, and Little John cranks, have been getting fair responses over the past week. Anywhere a creek channel runs into the deeper creek bends or vertical structure and drops into the oxbows, where stumps and creek mouths drop, have held some decent sized bass over the past week. The best bite continues during heat of the day from noon-3pm.
Before the last cold snap and frontal passages, the past few weeks, we were finding schools of shad staging on creek channel points and in deeper creek channels that began moving deeper into creeks that junction Little River and the oxbows. Watch your electronics for huge shad pods ranging 6-14 feet deep on primary or secondary points. The screen will go completely solid mass when you locate the shad schools. Bass are holding and suspending near and underneath these huge shad schools. Some days with lots of wind gusts, the shad will drop vertically into the 10-15 foot depths, and the surface activity will diminish. Other days, it's like the bass are flipping a switch on and off again when it's time to feed. The feeding binges can last anywhere from 30 seconds to 20 minutes. Snake Creek, Hurricane Creek, White Cliffs Creek, all the way up to Brown's Slough have been holding shad schools over the past several weeks.
Swim jigs with a Bang Die Dapper, and vertical-jigging Cordell or Kastmaster spoons, are finding vertical suspended bass from 10-15 feet on ledges or deep creek, outside bends, with stumps present.
The best reaction bites over the past few weeks continue to be on custom painted Little John Crankbaits in shad colors, Bomber Flat-A's in Tennessee Shad or Citrus Shad, and H&H Spinnerbaits in yellow/black, white/green or white/chartreuse continue drawing a few random reactions on flats with the remaining lily pads.
When fishing the points dumping into Little River, the Rat-L-Trap 1-Knockers in three-quarter-ounce size will get down deeper on the points with stumps present, and drop off into the river with a different vibration and presentation than the smaller Rat-L-Traps, and connect with larger schools. One point may hold all largemouth bass, the next point may hold all white bass. Both species are following the shad all along Little River and they are staging on the points, with some of the largemouth bass pulling into the creek channels where deep access to the river, stumps and points, are attracting the shad.
* The white bass continue roaming all along Little River and have been heavily schooled up all along Little River for several weeks now, found from White Cliffs campground all the way up to U.S. Highway 71 bridge, and where the Cossatot River intersects and dumps into Little River. Hammered Cordell Chrome Spoons with a red bucktail, Rocket Shads, Fat Free Shads in Tennessee Shad and Citrus Shad, half-ounce Rat-L-Traps, Bill Lewis' MR-6 Crankbaits and Spin Traps in chrome/blue, Millwood Magic, Tennessee Shad and Threadfin Shad colors all have been working catching whites over the past several weeks.
* Crappie have been slow for us, as well as everyone we spoke with on the lake, for the past 3-4 weeks, with nothing consistent to report. Scattered and random bites on jigs in black/chartreuse, or Southern Pro Little Hustler tubes in Cajun Cricket or Tennessee Shad with Chartreuse tail.
* Catfish are good to fair, over the past couple weeks with an increase in current along Little River. Trotlines, yo-yos and limb lines were working randomly, slow one day and good the next over the past few weeks, with best results from using Punch Bait, chicken hearts, livers, and cottonseed mill dough cake. Trotlines seemed to be working best, along Little River set from 14-18 feet deep in remaining river current.
Lake Erling
(updated 2-3-2022) Lake Erling Guide Service (870-904-8546) reported Thursday morning that the lake remains low by 7 feet, while the lake clarity is clear. Crappie fishing has been excellent of late, with the crappie found in the channels. Anglers are using minnows, jigs and hand-tied jigs. The catfish bite also continues to be excellent on any kind of usual catfish bait. No reports on bream or bass.
Lake Greeson Tailwater
Visit www.littlemissouriflyfishing.com for a daily update on fishing conditions.
Lake Greeson
As of Thursday, the Army Corps of Engineers reports the lake's elevation at Narrows Dam was 536.72 feet msl (full pool: 548.00 feet msl).
DeGray Lake
As of Thursday, the Army Corps of Engineers reports the lake's elevation was 398.70 feet msl (full pool: 408.00 feet msl).
(updated 1-27-2022) Capt. Darryl Morris of Family Fishing Trips (501-844-5418) said he had no updated fishing report as he's preparing for the spring. "I'm ready for the crappie to come out of the deep channels and start stacking up on my brushpiles."
De Queen Lake
As of Thursday, the Army Corps of Engineers reports the lake's elevation was 437.34 feet msl (full pool: 437.00 feet msl).
Dierks Lake
As of Thursday, the Army Corps of Engineers reports the lake's elevation was 526.44 feet msl (full pool: 526.00 feet msl).
---
White Oak Lake Area
(update 2-3-2022) Curtis Willingham at River Rat Bait in Camden (870-231-3831) had no report.
---
Lake Atkins
(updated 2-3-2022) Donald Ramirez at Lucky Landing (479-641-7615) said Wednesday afternoon that he had no report, as it was cold and raining. The lake is clear and at a normal level. Before this bad weather, the only real successful fishing is coming on crappie. Anglers were catching fair amounts in 3-4 feet depth. Use minnows and jigs. No reports on bream, bass or catfish. Watch for pelicans.
Lake Catherine (Below Carpenter Dam)
For weekly flow releases from Carpenter Dam, visit www.entergy.com/hydro
(updated 1-27-2022) Shane Goodner, owner of Catch'em All Guide Service, reports that water temperature below the dam is 48 degrees with slightly stained conditions in the tailrace. Entergy has posted the weekly generation schedule starting Friday, Jan. 28, that extends through Thursday, Feb. 3. Anyone planning on navigating the Carpenter Dam tailrace is urged to view these flow releases and plan accordingly. This schedule is posted weekly on the Entergy website for public viewing normally on Wednesday evening. The 5-foot winter drawdown for both lakes Hamilton and Catherine will remain at that level until March 1. The Carpenter Dam tailrace is very dangerous to navigate now with numerous underway obstructions exposed. Wade anglers and boaters alike must use extreme caution when attempting to use the area. Flow from the dam hides many of the shallow-water dangers so boating becomes increasingly more treacherous as anglers approach the dam. Extremely slick rock structure all over the tailrace further complicates matters.
Rainbow trout are everywhere in the Carpenter Dam tailrace and thriving in the nutrient-rich waters of Lake Catherine. It is important to remember that while trout numbers are in the many thousands, the bite can be unpredictable and always subject to rapid change due to weather and lake conditions. A very good bite pattern can disappear in a matter of hours, so anglers should be aware of this potential problem and have an alternative plan of action. Bank anglers should stick to basic patterns of live bait such as waxworms or mealworms fished just off the bottom with a marshmallow floater. Nightcrawlers will also work when cut into 2-inch sections presented in the same manner. PowerBaits can save a fishing trip due to the fact that these presentations are designed to capitalize on a trout's inborn instinct to feed on fish eggs. Fly-fishermen casting egg patterns in white or yellow under a strike indicator have caught and released scores of rainbow trout in the tailrace where current is present. Micro-jigs and Woolly Buggers have taken trout over 15 inches this week, although there has been a huge influx of smaller trout. The San Juan worm in hot pink has accounted for nice catches of trout, especially when the fish are in a slower bite pattern.
White bass have been observed breaking in the early morning hours chasing threadfin shad below the bridge. Casting spinnerbaits and jigs in one-eighth-ounce weights has been the best presentation to catch these fish. Hybrid bass often school alongside white bass and can be caught on the same techniques. Trolling shallow-running crankbaits against the current has been productive catching white bass and hybrids, as well as walleye in the 3-pound class. Walleye thrive in the tailrace now as these fish prefer colder water temperatures than other area game fish. The walleye spawn below Carpenter Dam should begin in the next week to 10 days with smaller males moving up first to prepare the beds for spawning females.
Finally, it cannot be stressed enough that anglers will experience dramatic changes in bite patterns as cold fronts move in and out of our area. Temperature can change as much as 30 degrees or more in less than a day. Rapid temperature change shuts down many fish species until consistent weather resumes.
The arrival of rainbow trout to Lake Catherine in November and December has brought life to the Carpenter Dam tailrace and kicks off the trout fishing season. Quality fishing for rainbow trout is now happening and anglers should take advantage while the bite is solid. Always wear a life jacket when on the water and continue to follow park rules and regulations. The daily possession limit for rainbow trout is five fish per person. Don't make the mistake of attempting to keep more than the legal limit of any fish species from Arkansas waters. Always have your fishing license up-to-date and be ready to cooperate with our game officials when asked.
Lake Dardanelle
As of Thursday at noon, the Army Corps of Engineers reports the lake's flow at Dardanelle Lock and Dam as 29,711 cfs. Elevation was 337.59 feet msl, with the tailwater at 287.13 feet msl. (Top navigation pool is 338.2 and bottom pool is 336.0.)
No reports.
Lake Hamilton
(updated 2-3-2022) Greeson Marine, hometown dealer of the Arkansas-born-and-bred Xpress, all-welded fishing boats in Hot Springs, reports Lake Hamilton's water levels continuing to be down 5 feet due to the winter draw-down, and water temps slowly rising into the mid to high 40s throughout. Water clarity is stained up near the U.S. Highway 270 Bridge and north. Water clears up as you navigate south toward Carpenter Dam. Bass (spotted and largemouth) have picked up a little over the last week and can be found on main lake points at 38-48 feet and taken on a white half-ounce jigging spoon fished vertically. Some vass have also been found in 25-35 feet of water in ditches just off the main channel and caught on a white Damiki Rig or Ned rig, also fished vertical.
The real story of the last week are the walleye. Walleye have been actively feeding on mass bait balls of skip jack in areas that drop off sharply in or on the main channel. At depths of approximately 55 feet the large baitfish balls will show on electronics like puffy clouds and the walleye, hybrids and bass are right below it waiting for the crippled bait to fall down to the awaiting predators. Drop a white or chartreuse jigging spoon down to them and bounce it off the bottom vertically and erratically. Many nice walleye have been snatched from the deeps this week, with caught fish choking out skip jack all over the boat.
Mass clumps of crappie have been spotted at 30-40 feet next to the main channel on isolated brushpiles and sunken vertical structures. "We have not thrown at them, but it is by far the biggest masses of crappie we have ever seen on Hamilton! They are really stacked up right now!"
No bream or catfish report. "Please continue to wear your life Jackets at all times. The water is dangerously cold, the winds are usually high and its smarter to be humble rather than brave. Live to fish another day! Good luck and Go Greeson."
Lake Nimrod
As of Thursday, the Army Corps of Engineers reports the lake's elevation was 342.45 feet msl (normal pool: 342.00 feet msl; top flood elevation is 373.0 feet msl).
(updated 1-27-2022) Andrews Bait Shop and More (479-272-4025) said the lake is clear and at a normal level, with a surface water temperature of 41-42 degrees. Crappie fishing is good. Crappie are being found in 3-5 feet depth over brushpiles and below the dam. Use minnows or jigs (red/chartreuse were working in previous weeks). Focus on the brushpiles, in and over brush. Black bass are good. They're shallow and hitting crankbaits and jerkbaits. Catfish are fair in 8-12 feet of water on the bottom. They'll go for dead minnows and small bream. Bream fishing are poor.
Lake Ouachita
As of Thursday, the Army Corps of Engineers reports the lake's elevation at Blakely Dam was 570.05 feet msl (full pool: 578.00 feet msl).
(updated 1-27-2022) Todd Gadberry at Mountain Harbor Resort and Spa (870-867-2191/800-832-2276 out of state) said black bass are still fair. Try a three-quarter-ounce CC Spoon or a jig for these fish. No reports on walleye, bream or catfish. Stripers are still fair on live bait or trolling an Alabama rig. Crappie are good on small jigs or minnows. Try brush piles in the 20-40 foot depth range. The water temperature is ranging 46-50 degrees. Water clarity is clear. Lake level is 569.91 feet msl. Call the Mountain Harbor fishing guides (Mike Wurm, 501-622-7717, or Chris Darby, 870-867-7822) for more information.
(updated 1-27-2022) Capt. Darryl Morris of Family Fishing Trips (501-844-5418) said he had no updated fishing report as he's preparing for the spring. "I'm ready for the crappie to come out of the deep channels and start stacking up on my brushpiles."
Blue Mountain Lake
As of Thursday, the Army Corps of Engineers reports the lake's elevation was 384.56 feet msl (full pool: 384.00 feet msl; top flood elevation is 419.0 feet msl).
No reports.
---
White River/Clarendon Area
The Army Corps of Engineers on Thursday reported the Clarendon gauge was slightly up from last week to 22.77 feet, a more than 3 feet below the flood stage of 26.00 feet.
Bear Creek Lake/Storm Creek Lake
(updated 1-20-2022) Tyler Ball, park ranger at Mississippi River State Park (870-295-4040), said anglers are Bear Creek report having success catching crappie at depths of 12-18 feet using mainly artificial bait. At Storm Creek on the south end of the park, very little fishing activity is going on.
Cook's Lake
(updated 2-3-2022) The lake at Cook's Lake Conservation Education Center (870-241-3373) is closed November through February to serve as a waterfowl rest area, and will reopen in the spring when the water levels permit.
---
Recent News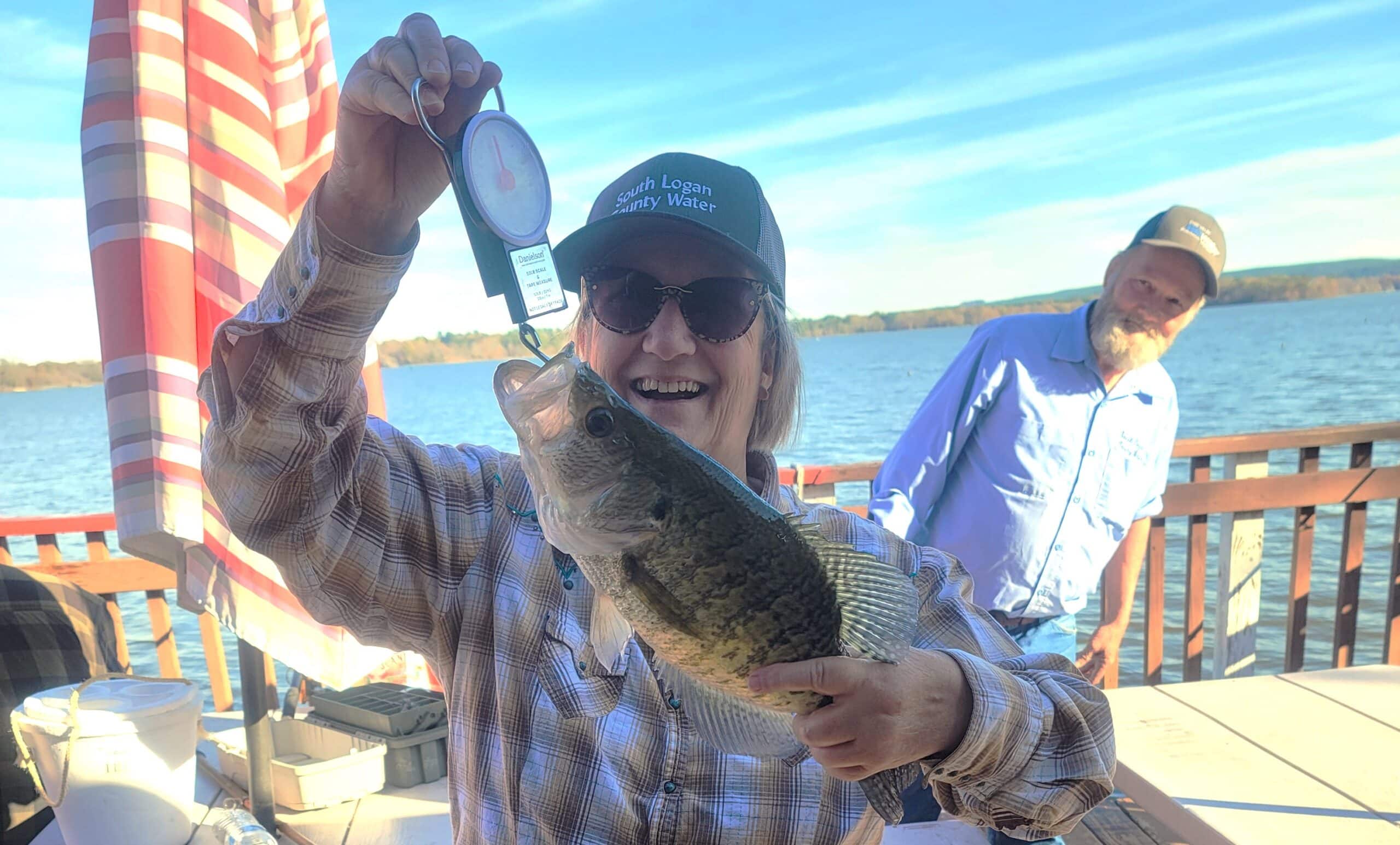 Subscribe to Our Weekly Newsletter E-mails
Don't miss another issue. Sign up now to receive the AGFC Wildlife Weekly Newsletter in your mailbox every Wednesday afternoon (Waterfowl Reports are published weekly during waterfowl season and periodically outside the season). Fishing Reports arrive on Thursdays. Fill in the following fields and hit submit. Thanks, and welcome!