Arkansas Wildlife Weekly Fishing Report
April 29, 2021
Jim Harris

Managing Editor Arkansas Wildlife Magazine
This is the Arkansas Game and Fish Commission's fishing report for April 29, 2021. If there is a body of water you would like included in this report, please email jim.harris@agfc.ar.gov with information on possible sources for reports about that lake or river. Reports are updated weekly, although some reports might be published for two weeks if updates are not received promptly or if reporters say conditions haven't changed. Contact the reporter for the lake or stream you plan to fish for current news. Note: msl = mean sea level; cfs = cubic feet per second. All Corps of Engineers lake and river readings were taken at 10 a.m. the day of publication (April 29).
****Buy an Arkansas Fishing License by clicking here. Your purchase of a Fishing License helps support the AGFC's work in maintaining the fishing resources throughout the state.
Arkansas River and White River levels are available at: http://water.weather.gov/ahps2/index.php?wfo=lzk
For real-time information on stream flow in Arkansas from the U.S. Geological Survey, visit: http://waterdata.usgs.gov/ar/nwis/rt
For water-quality statistics (including temperature) in many Arkansas streams and lakes, visit: http://waterdata.usgs.gov/ar/nwis/current/?type=quality
---
Ty Rowland caught this crappie recently at Blue Mountain Lake. Crappie around the state had a late start to the spawn, but it is in full swing now according to guides and anglers in this week's Fishing Report. Photo provided by Kim Rowland.
---
Craig D. Campbell Lake Conway Reservoir
(updated 4-29-2021) Bates Field and Stream (501-470-1846) said the lake's clarity remains at normal stain. Water level is normal. Bream are good on redworms and crickets. Crappie are improved after a slight dip in the action. Crappie are on the beds and the bite is good on minnows and jigs. Black bass are biting better with good results this week. Spinnerbaits and topwaters will be your best bet. Catfish are good; try live bait, bream and trotline minnows.
Lake Beaverfork
(updated 4-29-2021) Angler Dennis Charles visited Beaverfork as well as several other lakes in the area with similar conditions (Lake Brewer, Lake Cargile and Harris Brake). He says, "Every finned critter is increasing the bite. Water temperature is around 64 degrees and the crappie spawn in progress; it was delayed. Bass were hitting everything in the box in the shallows, plasting worms and chatterbaits. Bream are much better on crickets and worms. Crappie are picking up a LOT better, use plastics or jigs, and minnows. Reports from anglers said the best time is dawn and dusk." Visit Dennis' Facebook page (Arkansas Fishing Adventures) for more information – "I can't add info if you guys don't tell me, don't be shy, brag instead. Also send me or Jim Harris a photo of your catch and Jim just might post it here with the other photos."
Little Red River
(updated 4-29-2021) Greg Seaton of littleredflyfishingtrips.com (501-690-9166) said the river is clear with two-unit generation on a 12-hour basis. The schedule has been 9 a.m. to 9 p.m. for the last two days. The times may change but the Army Corps of Engineers plans on keeping the 12-hour generation period for the next week. This, of course, depends on the amount of rainfall we receive.
The bite has been good by staying ahead of the generation. Caddisflies have been hatching each day and the fish are taking emergers, caddis pupa and midge pupa. The brown trout have been more active during this hatch, with rainbows biting as well.
Since the Corps is back to two-unit generation, please use extra care if boating on the high water. Just remember: Even if the water is low where you begin your trip, the high water is coming, so plan your time on the river accordingly.
(updated 4-29-2021) Fish 'N Stuff (501-834-5733) in Sherwood says water is clear and stained when the Army Corps of Engineers is generating at Greers Ferry Dam. Rainbow trout are really good on Trout Magnets in black, green or pink colors, Rooster Tails, and marabou jigs in olive color. As for brown trout, when the Corps is generating, use jerkbait around logjams or current breaks in natural trout colors.
(updated 4-29-2021) Lowell Myers of Sore Lip'em All Guide Service (501-230-0730) reminds anglers to always check before heading to the Little Red River by calling the Army Corps of Engineers Little Rock District water data system (501-362-5150) for Greers Ferry Dam water release information or check the Corps of Engineers website (swl-wc.usace.army.mil) for real-time water release and the Southwestern Power Administration website (swpa.gov) to see forecasted generation schedule.
Greers Ferry Lake
As of Thursday, the Army Corps of Engineers reports the lake's elevation at 463.15 feet msl (normal conservation pool: 462.04 feet msl).
(updated 4-29-2021) Tommy Cauley of Fishfinder Guide Service (501-940-1318) said the water level at Greers Ferry is at 462.38 feet msl, 0.34 feet above normal pool of 462.04 feet msl and was falling with generation, before Wednesday-Thursday storms. "If we get 5 inches (of rain) it will come back up some," Tommy noted.
Crappie are in all three phases of spawn, and that will continue for a while; they are super shallow out to 20 feet. Try jigs, minnows and beetle spins. Catfish are good and bad, moving a lot. They can be caught in a variety of ways and depths. Walleye are good some days and some days not. They are still scattered somewhat. Try in the main lake, 12-25 feet on flats, using minnows or crawlers, or fish in the rivers using big cranks. Bream are showing up more and more, a lot floating around docks; use crawlers and crickets from 1-15 feet. Black bass are everywhere, super shallow out to 30 feet. A variety of baits working, just about the whole tackle store. Hybrid bass and white bass are eating shad at will, with a lot of other species mixed in eating as well. Some are also still in rivers spawning. Try inline spinners, spoons, topwater baits, flies and swimbaits in 25-37 feet depth.
(updated 4-29-2021) Fish 'N Stuff (501-834-5733) in Sherwood says water is normal and clear. Bass are "really good" in shallow water, 4-5 feet deep around buckbrush, on peanut butter and jelly or green pumpkin jigs, a Texas-rigged green pumpkin creature bait, a shaky head in watermelon color, or a Carolina rig in 15 feet of water, and if there is wind use spinnerbaits or topwater lures. Crappie are good around 7-10 feet around bushes; they'll bite a Road Runner with a small swimbait on it (white or natural shad colors).
Harris Brake Lake
(updated 4-29-2021) Harris Brake Lake Resort (501-889-2745) says the lake has muddied again. Water level is normal as of Wednesday mid-afternoon. Bream are good and are shallow. Use redworms or crickets. Crappie continue to bite well but remain in the deeper water. Use minnows or jigs. Black bass are good and are being caught around the shoreline. Plastic worms are working, and bass are also biting trotlines baited with bass minnows. Catfishing is good. Bass minnows, goldfish and perch all are working on trotlines.
(updated 4-29-2021) See Angler Dennis Charles' report under Lake Beaverfork.
Lake Overcup
(updated 4-22-2021) New owner Phil Thomas at Lakeview Landing (501-354-5309) said the lake is pretty clear as of Wednesday afternoon and the level remains low. Bream are fair but the bite has definitely started; use redworms or crickets. Crappie are good in the early mornings, with the bite found close to the shoreline. Crappie are biting at trotlines. Bass are good, mainly in the Caney Creek area, on a variety of baits. Catfish are also good on trotlines baited with black salties.
(updated 4-29-2021) Johnny "Catfish" Banks at Overcup Bait Shop and R.V. Park (501-354-9007) said water level is about normal and clarity is good. Surface temperature is around 68 degrees. Bass are slow but anglers are still catching some with June bugs and watermelon plastic worms. Bream are starting to work the beds; "several good-sized ones we caught yesterday with crickets and redworms," Johnny said. Crappie are doing fair on yo-yos at night on minnows. Catfish are starting to pick up a bit on trotlines and jugs with perch and large minnows. "Come see me at Overcup Bait Shop off Arkansas Highway 9 for all your fishing needs," Johnny says.
Brewer Lake
(update 4-15-2021) David Hall at Dad's Bait Shop (501-977-0303) said clarity is clear and the level is normal. The bream bite is good on redworms and crickets. Crappie are good (David tells us that "the dogwood is blooming so crappie are spawning"). Try the buckbrush around the shoreline, about 1-2 feet deep, or look for the underwater brushpiles and fish 5-6 feet deep. Black bass are good. Anglers are finding them at about 4-5 feet depth. Try a rattle-style bait. Catfish are good on the bottom. Use stink bait or live bait.
Lake Maumelle
(updated 4-22-2021) WestRock Landing in Roland (501-658-5598) said there have not been many reports on the white bass or crappie in recent days. It's been slow due to the change in weather. Water temperature is ranging 62-64 degrees. The largemouth bass bite is good. Some can be found in the grass on the shoreline and around the grass in 8-12 feet biting a variety of lures. Try using jigs, crankbaits, spinnerbaits and swimbaits. Tuesday night's tournament saw the team of Dustin Crow and Matt France haul in five bass worth 12.76 pounds, while Frank Ramey and Doug Rich caught the Big Bass of 4.14 pounds and had 11.09 pounds total on the stringer. The Kentucky/spotted bass bite is fair. Some reports have them being found shallow or near drop-offs and rocky banks. Try using jigs. White bass are fair. Reports of the white bass being found mixed in with the crappie. Try using swimbaits, Rat-L-Traps and minnows. Crappie are fair with no reports in recent days. Crappier were spawning earlier in the week and they should still be shallow, but also around 8-10 feet depth. Try using jigs and minnows. Bream are good. Some are reporting finding them in 12-16 feet, while others say 26-28 feet off the bottom. Use crickets or worms. Catfishing is still slow, with no reports coming in this week. But see if they'll take chicken liver, worms or crawfish.
On Saturday, May 1, Lake Maumelle will play host to the inaugural Bit's Big Bass Tournament. The two-person fishing tournament has a five-fish limit, and a qualifying bass must be at least 12 inches in length. First place will win $2,000 and the Big Bass will be worth $500. Second place among teams will win $1,250. All proceeds will benefit childhood cancer research through the Innovative Therapeutics Department at Arkansas Children's Hospital. This tournament can also be used by high school anglers as an Arkansas Game and Fish Foundation official qualifying event for the AGFF's Commissioners' Cup.
Arkansas River at Morrilton
On Thursday, the Corps of Engineers said water flow at the Ormond Lock and Dam was 107,110 cfs (four times as much flow as last week). Flow further upriver at Dardanelle Lock and Dam was 226,142 cfs, a major increase in flow from recent weeks, likely due to the massive amount of rain in Oklahoma and northwestern and western Arkansas on Wednesday.
(updated 4-15-2021) Charlie Hoke at Charlie's Hidden Harbor at Oppelo (501-354-8080) had closed most of his marina down for COVID-19 and had the launch ramp open. He has live bait, tackle, gas available and says that now the only things he's not doing are the RV and boat dock.
For fishing in his area, Charlie says, "Our catfish are doing well on nightcrawlers. There is hardly any river flow right now, and they are on the backside of the jetties, about 15 feet from the tip of the jetty going out. They are doing fairly good.
"I had a guy come in who is a pole fisherman, and he hadn't been in in over a year. Him and his son had some really nice 5-, 6-pound and a bunch of 3-pound catfish. That was on nightcrawlers."
He also says that black bass appear to be sitting on top of the jetty. Anglers are using plastic baits and jigging or popping them — "lift up, pull and drop, lift up, pull and drop," Charlie says. A few bass were caught in about 5 feet of water on top of the jetty in the late evening, he said.
Drum are also being caught with catfish, he reports. "And the guy I was talking about who caught all the catfish, he caught a needle-nosed gar that was two-thirds the length of his boat and about scared the heck out of him. He'd never seen anything like that."
Little Maumelle River
(updated 4-29-2021) Ray Hudson at River Valley Marina (501-517-1250) says clarity is clear. Water level and current are normal. Crappie are good around the banks on minnows or jigs. Black bass are being caught around the banks on spinnerbaits in good numbers. Catfishing is good on yo-yos and minnows. No reports on bream.
Arkansas River (Maumelle Pool)
On Thursday, the Corps of Engineers said water flow at the Toad Suck Lock and Dam was 82,094 cfs.
Arkansas River (Little Rock Area Pools)
On Thursday, the Corps of Engineers said water flow at the Murray Lock and Dam was 76,530 cfs. Flow at the Terry Lock and Dam was 81,265 cfs.
(updated 4-29-2021) Fish 'N' Stuff (501-834-5733) said Wednesday afternoon that water is stained in backwaters and muddy on the main river and high. Bass are good off the main river behind jetties or entrances to backwaters on white/chartreuse spinnerbaits, chartreuse/black square-bill Bandit 100 or 200 series; also in the backwaters flipping around grass or wood with a black/blue jig or black/blue Texas-rigged creature bait, and black buzzbait.
Crappie have been very consistent on white/chartreuse, black/chartreuse and red/chartreuse jigs in 3-7 feet of water around any wood. Catfish are good below the dam on nightcrawlers and stink bait. No reports on bream.
(updated 4-29-2021) Zimmerman's Exxon (501-944-2527) said crappie are excellent on the river below both dams and in the backwaters in 4-6 feet depth on black/chartreuse and white/chartreuse Slab Buster Jigs. Bream are fair; they have not moved up yet. White bass are being caught below either dam on light or chartreuse-colored Sassy Shads. Catfish are good below the dams and hydroelectric plant beside Murray Lock and Dam; use skipjack.
(updated 4-29-2021) Hatchet Jack's Sports Shop in Crystal Hill off I-40 (758-4958) said warm weather has turned things around. "We have customers catching crappie very shallow and most fish still have eggs. Bass are doing really well. Try creature baits. Bream are excellent on crickets. Catfish are being caught on trotlines using rice slicks."
(updated 4-15-2021) The AGFC's Wil Hafner at Cook's Lake Conservation Education Center (870-241-3373) fished Pool 5 earlier this week, putting in at Terry Lock and Dam in Scott. He reports that the flow was greatly reduced and bass could be found in less than 3 feet of water out of the current. All fish were still pre-spawn and looking for a protected area to make their beds. Wil says his most productive pattern was a River Craw finesse jig fished parallel to rip-rap, about 5 feet from the shore. "I also caught several fish on small shad-colored crankbaits as well as spinnerbaits."
Clear Lake (off Arkansas River-Little Rock Pool)
(updated 4-29-2021) McSwain Sports Center (501-945-2471) said crappie are good on minnows and jigs. Bream are starting to pick up on crickets and redworms. Catfish are good on lines baited with goldfish or skipjack.
Peckerwood Lake
(update 4-29-2021) Donna Mulherin at Herman's Landing (870-241-3731) reports that the lake still appears a little dingy. Water level is normal. The bream remain fair on redworms or crickets. Crappie are good on minnows and jigs. Black bass are good on jigs. Catfish are good on yo-yos, jigs and minnows.
---
White River
(updated 4-29-2021) Cotter Trout Dock (870-435-6525) said that when the early morning mist is on the river, it's a perfect time to lay a line on the water and wait for that first tug. The water level has returned to a fairly consistent flow of one to three generators – you'll see a swift current in many parts of the river. Keep your bait near the bottom and expect the bite nearer the bank. The rainbow catch is improving after a few weeks of some unusually slow days. Try any rainbow bait, especially the Mepps Spinnerbait with the rainbow blade; it's attracting a lot of attention. Turn to the old faithful baits: the red-gold Thomas Buoyant Spoon caused a splash this past week, and the ever-successful shrimp/PowerBait brought in rainbows left and right. Remember, too, if you're not having any luck, try something different right away; change up the color you're using, or even just reverse the order. Redworms have rewarded lots of anglers in the afternoon when the flow from the dam increases. "Last week we saw some good-sized rainbows reeled in as well as some keeper browns. Visit the White River in Arkansas Ozark country and take time to slow down and relax."
(updated 4-29-2021) Sportsman's White River Resort (870-453-2424) said rainbows and brown trout are "doing OK." The clarity of the river is very muddy and the level is high.
(updated 4-29-2021) John Berry of Berry Brothers Guide Service said Wednesday that during the past week (before Wednesday's rain front moved through), they had a few rain events that combined for about an inch in Cotter, warmer temperatures and heavy winds at times. The lake level at Bull Shoals remained steady at 5.7 feet above seasonal power pool of 659 feet msl. This is 30.3 feet below the top of flood pool. Upstream, Table Rock rose 0.2 foot to rest at 0.1 foot above seasonal power pool and 15.9 feet below the top of flood pool. Beaver Lake rose 0.9 foot to rest at 2.4 feet above seasonal power pool and 7.2 feet below the top of flood pool. The White had some wadable water. Norfork Lake remained steady at 4 feet above seasonal power pool of 553.75 feet msl and 22.2 feet below the top of flood pool. The Norfork had some wadable water.
On the lower flows the fishing has been hot! The top spot has been Rim Shoals. The hot flies were olive Woolly Buggers (sizes 8, 10), Y2Ks (sizes 14, 12), prince nymphs (size 14), zebra midges (black with silver wire and silver bead or red with silver wire and silver bead sizes 16, 18), pheasant tails (size 14), ruby midges (size 18), root beer midges (size 18), pink and cerise San Juan worms (size 10), and sowbugs (size 16). Double-fly nymph rigs have been very effective (John's current favorite combination is a pheasant tail nymph with a ruby midge dropper).
Remember that the White River, Norfork tailwater and Dry Run Creek are infected with didymo, an invasive alga. Thoroughly clean and dry your waders (especially the felt soles on wading boots) before using them in any other water. Many manufacturers are now making rubber soles that are easier to clean and are not as likely to harbor didymo.
Bull Shoals Lake
As of Thursday, the Army Corps of Engineers reported the lake's elevation at 667.14 feet msl (normal conservation pool: 659.00 feet msl). The reported lake elevation at Table Rock Lake was 917.96 feet msl (normal conservation pool: 915.00 feet msl).
(updated 4-29-2021) Del Colvin at Bull Shoals Lake Boat Dock reports that water temperature is in the mid-60s and the level is high. Fish are still in all stages of the spawn. In the mid-lake area, target points and swings close to spawning pockets. Hit the south-facing pockets and gravel flats. The shad are schooling back up so look for shad balls in the creeks. There's shad spawn happening. Fishing around the shad, try a fluke shallow or swimbait 2.8 Damiki rig. A little topwater activity has started; try a popper or smaller walk-the-dog profile. Powerfish windy, cloudy days with a bright spinnerbait and Chatterbait in dirty shallow water. If it's clear use green pumpkin shaky heads and ol' Ned rig Carolina tubes. Green pumpkin or watermelon red colors are good. Use Senkos in the spawning pocket bushes. The backs of creeks have a little color change. You can always catch them on a jig in channel swings. Also try a green pumpkin Beaver flipping in shallow water and lay downs and bushes in the right area. Fish the conditions.
Visit Del's YouTube site (Bull Shoals Lake Boat Dock) for more information and tips on fishing the lake.
Norfork Lake
As of Thursday, the Army Corps of Engineers reported the lake's elevation at 560.60 feet msl (normal conservation pool: Sept.-April, 553.75 feet msl; April-Sept. 555.75 feet msl).
(updated 4-15-2021) Lou Gabric at Hummingbird Hideaway Resort said Norfork Lake is in the prime of the spring fishing season. Crappie and bass have both started their spawning process, which will continue for several weeks if not more. Cool fronts during this process do tend to slow things down. Walleye have completed their spawn and are starting to show up all over the lake. White bass should have spawned already, "but from what I've seen with the few I have cleaned they are just starting to get ready," he says. "The cold February might have really messed with their cycle.
Striped bass and hybrid bass will spawn soon if the water temperature rises a little more. Overall this spring is acting very similar to prior years, which means a good bite for most species.
Crappie are being caught with three different methods. Cast a small jig right into the shoreline with a very light jighead. Let it fall slowly and twitch it out of the sunken brush until you feel a strike. Best areas are where there is dead wood sunken on the shoreline or where the shore has a lot of sunken buckbrush due the slight rise in the water level. You can also fish brushpiles that are 20-30 feet deep. The crappie have typically been on the tops of the brush or out along the sides of the brush. A second method is to vertical-jig a small spoon or a small jig with a very lightweight jighead. Let it fall slowly and typically a crappie will pick it up before it stops falling. A live minnow with a slip float is also a good method for brushpile fishing. The third method (the one Lou says he prefers at this time) is trolling Berkley Flicker Minnows size 7 and 9. "I slow-troll with my trolling motor at a speed of 1.2 to 1.4 mph. I try to stay in 18-40 feet of water. There are schools of crappie out in the deep water staging for the spawn and when your bait goes through the school it gets hammered. The best areas to fish are back in coves and creeks that have brushpile throughout the cove.
Bass fishing has also been very good. The bass are up in shallow water feeding on baitfish and small bluegills. "I have found them back in creeks and coves. A lot of the time they are all the way in the back in very shallow water. Try crank baits, soft plastic jerk baits and jigs worked slowly along the bottom. On windy days, spinnerbaits will work wonders. Topwater action has started, but isn't consistent at this time due the cool water. When I have found this action, it has been in the backs of creeks that the wind has been blowing into. Typically, you will find a lot of baitfish in the same area."
Striped bass and hybrid bass fishing is also picking up. "Tuesday morning, I found some topwater action for striped bass. The water was not boiling, but there were many fish individually busting the surface feeding on bait. I tried throwing a Zara Spook with no success and switched to a long 5-inch swimbait with a paddle tail and it was hammered. I did not let it sink very much, but only retrieved at a medium speed, letting it drop slowly as it came back to the boat. It is a blast when a big fish hammers the bait and just starts running in the opposite direction. All you can do is hang on until it decides it is tired of running. I have also found this species on main lake points early in the morning, as well as late in the day up in the sunken buckbrush, feeding on shad. They tend to push the bait up to the shoreline to make them easy pickings. Cast a swimbait or a fluke up into the brush with a steady retrieval to the boat and hang on."
The lake level has been falling slowly for the past week or so, but now is stable due to power generation being reduced from two generators to just one. The current lake level is 557.72 feet msl, which is only 4 feet over normal pool levels. The surface lake temperature ranges from the upper 50s to low 60s depending on the time of day. The lake is clearing with just a slight stain. With the clearer water, make sure you use clear or vanishing fishing line and as light of a test line as you feel comfortable fishing with.
Lou adds, "If you are looking for frequent fishing information on Norfork Lake, go to Hummingbird Hideaway Resort's Facebook page. Daily posts of my fishing trip, as well as our guests. You will find some very helpful information. Happy fishing and see you on the lake."
Norfork Tailwater
(updated 4-29-2021) John Berry of Berry Brothers Guide Service in Cotter (870-435-2169) said Norfork Lake remained steady at 4 feet above seasonal power pool of 553.75 feet msl and 22.2 feet below the top of flood pool. The Norfork had some wadable water.
The Norfork is fishing well. Navigate this stream with caution as things have changed a bit during recent flooding. There has been major gravel recruitment at the bottom of Mill Pond and the dock hole. The most productive flies have been small midge patterns (sizes 18, 20, 22) like ruby midges, root beer midges, zebra midges (black or red with silver wire and silver bead) and soft hackles (sizes 14, 16) like the Green Butt. Egg patterns have also been productive. Double-fly nymph rigs have been very effective. John's current favorite combination is a pheasant tail nymph with a ruby midge dropper.
Dry Run Creek is fishing well. There is increased pressure with warmer weather. Fish early or late to avoid the crowds (the creek is open to fishing from sunrise to sundown). The Norfork National Fish Hatchery is open but the restrooms remain closed. The hot flies have been sowbugs (size 14), Y2Ks (size 12), various colored San Juan worms (worm brown, red, hot fluorescent pink and cerise size 10), mop flies and egg patterns.
John also said, "Earlier this week my wife, Lori, had the second day of a two-day trip on Dry Run Creek. I had guided another angler on the White the day before. I usually accompany her whenever she has a trip on Dry Run Creek because I enjoy being with her and I love guiding on the creek. I went along to help where I could.
"On the first day Lori had done well. They caught several trout but had not landed a trophy trout. Our goal every time we guide on Dry Run Creek is to land at least one trophy.
"Lori started the day fishing her favorite hole. Caleb landed one early in the day, only to lose the next few trout. I took a turn at guiding at another spot. I observed that he did not keep his rod tip up when fighting his trout and that was allowing slack in the line causing him to lose trout. I worked with him to correct that problem. I also taught him to mend in order to get a drag-free float. Lori had concentrated on improving his casting and exuberant hook setting.
"We moved back to our initial spot and things got better. Caleb was a quick study and was fishing more effectively. He began landing fish. We kept changing flies and we began having success with sowbugs that my old fishing buddy, Henry Seay, had tied for Lori.
"About that time, the hatchery discharge became stained. This happens when they clean the raceways in the hatchery. As we watched there was a feeding frenzy in the creek. Dozens of trout were aggressively feeding on the creek's surface. At first, Lori and I thought it was some kind of major insect hatch, but we saw no insects. Then Lori noticed fish pellets on the surface of the water. The trout were feeding on trout food that was being flushed into the creek as the hatchery raceways were being cleaned. Lori and I had never observed this in decades of experience on Dry Run Creek.
"We needed a fish pellet fly but we had none. I went through my fly box and searched its contents for the closest match based on size, shape and color. I found a small egg pattern that was the right size and shape but was a bright yellow. It was the best match. To make it closer, I rubbed dirt into the fly, staining it a dark brown. When I was finished it looked a lot like the pellets.
"I handed it to Lori and she tied it on Caleb's line. He began casting it. On the third cast, the strike indicator disappeared and he set the hook. Chaos ensued. A big trout was on the line and it was angry. I grabbed our big net and Lori stayed at Caleb's side, calmly coaching him on how to land the big rainbow. After several minutes, the trophy trout finally surrendered to the net.
"Our goal had been accomplished. It was a really fat 25-inch female rainbow. Caleb had worked constantly all day listening and learning. It all paid off when he got a shot at a trophy. Congratulations Caleb!
"Lori and I saw something we had never seen and learned a new trick. We will add some small brown eggs to our fly boxes."
Buffalo National River/Crooked Creek
(updated 4-29-2021) John Berry of Berry Brothers Guide Service in Cotter (870-435-2169) said the Buffalo National River and Crooked Creek are rising (it was raining heavily as this was written). With the warm temperatures the bite is better. John's favorite fly is a Clouser minnow. Carefully check the water level before entering Crooked Creek or the Buffalo River. There are no dams on these streams. They both have large drainages and are prone to flooding during and following any rain event. The water can rise very quickly.
---
Beaver Lake
As of Thursday, the Army Corps of Engineers reports the lake's elevation at 1,125.74 feet msl (normal conservation pool: 1,120.43 feet msl).
(updated 4-29-2021) Jon Conklin with FishOn Guide Service (479-233-3474) said, "Well, it has been an up-and-down spring! Fifty-eight-degree water temps early February, then the great freeze with record low temps. Then, as usual, it warmed up after the ice melt and water temps climbed into that 55-degree range and then another cold blast and some snow.
"That translates into a very up-one-week, down-the-next pattern. Now (as this is written Tuesday) we are about to get 3-4 inches of rain. If the weatherman is correct, which is sometimes, this will bring on one big rise in the lake. It will be interesting to see how it plays out."
The crappie bite was going really well, but the last few days it has been a grind. The fish were up shallow, then pushed out and have been a little hard to pattern. There are some up shallow and some suspended in 30 feet of water around 10 feet down. Jigs are working, as are minnows. Look around spawning flats for the best action. The stripers are in a serious mood to travel as of late. One day they are good, the next it's a real tough bite. Shad and brooders are the bait, and bream will start to work well also. Look from Prairie Creek up into river arms. Catfishing should really pick up with the waters coming up. Bass have been pre-spawn/close to spawning. All types of baits will work at this time. Bream are strong and they are a great option for kids to fish for and are very good to eat. "White bass are still in the Twin Bridge area, as we caught a fair amount yesterday on a guide trip. If this rain shows, it will send any remaining white bass and walleye back towards mid-lake."
In the next couple of weeks look for walleye mid-lake and use crawler harnesses for some good results. Stay safe and watch for floaters/debris. Remember to check out Jon's Facebook page for the latest updates, FishOn Guide Service Goshen AR.
(updated 4-29-2021) Southtown Sporting Goods (479-443-7148) reports that white bass are fair on Little Fishies and Rooster Tails. The striper bite is good on brood minnows and by trolling crankbaits. Crappie are good and being caught around brushpiles and stumps with minnows and jigs. Black bass are good for anglers throwing plastic worms. Catfish are biting well on cut bait and prepared bait. No reports on bream. Lake clarity is muddy and the surface temperature is in the low 60s. Water level has risen a little above normal.
Beaver Tailwater
(updated 4-15-2021) Guide Austin Kennedy (479-244-0039) said fishing has been great this past week. The trout have been biting on various PowerBaits fished with light terminal tackle. Spoons and spinners, with a little Firegel applied, have done great, too. Most of the trout have been caught between the U.S. Highway 62 bridge and Spider Creek. As for the walleye, the males are up here. If you go down to Parker Bottoms, you should be able to get into a few. Most of the females have spawned out and are retreating toward deeper waters. Flicker Shad, spoons and soft plastics have done well with the eyes. If you have a graph, you can hit the deeper water and start to find the white bass as well. Try looking for baitfish and the whites should be nearby. "Hope you can get out and catch some fish. Remember to follow my fishing Facebook page (Busch Mountain Guide Service) for daily and weekly updates."
War Eagle/White River
(updated 4-22-2021) Loy Lewis of War Eagle Creek Outfitting LLC says the water fishing is about the same as it's been over the past few weeks. The white bass are biting back toward the White River and War Eagle arms of Beaver lake. The smallmouth bass fishing is excellent, and females may still have eggs, so it would be wise to catch and then release them. The upcoming week of weather is expected to be nice for fishing in all Northwest Arkansas waterways and floating should be excellent.
Lake Fayetteville
(updated 4-29-2021) Lake Fayetteville Boat Dock (479-444-3476) said the water has muddied in the last week and the level is high. Bream fishing is good; use redworms or crickets. Crappie are good on minnows and jigs. Black bass picked up in the past week with good results. Use minnows or topwater baits. Catfish stayed hidden; no reports.+
Lake Fort Smith
No report.
Lake Sequoyah
(updated 4-29-2020) Lake Sequoyah Boat Dock (479-444-3475) said Wednesday afternoon that the water is a little cloudy. The water level is normal. Bream are good and up around the shoreline, biting redworms and crickets. Crappie are moving in closer around the shoreline. Try a tube jig or minnows for the good bite. Black bass continue moving to the shallows and are giving anglers a good bite on spinnerbaits, Chatterbait, swimbaits and soft plastics. Catfishing is improving. This week's bite was good on live bream.
---
Lake Charles
(updated 4-29-2021) Shelly Jeffrey at Lake Charles State Park (870-878-6595) said fishing is going well at Lake Charles. She notes that the best moon times upcoming for fishing are May 8-14 (best) and May 23-29 (good). The super moon this past week had fish of all species biting well. Bream were good on worms and crickets. Crappie are good on minnows and jigs, and they were found in their usual haunts around brushpiles and stumps and on rocky points. Bass catching appeared good, but Shelly didn't get a lead on baits used. Catfishing is good using worms, blood bait or stink bait. Surface water temperature Sunday was 62 degrees. The clarity is the usual murky and the water level is high.
Lake Poinsett
(updated 4-29-2021) Lake Poinsett is in the process of refilling. Stocking of forage fish has begun, with hopes that the forage fish will reproduce in good numbers over the next several months. Predator stocking is planned for next year. Fathead minnows, golden shiners, threadfin shad and bluegill have been added to the lake to build up a huge food supply for bass, catfish and other sportfish that will be added next year to give the lake a jump start after its recent renovation.
The gate at the dam at Lake Poinsett was closed on Dec. 1, following the completion of a renovation, allowing the lake to begin refilling with rainwater (Poinsett is rainfall dependent). The lake, at Lake Poinsett State Park, has been undergoing a three-year renovation with a new water control structure, more than 10,000 linear feet of shoreline work, more than 100 habitat structures placed on the lakebed, and nearly 100 trees anchored for fish habitat with more anchoring in the plans as the lake begins to refill.
Crown Lake
(updated 4-29-2021) Boxhound Marina (870-670-4496) reports that there are not a lot of reports of catches of bream or catfish, but those fish can be seen around the docks, so they are moving shallow. Crappie fishing is fair on minnows and jigs. Bass fishing is good; use Senkos or stick worms. The lake clarity is murky and the surface temperature Wednesday early afternoon was 61 degrees. The water level is high by 6-8 inches.
Spring River
(updated 4-15-2021) Mark Crawford with springriverfliesandguides.com (870-955-8300) said water levels are at 440 cfs (350 cfs is average) and water clarity has been clear. Rain over the last few weeks has mostly been south of the area. The river is still up about a foot and clarity has been really good this week.
With trout, Woollies and nymphs have been hard to beat. Olive, brown and white Woollies, and big nymphs with a little extra weight to get down, will work. And, of course, Y2Ks on the tough days.
For spin-fishers, trout cranks and Flicker Shad are working well on the bass, and hot pink, red and white Trout Magnets are working well for the trout. Got to get close to the bottom for the bite.
Mark says, "Be safe wading; the flow is still strong and a wading staff can be a very good idea. Jim Hinkle State Fish Hatchery has been stocking weekly with some really nice-sized rainbows, making for plenty of fish to catch. New signs at public access areas with rules and regulations are a welcome sight on the river, and will help to keep everyone informed."
For latest updates on river conditions visit or blog on Mark's website at springriverfliesandguides.com.
(updated 4-29-2021) John Berry of Berry Brothers Guide Service in Cotter (870-435-2169) said the Spring River is fishing well. This is a great place to wade fish when they are running water on the White and North Fork rivers. Be sure to wear cleated boots and carry a wading staff. There is a lot of bedrock that can get very slick. The hot flies have been olive Woolly Buggers with a bit of flash (size 10), cerise and hot pink San Juan worms (size 10) and Y2Ks (size 10).
White River
The Army Corps of Engineers reported Thursday that the White River stage at Batesville was at 11.31 feet, not quite 4 feet below the flood stage of 15.0 feet. The Newport stage was up slightly to 16.09 feet, almost 10 feet below flood stage of 26.0 feet. The stage at Augusta was also slightly back up from last week to 28.48 feet, just almost 2.5 feet above flood stage of 26.0 feet.
(updated 4-29-2021) Triangle Sports (870-793-7122) said the water is muddy and at a high level. No reports.
---
Arkansas River (Pine Bluff Pool)
(updated 4-29-2021) The University of Arkansas at Pine Bluff Bass Fishing Team said water temperature is in the mid- to upper 60s. Water clarity is up to about 1.5 feet in protected backwaters. Black bass are biting well on shad-colored crankbaits and blade baits around wind-blown rock and woody cover. Dark-colored soft plastics and jigs are producing in the same areas in calmer weather. Fish are positioned on the first to second sand drops within Lake Langhofer relating to brush, points and steeper drops. Start watching for shad spawn along the rocks early in the morning and late in the evening; use shad-colored topwaters, blade baits and crankbaits right against the bank
Cane Creek Lake
(updated 4-29-2021) Sarah Reap, assistant superintendent at Cane Creek State Park, said that with the storms last week, activity has been down, especially for crappie. People have been reporting an early start on bream being caught with crickets. Bass and catfish have remained steady. Bass are still being found regularly around structures, and catfish have continued to be caught with attractants.
Lake Monticello
(updated 4-22-2021) Kris Nault, AGFC district fisheries supervisor in Monticello, says he spoke with the Monticello mayor, who said that the contractor for the dam repair work is staging this week and will be starting ASAP. Meanwhile, the AGFC has been rebuilding the lake bottom and areas near where the shoreline will be for fish habitat when the lake is refilled.
---
Millwood Lake
As of Thursday, the Army Corps of Engineers reports the lake's elevation was 260.09 feet msl (normal pool: 259.20 feet msl).
(updated 4-29-2021) Mike Siefert at Millwood Lake Guide Service said that as of Tuesday, Millwood Lake level had jumped dramatically from last week and the recent thunderstorms. The lake elevation on Tuesday was 13 inches or more above normal conservation pool) at 260.3 feet msl and falling; oxbows' water clarity was stained, while Little River clarity was muddy with current discharge this week. Millwood Lake tailwater elevation was 241 feet msl with gate discharge at the dam around 13,500 cfs in Little River, according to the Army Corps of Engineers. Check the most recent lake level on the guide service's website linked above, or Army Corps of Engineers website, for updated gate release changes and inflow rates with rising and falling lake levels.
Surface temps remain stable this week, ranging in 61-70 degrees depending on location. Continue to use caution in navigation on Little River and Millwood watching for random broken or floating timber in Little River. Lots of Little River buoy markers have been replaced along the main lake channel. Use extreme caution in navigation on the main lake. Current along Little River increased this week with discharge release at the dam, and river clarity ranging 2-5 inches visibility depending on location. Clarity and visibility of oxbows was 5-10 inches depending on location. Further up Little River has more heavier stain/muddy inflow conditions.
As for fishing specifics:
* Largemouth bass: Most of the largemouths up Little River in the oxbows are post-spawn, even though a few straggling female bass still are in spawning mode, and fish are scattered. Brazalo Spinnerbaits in Millwood Mayhem Bream, River Shad and Spot Remover continue catching roaming bass from 2-3 pounds each on flats and creek channel swings from 3-8 feet deep. Chatterbaits in Sexy Shad or bream patterns – using a thumping Bass Assassin Boss Shiner 4.5-inch swimbait trailer in Bluegill Flash, Mama's 14k or Chico's Red Ear – picked up a few healthy 3-4 pound largemouths this week. Bass continue randomly roaming shallow on full sun and bright skies in 3-6 feet depth of flats adjacent to deeper drops into 7-10 feet depth creek channels. The best period for the past couple weeks was during the afternoon. Anywhere a slightly deeper creek channel swings in near spawning flats with vertical structure nearby, and where stumps are present near creek mouths drop, have held some decent-sized bass over the past few weeks. NUMEROUS largemouths over 10-11 pounds each have been weighed over the past several weeks. Several bass from 5-8 pounds were caught and weighed in tournaments over the past two weeks.
Bass Assassin Shads on a light wire Owner Rig'n hook continue to draw good reactions in the grass and lily pads, with best reactions in pads and grass lines using Electric Shad, Golden Bream or Native Shiner colors. Best colors of 4-inch Bass Assassin HPC (Heavy Punch Craw), Texas rigged, have been the Black Grape/blue glitter, Chico's Red Ear or St John's Special the past couple of weeks, fished near stumps and lily pads from 5-9 feet deep. Custom-poured Senkos and Trick Worms continue working on stumps and cypress trees in 3-8 feet depths. Best colors in Trick Worms have been the black/blue, Blue Ice and Watermelon Candy. Magnum bulky lizards in Blackberry, Blue Bayou, black/blue tail and Watermelon Candy continued taking a few good bass this week on flooded cypress trees, stumps and along vegetation lines in ditches, creeks and flats from 3-8 feet deep. Topwater Horny Toads and hollow-body Live Target Frogs are beginning to snatch a few topwater-explosion bass from 2-4 pounds each near buckbrush, overhanging limbs from cypress trees, and in lily pad and alligatorweed vegetation.
* White bass: They have pretty much finished their annual spawning run upriver, between U.S. Highway 71 at Wilton Landing and Patterson Shoals near Cossatot inflow ditch and are beginning to migrate down Little River. Numerous white bass have been caught over the past 3-4 weeks along the river, in the 3-plus-pound class, on Rat-L-Traps, Little Georges, Chuck'n Spins, Rooster Tails, spoons and Bomber Crankbaits. The white bass began scattering in large schools downriver following the spawn over the past week or so.
* Crappie: Continue to improve again this week and are staging near 2-8 feet deep close to cypress stands, ready to move in for the spawn. Over the past week, these prespawn crappie have been best on minnows and jigs in pockets along the main lake sections near the golf course along South Hickory Creek and near Beards Bluff campground, and in oxbows of Mud Lake and McGuire up Little River. Crappie continue holding in the 2-4 feet and 8-foot depth zones this week, and are staging to move shallow over the next few days or so. Best color of jigs over the past week or so have been black/red, June Bug, white/red and white/orange. Blakemore Road Runners in white/chartreuse and SK Rocket Shads in white/yellow heads have also produced nice 2- to 2.5-pound sab crappie over the past few days.
* Catfish: They drastically improved this week with the increase of current along Little River. Limblines, trotlines and yo-yos have been working for some nice Blues and Channel Cats over the past week with the increase of discharge at Millwood Dam. Cut shad, buffalo and three-day spoiled chicken livers have been working.
Lake Greeson Tailwater
Visit www.littlemissouriflyfishing.com for a daily update on fishing conditions.
Lake Greeson
As of Thursday, the Army Corps of Engineers reports the lake's elevation at Narrows Dam was 542.96 feet msl (full pool: 548.00 feet msl).
No reports.
DeGray Lake
As of Thursday, the Army Corps of Engineers reports the lake's elevation was 408.19 feet msl (full pool: 408.00 feet msl).
(updated 4-29-2020) Capt. Darryl Morris of Family Fishing Trips Guide Service (501-844-5418) said, "We are still loading up on the crappie despite the water level rising. Not catching many big ones but plenty of eaters on brushpiles 8-12 feet deep with minnows and chartreuse hair jigs. Big daddies are protecting the beds and not overly focused on eating. Let them do their thing and they'll be on the brushpiles in a few weeks."
(updated 4-15-2019) John Duncan of yoyoguideservice.com at Iron Mountain Marina said, "Springtime is here. Weather changes daily. Water level is 405.76 feet msl. Water temperature is mid-60s depending on where you fish.
"Crappie fishing has been pretty good all around. Many are being caught in shallows throwing jigs outside the brushline. Pink heads or chartreuse are my favorite ⅛-ounce or 1/16-ounce colors from Tennessee Shad, Monkey Milk are among the favorites. Minnows and pole fishing are always a staple. The bite is moving east toward midlake as the water temperature warms up. The fish I am catching are off the brushpiles still. It seems to me that the brushpiles I am getting the most action out of are the thick cover brushpiles vs. piles that are bare and laydowns. What we do is cast jigs over the piles and let them fall to the appropriate level and slowly retrieve after we catch what we can throwing jigs. We then move in with minnows and fish. The fish are suspended over the tops of the piles anywhere from 20 feet water level to 30 feet. Usually the fish are around 10-12 feet."
(update 4-15-2021) Local crappie angler Charles Abernathy says, "I got a chance to get on the water for a couple of hours before dark (Wednesday). The water temperature up around Lennox Marcus area was at 64 degrees. It was a dark, dreary evening but the fish were biting fair enough. I was looking at timber in the middle of spawning pockets, scanning open water in the mouths of those pockets and also looked at some shallow brush (8 feet or less) and all seemed to be able to produce some fish.
"Up until this point, I haven't been seeing any consistent size in the brush until yesterday. The water was fairly clean after the rain there and Monkey Milk with an orange head seemed to be what they wanted that evening. I did try some other colors but they seemed to have their minds made up pretty good.
"At Lennox some of the females still had eggs, but a lot didn't. If you like fishing the shoreline you still have some time (but this magical moment will be gone as quickly as it arrived). Also, there's a mob of hybrids in the Lennox area going on a rampage. They weren't popping, but they are easily spotted cruising with your side scan and they were as rambunctious as ever.
"I get lots of emails and I enjoy reading/responding to every one of them. Thank you so much for reading these and thanks to everyone for letting me know. As always, feel free to reach out at c.abernathy32@gmail.com for more info. I have a YouTube channel where I share some fishing content and will be posting this brief trip from Wednesday within a day or two. Watch for it. Good luck out there and be safe and be nice. Hearing of a lot of fish being caught right now. Get out there and enjoy it because we will all have our swimsuits on before you know it."
De Queen Lake
As of Thursday, the Army Corps of Engineers reports the lake's elevation was 439.70 feet msl (full pool: 437.00 feet msl).
Dierks Lake
As of Thursday, the Army Corps of Engineers reports the lake's elevation was 531.68 feet msl (full pool: 526.00 feet msl).
---
White Oak Lake
(updated 4-29-2021) Curtis Willingham of River Rat Bait (870-231-3831) said water clarity remains muddy and the level is high. No reports.
---
Lake Atkins
(updated 4-22-2021) Donald Ramirez at Lucky Landing (479-641-7615) said the lake is clear and at a normal level. Crappie have moved back deep and are biting fair using minnows or a Bobby Garland Jig in chartreuse or bone white colors. Black bass are fair and also are deep this week; best bet is a plastic worm in watermelon seed or green pumpkin color. Catfish are fair using basic catfish bait. No reports on bream.
Lake Catherine
For weekly flow releases from Carpenter Dam, visit www.entergy.com/hydro
Lake Catherine (Below Carpenter Dam)
For weekly flow releases from Carpenter Dam, visit www.entergy.com/hydro
(updated 4-29-2021) Shane Goodner, owner of Catch'em All Guide Service, reports that water temperature below Carpenter Dam is 53 degrees with clear conditions in the tailrace. Entergy has issued an eight-hour generation flow pattern during the evening hours for the next week. The weekly generation schedule is posted on the Entergy website each Wednesday evening and anyone planning on using the Carpenter Dam tailrace is advised to check out the report. Both lakes Hamilton and Catherine are now refilled to normal summertime pools and will remain at these levels until mid-November. Thousands of rainbow trout have been stocked into the tailrace this year, but have remained difficult to catch since late February. Constant cold fronts and storms have complicated matters as huge temperature changes impair feeding patterns. Trout from downstream will migrate toward the dam in search of cooler water as the season progresses. Competition for food will force a more consistent feeding pattern. Fly-fishermen can still wade to areas that hold numbers of trout and should use a fly that imitates something other than a shad. Worm imitations, such as the San Juan worm in red or hot pink, can produce good catches of rainbow trout in current or slackwater conditions. Woolly Buggers in green or black are a time-honored fly that will produce results casted with a strike indicator. Egg pattern flies in orange or white have drawn strikes from finicky trout stuffed from threadfin shad feeding. Bank anglers have a chance at catching limits of fish by using PowerBaits and redworms fished just off the bottom with a marshmallow floater. Much larger trout have been released in March and April below area dams with spring officially underway.
The walleye spawn is over, but fish remain in the tailrace feeding and recovering before migrating downstream. Anglers can catch these fish by trolling shallow-running crankbaits against the current effectively now because lake levels are back to normal. Tipping jigheads with live minnows over and around sandbars and rock structure is another proven technique to catch spawning walleye. White bass have migrated into the tailrace and are being caught on small jigs and minnows fished under a bobber. Anglers need to concentrate their efforts below the bridge in the main channel. The crappie spawn has gotten off to a slow start this season, but small catches have been reported with the best results during periods of generation. The white bass and crappie are crowded close together in the tailrace with both species caught over sandbars and rock structure. A small minnow fished under a bobber has been the most effective method either in slackwater or generation. Freshwater drum as large as 30 pounds have been seen in the tailrace this month as these fish begin their spawning cycle. A live minnows or nightcrawler fished just off the bottom is a favorite technique used for catching these fish. It is very important to note for anglers to keep a close eye on rods left unattended as these fish can easily jerk equipment into the lake.
Always wear a life jacket when on the water and wear a mask and observe social distance when encountering others.
Lake Dardanelle
(updated 4-29-2021) Charles Morrison at Classic Catch Guide Service (479-647-9945) had no report.
Lake Hamilton
(updated 4-15-2021) Greeson Marine, hometown dealer of the Arkansas-born-and-bred Xpress all-welded aluminum fishing boats in Hot Springs, reports lake levels at full pool with water temperatures up to 67 degrees in the shallower flats and pockets of the lake. THE BASS SPAWN IS ON! Bass have moved up hot and heavy into shallow areas and creek channels doing their thing. Floating worms, jigs and fluke-style imitations that can be fished deliberately and slowly are the way to go. Many anglers enjoy sight-fishing for these fish on beds, as they should! Please be respectful and put big Mama back so we can have more good bass fishing for years to come.
Bream and crappie are biting well on deeper docks and shallow, submerged brush all over the lake. Live minnows or shad-colored jigs and crickets or worms are the ticket. Catfish have been spotted very shallow on flats but anglers should target them on the drop-offs to the main channels adjacent to the flats, especially at night. Y'all be careful out there and respectful of each other, and the fish, also. The lake traffic is already heavy and will only get worse. Try to give each other space and take safety precautions. Good Luck! Go Greeson!
Lake Nimrod
As of Thursday, the Army Corps of Engineers reports the lake's elevation was 345.99 feet msl (normal pool: 342.0 feet msl).
(updated 4-22-2021) Andrews Bait Shop and More (479-272-4025) said the lake is clear and has a surface water temperature of 61-64 degrees. Water level is normal. Bream are starting to move up and the bite is good. Use redworms and crickets. Crappie are excellent. They're being caught on the shoreline in the brush. Try a black/chartreuse jig or a Beaver Bottom Jig for best results. Also use minnows. Black bass are good. A spinnerbait is the way to fish them now; try a War Eagle white spinner with a gold willow leaf. Also a finesse worm is a good choice. Catfishing is good using skipjack, cut shad, minnows or black salties.
Lake Ouachita
As of Thursday, the Army Corps of Engineers reports the lake's elevation at Blakely Dam was 578.29 feet msl (full pool: 578.00 feet msl).
(updated 4-29-2021) Todd Gadberry at Mountain Harbor Resort and Spa (870-867-2191/800-832-2276 out of state) reports that black bass are still very good. The jighead/Texas-rigged Brush Hog and floating worm bite is working and the topwater bite is picking up, too. Try pockets 2-10 feet deep and work them slowly.
Walleye are good and being caught on Shad Raps and jerkbaits over points on the river channels. Stripers are still very good. These fish are being caught on topwater C-10 redfins and jerkbaits in the central part of the lake. Bream are very good and can be caught on worms and crickets. Crappie are very good. Try a small jig or minnow near brush in 8-15 feet of water. Catfish are still very good and being caught on limblines and trotlines with live or cut bait. The lake is clear and the surface water temperature is ranging 62-66 degrees. Lake level on Wednesday was up about a foot from last week to 577.57 feet msl and rising. Call the Mountain Harbor fishing guides (Mike Wurm, 501-622-7717, or Chris Darby, 870-867-7822) for more information.
(updated 4-22 2020) Capt. Darryl Morris of Family Fishing Trips Guide Service (501-844-5418) said he has been fishing both Ouachita and DeGray Lake, and he's find a similar pattern: The crappie are great on jigs and minnows on staging brushpiles fished 8 feet deep. The cooler mornings haven't slowed the crappie. "We are in the middle of the spawn, so some are nearly done while others are just getting started," he said.
Blue Mountain Lake
As of Thursday, the Army Corps of Engineers reports the lake's elevation was 389.67 feet msl (full pool: 384.00 feet msl).
No reports.
---
White River/Clarendon Area
The Army Corps of Engineers on Thursday reported the Clarendon gauge had dropped slightly from last week to 25.81 feet, slightly below flood stage of 26.00 feet.
Horseshoe Lake
(updated 4-29-2021) Kent Williams of Oxbow Guide Service (870-278-7978) says the recent cool weather has done more to hamper anglers than it has to hurt the fish. The water temperature remains well above 60 degrees with some afternoon readings as high as 66 degrees. With a few days in the 80s for the start of this week, the water temperature will continue to climb and a more stable weather pattern will help fishing tremendously. The crappie are finishing up the spawn. Females are on the move and starting to feed, but they are scattered. You will still find males guarding the beds and they will be shallow. Some females will be shallow as well near the beds. Jigging or fishing minnows around the trees should produce a nice mess of fish. Jig colors that fish are hitting are varied right now. In the past week they have been caught on several colors. If you are fishing trees and not catching fish, keep moving. Once you find a fish on a tree, there should be a few more fish around the tree. If the bite slows, move on.
Bass are moving shallow "and I would assume are getting ready to spawn if they are not doing so now," Kent says. "Every fish caught on a recent trip was a female and they all still had eggs. The ones caught were caught on ⅛-ounce crappie jigs so maybe minnow imitating baits for the bass fishermen will work as well as spinnerbaits."
He adds, "We had several incidental bream catches on a recent trip. These were in around the trees. I'm sure a tube of crickets or some redworms would work on catching a mess of bream.
"Talking with a couple of anglers this past week that were catfishing, it seems it is good and getting better. The catfish are feeding heavily right now. Nightcrawlers and 3-5 feet of water were the choices to catch some fish this past week by the ones I spoke with."
Cook's Lake
(updated 4-29-2021) The AGFC's Wil Hafner at Cook's Lake Conservation Education Center (870-241-3373) reports that they are still dealing with high water at Cooks Lake. It appears the river is slowly falling out, "so we may be able to open in the near future. Until then, now is a great time to check out other area lakes."
Recently, Wil said he was able to sneak away and had a great trip on the Arkansas River pool below David D. Terry Lock and Dam in Scott. The flow was greatly reduced and bass could be found in less than 3 feet of water out of the current. All fish were still pre-spawn and looking for a protected area to make their beds. "My most productive pattern was a River Craw finesse jig fished parallel to rip-rap, about 5 feet from the shore. I also caught several fish on small shad colored crankbaits as well as spinnerbaits."
Bear Creek Lake/Storm Creek Lake
(updated 4-15-2021) Tyler Ball, park ranger at Mississippi River State Park (870-295-4040), said anglers report catching a few largemouth bass with artificial baits and minnows at Bear Creek Lake. Anglers suggest fishing at depths of 4-6 feet for the best fishing experience. Some of these bass were reported to still be full of eggs. As the temperature of the water changes, they are expecting certain species of fish to spawn, in return helping anglers have better success. Meanwhile, very little activity has been reported at Storm Creek Lake. A few blue catfish have been caught with artificial baits. Anglers report having success fishing in depths of 6-8 feet.
---
Recent News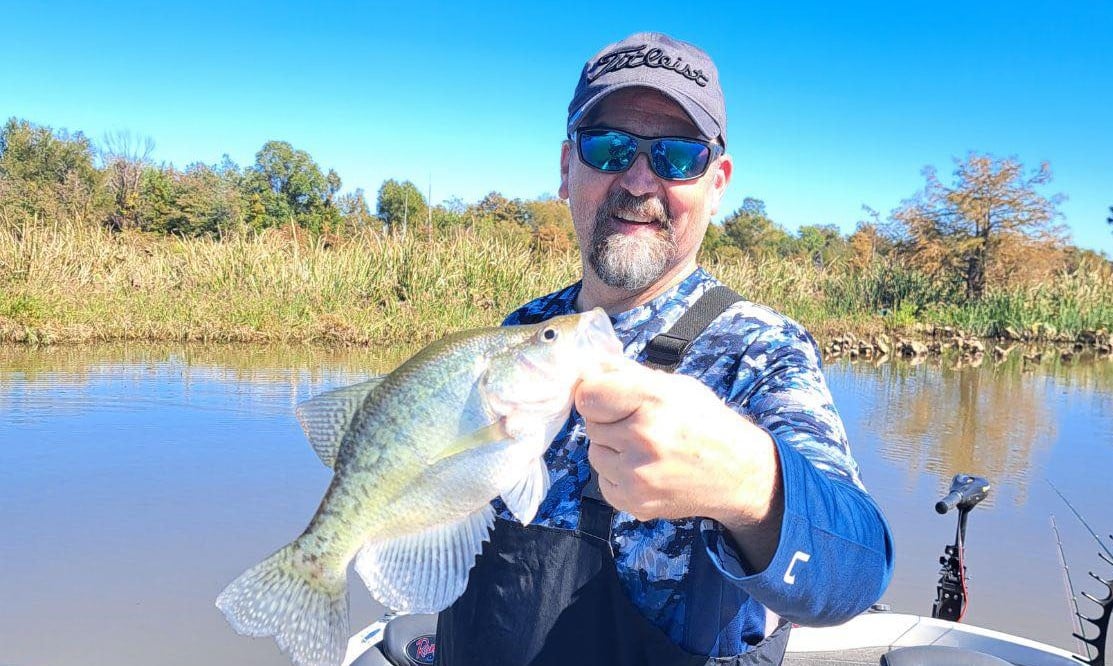 Subscribe to Our Weekly Newsletter E-mails
Don't miss another issue. Sign up now to receive the AGFC Wildlife Weekly Newsletter in your mailbox every Wednesday afternoon (Waterfowl Reports are published weekly during waterfowl season and periodically outside the season). Fishing Reports arrive on Thursdays. Fill in the following fields and hit submit. Thanks, and welcome!