Arkansas Wildlife Weekly Fishing Report
April 1, 2021
Jim Harris

Managing Editor Arkansas Wildlife Magazine
This is the Arkansas Game and Fish Commission's fishing report for April 1, 2021. If there is a body of water you would like included in this report, please email jim.harris@agfc.ar.gov with information on possible sources for reports about that lake or river. Reports are updated weekly, although some reports might be published for two weeks if updates are not received promptly or if reporters say conditions haven't changed. Contact the reporter for the lake or stream you plan to fish for current news. Note: msl = mean sea level; cfs = cubic feet per second. All Corps of Engineers lake and river readings were taken at 9 a.m. the day of publication (April 1).
****Buy an Arkansas Fishing License by clicking here. Your purchase of a Fishing License helps support the AGFC's work in maintaining the fishing resources throughout the state.
Quick links to regions:
Arkansas River and White River levels are available at: http://water.weather.gov/ahps2/index.php?wfo=lzk
For real-time information on stream flow in Arkansas from the U.S. Geological Survey, visit: http://waterdata.usgs.gov/ar/nwis/rt
For water-quality statistics (including temperature) in many Arkansas streams and lakes, visit: http://waterdata.usgs.gov/ar/nwis/current/?type=quality


TOP AND LEFT: An angler from Little Rock, identified by first name as Darrin, proudly holds a bass that weighed between 4.5 and 5 pounds, taken this week at Millwood Lake while fishing with guide Mike Siefert. Some bass upwards of 10 pounds have been caught this week at Millwood as the bass action has gotten hot and heavy with rising temps. Read more in Siefert's report below.
---
Craig D. Campbell Lake Conway Reservoir
(updated 4-1-2021) Bates Field and Stream (501-470-1846) said the lake's clarity is muddy. The level is normal. The bream bite continues to improve with good results this week on redworms and crickets. Crappie, they say, are starting to get into spawn mode. The bite is good on minnows and jigs. Black bass are moving into shallow water and are biting well on spinnerbaits and topwaters. Catfish are fair on trotlines.
(updated 3-25-2021) Hatchet Jack's Sports Shop in Crystal Hill off I-40 (758-4958) reports that crappie are "really good" off the Highway 89 bridge. Use minnows and jigs.
Lake Beaverfork
(updated 3-25-2021) Angler Dennis Charles checked in from Beaverfork and said anglers are catching a few bass in the shallows and grass. "On the scanner we saw very few fish," he added. Dennis also went to Lake Cargile by Hattieville on March 25. "We cough a few crappie and bass, using jigs and Chatterbaits. For more from Dennis's fishing excursions around the central Arkansas region, visit his Facebook page at https://www.facebook.com/groups/arkansasfishingadventures
Little Red River
(updated 4-1-2021) Fish 'N Stuff (501-834-5733) in Sherwood says water is a little low and colored. Rainbow trout are excellent on Lucky Stripe Trout Worm in hot pink and white colors, as well as Rooster Tails or Rapala Countdowns in sizes 5 and 7. Brown trout are good on Shad Raps.
(updated 4-1-2021) Lowell Myers of Sore Lip'em All Guide Service (501-230-0730) reminds anglers to always check before heading to the Little Red River by calling the Army Corps of Engineers Little Rock District water data system (501-362-5150) for Greers Ferry Dam water release information or check the Corps of Engineers website (swl-wc.usace.army.mil) for real-time water release and the Southwestern Power Administration website (swpa.gov) to see forecasted generation schedule.
(updated 3-25-2021) Greg Seaton of littleredflyfishingtrips.com (501-690-9166) said the river is muddy below Sulphur Creek due to the rain Wednesday night. "I have not been above this area, but I would think the clarity of the upper section of the river is better. The Corps of Engineers is still running one unit plus approximately 600 cfs through the floodgates. This amounts to a flow of about 3,400 cfs around the clock. This generation will help clear the lower section in the next day or two," Greg said.
The lake is again rising into the flood pool so this generation schedule will probably continue for the near future.
Large nymphs drifted deep or streamer fishing are the best options for fly-fishermen at this time. Remember to be careful of the docks and downed trees along the shore during this higher level of flow. Avoid drifting against the upstream side of these objects.
Greers Ferry Lake
As of Thursday, the Army Corps of Engineers reports the lake's elevation at 463.64 feet msl (normal conservation pool: 462.04 feet msl).
(updated 4-1-2021) Tommy Cauley of Fishfinder Guide Service (501-940-1318) said the water level at Greers Ferry Lake is at 463.64 feet msl. which is 1.6 feet above normal pool of 462.04 feet msl. "Well, Mother Nature has again showed up for the betterment of the fishery itself as with prolonging the overall spawn of all species to ensure we are better off in the long run for catching. Lots of bluebird and or chamber of commerce days, cold nights and cold water make and have made the bite tough all over the country."
Crappie are going strong in most places, super shallow out to 30 feet; use minnows, jigs or both.
Walleye are present in all three stages; overcast is the best bet most of the time. "There's lots of pressure, people and barometric alike. I would suggest the lake bite instead of rivers for the most walleye action as they are just on the verge of starting to go strong in 12-30 feet. Use minnows, grubs, and hair jigs, or crawlers."
It's not the best time for most catfish now.
Bream have been super shy, staying up as well. New fish are arriving all the time. Crickets, crawlers, beetle spins all will work.
Hybrid bass and white bass are eating at will, steady Highway in all major river and creek arms at present and will continue to for a couple months the way weather is and moving forward. Use grubs, inline spinners or Rooster Tails. Some fish are still out deep and can be caught on spoons, Largo inline spinners and Alabama rigs out to 60 feet.
Black bass are feast-or-famine. They are in certain places doing their things. You'll do a lot of searching on the shoreline out to 60 feet; you pick it — lots and lots and lots of baits are working.
(updated 4-1-2021) Fish 'N Stuff (501-834-5733) in Sherwood says bass are good on drop-shot, shaky heads, jerkbait, Alabama rigs and crankbaits in deeper areas (20-25 feet deep). When fishing shallow for the bass, use spinnerbaits. Crappie are good on Road Runners, Bobby Garland Baby Shad (in pink/chartreuse/white colors) and in shallow depth around the bushes.
Harris Brake Lake
(updated 4-1-2021) Harris Brake Lake Resort (501-889-2745) says the lake's clarity is running a little cloudy as of midweek, and the lake level is high. Crappie remain in the deeper water, but the bite has been good. Minnows and jigs, of course; but they're also biting on trotlines. Black bass are good. They continue moving closer to the shoreline. Try a crankbait or throw a topwater bait. Catfish is fair on nightcrawlers and shad. Bream didn't bite this week.
Lake Overcup
(updated 4-1-2021) New owner Phil Thomas at Lakeview Landing (501-354-5309) said the lake is slightly cloudy and is a little high. Bream fishing is good; use redworms or crickets. Crappie are biting well on bass minnows and black/chartreuse jigs, mostly. Also, they're biting yo-yos with those minnows. Bass are good on a variety of baits. Channel catfish are also being caught on the usual catfish baits.
Brewer Lake
(update 4-1-2021 ) David Hall at Dad's Bait Shop (501-977-0303) said the lake is clear and at a normal level. Crappie are still in deeper water but the bite is good. Target the brushpiles and stumps and use minnows. Bream are fair on redworms. They're also hanging around the brushpiles. Black bass are biting well. The bass are closer to the shoreline in the weeds. Try a crankbait. Catfishing is good on worms, drop the bait to the bottom. Anglers note that Dad's Bait Shop is now 24/7 self-serve, David said.
(updated 3-25-2021) Angler Dennis Charles said he ventured to Brewer Lake recently. Crappie and bass both were good along the grass lines.
Lake Maumelle
(updated 3-25-2021) Hatchet Jack's Sports Shop in Crystal Hill off I-40 (501-758-4958) hears that crappie are biting well on yo-yos at night time.
(updated 3-18-2021) WestRock Landing in Roland (501-658-5598) reported Wednesday that water temperature is ranging 53-55 degrees. Largemouth bass are good. Some can be found in the grass on the banks and around the grass in 8-12 feet depth biting a variety of lures. Try using crankbaits, spinnerbaits, jerkbaits or swimbaits. Kentucky bass are fair. Some reports of them being found in 10-15 feet of water outside the grass line. They can also be found near drop-offs and rocky banks. Try using jigs. White bass are great. Reports of the white bass being shallow by the west bridge. They're making their annual run toward the creek. Try using swimbaits, Rat-L-Traps and minnows. Crappie are fair. Some reports of the crappie moving in. They can be found in the coves about 20 feet and some are headed toward the shoreline. Others are saying the females can be found deep. Try using minnows and jigs. No reports of bream or catfish this week. If you want to try for a bream, toss a cricket or redworm. Catfish will favor chicken liver, worms and crayfish now.
Lake Willastein
(updated 3-25-2021) Hatchet Jack's Sports Shop in Crystal Hill off I-40 (501758-4958) says that fishing is good in small bodies of water in the backwaters. Bass will go for any kind of moving bait — spinner, crank, Rat-L-Traps. Crappie are biting minnows and jigs. Bream are starting to move up shallow.
Little Maumelle River
(updated 4-1-2021) Ray Hudson at River Valley Marina (501-517-1250) says clarity is muddy and the water level and current as of Wednesday afternoon were low. Crappie are fair and continue biting at a 3-4 feet depth; use minnows and jigs. Black bass fell off to fair this week. They're also hanging around in 3-4 feet depth. Try a spinnerbait, swimbait or soft plastic worm. Catfish continue going after yo-yos baited with minnows at night. Catches were fair, Ray said. No reports on bream.
Arkansas River (Maumelle Pool)
On Thursday, the Corps of Engineers said water flow at the Toad Suck Lock and Dam was 99,215 cfs.
Arkansas River (Little Rock Pool)
On Thursday, the Corps of Engineers said water flow at the Murray Lock and Dam was 99,084 cfs. Flow at the Terry Lock and Dam was 111,336 cfs.
(updated 4-1-2021) Fish 'N' Stuff (501-834-5733) said Wednesday that the flow was under the craft advisory level. They suggest fishing the Willow Beach and Burns Park areas for best success.
(updated 4-1-2021) Zimmerman's Exxon (501-944-2527) said crappie are excellent below the Terry Lock and Dam and Murray Lock and Dam on crappie petit minnows. White bass are good on pearl-colored Lil' Fishies below the Terry and Murray dams. Bream are out deep (6-8 feet) now and are biting crickets in the backwaters of the Willow Beach area.
(updated 4-1-2021) Hatchet Jack's Sports Shop in Crystal Hill off I-40 (758-4958) reports that bass, crappie and catfish are pushed up in the backwater. Any place you can find some stable water, like small pockets or the very back of jetties, will offer good fishing.
Clear Lake (off Arkansas River-Little Rock Pool)
(updated 3-25-2021) McSwain Sports Center (501-945-2471) said the lake remains slightly stained and the water level is normal. Anglers are catching good amounts of crappie on minnows and jigs. Catfish are beginning to bite, with skipjack working. Nothing was reported on bream or bass.
Peckerwood Lake
(update 4-1-2021) Donna Mulherin at Herman's Landing (870-241-3731) reports that the lake clarity is dingy and the water level is high. Anglers report that they are starting to catch a few bream, but not many. Overall, the bream bite is poor. Crappie fell off some this week to just fair results, on minnows and jigs. Black bass are good on jigs. Catfish are good on yo-yos, jigs and minnows.
---
White River
(updated 4-1-2021) Cotter Trout Dock (870-435-6525) asked, "Ready to celebrate springtime?
"We've put winter behind us and are looking at warmer days and more sunshine. Bull Shoals Lake is at 670 feet msl elevation — up about 13 feet in the last two weeks — but the increase has slowed. Generation over the past three days has been heavy, averaging 14,000 cfs, about five units, making the rainbows a little skittish. When water releases settle to a steady amount, the bite will pick up. Keep your egg patterns handy, along with wriggling redworms. Drifting a bubblegum pink or white worm while letting the current move you downstream should stir some excitement.
"While the rainbow bite has been slow, the brown catch has been phenomenal with sculpins, and minnows (if you can find one). Lots of topwater action on the sunny days, with a tiny white and pink jig-like streamer. Come on over and experience trout catching at Cotter on the White River in the Arkansas Ozarks. Arkansas hospitality never fails to please."
(updated 4-1-2021) Sportsman's White River Resort (870-453-2424) said that of late they have not gotten a lot of rainbows. "Only one stocking truck has been there this whole season," they report." So, anglers are catching more browns than rainbows at this point of the season. The water is pretty clear, or "slightly clear," they note. River level is high. Overall trout bite is rated fair this week.
(updated 4-1-2021) John Berry of Berry Brothers Guide Service said Monday that during the past week they had several rain events that combined for 1.75 inches in Cotter, along with warmer temperatures and heavy winds. The lake level at Bull Shoals rose 4.5 feet to rest at 11.6 feet above seasonal power pool of 659 feet msl. This is 24.4 feet below the top of the flood pool. Upstream, Table Rock fell 1.2 feet to rest at 0.9 foot above seasonal power pool and 15.1 feet above the top of flood pool. Beaver Lake rose 1.1 feet to rest at 2.3 feet above seasonal power pool and 7.3 feet below the top of flood pool. The White had some wadable water. Norfork Lake rose 1.5 feet to rest at 7.2 feet above seasonal power pool of 553.75 feet msl and 19 feet below the top of flood pool. The Norfork tailwater had wadable water at night.
Due to recent rain all of the lakes in the White River system are now above power pool.
On the moderate flows, the White has fished well. The hot spot has been Rim Shoals. The hot flies were olive Woolly Buggers (sizes 8, 10), Y2Ks (sizes 14, 12), prince nymphs (size 14), zebra midges (black with silver wire and silver bead or red with silver wire and silver bead sizes 16, 18), pheasant tails (size 14), ruby midges (size 18), root beer midges (size 18), pink and cerise San Juan worms (size 10), and sowbugs (size 16). Double-fly nymph rigs have been very effective (John's current favorite combination is a pheasant tail nymph with a ruby midge).
John also reported, "Last week I went fishing with two anglers from Mississippi. They are repeat clients and they wanted to fish two half-days. They requested a one-day float and one day wading. Due to water conditions, we spent the first day in the boat.
"It was a cool start at 29 degrees but it promised to be much warmer in the afternoon. It was a beautiful sunny day. The water was pretty low but we expected rising water about 11 o'clock. I rigged their rods with a pheasant tail nymph and a ruby midge dropper. I added a split shot and a strike indicator.
"The early going was a bit slow but by midmorning the action picked up. We were picking up a couple of trout on each drift. The guys were enjoying themselves and it promised to be a great day. About that time something went very wrong. I had motor trouble. My engine was running well, but my shifter went out and I was unable to get it into gear. Luckily I was upstream of the ramp. I explained my problem and we decided to drift down to the access where I would put my boat on the trailer and we would finish the day wade-fishing.
"Suddenly, as I began paddling downstream, the fishing got hot. We boated six trout and they were still biting. About that time one of the anglers hit a nice 12-inch rainbow. I was very busy trying to steer the boat with my paddle when the angler, with the fish on, called out that a big brown was chasing his rainbow.
"The brown swooped toward the trout but missed it. It made another pass and missed it again. It made a third attack and nailed the rainbow. He swallowed it whole. We had a big brown on but had not hooked it. I put down my paddle and grabbed my net. My angler had been stripping in the rainbow. I called out to him to put it on the reel.
"I expected the brown to make a run. It was near the boat and we had a few inches of line out. To my astonishment, the brown never made a run. I can only surmise that after swallowing a 12-inch rainbow, the brown was a bit lethargic. It would be like me having a big steak and some good red wine. It shook its head violently and swam in circles but did not pull out any line. It finally came to the surface and I scooped it with my big boat net.
"We captured the fight on camera. We took a few minutes to get a few pictures of the 24-inch brown and did some hearty high-fives. We were stoked. I clipped the tippet. There was no way to get the fly back without harming the trout. I gently released the brown. A nice rainbow and a trophy brown on one fly, that is what I call good times!
"In almost 30 years of guiding, I have never seen this, nor had my clients. My wife, Lori, had hooked a small long-eared sunfish on Crooked Creek and a big smallmouth had swallowed it. She got it in. It was a great catch but not as good as this.
"I got the boat to the ramp without much trouble and got it loaded on the trailer. We decided to pull the plug a few minutes early and call it a day. Despite my motor problem, this was a fishing trip that I enjoyed and will never forget!"
Bull Shoals Lake
As of Thursday, the Army Corps of Engineers reported the lake's elevation at 670.03 feet msl (normal conservation pool: 659.00 feet msl). The reported lake elevation at Table Rock Lake was 917.64 feet msl (normal conservation pool: 915.00 feet msl).
(updated 4-1-2021) Del Colvin at Bull Shoals Lake Boat Dock says it's spring and there's early pre-spawn. "There has been a wave up. Target south-facing creeks, secondary points and pockets with a little warmer water close to spawning areas. Dirty water has some warmer temps but are also the first to cool off.
"Afternoon bite has been better. The shad are breaking up. Look for loons and gulls in the creeks. Jerkbait and swimbait powerfish on windy cloudy days. Bright spinnerbait, or a Chatterbait, for dirty and shallow. If it's clear, flat shaky head and the ol' Ned rig.
"The backs of creeks have a little color change. Crankbaits, Wiggle Wart and Rock Crawlers are working. Look for windy steeper banks with nasty rock. Fish in 4-10 feet and match the colors with water clarity. Bright fire-red or blue chartreuse for dirty water. Red and green craw are working in the clear water. You can always catch them on a jig in the channel swings." Del says he's been Beaver flipping in shallow lay downs, when brush becoming a player. "Fish the conditions," he says.
Follow Del's YouTube page (Bull Shoals Lake Boat Dock) for more tips and updates from Bull Shoals.
The lake is murky with a surface temperature ranging 53-58 degrees. The water level is high, about 11 feet above normal pool and rising.
Norfork Lake
As of Thursday, the Army Corps of Engineers reported the lake's elevation at 560.59 feet msl (normal conservation pool: Sept.-April, 553.75 feet msl; April-Sept. 555.75 feet msl).
No reports.
Norfork Tailwater
(updated 4-1-2021) John Berry of Berry Brothers Guide Service in Cotter (870-435-2169) said Norfork Lake rose 1.5 feet to rest at 7.2 feet above seasonal power pool of 553.75 feet msl and 19 feet below the top of flood pool. The Norfork tailwater had wadable water at night. Due to recent rain, all of the lakes in the White River system are now above power pool.
The Norfork is fishing well. Navigate this stream with caution as things have changed a bit during recent flooding. There has been major gravel recruitment at the bottom of Mill Pond and the dock hole. The most productive flies have been small midge patterns (sizes 18, 20, 22) like ruby midges, root beer midges, zebra midges (black or red with silver wire and silver bead) and soft hackles (sizes 14, 16) like the Green Butt. Egg patterns have also been productive. Double-fly nymph rigs have been very effective. Try a pheasant tail size 14 with a root beer midge dropper. "My wife, Lori, has done well with an olive Woolly Bugger. The fishing is better in the morning."
Dry Run Creek is fishing well. There is increased pressure with warmer weather. Fish early or late to avoid the crowds (the creek is open to fishing from sunrise to sundown). The Norfork National Fish Hatchery is open but the restrooms are still closed. The hot flies have been sowbugs (size 14), Y2Ks (size 12), various colored San Juan worms (worm brown, red, hot fluorescent pink and cerise size 10), mop flies and egg patterns.
Remember that the White and North Fork rivers and Dry Run Creek are infected with didymo, an invasive alga. Be sure and thoroughly clean and dry your waders (especially the felt soles on wading boots) before using them in any other water. Many manufacturers are now making rubber soles that are easier to clean and are not as likely to harbor didymo.
Buffalo National River/Crooked Creek
(updated 4-1-2021) John Berry of Berry Brothers Guide Service in Cotter (870-435-2169) said the Buffalo National River and Crooked Creek are clearing. With the cool temperatures, the bite is still slow. John's favorite fly is a Clouser minnow. Carefully check the water level before entering Crooked Creek or the Buffalo River. There are no dams on these streams. They both have large drainages and are prone to flooding during and following any rain event. The water can rise very quickly.
---
Beaver Lake
As of Thursday, the Army Corps of Engineers reports the lake's elevation at 1,122.68 feet msl (normal conservation pool: 1,120.43 feet msl).
(updated 4-1-2021) Jon Conklin with FishOn Guide Service (479-233-3474) said Beaver Lake "has been coming up as of late. Water is warming but the fishing is really poor. The white bass run was postponed and walleye never showed. Really no reason to fish Twin Bridges this year. Same goes for the War Eagle arm. The ramps have been pleasantly uncrowded and people are just downright personable these days. "April Fools! The Real Report is that the white bass are in the system and ready to do their thing. As the water clears, I expect the fishing up the two main river arms will be on fire. Walleye are good on plastics and cranks, but lots of shorts are the rule. Make sure you know your regulations! I see many short walleye being put on stringers.
"Stripers are still moving daily and you must cover some water to find them. Look at Point 12 and islands around Prairie Creek. Bass are good from Prairie Creek on up into the rivers. Crappie are staged and ready to move up next week or two. Spring is a great time in the Ozarks so get out and enjoy it. Be safe and be patient at the ramps. It is busy out there."
(updated 4-1-2021) Southtown Sporting Goods (479-443-7148) reports white bass are just getting started, biting on live crawdads and Lil' Fishies. Walleye are fair on curly tailed grubs and pink jighead with yellow or white body. Stripers have been "pretty good" this week on live bait, brood shiners and shad. Crappie are good, but the bigger fish are to be found in 5-20 feet depth. Minnows and tube jigs are mostly being used. Look around the brushpiles. Black bass are fair; try spinnerbaits, crankbaits, jigs and jerkbaits. No reports on catfish or bream.
Beaver Tailwater
(updated 4-1-2021) Guide Austin Kennedy (479-244-0039) said, "Trout fishing has been great this past week. The Corp has been generating more towards the morning hours, but if you can get out on a boat, you will be fine. Most of the fish are being caught with light terminal tackle, fished with various baits. Pautzke Firegel and Fire baits have been the ticket! Spoons and small crankbaits coated in Firegel have done great as well. Mouse tails, used while drift fishing have also put some nice fish in the boat, when the water is flowing. Most fish are being caught near Spider creek, I would say that this would be the "hot spot". If you're looking for white bass, Kentucky's or even walleye, you need to be focusing your attention more downstream towards Beaver Town. You need to use your graph to locate the fish, then try to pick them off. Try looking for them in inside bends, in about 13 FOW. Tossing an A-rig with white grubs, or pulling flickers shads, should produce some fish. We have yet another cold snap coming in, so bundle up. Hope you are able to get out and catch some fish!

James Green

"On a side note, I would like to give my condolences to the Green family. James Green (left) was an avid fisherman and visitor to the tailwater. Mr. Green loved reading the AGFC fishing reports, then calling me to squeeze "just a little more" info. I have fished with Mr. Green and it was obvious, fishing the Tailwaters was a true passion of his.
"Remember to follow my Fishing Facebook page (Busch Mountain Guide Service) for daily and weekly updates."
War Eagle/White River
(updated 4-1-2021) Loy Lewis of War Eagle Creek Outfitting LLC says the water has cleared up and the fishing is happening. White bass fishing is great in the War Eagle Mills area down to the confluence of White River by Nob Hill and then up to the Twin Bridges of White River. Bass boats and motored flat-bottom boats can usually motor up to Mills Dam, so kayaks and canoes will be better with bright colors and close to the bank. All Beaver Lake fish species will be held up by Mills Dam back down to Beaver Lake – awesome fishing!
Smallmouth bass fishing is great from Huntsville War Eagle accesses downriver to the War Eagle AGFC access, to Smallmouth Rapids north of Hindsville to the War Eagle Mill area – 38 miles of options for kayak and canoe floating with 24 miles of great smallmouth bass fishing! Anglers will also want to know that on the Kings River, from Marble to Marshall Ford to Rock House, the river is running right with some good smallmouth bass fishing!
The north end of Beaver Lake is awesome around the no wake zone cove end of Big Clifty arm cove. It's great for kayak and canoe fishing and there is great shoreline fishing on both sides of Hogscald Cove. Spotted bass, drum, catfish and largemouth bass are excellent now. The Clifty side can be accessed from Arkansas Highway 127 north on Madison County Road 8455; 8465 ends at lake access. On the Eureka Springs side, take Arkansas Highway 23 to Carroll County Road 108, left on County Road 148, past Lovers Leap Bluff and take the next left; road ends at the lake access.
For bass boats, stay on Carroll County Road 108 to Big Clifty Arm paved boat access. Has wide waters to sight fish for schools in the main lake channel.
Follow War Eagle Creek Outfitting LLC on Facebook for water conditions, and don't forget the valet shuttle service offered to make floating easy and give you more time for fishing and have your vehicle at landings!
Lake Fayetteville
(updated 4-1-2021) Lake Fayetteville Boat Dock (479-444-3476) said the water is "relatively clear. Surface temperature Wednesday was in the low 50s. The level is normal. Bream are fair catches; use jigs, redworms or crickets. Crappie are good on minnows and jigs. Black bass still showed a good bite on crankbaits, while minnows, jigs and Rooster Tails also got decent action. Still no reports on catfish.
Lake Fort Smith
No report.
Lake Sequoyah
(updated 4-1-2020) Lake Sequoyah Boat Dock (479-444-3475) said Wednesday that water is stained and at a normal level. Crappie are good on minnow and crankbaits. Black bass continue moving to the shallow water and want to see crankbaits or swimbait. The catfish bite keeps getting better, with good results this week on nightcrawlers. Bream have begun to show, and were fair this week on redworms.
---
Lake Charles
(updated 4-1-2021) Shelly Jeffrey at Lake Charles State Park (870-878-6595) said water is warming up and fish are biting at Lake Charles. Surface temperature Monday morning was 60 degrees. The water is high and murky. Crappie are fair. Try minnows, jigs and worms, and focus your bait around brushpiles, stumps and rocky points. Black bass are good. Best bet is using plastic worms. Look around the brush. Catfishing is good using worms, blood bait, stink bait or chicken liver. Two weeks ago they had a 48-pound flathead catfish caught on a crappie jig by Frank Bradley. No reports on white bass or bream.
Lake Poinsett
(updated 3-25-2021) Seth Boone, the superintendent at the Lake Poinsett State Park visitor center (870-578-2064), says Lake Poinsett is filling up right now. The gate at the dam at Lake Poinsett was closed on Dec. 1, following the completion of a renovation, allowing the lake to begin refilling with rainwater. The lake, at Lake Poinsett State Park, has been undergoing a three-year renovation with a new water control structure, more than 10,000 linear feet of shoreline work, more than 100 habitat structures placed on the lakebed, and nearly 100 trees anchored for fish habitat with more anchoring in the plans as the lake begins to refill.
When the lake has enough water for stocking, channel catfish will be stocked to give anglers target fish to seek, while prey fish such as shiners and shad will be stocked. After the prey fish have established a base over the next year or so, predator fish such as largemouth bass and crappie will then be stocked.
Crown Lake
(updated 4-1-2021) Boxhound Marina (870-670-4496) reports that the lake is slightly cloudy and the surface temperature Wednesday afternoon was 50 degrees. The lake is high by about 8 inches. Crappie are good on minnows and jigs. Bass are good on crankbaits and jerkbaits. No reports on catfish or bream.
Spring River
(updated 4-1-2021) Mark Crawford with springriverfliesandguides.com (870-955-8300) said water levels at the spring are at 450 cfs (350 cfs is average), and that's up about a foot. Water clarity has been a heavy green tint this week. Much better from the last few weeks. Extra care wading should be taken with the flows up.
Fishing has been really good. Trout have been hitting white steamers and eggs. This week it has been all about getting down to the fish. A little extra weight can go a long way. Hot pink and orange Trout Magnets have been producing well. Just make sure to run the float up high enough so the Trout Magnet is just off the bottom of the river.
Increased stocking over the last month has been great. Average size of 12 inches makes for some really strong fish right off. The strong river only adds weight. It doesn't hurt to use heavier tippet to handle the fish; 3x/6lb test works well.
Check out springriverfliesandguides.com for Mark's blog for daily updates on river conditions. Be safe!
(updated 4-1-2021) John Berry of Berry Brothers Guide Service in Cotter (870-435-2169) said the Spring River is fishing well. This is a great place to wade fish when they are running water on the White and North Fork rivers. Be sure to wear cleated boots and carry a wading staff. There is a lot of bedrock that can get very slick. The hot flies have been olive Woolly Buggers with a bit of flash (size 10), cerise and hot pink San Juan worms (size 10) and Y2Ks (size 10).
White River
The Army Corps of Engineers reported Thursday that the White River stage at Batesville was at 11.12 feet, nearly 4 feet below the flood stage of 15.0 feet. The Newport stage was at 23.33, about 3 feet below flood stage of 26.0 feet. The stage at Augusta is still very high at 31.79 feet, more than 5 feet above flood stage of 26.0 feet.
(updated 3-25-2021) Triangle Sports (870-793-7122) said the water has cleared and is at a normal level. Walleye reports have come in, with anglers reporting a fair bite using jigs, minnows and crankbaits. Bass are fair; try plastics, jigs and Baby Brush Hogs. No other reports.
---
Arkansas River (Pine Bluff Pool)
(updated 4-1-2021) The University of Arkansas at Pine Bluff Bass Fishing Team had no new reports.
Cane Creek Lake
(updated 4-1-2021) Jeff Shell, superintendent at Cane Creek State Park, said Cane Creek Lake water temperatures are running in the mid-50s. Water clarity is starting to improve after last week's rains and visibility is around 1 foot. Crappie fishing is starting to pick up. Reports are coming in that they can be found at a depth of around
3-4 feet and are being caught on minnows. Bass are falling into a spring pattern and can be found fishing around structure. Catfish are being caught on trotlines and limblines using large minnows and various attractant baits such as chicken liver.
Lake Chicot
(updated 4-1-2021) Brian Whitson, park interpreter at Lake Chicot State Park (870-265-5480), had no report.
Lake Monticello
(updated 4-1-2021) The lake is undergoing a repair to the dam by the City of Monticello and the AGFC is making improvements to the fish habitat while the lake is currently drawn down for the dam work.
---
Millwood Lake
As of Thursday, the Army Corps of Engineers reports the lake's elevation was 259.57 feet msl (normal pool: 259.20 feet msl).
(updated 4-1-2021) Mike Siefert at Millwood Lake Guide Service said that as of Tuesday, Millwood Lake clarity has worsened from recent thunderstorms, and is about 8 inches above normal conservation pool and falling; oxbows' water clarity is stained, Little River has increased stain from current. Millwood Lake pool elevation on Tuesday was 259.9 feet msl with gate discharge at the dam around 16,200 cfs in Little River, according to the Army Corps of Engineers. The tailwater below the dam and gates is around 244 feet msl and falling with discharge. Check the most recent lake level of Millwood Lake on the guide service's website linked above, or at the US Army Corps of Engineers website, for updated gate release changes and inflow rates with rising and falling lake levels.
Surface temps remained stable this week, ranging 59-67 degrees depending on location. Continue to use caution in navigation on Little River and Millwood, watching for random broken or floating timber in Little River. Lots of Little River buoy markers have been replaced along the main lake channel. Use extreme caution in navigation on the main lake. Current along Little River increased this week with discharge release at the dam, and river clarity ranges 3-5 inches visibility depending on location. Clarity and visibility of oxbows is 10-18 inches depending on location. Further up Little River has heavier stain conditions.
As for fishing details:
* Largemouth bass: Bass have been in a full-blown spawning mode for the past two-to-three weeks on Millwood. Numerous bass beds continue being seen with pre-spawn females staging and spawning. Largemouth bass were improved a little more this week with warmer daytime highs and warm southern winds. Brazalo
Brad Chronister (right) and his dad, from central Arkansas, caught this bass that weighed between 5 and 5.5 pounds while fishing Millwood Lake with guide Mike Siefert.
——————————————-
Spinnerbaits in white/chartreuse, Millwood Mayhem Bream and Spot Remover caught decent bass this week, and Chatterbaits picked up some healthy 3- to 5-pound largemouths this week. "Most bass we are finding continue randomly roaming shallow on full sun and bright skies in the 3- to 6-foot depths of flats adjacent to deeper drops into 7-10 feet depth ranges," Siefert says. "The best period this week are during the late morning. Anywhere a creek channel runs near spawning flats with vertical structure nearby, where stumps and creek mouths drop, have held some decent-sized bass over the past few weeks. Several largemouth bass over 10 pounds each have been weighed in over the past two weeks."
Bass Assassin Shads continue to draw good reactions this week, with Salt and Pepper Silver Phantom, Pumpkinseed and Grey Ghost being the best colors. Best colors of Bugs and Beavers for the past couple of weeks have been Black Neon, Grasshopper, Blackberry and Pearl Bream. Custom-poured Senkos are working on stumps and cypress trees in 3-8 feet depth of water. Heavy thumper tail swimbaits and Beavers on a Jackhammer Chatterbait in Spot Remover or Blue Glimmer are working, and Zoom Trick Worms in black/blue, Blue Ice and Purple Smoke are catching bass. Bulky lizards in Blackberry, Blue Bayou, black/blue tail and Watermelon Candy continue taking a few good bass on flooded cypress trees and stumps, and along vegetation lines in ditches, creeks and flats from 3-8 feet deep. Those bass were exploring new bed making locations near flooded timber and cypress trees.
* White bass: Continue moving a little further upriver between Cemetery Slough and U.S. Highway 71 at Wilton Landing along Little River this week. Numerous anglers are connecting with white bass in the 3-pound class along the river on Rocket Shads, Little Georges, Chuck'n Spins, Rooster Tails, spoons and crankbaits. The white bass have begun their annual spawning run up Little River over the past week and are staging and moving up Little River to headwaters for the spawn.
* Crappie: Have been much improved this week on minnows and jigs in Mud and McGuire oxbow lakes up Little River. Crappie are holding in 8-9 feet depth this week and have not yet pulled up to spawn, but are staging to move shallow over the next week or so.
* Catfish: They continue to bite consistently in Horseshoe and Mud oxbows up Little River on yo-yos, and limblines in the oxbows, using King's Punch Bait, chicken livers, gizzards and hot dogs.
Lake Columbia
(updated 4-1-2021) Sportsman's One Stop in El Dorado (870-863-7248) had no report.
Lake Greeson Tailwater
Visit www.littlemissouriflyfishing.com for a daily update on fishing conditions.
Lake Greeson
As of Thursday, the Army Corps of Engineers reports the lake's elevation at Narrows Dam was 541.74 feet msl (full pool: 548.00 feet msl).
No report.
DeGray Lake
As of Thursday, the Army Corps of Engineers reports the lake's elevation was 407.17 feet msl (full pool: 408.00 feet msl).
(updated 4-1-2020) Capt. Darryl Morris of Family Fishing Trips Guide Service (501-844-5418) said the big male crappie are scattered in the banks making spawning beds while the females are maturing their roe between staging brushpiles and the banks. Ample number of smaller crappie can be caught on brushpiles fished 6-8 feet deep.
(update 3-18-2021) Local angler Charles Abernathy says the water is warming up quickly and this is the moment that most everyone has been waiting for. Best places to start searching for spawning crappie are small protected pockets along the main river channel and main creek channels. Take one of those 2-inch grubs/Baby Shads and start chunking shallow pulling it back very slow. Fishing shallow is also a good time to use a float. This really allows you to slow your bait down and will help you be more successful. Cover some ground. When you pick one up, slow down and fish the area thoroughly. Also keep an eye on that staging brush that is shallow in the middle of those pockets (less than 10 feet). Some fish will use this brush coming in and out. Also, you have to remember all fish don't spawn at the same time and they all don't do it in the same place. Some fish will even spawn in the tops of shallow timbers that are unseen under the surface. You can fish brush this time of year and not even hit the bank and still be successful (I call it fishing conservatively. You're not as likely to get skunked, but on the other hand you may not fill your lunch box, either). Just because your neighbor says they caught some up shallow and they tell you "man, they are shallow", that doesn't mean all of them are shallow. You still need to monitor that brush in 5-10 feet. If you have forward-looking sonar, you need to watch the open water in those spots, too.
Fishing for spawning crappie can sometimes be feast or famine depending on if you find where they are socializing. You can use that forward-looking sonar to find them in 2 feet of water. It's harder to see but it can be done with the right settings. If you go back and review some locations in my winter reports and find the shallows in those areas you will find spawning crappie. Lennox, Cox Creek, Point Cedar, Shouse Ford and Brushy are all good starting spots. Pick one of these areas and spend the entire day fishing the area thoroughly and you will find spawning crappie.
"I get quite a few emails and I enjoy reading/responding to every one of them. Thank you so much for reading these and thanks to everyone for letting me know. As always, feel free to reach out at c.abernathy32@gmail.com for more info. I have a YouTube channel where I share some fishing content. Look me up. Good luck out there and be safe and be nice. With spring break here, there will be a little more traffic on the water, which may require a little more patience than normal."
De Queen Lake
As of Thursday, the Army Corps of Engineers reports the lake's elevation was 437.14 feet msl (full pool: 437.00 feet msl).
Dierks Lake
As of Thursday, the Army Corps of Engineers reports the lake's elevation was 530.96 feet msl (full pool: 526.00 feet msl).
---
SOUTH-CENTRAL
White Oak Lake
(updated 3-25-2021) Curtis Willingham of River Rat Bait (870-231-3831) said water clarity remains muddy and the level is high. Bream are fair on worms and crickets. Crappie are fair using minnows, jigs and shiners. Bass are good on spinnerbaits and soft plastics. Catfish are fair; use worms.
Felsenthal
No report.
---
Lake Atkins
(updated 4-1-2021) Donald Ramirez at Lucky Landing (479-641-7615) said no anglers had been out lately as the conditions on Lake Atkins had been too windy and c choppy, so he had no catch reports. The lake clarity is clear and the level is high. When the conditions were right a couple of weeks ago, the crappie were good for anglers using either minnows or Bobby Garland Jigs. Bass were good on plastic worms in size 10 or 12. Catfish were biting on worms and hot dogs at that time.
Lake Catherine
For weekly flow releases from Carpenter Dam, visit www.entergy.com/hydro
Lake Catherine (Below Carpenter Dam)
For weekly flow releases from Carpenter Dam, visit www.entergy.com/hydro
(updated 4-1-2021) Shane Goodner, owner of Catch'em All Guide Service, reports that water temperature below Carpenter Dam is 54 degrees with stained conditions in the tailrace. Entergy has issued a 12-hour flow pattern this week to start Friday at 10 a.m. and ending at 10 p.m. The weekly generation schedule is posted on the Entergy website each Wednesday afternoon, and anyone planning on using the Carpenter Dam tailrace is advised to check out the report. Both lakes Hamilton and Catherine are now refilled to normal summertime pools and will remain at these levels until mid-November. Thousands of rainbow trout are present and feeding on injured threadfin shad drawn through the dam from Lake Hamilton. Because of the huge influx of prey items, these fish are harder to catch and patience must be used for success. Trout are extremely difficult to catch in muddy water, and the refilling process shut down the bite for weeks. Local guides are still experiencing low catch rates of trout. It may take until the first couple of weeks in April for the effects of the lake being refilled to fade. Fly-fishermen can still wade to areas that hold numbers of trout and should use a fly that imitates something other than a shad. Worm imitations, such as the San Juan worm in red or hot pink, can produce good catches of rainbow trout in current or slackwater conditions. Woolly Buggers in green or black are a time-honored fly that will produce results casted with a strike indicator. Egg pattern flies in orange or white have drawn strikes from finicky trout stuffed from feeding on threadfin shad. Bank anglers have a chance at catching limits of fish by using PowerBait and redworms fished just off the bottom with a marshmallow floater. Much larger trout were released in March below area dams with spring officially underway.
The walleye spawn is in full swing and has not been adversely affected by water levels or clarity. Anglers can catch these fish by trolling shallow-running crankbaits against the current effectively now because lake levels are back to normal. Tipping a jighead with a live minnow over and around sandbars and rock structure is another proven technique to catch spawning walleye. White bass have migrated into the tailrace and are being caught on small jigs and minnows fished under a bobber. Anglers need to concentrate their efforts below the bridge in the main channel. The crappie spawn has gotten off to a slow start this season, but small catches have been reported this past week in the fast-flowing waters below Carpenter Dam. The white bass and crappie are crowded close together in the tailrace with both species caught over sandbars and rock structure. A small minnow fished under a bobber has been the most effective method used in the early morning before the turbines come on. Larger females will migrate into the area as the males have been present to prepare the spawning beds.
Always wear a life jacket when on the water and wear a mask and observe social distancing when encountering others.
Lake Dardanelle
(updated 4-1-2021) Charles Morrison at Classic Catch Guide Service (479-647-9945) said water temperature in the main river is around 56 degrees warming to 58. Some backwater pockets are reaching the mid-60s. River is muddy and a little high but the Corps of Engineers has been dropping it. Some of the bays are beginning to clear, and creeks are beginning to clear. Bass have been good on spinnerbaits, jigs and Bamboozie, lizards and Senkos. A few bass have been spotted on beds in the very back of the warmest pockets. Crappie have been good deep and shallow with the spawn beginning in some of the pockets and backwater areas. Bright-colored jigs and minnows has been working great along the grass lines and stumps. Some crappie are still deep; they are biting on Monkey Milk, mayfly, natural colors basically. White bass and stripers are moving up the creeks; swimbaits, topwater poppers, small crankbaits and spinnerbaits have been working well. Bream have been good in the back of the pockets on brushpiles and dead grass; worms and crickets have been working well. Catfish have been hit-and-miss; cut shad and skipjack have been working well just inside the pockets on the edge of the current line.
(updated 4-1-2021) Fish 'N Stuff (501-834-5733) in Sherwood reports that the water is a little high with muddy to stained clarity. Bass are good on white spinnerbaits and white/chartreuse spinners, as well as Jackhammer Chatterbait and black/blue and green pumpkin Senkos in shallow and grassy areas.
Lake Hamilton
(updated 4-1-2021) Greeson Marine, hometown dealer of the Arkansas-born-and-bred Xpress all-welded aluminum fishing boats in Hot Springs, reports water levels at normal pool and water temperature ranging about 55 degrees in the north end of the lake to 64 degrees in the southern end. Water clarity is fair at 3 feet or less. Bass are blasting a floating worm right now! Bubblegum or orange should be the color selection. Many bigger fish have spawned already, but there are a ton of fish in Hamilton, so don't get down about it. Rocky points and docks sitting in 5-15 feet of water are the hot spots that are often overlooked. Jigs and Carolina rigs can also produce fish.
Perch jerking has been excellent lately! A worm and a hook on deeper docks and bridge piers will provide a ton of fun right now, and some good quality fish are the majority of those caught.
"We have been seeing many noodles out on the lake over the last few weeks in the main channels and major creek tributaries. Catfish has no report but the noodles give it away. Crappie are doing very well over sunken structure and brush tops in 20-45 feet of water. A live minnow cannot be beat at the moment. Good luck, and go Greeson!"
(updated 3-25-2020) Capt. Darryl Morris of Family Fishing Trips Guide Service (501-844-5418) said the lake is full to summer pool. "Don't let the foul weather and water conditions stop you, the crappie bite is on and they are moving in to make babies," he says.
Lake Nimrod
As of Thursday, the Army Corps of Engineers reports the lake's elevation was 350.96 feet msl (normal pool: 342.0 feet msl).
(updated 4-1-2021) Andrews Bait Shop and More (479-272-4025) said the lake is a dingy color. The surface water temperature early Wednesday afternoon was 58 degrees. The water level is high by about 5 feet. Bream are in a pre-spawning mode and the bite is good. Use redworms or crickets. Crappie are good. They're being found in 3-5 feet of water and are biting minnows and jigs. Try a black/chartreuse Road Runner for best success. Black bass are good on spinnerbaits (go with white). A 72-pound flathead catfish was caught this past week. The overall catfish bite is good on trotlines baited with bass minnows.
Lake Ouachita
As of Thursday, the Army Corps of Engineers reports the lake's elevation at Blakely Dam was 577.75 feet msl (full pool: 578.00 feet msl).
(updated 4-1-2021) Todd Gadberry at Mountain Harbor Resort and Spa (870-867-2191/800-832-2276 out of state) reports that black bass are very good. Jighead/Texas-rigged Brush Hog and floating worm bite is working. Try pockets 2-10 feet deep and work them slow. Walleye are still fair and being caught on Shad Raps and jerkbaits over points on the river channels. Stripers are still excellent. These fish are being caught on live bait and Alabama rigs. Bream are still fair and picking up on worms and crickets. Crappie are very good. Try a small jig or minnow near brush in 12-20 feet of water. Catfish are good and being caught on limblines and trotlines with live or cut bait.
Water temperature is ranging 58-62 degrees. The clarity is clearing. Lake level is 577.88 feet msl. Call the Mountain Harbor fishing guides (Mike Wurm, 501-622-7717, or Chris Darby, 870-867-7822) for more information.
Blue Mountain Lake
As of Thursday, the Army Corps of Engineers reports the lake's elevation was 394.04 feet msl (full pool: 384.00 feet msl).
No reports.
---
White River/Clarendon Area
The Army Corps of Engineers on Thursday reported the Clarendon gauge at 28.21 feet, more than 2 foot above flood stage of 26.00 feet.
East Lake/Dale Bumper White River NWR
(updated 4-1-2021) Jim Harris of the AGFC (501-978-7345) reports that channel cats and flatheads were biting fair on limblines and trotlines baited with cutbait and skipjack, poor on crawdads. Water was cloudy to muddy. No other species caught, other than gar on the limblines.
Horseshoe Lake
(updated 3-25-2021) Kent Williams of Oxbow Guide Service (870-278-7978) says crappie fishing has been tough as the crappie have scattered with the recent rise in water temperature. Crappie are still being caught in the deep water. Look at 10-12 feet depth. The fishing is slow for bass. A few catfish are being caught shallow.
Cook's Lake
(updated 4-1-2021) The AGFC's Wil Hafner at Cook's Lake Conservation Education Center (870-241-3373) reports that Cooks Lake was set to reopen for youth and mobility-impaired fishing Wednesday, March 3, but the parking lot is flooded and the White River at Clarendon remains over flood stage. Check in with the Education Center to see when it reopens, when water has receded. In the meantime, Wil urges anglers wanting to fish in the area to check out AGFC lakes such as Lake Des Arc or Marion McCollum Lake Greenlee (Brinkley) for some fast-paced fishing action. In both lakes, several species of sunfish have moved shallow on the rip rap, creating fun bank fishing opportunities for families. The fish are small but a piece of nightcrawler 14 inches under a cork can produce large smiles.
Bear Creek Lake/Storm Creek Lake
(updated 4-1-2021) Tyler Ball, park ranger at Mississippi River State Park (870-295-4040), had no recent reports.
---
Recent News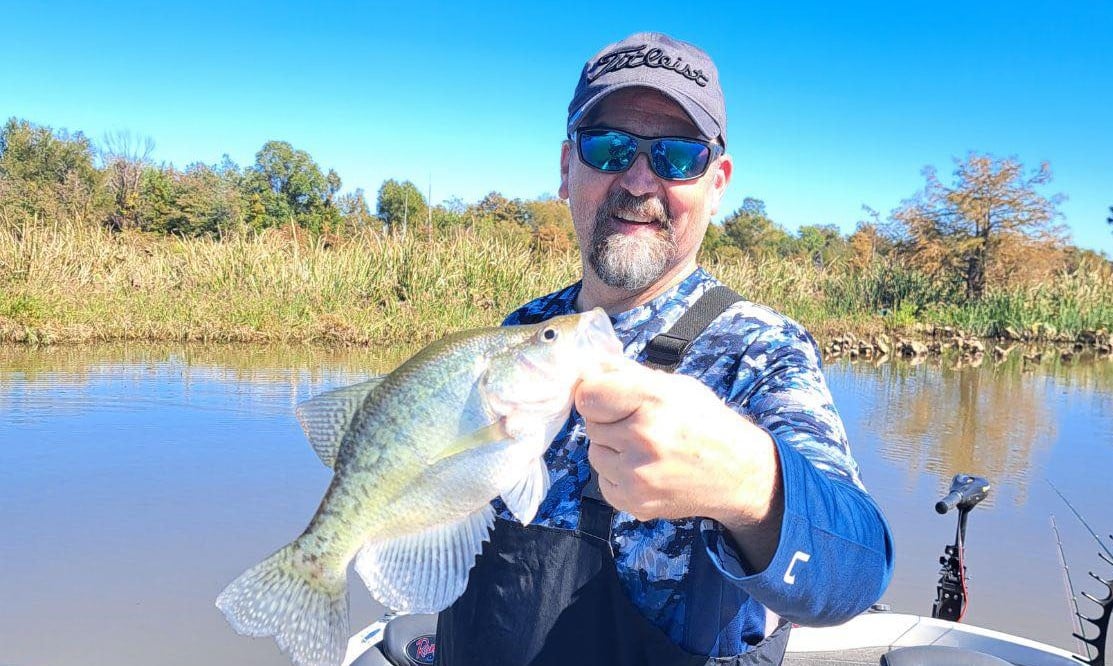 Subscribe to Our Weekly Newsletter E-mails
Don't miss another issue. Sign up now to receive the AGFC Wildlife Weekly Newsletter in your mailbox every Wednesday afternoon (Waterfowl Reports are published weekly during waterfowl season and periodically outside the season). Fishing Reports arrive on Thursdays. Fill in the following fields and hit submit. Thanks, and welcome!