Arkansas Wildlife Weekly Fishing Report
Dec. 17, 2020
Jim Harris

Managing Editor Arkansas Wildlife Magazine
This is the Arkansas Game and Fish Commission's fishing report for Dec. 17, 2020. If there is a body of water you would like included in this report, please email jim.harris@agfc.ar.gov with information on possible sources for reports about that lake or river. Reports are updated weekly, although some reports might be published for two weeks if updates are not received promptly or if reporters say conditions haven't changed. Contact the reporter for the lake or stream you plan to fish for current news. Note: msl = mean sea level; cfs = cubic feet per second. All Corps of Engineers lake and river readings were taken at noon the day of publication (Dec. 17).
****Buy an Arkansas Fishing License by clicking here. Your purchase of a Fishing License helps support the AGFC's work in maintaining the fishing resources throughout the state.
Quick links to regions:
Arkansas River and White River levels are available at: http://water.weather.gov/ahps2/index.php?wfo=lzk
For real-time information on stream flow in Arkansas from the U.S. Geological Survey, visit: http://waterdata.usgs.gov/ar/nwis/rt
For water-quality statistics (including temperature) in many Arkansas streams and lakes, visit: http://waterdata.usgs.gov/ar/nwis/current/?type=quality
---
Craig D. Campbell Lake Conway Reservoir
(updated 12-17-2020) Bates Field and Stream (501-470-1846) said lake clarity is still clear this week, but the level is back to normal. Crappie are good in shallow water for anglers using an assortment of jigs or fishing with minnows. No reports on bass or bream. Catfish are biting well on cut bait and nightcrawlers.
Lake Beaverfork
(updated 12-30-2020) Angler Dennis Charles said water is clear and cold. Crappie are found under shad on the bottom and the bite is excellent. Catfish are deep and by the docks. Black bass are roaming all over and all depths, but the bite is questionable. A few bream have been found around structure.
Little Red River
(updated 12-17-2020) Greg Seaton of littleredflyfishingtrips.com (501-690-9166) said the Army Corps of Engineers have generated from the dam each day this week. Amounts have varied and so has the time. Check each day before planning your trip. This generation is probably due to the colder temperatures and demand for electricity. This may be reduced later in the week and over the weekend due to a warmer weather pattern. The river is clear. Rainbows and browns are still taking egg patterns and small midge pupa.
It is that time of the year when you should be careful wading the shoals where the browns are trying to spawn. A redd is an area on the bottom of the river in the gravel where the fish have cleaned the debris from the rocks and lay their eggs in the gravel. These areas are easily identified by being cleaner and shining on the bottom. Please avoid wading through these areas. Disturbing the eggs destroys them and therefore reduces the number of browns in the river. Wade around, not through, the redds. The browns are not stocked in the Little Red River and depend on this spawn to survive.
Also, please try fishing below the redds to catch the fish that are feeding on the eggs drifting off the redd. Avoid harassing the fish that are on the redds spawning. These fish will probably be caught by foul hooking rather than taking the fly.
"Wishing you a Merry Christmas and a Happy New Year!"
(updated 12-17-2020) Fish 'N Stuff (501-834-5733) in Sherwood says the river remains low. Trout are good on Power rigs, Buoyant Spoons, Rapala Countdowns in size 7 and Rooster Tails.
(updated 12-10-2020) Lowell Myers of Sore Lip'em All Guide Service (501-230-0730) said, "We are in the typical fall and winter generation pattern for the Little Red River, with very little generation taking place during the week or weekends. This pattern is unpredictable and could change depending on power demands. It's highly recommended to check forecasted and real-time generation before planning a trip to the Red. For fly-fishing, we recommend midges, egg patterns and soft hackles. Hot pink and cotton-candy-colored bodies on chartreuse jigheads are recommended for Trout Magnet spin-fishing. Be safe while enjoying the river. Always check before heading to the Little Red River by calling the Army Corps of Engineers Little Rock District water data system (501-362-5150) for Greers Ferry Dam water release information or check the Corps of Engineers website (swl-wc.usace.army.mil) for real-time water release and the Southwestern Power Administration website (swpa.gov) to see forecasted generation schedule.
Greers Ferry Lake
As of Thursday, the Army Corps of Engineers reports the lake's elevation at 459.17 feet msl (normal conservation pool: 462.04 feet msl).
(updated 12-17-2020) Tommy Cauley of Fishfinder Guide Service (501-940-1318) said the water level at Greers Ferry Lake is at 459.16 feet msl and staying pretty steady with no rain and warmer temps not much generation. It looks like the trend will continue until the first of the new year, as forecasts calls. It is 2.88 feet below normal pool of 462.04 feet msl. Black bass will eat crankbaits and spinnerbaits on steeper banks, along with jerkbaits, drop-shots, jigs, Alabama rigs and spoons working for deeper fish and dragging a C-rig or football head. Crappie are eating minnows and jigs fished straight up and down, as fish are getting tighter to pole timber and brushpiles. Some bream are still pretty active in deeper water; try 12-20 feet with crawlers and moving baits. No reports on catfish. The river spawning walleye have got it on their minds and are staging and/or moving, while the lake fish are wanting to eat. Best bet is a crankbait trolled in right areas, 12-40 feet. Hybrid and white basses, will eat a lot right now, feeding up before the harsh cold; try spoons, Alabama rigs, hair jigs, inline spinners and the Largo Super Spinners in 35-80 feet.
(updated 12-17-2020) Fish 'N Stuff (501-834-5733) in Sherwood says the lake remains 3 feet low, while the clarity is clear. Bass are good at the lower end of the lake on jerkbaits, swimbaits, Alabama rigs, crawfish-colored crankbaits, and they are good on the upper end of the lake on white Chatterbaits close to the bottom or by fishing a red crankbait and finesse football jigs. Crappie reports are good; target 10-15 feet depth of water with hair jigs.
Harris Brake Lake
(updated 12-17-2020) Harris Brake Lake Resort (501-889-2745) says the lake remains clear; the water level is very low. Crappie are good around the shoreline. Minnows and jigs (particularly pearl white and rainbow colors) are best bets. Crappie are also being caught on trotlines. Black bass and bream are poor. Catfishing is good using nightcrawlers, baby shad, and catfish bait with peanut butter.
Lake Overcup
NOTE: Employees and contractors with the AGFC conducted herbicide applications to Overcup through September. The herbicides cause no harm to wildlife, people or aquatic life, but will kill gardens, flowerbeds and lawns if used on neighboring lands. By federal law, these herbicides have up to a 120-day irrigation restriction after application. The AGFC asks adjacent landowners to NOT irrigate for lawn or garden use with lake water until Feb. 1, 2021. The use of herbicides is necessary to control the current problems with alligatorweed and other invasive vegetation species that have infested the lake and, if left uncontrolled, could restrict access to boathouses, ramps and fishing locations and hinder native wildlife and fish populations.
(updated 12-17-2020) Randy DeHart at Lakeview Landing (501-354-5309) said fishing has gotten slow. Anglers are catching a few crappie here and there on minnows and jigs. Other than that, there's nothing to report. The lake clarity is clear and the lake is low by about 1 foot.
Lake Maumelle
(updated 12-17-2020) Westrock Landing (501-658-5598) on Highway 10 near Roland had no report.
Arkansas River at Morrilton
(updated 12-17-2020) Charlie Hoke at Charlie's Hidden Harbor at Oppelo (501-354-8080) had no report.
Little Maumelle River
(updated 12-17-2020) Ray Hudson at River Valley Marina (501-517-1250) says river clarity is clear, while level and current have stayed normal. Bream are good; use worms or crickets. Crappie fishing is excellent on minnows and jigs. Black bass are fair; try crankbaits or plastic worms. No reports on catfish.
Arkansas River (Maumelle Pool)
On Thursday, the Corps of Engineers said water flow at the Toad Suck Lock and Dam was 38,727 cfs.
Arkansas River (Little Rock Pool)
On Thursday, the Corps of Engineers said water flow at the Murray Lock and Dam was 35,660 cfs. Flow at the Terry Lock and Dam was 38,907 cfs.
(updated 12-17-2020) Fish 'N' Stuff (501-834-5733) said the pool is at normal level and current and the clarity is muddy. Crappie are good behind Burns Park on orange/chartreuse and black/chartreuse crappie jigs. White bass are being caught in good numbers below the dam on white hair jigs and spoons. Black bass are good on shad-colored crankbaits, jerkbaits, crawfish-colored crankbaits and a black/blue jig.
(updated 12-17-2020) Zimmerman's Exxon (501-944-2527) reported that crappie are excellent on the river in the backwaters and below Terry Lock and Dam on minnows, Bobby Garland Jigs (pink lemonade and Cajun cricket colors), Baby Shad and pink/chartreuse Super Jigs. White bass are good below the dams on 3-inch chartreuse grubs. Catfish are fair below the dams and the North Little Rock hydroelectric plant at Murray Lock and Dam on cut shad.
Clear Lake (off Arkansas River-Little Rock Pool)
(updated 12-17-2020) McSwain Sports Center (501-945-2471) said the lake clarity is a little muddy, and the water has jumped up from last week to a high level. Crappie are fair. Look for them in 6-8 feet of water and fish with minnows or pink/white jigs. No other fish appear to be biting.
Peckerwood Lake
(update 12-17-2020) Herman's Landing (870-241-3731) is closed for the season and will reopen in February after duck season closes.
---
White River
(updated 12-10-2020) Cotter Trout Dock (870-435-6525) said, "A cold wind ushered in some winter-like temperatures this week but we're seeing a steady rise in the daily thermometer number. This December continues to be very mild with Christmas just a week or so away. Kids will be looking for Christmas vacation adventures and there is none better than catching trout on the White. Any pink flavor scented egg bait (Berkley PowerBait or XFactor) and shrimp are reliable baits to provide a lot of action and help them catch some rainbows. Mild daytime temperatures for the next week mean a good time to pick up your rod and reel and get outside. Water releases from Bull Shoals Dam have fluctuated to serve increased power demands during the colder weather but like we always say, the really good news is that trout love cold water and they love lots of water. When you see a rise in the water, reach for the wiggly worms. However, wading opportunities abound during early morning and late afternoons, when we have seen very low water, minimum flow amounts. The browns have given some attention to sculpins and minnows, even in the middle of their annual spawn. Brought a cutthroat to the boat last week with plain old shrimp. Come on over and tie on your favorite baits; catch some trout and revel in the changing seasons we are so blessed to enjoy.
(updated 12-24-2020) John Berry of Berry Brothers Guide Service said that during the past week they have had no rain or snow in Cotter, colder temperatures and moderate winds. The lake level at Bull Shoals remained steady at 0.2 foot below seasonal power pool of 659 feet msl. This is 36.2 feet below the top of flood pool. Upstream, Table Rock dropped 0.4 foot to rest at 0.8 foot above seasonal power pool and 16.8 feet above the top of flood pool. Beaver Lake fell 0.2 foot to rest at seasonal power pool and 9.6 feet below the top of flood pool. The White had variable generation with some wadable water. Norfork Lake fell 0.2 foot to rest at 0.3 foot below seasonal power pool of 553.75 feet msl and 26.5 feet below the top of flood pool. The Norfork tailwater had a significant amount of wadable water.
All of the lakes are now at or below power pool and anglers should continue to see wadable water in the near future.The catch-and-release section below Bull Shoals Dam is closed until Jan. 31 to accommodate the brown trout spawn. The State Park will be seasonal catch-and-release for the same period. All brown trout must be immediately released. In addition, night fishing is prohibited in this area during this period.
On the moderate flows, the White has fished well. The hot spot has been Wildcat Shoals. The hot flies were olive woolly buggers (sizes 8, 10), Y2Ks (sizes 14, 12), prince nymphs (size 14), zebra midges (black with silver wire and silver bead or red with silver wire and silver bead sizes 16, 18), pheasant tails (size 14), ruby midges (size 18), root beer midges (size 18), pink and cerise San Juan worms (size 10), and sowbugs (size 16). Double-fly nymph rigs have been very effective (John's current favorite combination is an egg pattern with a size 18 ruby midge).
John also said, "Last week my wife, Lori, and I had a day of great fishing with her sister, Terri, and Terri's husband, Larry. We had gone to the Norfork tailwater for a long anticipated return to wadable water. It was a stellar day. I was very interested in returning a few days later and Lori was game.
"We decided to do it a bit differently this time. On our previous trip, Larry, Terri and I had gone early to make sure we got choice spots on a busy weekend day. Lori had come later after feeding and walking our dogs. This time we were fishing in the middle of the week and we expected fewer anglers. We started out several hours later and stopped by Heidi's Ugly Cakes in Norfork for lunch and then headed to the river. I must say that lunch at Heidi's was the highlight of the day.
"We arrived at the Ackerman Access at about noon. There were several cars in the parking lot. Most of the anglers were clustered close to the access. My theory has always been to go far from the access, to find water that does not receive as much fishing pressure, as the water close to the access. We walked far upstream to my usual spot.
There was a nice couple there fishing. They decided it was time for lunch as I arrived, leaving me my favorite area with no competition. I rigged my rod with a size 16 flashback pheasant tail tied on a jig hook with a copper bead. I added a root beer midge as a dropper. I fished all the likely spots and caught several nice trout. A stout 18-inch rainbow was the biggest.
"Lori had peeled off on the walk upstream. She had a new spot that she had fished on the previous day with soft hackles. She thought it might fish well with a Woolly Bugger. She rigged a size 10 olive Woolly Bugger with a brass bead. She used 4X tippet and a bit of lead to get the fly down. The water she was fishing was about mid-thigh deep and had a light current. The bottom was gravel and the wading was easy. She was on fire and landed about 20 trout. Her best fish was a fat 13-inch brown.
"I had worn a light down sweater over a long sleeve T-shirt. The sun came out and I quickly realized that I was over-dressed. I took off my fishing vest and my down sweater. I folded the sweater and put it in the rear pocket of the vest. I was quite comfortable and continued fishing.
"We fished till late afternoon, when we reluctantly headed home. There were dogs to take care of. It had been a great day. I had a day fishing wadable water with my favorite fishing buddy. Life is good."
(updated 12-17-2020) Sportsman's White River Resort (870-453-2424) says the fishing is slow. Conditions Tuesday were very cold and windy, keeping the anglers away. When the weather was better, rainbows were good, they reported.
Bull Shoals Lake
As of Thursday, the Army Corps of Engineers reported the lake's elevation at 658.71 feet msl (normal conservation pool: 659.00 feet msl). The reported lake elevation at Table Rock Lake was 914.30 feet msl (normal conservation pool: 915.00 feet msl).
(updated 12-17-2020) Del Colvin at Bull Shoals Lake Boat Dock says the shad are getting balled up more, so he suspects the deep bite is about to get better once generation slows. There are baitfish in the creeks and shallows. Spend your idle time on the graph looking for loons and video-gaming will pay off. "I have been doing better towards backs of creeks for numbers; at 35-65 feet, some of the shad balls are getting bigger but suspended over the old creek channels. Use an ice jig or spoon if it's windy, Damiki drop-shot if it's flat. If the shad are up high in the water column, the deep bite is hot. Powerfishing shallow if there's wind, cloud, bushes/snags with deeper water close and shad. Rock Crawlers, Wiggle Wart and square bill are all working with some wind off 45-degree banks with nasty rock transition. As the sun comes up, or post frontal, change tactics and slow down. Use jigs and shaky head on channel swings. Brushpiles are getting good if there are shad present. Follow the shad regardless of the depth and you'll find the fish. I'm fishing the conditions."
The lake is clear and the water level has risen above the normal conservation pool. Visit Del's YouTube page, Bull Shoals Lake Boat Dock, for the latest information and Del's tips on fishing Bull Shoals.
Norfork Lake
As of Thursday, the Army Corps of Engineers reported the lake's elevation at 553.39 feet msl (normal conservation pool: Sept.-April, 553.75 feet msl; April-Sept. 555.75 feet msl).
No reports.
Norfork Tailwater
(updated 12-17-2020) John Berry of Berry Brothers Guide Service in Cotter (870-435-2169) said Norfork Lake fell 0.2 foot to rest at 0.3 foot below seasonal power pool of 553.75 feet msl and 26.5 feet below the top of flood pool. The Norfork tailwater had a significant amount of wadable water. All of the lakes in the White River system are now at or below power pool and anglers should continue to see wadable water in the near future.
The Norfork is fishing well especially on the wadable flows. Navigate this stream with caution as things have changed a bit during recent flooding. There has been major gravel recruitment at the bottom of Mill Pond and the dock hole. The most productive flies have been small midge patterns (sizes 18, 20, 22) like ruby midges, root beer midges, zebra midges (black or red with silver wire and silver bead) and soft hackles (sizes 14, 16) like the Green Butt. Egg patterns have also been productive. Double-fly nymph rigs have been very effective. Try a pheasant tail size 14 with a root beer midge dropper. "My wife, Lori, did well with an olive Woolly Bugger. The fishing is better in the morning."
Dry Run Creek is fishing well. There is less pressure when school is in session. Expect less pressure during the week. Weekends can be pretty busy. The Norfork National Fish Hatchery is open but the restrooms are still closed. The hot flies have been sowbugs (size 14), Y2Ks (size 12), various colored San Juan worms (worm brown, red, hot fluorescent pink and cerise size 10), mop flies and egg patterns.
Remember that the White and Norfork Rivers and Dry Run Creek are infected with didymo, an invasive alga. Be sure and thoroughly clean and dry your waders (especially the felt soles on wading boots) before using them in any other water. Many manufacturers are now making rubber soles that are easier to clean and are not as likely to harbor didymo.
Buffalo National River/Crooked Creek
(updated 12-24-2020) John Berry of Berry Brothers Guide Service in Cotter (870-435-2169) said the Buffalo National River and Crooked Creek are navigable. With the cooler temperatures the bite has slowed. John's favorite fly is a Clouser minnow. Carefully check the water level before entering Crooked Creek or the Buffalo River. There are no dams on these streams. They both have large drainages and are prone to flooding during and following any rain event. The water can rise very quickly.
---
Beaver Lake
As of Thursday, the Army Corps of Engineers reports the lake's elevation at 1,120.54 feet msl (normal conservation pool: 1,120.43 feet msl).
(updated 12-31-2020) Jon Conklin with FishOn Guide Service (479-233-3474) said Beaver Lake remains at normal pool level but unfortunately predictions are for some flooding rains Thursday, if it remains in rain form. There are some uncertainties if it may ice or snow, which would limit heavy rainfall. "I hope that we can go into spring a lot lower than we are right now. As it sits it looks like we will have another high-water spring and I, for one, would like to see the lake come down finally. Normal rise and fall on Beaver seems to help spring walleye and white bass runs.
"As of late there have been fair reports of stripers. I have heard of them being caught from the damp up into the river arms. That's a big area. Use electronics to narrow down where the bait is located and that will shrink the lake substantially. White bass already are in the river arms with big schools showing up on LiveScope. Some walleye have also been caught in War Eagle arm on trolled cranks and plastics. Crappie are on the brush in and around main river channels. Look from 12-30 feet of water.
"Looks like everything is ahead of last year on staging locations. If it doesn't get super cold in January, then it will be on earlier, in my opinion. But you never know with this crazy Arkansas weather."
Check out Jon's Facebook page at FishOn Guides Goshen Arkansas for updated reports.
(updated 12-17-2020) Southtown Sporting Goods (479-443-7148) said stripers have been good this week on brood minnows and by trolling crankbaits. Crappie are fair at 7-10 foot depth of water. Minnows work best; fish around the brushpiles. Bass are fair on crankbaits and spoons. No reports on catfish or bream. Surface water temperature was said to be in the upper 40s on Tuesday. Water clarity is clear and the lake is at normal conservation pool.
Beaver Tailwater
(updated 12-10-2020) Guide Austin Kennedy (479-244-0039) says fishing this past week has been back and forth with the bite. Most trout are biting on various Pautzke Fire baits, fished with light terminal tackle. This week's hot spot has been in the Spider Creek area.
The Corps of Engineers has not been generating, "so the water levels are a little high from our last rain, which in my opinion, has made for some nice fishing. If you're looking for your next trophy, you need to put in the time. Adding a scent product to your lure, such as Pautzke Fire gel, will increase the bite."
The walleye bite has slacked off a little bit, with most of them being caught toward Beaver town. You need to fish the contours, drop-offs and weed lines. So, obviously, you need a graph to help you locate these structures. If you do not have a graph, work inside bends and points. Try to fish in 10-15 feet of water.
Austin added, "Well, I went back to the Sheriff's Office, so most of my fishing will be limited to the weekends during the winter months. Feel free to reach out to me on my Fishing Facebook Page (Busch Mountain Fishing Guides) if you have further questions. Have fun, stay safe and catch some fish!"
Lake Fayetteville
(updated 12-10-2020) Lake Fayetteville Boat Dock (479-444-3476) says fishing is pretty slow. The lake remains stained in clarity, while the surface water temperature is in the upper 50s. Water level is low. Best reports are coming from crappie, where the resorts are fair. Use minnows or jigs. No reports on bream, bass or catfish.
Lake Sequoyah
(updated 12-17-2020) Lake Sequoyah Boat Dock (479-444-3475) says the lake is clear and the level is normal. Bream reports continue to be fair, with redworms and crickets working. Crappie are good, with best results coming on small crankbaits. Bass fishing remains slow. Catfishing is very slow.
---
Lake Charles
NOTE: A sustained drawdown at Lake Charles began Nov. 15. Water from Lake Charles is released annually via a diversion ditch to flood greentree reservoirs at Shirey Bay Rainey Brake Wildlife Management Area for waterfowl hunting. Since the amount of water needed at Shirey Bay Rainey Brake WMA is dependent on rainfall, heavy fall rain events the last few years have prevented a substantial drawdown at Lake Charles. This year, fisheries biologists are working with the Wildlife Management Division to maintain a low lake level through January 2021. Once Shirey Bay Rainey Brake WMA is flooded, biologists will allow excess water to pass through the WMA to the Black River without any adverse effects. The goal is to maintain Lake Charles at least 8 feet below normal pool, although the lake level could drop beyond this if more water is needed at the WMA.
Drawdowns help congregate baitfish and sportfish, which can increase growth of sportfish. Drawdowns also provide adjacent landowners an opportunity to repair fishing piers and boathouses, or complete other AGFC approved land-use projects. AGFC reminds adjacent landowners that a permit is required for activities occurring on AGFC property, including building new structures and stabilizing shorelines. For a copy of the AGFC Land Use Policy or a permit for a new fishing pier or boathouse, or for any other questions, please call biologists Allison Asher or Brett Timmons at 877-972-5438.
(updated 12-30-2020) Shelly Jeffrey at Lake Charles State Park (870-878-6595) said the drawdown for Lake Charles has left the lake low. Water from the lake is used from mid-November on to help flood the Shirey Bay Rainey Brake WMA for waterfowl season. Shelly says surface water temperature on Sunday was 46 degrees and the clarity is the usual murky. Crappie were biting this week, with good results as far as activity, but the fish are small. Most catches were via shore fishing. No other reports came in. She says the moon times indicate good fishing days Dec. 27 through Jan. 2. Best days next month will be Jan. 10-16.
Lake Poinsett
(updated 12-17-2020) The gate at the dam at Lake Poinsett was closed on Dec. 1, allowing the lake to begin refilling with rainwater. The lake, at Lake Poinsett State Park, has been undergoing a three-year renovation with a new water control structure, more than 10,000 linear feet of shoreline work, more than 100 habitat structures placed on the lakebed, and nearly 100 trees anchored for fish habitat with more anchoring in the plans as the lake begins to refill.
When the lake has enough water for stocking, channel catfish will be stocked to give anglers target fish to seek, while prey fish such as shiners and shad will be stocked. After the prey fish have established a base over the next year or so, predator fish such as largemouth bass and crappie will then be stocked.
Crown Lake
(updated 12-17-2020) Boxhound Marina (870-670-4496) says it is closed until further notice "due to unforeseen circumstances."
Spring River
(updated 12-17-2019) Mark Crawford with springriverfliesandguides.com (870-955-8300) said water levels are running at 300 cfs and water is clear. The river has been looking great with low and clear conditions. White Lightning/Big White Fly and Y2Ks have been getting the big fish in. On the slow days lately a nymph set up can work great.
For spin-fishing a hot pink Trout Magnet is working great. For a more aggressive approach, trout cranks can get some of the bigger fish in. It has been very cold this week. "There are not many people on the water. If ya get wet, get out right away and warm up. It does not take long when cold and wet to get hypothermia. Layering up and staying dry is the trick for the cold temps. Be safe!"
(updated 12-24-2020) John Berry of Berry Brothers Guide Service in Cotter (870-435-2169) said the Spring River is navigable. This is a great place to wade fish when they are running water on the White and North Fork rivers. Be sure to wear cleated boots and carry a wading staff. There is a lot of bedrock that can get very slick. The hot flies have been olive Woolly Buggers with a bit of flash (size 10), cerise and hot pink San Juan worms (size 10) and Y2Ks (size 10).
White River
The Army Corps of Engineers reported Thursday that the White River stage at Batesville was at 8.00 feet, well below the flood stage of 15.0 feet. At Newport, the river is at 9.40, almost 17 feet below the flood stage of 26.0 feet. The stage at Augusta is 21.06 feet, nearly 5 feet below the flood stage of 26.0 feet.
(updated 12-17-2020) Triangle Sports (870-793-7122) had reports that crappie are good on spinnerbaits, minnows or jigs. The water level is low, while clarity is clear. No other reports.
---
Arkansas River (Pine Bluff Pool)
(updated 12-17-2020) The University of Arkansas at Pine Bluff Bass Fishing Team had no report.
Arkansas River (Pool 2)
No reports.
Cane Creek Lake
(updated 12-17-2019) Cane Creek State Park had no report.
Lake Chicot
(updated 12-17-2020) Brian Whitson, park interpreter at Lake Chicot State Park (870-265-5480), had no report.
Lake Monticello
(updated 12-17-2020) The lake is undergoing a repair to the dam by the City of Monticello and the AGFC is making improvements to the fish habitat while the lake is currently drawn down for the dam work.
---
Millwood Lake
As of Thursday, the Army Corps of Engineers reports the lake's elevation was 260.15 feet msl (normal pool: 259.20 feet msl).
(updated 12-17-2020) Mike Siefert at Millwood Lake Guide Service said that as of Tuesday, Millwood Lake was 11 inches above normal conservation pool and rising; water clarity stained. Gate discharge at the dam was around 7,100 cfs in Little River, according to the Army Corps of Engineers. The tailwater below the dam and gates was around 235 feet msl and rising with discharge. Check the most recent lake level of Millwood Lake on the guide service's website linked above, or at the Army Corps of Engineers website, for updated gate release changes and inflow rates with rising and falling lake levels. Surface temps dropped again over the last week, ranging 42-48 degrees. Continue to use caution in navigation on Little River and Millwood watching for random broken, or floating timber in Little River are in effect. Clarity improved over the past few days in the oxbow lakes along Little River. Current along Little River decreased, and river clarity ranging 5-10 inches visibility depending on location. Clarity and visibility of oxbows along Little River were at 15-25 inches depending on location. Further up Little River has heavier stain conditions. Clarity and visibility can change dramatically on Millwood in just a few hours with high winds, gate discharge, rain or thunderstorms.
Millwood State Park is opened for campers; see the COVID-19 related information and camping reservation requirements at https://www.arkansasstateparks.com/parks/millwood-state-park. Millwood State Park Marina is closed for its annual winter shutdown through the end of February. The Millwood State Park Office is open and can be reached at 870-898-2800 for additional information.
As for fishing details:
* Largemouth bass: The water temperatures continue dropping several degrees over the past week, ranging mid 40º range. Surface breaking Bass diminished over the past couple weeks, and the Largemouths are following Shad at creek mouths into the creeks in many locations. Wherever there is vertical structure in timber, at creek mouth junctions, and into deeper creek channels is where you will find the shad on your electronics. The largemouths are suspended in these locations, following the shad into the creek mouths and deeper bends of the creek channel near stumps and cover. The highest activity period continues best midday and afternoon for the past several weeks. Heavy, 3/4oz, 1-knocker size Rat-L-Traps in Millwood Magic, Transparent Holographic Shad, & Splatterback Shad, continue working at random for the suspended Bass, holding near large schools of shad in standing timber in 10-20 feet of depth. Bomber Fat Free Shads in Citrus Shad, Tennessee Shad, or Threadfin Shad colors, custom Shad-painted Little John crankbaits, and Bill Lewis Lures MR-6 MDJ cranks in Tennessee Shad, Louisiana Shad, or Millwood Magic patterns continue working for good Bass in the 3-5 pound class, suspended over 15-20 feet of vertical structure and in creek mouths from 6-10 feet of depth. The feeding periods have shortened considerably with the colder water temps, best during midafternoon in the heat of the day. These 3-5 pound Largemouth are suspending over 15-18 feet of depth near structure and standing timber and in deep creek bends from 8-12 feet deep. Many of the schools of Shad have moved into the creek mouths at many locations, and the Bass are following these schools of Shad into the creek channels.
Over the past couple weeks, the creek mouths have held large pods of Shad you can easily find on your electronics in those areas. Best locations are near intersecting creek channels dumping into McGuire, Mud and Horseshoe oxbow lakes along Little River. The creek channel points, which dump into Little River, were holding small schools of juvenile Largemouths from 2-3 pounds, where large stumps and vegetation are nearby, were holding good schools of Bass for several weeks, but scattered over the past few days, when the lake elevation jumped up almost a foot, and got muddy again with the increased current along the river.
* White Bass: They continue striking Chrome Cordell 3/4-1oz hammered spoons by vertical jigging in and near flooded timber in 15-20 feet of depth in several oxbows but scattered this week along Little River primary and secondary points, with the increase of current and muddy water. Several large schools of Whites have been roaming the oxbow lakes up Little River, and are following the same large schools of Threadfin Shad as the Largemouth Bass, although surface breaking on shad has diminished, Whites are willing to bite crankbaits, and Rat-L-Traps, Little John crankbaits, and Bomber Fat Free Shad cranks over the mid-channel depths, and near tributary points with stumps and grass, over the past several weeks. Trolling McGuire oxbow up river with mid-depth Bomber Fat Free Shad and Little John custom-painted crankbaits in Tennessee Shad and Splatterback Shad were working a couple weeks ago, and were connecting with decent schools of 2-3 pound White Bass near standing timber. Vertical jigging 3/4oz Cordell hammered spoons and Kastmaster 1/2oz to 3/4oz chrome/blue spoons were connecting with the Whites in the standing timber in McGuire oxbow. Fat Free Guppy crankbaits in Citrus Shad, were catching shallow feeding Whites in 5-8′ near vertical structure and standing timber in McGuire 2 weeks ago, but those fish have pulled out to the 15-20 foot depths also.
* Crappie: They are scattered with recent muddy inflow and lake pool rise near a foot, along Little River from planted brush piles along the river. Nothing consistent to report.
* Catfish: Blues were fair to good this week with the increase in Little River current on noodles, tightlines, and yo-yos set 12-15 feet deep using cut bait, King's Punch Bait or homemade dough balls.
* Bream: No reports.
Lake Columbia
No report.
Lake Greeson Tailwater
Visit www.littlemissouriflyfishing.com for a daily update on fishing conditions.
Lake Greeson
As of Thursday, the Army Corps of Engineers reports the lake's elevation at Narrows Dam was 537.00 feet msl (full pool: 548.00 feet msl).
No report.
DeGray Lake
As of Thursday, the Army Corps of Engineers reports the lake's elevation was 399.57 feet msl (full pool: 408.00 feet msl).
(updated 12-17-2020) Local angler Charles Abernathy reported that surface water temperature fell a few degrees from last week and close to 53 degrees depending upon location. Info passed along in last week's report is still valid: Timber/brush in pockets next to river/creek channels will hold fish and are good starting places (look in Arlie Moore, Lennox Marcus and the river channel past Yancey). "I've also found fish up in Point Cedar on brush along the river channel and found schools in open water close by. Don't forget to watch for schools around these locations."
Fish were caught on maribou jigs in natural colors. Monkey milk/white/natural colors, sometimes with chartreuse, seemed to work well, also. Hints: Find a topgraphical map online and find out where those channels are. Study those bends (especially the outside ones) looking for brush/structure. Navionics has a map viewer online that you can use for free. It also has some brush marked. If you haven't already done so, download the waypoints from the AGFC. Some are old but they will be markers for good locations arne are still very useful. "Good luck out there. I can be contacted at c.abernathy32@gmail.com for more info."
(updated 12-3-2020) Capt. Darryl Morris of Family Fishing Trips Guide Service (501-844-5418) reported that crappie are still biting but moving deeper. Fish brushpiles 14-16 feet deep in 24-plus feet of water where deep water channels are nearby. Water temp is in the mid-50s.
De Queen Lake
As of Thursday, the Army Corps of Engineers reports the lake's elevation was 437.66 feet msl (full pool: 437.00 feet msl).
Dierks Lake
As of Thursday, the Army Corps of Engineers reports the lake's elevation was 527.08 feet msl (full pool: 526.00 feet msl).
---
SOUTH-CENTRAL
White Oak Lake
(updated 12-10-2020) Curtis Willingham of River Rat Bait (870-231-3831) said crappie are good on minnows and jigs and shiners at White Oak Lake and the Old River. Clarity is clear and the water level is normal.
Felsenthal
No report.
---
Lake Atkins
(updated 12-3-2020) Donald Ramirez at Lucky Landing (479-641-7615) said water clarity is clear and the lake level is low. No surface temperature was recorded. Crappie fishing is good. They've taken to the cold areas of the lake. Anglers are catching them with minnows and with Bobby Garland Jigs in white and chartreuse. There were no reports on bream, bass or catfish.
Lake Catherine
For weekly flow releases from Carpenter Dam, visit www.entergy.com/hydro
Lake Catherine (Below Carpenter Dam)
For weekly flow releases from Carpenter Dam, visit www.entergy.com/hydro
(updated 12-17-2020) Shane Goodner, owner of Catch'em All Guide Service, reports that water temperature below the dam is 46 degrees with clear conditions in the tailrace. Both lakes Hamilton and Catherine have been drawn down 5 feet, and the drawdown will remain in place until March 1 when the refilling process is scheduled to begin. Countless underwater hazards are now visible in the tailrace due to the low water conditions, and boaters and wade fishermen alike should use caution when navigating the area. Entergy has lowered Lake Catherine another 2 feet in order to complete repairs on Remmel Dam. This work is expected to take until around Christmas to complete. The lack of water in the tailrace has made navigation to the dam and powerhouse area nearly impossible. Lake Catherine will be filled back to the original 5-foot drawdown level as soon as the repair work is done. Extreme caution should be used by boaters during this time. Rainbow trout fishing has now returned to Lake Catherine with the Game and Fish Commission stocking 1,400 trout on Nov. 13, with another 2,895 fish that were scheduled to be released this month. The trout are highly scattered now from the bridge to the dam, which is normal for the early part of the fall season. Decent numbers of fish have been caught by fly-fishermen that are now able to access areas that hold fish. Egg patterns in orange or yellow have accounted for several limits of quality rainbows presented under a strike indicator. Micro-jigs in black or white have also worked well used in the same manner. Boaters trolling shallow-running crankbaits that imitate shad or crayfish have taken numbers of trout during times of generation. The majority of trout are in the 11-to-12-inch class and are full-bodied. Bank anglers are also catching trout on PowerBait and nightcrawlers cut in half used under a bobber or just off the bottom with a marshmallow floater. Schools of white bass are inhabiting the tailrace and feeding on threadfin shad. Topwater action has been observed in the early morning below the bridge. Walleye still remain in the tailrace and can be caught on minnows tightlined in deep water just past the bridge. These fish normally spawn in the tailrace around the second week of February. The deepest areas consistently hold walleye that live and feed in the tailrace. No striper activity has been reported this week, but these predator fish migrate in and out of the area frequently. Anyone navigating the Carpenter Dam tailrace should always wear a life jacket and must observe all park rules. Mask wearing and social distancing should be observed by everyone visiting the Carpenter Dam area.
Lake Dardanelle
(updated 12-3-2020) Charles Morrison at Classic Catch Guide Service (479-647-9945) said water temperature is 53 degrees in most places, warmer down by Goose Island, cooler upriver by O'Kane Creek. The heads of some of the creeks are clear, but dingy midway and, yes, dirtier the closer to the river it gets. The river is dirty. Backwater areas are dingy to stained. Bass fishing has been really good. Square-bill crankbaits, swimbaits, jerkbaits, jigs and Bamboozie have been working well in the dirtier water. The majority of the fish have been coming from extremely shallow, with the larger fish coming out of deeper water. Crappie have been very good in 8 foot of water; mayfly has the color of the week. And, of course, minnows will catch a few. White bass are in some of the creeks, and on some of the main river points the square-bill crankbaits and spoons have been doing well on them. Stripers are scattered, some on jetty rocks, some on hard-bottom river points. Swimbaits and Rat-L-Traps, and occasionally a spinnerbait, will catch them. Catfish have been good on skipjack if you can find them; cut shad has been working, also. A lot of good catfish have been caught around persimmon trees. A lot of channel cats are still in the backwater areas and in the creeks, and they have been caught with worms and crickets.
(updated 12-3-2020) Jason Baumgartner, park aquarist at Lake Dardanelle State Park (479-890-7495), had no report. For questions contact our visitor center at (479) 967-5516. Be safe while on the river and take time to put a line in the water!
Lake Hamilton
(updated 12-17-2020) Greeson Marine, hometown dealer of the Arkansas-born-and-bred Xpress all-welded aluminum fishing boats in Hot Springs, reports Lake Hamilton's water levels down in excess of 5 feet below normal pool. Extreme caution should be taken when navigating the Lake. Water clarity is in excess of 6 feet and water temperatures are hovering around 50 degrees or less in most areas. I know it sounds crazy, but the cold air temperatures are helping the bite right now, and it should only get better the closer to 45 degrees that it gets. Largemouth and spotted bass are really starting to hunker down on the lake floor at depths of 20-35 feet in ditches or points that are next to flatter feeding areas that catch lots of sunlight during the day. The best technique to go after these fish has got to be the Damiki rig or the drop shot rig fished on the vertical presentation. Small drop shot worms in Green Pumpkin or blue work well on the Drop shot, and silver fluke or a 2 inch section of a Senko are producing. This is classic video game fishing and without good electronics it simply doesn't work. If you are not into electronics simply throw a ½ to ¾ ounce Slycked back Hammer Slammer jig or a variation of black and blue at deep wooden dock pilings on known brush piles. Crappie are picking up in brush piles and suspended over brush in 25-45 feet of depth. Before cold fronts push through and in the early mornings is the best time of day for a bite. Use crappie minnows tightlined or on slip corks with the occasional dream-cicle crappie jig. Bream and sunfish are still fair in 20 feet of water around docks with worms. No catfish report. Greesons will be closed Dec. 20-Jan. 4. Please wear your life jackets at all times in the winter. Live to fish another day. Good Luck! And Go Greeson!
Lake Nimrod
As of Thursday, the Army Corps of Engineers reports the lake's elevation was 343.19 feet msl (normal pool: 342.0 feet msl).
(updated 12-17-2020) Andrews Bait Shop and More (479-272-4025) said water remains "pretty clear" and Tuesday the surface water temperature was 39 degrees, a 13-degree drop from the previous week. The water level is high. The crappie is still good. They are biting at 12-14 feet depth of water on minnows and jigs (Beaver Bottom, Smackdown and Ashdown jigs). Black bass fell off with poor reports this week. Catfish picked up with fair reports; anglers were using chicken liver and catching them off the shoreline. Bream reports are poor.
Lake Ouachita
As of Thursday, the Army Corps of Engineers reports the lake's elevation at Blakely Dam was 578.39 feet msl (full pool: 578.00 feet msl).
(updated 12-10-2020) Todd Gadberry at Mountain Harbor Resort and Spa (870-867-2191/800-832-2276 out of state) reports that black bass are fair. Spotted bass (Kentucky bass) are still schooled up chasing baitfish. Try a small ⅜-ounce spoon in submerged schools. No report on walleye. Stripers are good; catch them on live bait and Alabama rigs. No report on bream. Crappie are still fair. Try a small jig or minnow near brush in 15-25 feet of water. No report on catfish. Water temperature is ranging 54-58 degrees, the clarity is light stain, and the lake level Thursday was 578.38 feet msl. Call the Mountain Harbor fishing guides (Mike Wurm, 501-622-7717, or Chris Darby, 870-867-7822) for more information.
Blue Mountain Lake
As of Thursday, the Army Corps of Engineers reports the lake's elevation was 384.95 feet msl (full pool: 384.00 feet msl).
No reports.
---
White River/Clarendon Area
The Army Corps of Engineers on Thursday reported the Clarendon gauge at 18.92 feet, more than 7 feet below the flood stage of 26.00 feet.
Cook's Lake
(updated 12-17-2020) Fishing has closed for the remainder of the year at Cook's Lake. Cook's Lake will serve as a waterfowl rest area from November through February and will reopen to fishing in March if the water level permits. For more information please call the center at 870-241-3373.
Bear Creek Lake/Storm Creek Lake
(updated 12-17-2020) Tyler Ball, park ranger at Mississippi River State Park (870-295-4040), says Anglers report that the crappie are biting fair at Bear Creek Lake. Due to the cold weather, crappie have been reported being caught in depths of 8-15 feet'. Anglers suggest using plastic jigs that are lighter in color, such as white or light green. Meanwhile, at Storm Creek, anglers report very little activity. Reports of a few catfish being caught on homemade baits such as garlic-coated hot dogs. Hopefully when the warm weather comes back, we will see more activity present.
Horseshoe Lake
No reports.
---
Recent News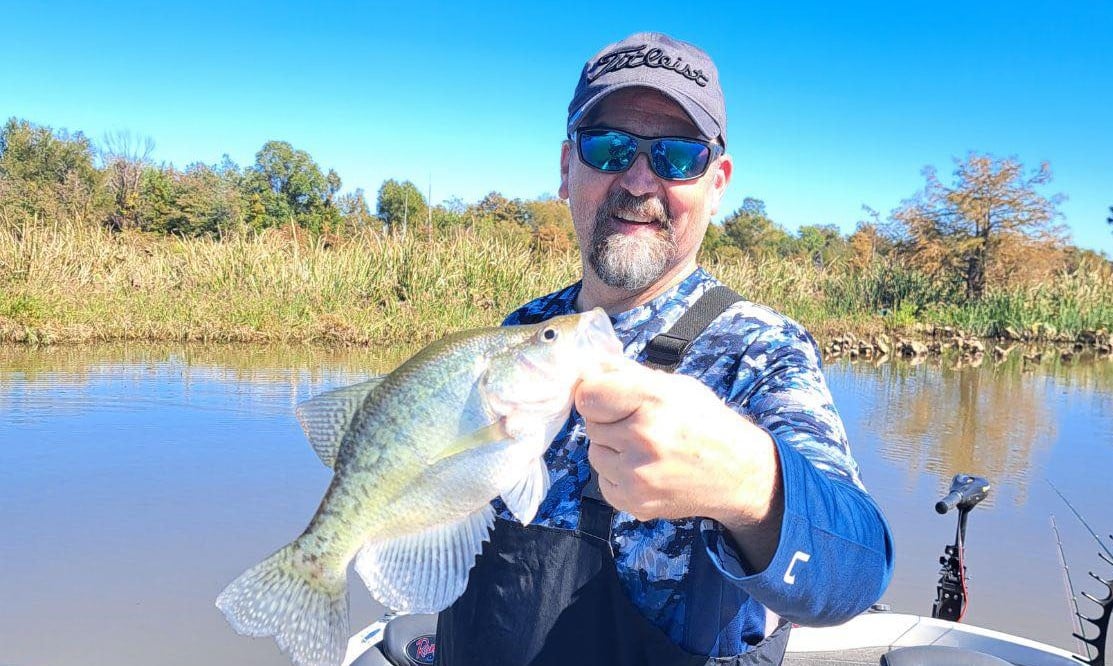 Subscribe to Our Weekly Newsletter E-mails
Don't miss another issue. Sign up now to receive the AGFC Wildlife Weekly Newsletter in your mailbox every Wednesday afternoon (Waterfowl Reports are published weekly during waterfowl season and periodically outside the season). Fishing Reports arrive on Thursdays. Fill in the following fields and hit submit. Thanks, and welcome!