Arkansas Wildlife Weekly Fishing Report
April 6, 2023
Jim Harris

Managing Editor Arkansas Wildlife Magazine
Reports are updated weekly, although some reports may be published for two weeks if updates are not received promptly or if reporters say conditions haven't changed. Contact the reporter for current news for the lake or stream you plan to fish.
---
TOP: Guide Mike Winker took an angler named Lawrence (no last name provided) after the rains of Wednesday onto the Little Red River, where Lawrance landed this nice brown trout. Winkler said that even with the high water on the Little Red, he's finding nice fishing opportunities for his anglers by fishing streamers.
Quick links to regions:
Arkansas River and White River levels are available at: http://water.weather.gov/ahps2/index.php?wfo=lzk
For real-time information on stream flow in Arkansas from the U.S. Geological Survey, visit: http://waterdata.usgs.gov/ar/nwis/rt
For water-quality statistics (including temperature) in many Arkansas streams and lakes, visit: http://waterdata.usgs.gov/ar/nwis/current/?type=quality
Download the Fish Brain app and follow AGFC at: https://join.fishbrain.com/agfc-page
---


Craig D. Campbell Lake Conway Reservoir
For the most up-to-date lake level, visit the U.S. Geological Survey's Lake Conway water level site.
(updated 4-6-2023) Bates Field and Stream (501-470-1846) said some anglers who had been bowfishing had also noticed some crappie that were only about 1.5 feet deep so it appears crappie are moving in. In Gold Creek and that area, crappie anglers have been catching them near the shoreline, so that's another good sign that crappie are starting to move in, but then the latest cold front should put a brief halt to that. Bates has been moving a lot of jigs and minnows for the crappie, they say, or whatever happens to catch the crappie angler's eye.
Black bass are doing really great, too. Anything with a blade seems to be a favorite. Chatterbaits, spinnerbaits, and also flukes or swimbaits. Also worms like Zoom Trick Worms, curly tails. Don't forget the crankbaits as well. Consider anything that resembles a baitfish, or something that has a crawfish color. One angler showed them a bass that had little baby crawfish inside it. Look for natural colors now.
There have been a few reports on catfish here and there, they say, with catches on lines baited with stink bait, baby bream or small bream, goldfish and trotline minnows. Also, there has been some snagging going on at the dam.
Bream anglers have been wearing the bream out. Crickets and redworms are being purchased in large quantities, they report, and some anglers note beds started to be formed and seen on LiveScope.
As of Thursday there were two gates open. That could change Thursday night or Friday, they note.
"Everything is in motion, and I'm confident the fishing is going to take off. The weekend should be busy, even with Easter, people will probably get out some, and next week should be beautiful and everything will turn on," they say.
Little Red River
The Army Corps of Engineers reported the outflow at Greers Ferry Dam to be 6,014 cfs (turbine) as of noon Thursday, beginning at 5 a.m.; the Corps ran water for 24 hours Wednesday into Thursday(1 a.m.) with an average flow of 4,000 cfs. The tailwater was at 276.30 feet as of noon Thursday. Greers Ferry Lake is 13 feet above normal conservation pool. Check with the Army Corps of Engineers website for real-time release data or by calling (501) 362-5150). Also check the Southwestern Power Administration website (swpa.gov) to see forecast generation schedule.
(updated 4-6-2023) Mike Winkler of Little River Fly Fishing Trips (501-507-3688) said Wednesday that Greers Ferry Lake is 13.2 feet above power pool. The Army Corps of Engineers usually have been running one unit of generation round-the-clock this week. It's subject to change so always check the USACE Little Rock app before heading out.
"With the current generation schedule on the Little Red River, it has been fishing well from the boat. I've been using a deep-water nymph rig and fishing various depths depending on where I'm fishing from the boat," Mike said.
"While nymphing I have been running anywhere from 6 feet to 9 feet deep to 12 feet deep max depth and using split shot to get the fly down. And using a big indicator to hold up the fly.
"The caddis are really starting to hatch up and down the river. I've been fishing San Juan worms and caddis patterns of late.
"The streamer bite has been really good. The generation schedule at the moment has these fish right on the bottom or right on the bank. My current set up is an 8-weight rod with a 330 sink line, and we are stripping streamers and catching some really nice brown trout. I've been running various articulated patterns and they're all working."
(updated 3-30-2023) Fish 'N Stuff (501-834-5733) in Sherwood said the fishing on the Little Red is really good early in the mornings before the Corps of Engineers turns on the generation, and in afternoon when generation is stopped, with good fishing while catching the water falling.
Most of the catching is coming on a No. 7 Rapala Countdown in a gold color and also a gold and black back jerkbait with an orange belly. They've been catching both bigger browns and bigger rainbows on the latter. Also try a eighth-ounce black maribou jig for both browns and rainbows, as well as a No. 5 Rapala Shad Rap. "We tend to catch a little bigger fish now on the hard baits," they say.
(updated 3-23-2023) Lowell Myers of Sore Lip'em All Guide Service (501-250-0730) said that with recent rains, Greers Ferry Lake is above top seasonal pool, creating unpredictable generation for the Little Red River. "Currently we are receiving 12-16 hours of daily generation beginning early mornings. If you plan to fish the Trout Magnet in high water, consider using extra weight and focus on eddies and close to banks using pink and white-colored bodies on chartreuse or gold jigheads. For fly-fishing, consider weighted San Juan worms, weighted egg patterns and streamers."
Always check generation schedule and be aware of unexpected water release. Check before heading to the Little Red River for Greers Ferry Dam water release by downloading the USACE Little Rock app, Corps of Engineers website (swl-wc.usace.army.mil) for real-time water release and the Southwestern Power Administration website (swpa.gov) to see forecasted generation schedule.
Greers Ferry Lake
As of Thursday at noon, the Army Corps of Engineers reports the lake's elevation at 475.19 feet msl (normal conservation pool: 462.54 feet msl, top flood elevation 487.0 msl).
(updated 4-6-2023) Tommy Cauley of Fishfinder Guide Service (501-940-1318) said the water level at Greers Ferry Lake is at 475.20 feet msl, just a little under what it was at this time last week at 475.45 feet msl. The Army Corps of Engineers are generating 18-20 hours a day trying to get it down some. It is 13.16 feet above normal pool of 462.04 feet for this time of year.
Most all species are scattered from 1 foot out to 60 feet. Crappie are scattered, eating, spawning and moving from 1-40 feet. There are several different ways to catch them, most will work one day or the next with different weather. More and more bream are showing up now; crawlers, crickets and small minnows are working from the shoreline out to 25 feet. Catfish have been eating well in run-ins and various places – points, channel swings, etc. All general catfish baits are working.
Walleye are scattered and biting – you will have to take a number to get in a slot to fish up rivers but the rest of the lake is wide open, with lake fish being more active now in 25-30 feet. Crankbaits, crawlers and soft plastics fished different ways are working. Most black bass are really wanting to feed, a few spawning, and a lot on the move getting ready to eat and spawn. Anglers are finding them 1-60 feet, and Alabama rigs, crankbaits, jerkbaits, Carolina rigs, Texas rigs, spinnerbaits and jigs are working and a lot in between. You can catch a lot of healthy fish at this time.
(updated 4-6-2023) Fish 'N Stuff (501-834-5733) in Sherwood said black bass are up shallow in 2-5 feet of water or still out in the main lake relating to the offshore rock piles or the deep brush and being caught in 10-15 of water. Up shallow, anglers are having best success using a Megabass Mag Draft swimbait or a white Chatterbait. Moving out into the deeper water they are throwing Alabama rigs or Carolina rigs.
(updated 3-30-2023) AGFC staff fishing Greers Ferry Lake said black bass should move up into the newly flooded areas with the warm weather, looking for places to set up spawning beds and feed on insects and other terrestrial critters caught in the rising water. Covering shallow water with a square-billed shallow-running crankbait or a spinnerbait with a single Colorado blade will help locate likely spawning flats. Once found, the flats can be milked for a few more fish as they continue to move up by casting Texas-rigged lizards and weightless worms to shallow targets like stumps and flooded brush.
Crappie will likely be found around brush and vegetation near the old shoreline as they were moving up to spawn when the last rise of water came into the system. Vertical jigging a crappie tube on a one-sixteenth-ounce ball-headed jig using at least a 10-foot jigging pole would be a good approach. We're personally fond of black/chartreuse, white/chartreuse and electric chicken (pink/chartreuse) tube jigs.
Bream and catfish will still be in deeper brush. Most of the white bass and hybrid fishing will be up the rivers, and the usual spawning areas will likely be too deep and have too much current to fish them right now.
Harris Brake Lake
(updated 3-30-2023) Harris Brake Lake Resort (501-889-2745) says crappie remains slow. "There has been too much rain, the water is really muddy and the water level is high," they say.
Last week, anglers caught some really nice catfish and that catfishing is really good right now. Some bream are being caught. Largemouth bass fishing has been really good, with one angler landing a 4.5-pound fish (21 inches in length) on a spinnerbait. Another angler fishing from the dock landing 4-5 fish that were all 2- to 3-pounders.
But the biggest fish landed were three buffalo, including one that weighed 94 pounds. The other two were 68 and 70 pounds; this angler was pole fishing for catfish when he landed the buffalo, which are spawning, they report.
If you're going for crappie, the boat anglers are trying in the shallow area now with minnows and with a Crappie Stinger jig. Spinnerbaits and bass minnows are what are working for the bass. Bream anglers aren't catching any with great size, but they're active on redworms, nightcrawlers and crickets (which they sell out the resort bait shop).
Catfishing will be best with gold fish on trotline or noodles. They also sell baby bream that are working, and one catfisher favors golden shad.
Lake Overcup
(updated 3-23-2023) Lacey Williams at Lakeview Landing on Arkansas Highway 95 (501-252-1437) said the water is clearer than it has been. Catfish are doing well on trotlines baited with cut shad or nightcrawlers. No report on bass or bream. The crappie are still out in the deeper water. "But I believe they are moving up closer to the banks. Anglers are requesting lots of pink and crappie minnows," she said. Check out the Lakeview Landing Hwy 95 Facebook page for water temperature and other updates.
Brewer Lake
(update 3-30-2023) David Hall at Dad's Bait Shop (501-289-2210), a 24/7 self-serve bait shop at the lake, said that like everywhere else, water has been higher than normal. At Brewer it is up to the top of the boat dock, but you can still park in the parking lot. As soon as you back up you'll be the water, he said. Expect to fish deep for success. Anglers say 12-15 feet is where you'll find the catchable crappie. They are fishing over the underwater brush piles or trolling the channel for the current. That's been the case there for a while now. Crappie like the live stuff, but will also go for jigs in chartreuse/white or Electric Chicken.
Black bass are starting to hit on the warm days, though David admits they haven't really had many warm days yet. On the warmest days, though, you'll get some reaction beginning midday/high noon. Bass are not up in the shallow water yet like they would typically be in the summertime. Anglers are fishing for them with a jig. Put one of those heavy Rooster Rails on that will go about 3-6 feet deep with a spinnerbait. Bass will eat minnows now as well.
Catfish are on the bottom. You'll have to wake them up with something that stinks. "I've heard of a couple of good days for catfish, but that's when it's not rainy, not windy and above 72 degrees. If you've got all of those things, come on out," David said.
Lake Maumelle
(updated 4-6-2023) WestRock Landing in Roland (501-658-5598) reported water temperature is in the mid- to high 50s. Lake level is down 0.64 feet. The lake is no longer being drawn down. Largemouth bass are good. Reports of the bass being found shallow along rocky points around 4-8 feet deep. Try using Carolina-rigged lizards, crankbaits, spinnerbaits and drop-shots. Kentucky bass also are Good. Some reports of them being found near drop-offs around 16-20 feet and off rocky banks, and other reports of them being found on brush piles. Try using a Texas rig on brush, or jigs. White bass are good. Reports of finding pockets of whites on rocky points not far from the channel. Use red and white crankbaits, jigs or spoons. Crappie fishing is fair. Reports of crappie being found in prespawn conditions around 12-16 feet deep. Use minnows or jigs. No reports on bream or catfish.
(updated 4-6-2023) Fish 'N Stuff (501-834-5733) in Sherwood said the black bass are biting in 2-10 feet of water. Spinnerbaits, crankbaits and swimbaits are all working. Anglers are also catching bass off main lake points throwing half-ounce PB&J jigs and deep-diving crankbaits in a shad pattern between 10-15 feet depth. The visibility in Lake Maumelle is ranging 2-4 feet.
Arkansas River at Morrilton
As of Thursday, the Corps of Engineers said water flow at the Ormond Lock and Dam was 29,395 cfs. The stage at Morrilton was dropping at 10.81 feet, falling almost 4.5 feet over a 24-hour period (flood stage is 30 feet).
Little Maumelle River
(updated 3-30-2023) Ray Hudson at River Valley Marina (501-517-1250) said water is just a little low because the Arkansas River has been running this week. The Little Maumelle has cleared up quite a bit in the past couple of days, as of this Thursday. Some anglers were out catching really nice crappie, Ray said, landing them in 3 feet depth on minnows. He said 3-5 feet will be the ideal depth for catching them. They appear to be staging up; the fish those anglers caught didn't appear to have spawned but were on the verge.
Black bass also have been doing really well. Several people landed bass this week using Alabama rigs, crankbaits, worms – basically catching them on everything, Ray said. They have moved up and also can be caught in about 3-4 feet of water.
Nothing's been heard on bream. Some catfish were caught on liver. No signs of white bass either; Ray notes that they are normally biting real well at this time of year. He's also heard from anglers that the white bass out of Lake Maumelle are at the bridge but no farther up into the creeks for the annual spawn.
Arkansas River (Maumelle Pool)
On Thursday, the Corps of Engineers said water flow at the Toad Suck Lock and Dam was 33,890 cfs.
Arkansas River (Little Rock Area Pools)
On Thursday, the Corps of Engineers said water flow at the Murray Lock and Dam was 59,895 cfs. The stage in the Little Rock pool was falling at 7.71 feet (flood stage is 25 feet). Flow at the Terry Lock and Dam was 76,614 cfs.
(updated 4-6-2023) Fish 'N Stuff (501-834-5733) reports that bass are being caught at the ends of jetties with a mid-diving crankbait or a square bill in a shad pattern. Anglers are also finding success in the backwaters throwing a three-eighths-ounce white Chatterbait or a small white or black (depending on the water clarity) buzzbait. The visibility is between a half-foot to 2 feet, or pretty stained.
(updated 4-6-2023) McSwain Sports Center (501-945-2471) reports from the David Terry Lock and Dam area that catfish are being caught on skipjack and shad, catching them on the bottom. More than a week back, they had heard that white bass were doing well on blue/white jigs below the dam.
Clear Lake (off Arkansas River-Little Rock Pool)
(updated 4-6-2023) McSwain Sports Center (501-945-2471) says anglers are catching crappie on Clear Lake as the fish are moving into the banks, but then the weather drives them right back out, so the weather has made it hit or miss. The most consistent weather ahead should help. They are selling a lot of minnows for the Clear Lake anglers. Some are using jigs. The water is clear and fairly high. The water is still a little cool, around 60 before the latest weather and the passing front. They've heard nothing on bass or other species there, just crappie.
White River
(updated 4-6-2023) Cotter Trout Dock (870-435-6525) said the lakes in the White River watershed are filling up and are being attentively managed by the Army Corps of Engineers. Bull Shoals Lake is hovering at 675.2 feet msl as we head into a week of predicted sunshine – or at least no rain. The river is running pretty high right now with five units (15,000 cfs) round-the-clock. Higher water is expected here as the dams begin to drop back toward power pool. The guides always tell us, "Fish love water – the more water, the better," and they continue to do a really great job of helping folks catch them.
The brown trout bite has been phenomenal, with shad and the occasional well-positioned sculpin doing well. Rainbows have been hitting sunrise and orange PowerBait, especially in combination with shrimp or crawdad tail – an excellent way to reel in some nice-sized fish. Floating pink mousetails (artificial scented worms) and Rooster Tails with black-and-yellow skirts, gold blades, one-sixth ounce to quarter ounce, are a great backup to the shrimp/PowerBait mix. The hatches we saw last week, which sated the trout and made it really tough to get their attention in the afternoon hours, have slowed with the rain and cooler temps. But the hatch is on, often around 3 in the afternoon. A great time for topwater action.
Deeper water means more drift-fishing, no wading opportunities for now, but there's always a chance to cast from the river banks. Bring the kids or grandkids and together investigate The Natural State of things in Arkansas. See you at the river.
(updated 4-6-2023) Dave McCulley, owner of Jenkins Fishing Service in Calico Rock, said the fishing has been good this week. Keeping it simple by using two Power Eggs on a No. 2 hook with shrimp has done well. Sunrise-colored Power Eggs have worked best, as have yellow-colored Power Eggs. We have seen some success by mixing colors such as orange and white. In the cloudy conditions, silver-colored inline spinners can provide a deeper flash of color to attract the trout's attention. Lures such as Rapala Shad Raps and Countdowns had limited success. Use sculpins if targeting larger rainbows and browns.
The recent storms, combined with Bull Shoals and Norfork Dams generating water and opening spill gates, had the river level reach a high of 10 feet Wednesday. Luckily the rain didn't muddy the water, so the main part of the river is fishable. If the river does get muddy, move up into the creeks where the trout will be looking for cleaner water, and if a person is lucky they may catch a smallmouth bass or catfish to augment the trout.
This week we received one trout stocking at the Calico Rock boat ramp.
(updated 4-6-2023) John Berry of Berry Brothers Guide Service at Cotter said that during the past week they had two events that combined for a half-inch of rainfall, cool temperatures and heavy winds (to include lake wind advisories). The lake level at Bull Shoals rose 3.4 feet to rest at 16.3 feet above power pool of 659 feet msl. This is 19.7 feet below the top of flood pool. Upstream, Table Rock Lake fell 3.3 feet to rest at 2.2 feet below power pool and 13.8 feet below the top of flood pool. Beaver Lake rose 0.7 foot to rest at 9 feet above power pool or 0.6 foot below the top of flood pool. The White had no wadable water and flows. Norfork Lake rose 1.2 feet to rest at 11.4 feet above power pool of 553.75 feet msl and 14.8 feet below the top of flood pool. The Norfork tailwater had no wadable water this past week. All of the lakes in the White River system are now above power pool. Expect higher flows on the White and North Fork.
John said, "The caddis hatch is just beginning. This is our best hatch of the year. We have seen some small hatches in the late afternoon. Before the hatch, fish a caddis pupa like the Sunday special in size 16. When you see takes on the top but see no insects, switch to a caddis emerger like my Green Butt in size 15. When you observe trout taking insects from the top of the water, switch to elk hair caddis size 16.
"On the White, the hot spot has been Rim Shoals. We have had higher flows that have fished well one day and poorly the next. The hot flies were Y2Ks, prince nymphs, zebra midges (black with silver wire and silver bead or red with silver wire and silver bead), pheasant tails, copper Johns, pink and cerise San Juan worms, gold ribbed hare's ears and sowbugs. Double-fly nymph rigs have been very effective. My favorite has been a cerise San Juan worm with an orange egg dropper."
Remember that the White and North Fork Rivers and Dry Run Creek are infected with didymo, an invasive alga. Thoroughly clean and dry your waders (especially the felt soles on wading boots) before using them in any other water. Many manufacturers are now making rubber soled wading boots that are easier to clean and are not as likely to harbor didymo.
John also said, "A few days ago, my friend Tom Schmuecker passed away. I met him at the Federation of Fly Fishers (FFF) Conclave almost 40 years ago. He was heavily involved in fly-tying as were my brother, Dan, several friends and I. His beloved wife, Ann, passed away a few days before him.
"Tom was originally a chicken farmer who raised the specialized birds that are highly prized by fly-tyers. He sold the farm and purchased the Wapsi. He sold his chickens and moved to Mountain Home to run the company. Over the years, he and Ann built Wapsi into the largest supplier of fly-tying materials in the world. When I managed Blue Ribbon Fly Shop, we bought the majority of our products from there. It is an innovative company that is always introducing new products.
"He was an avid fly-tyer and would tie almost every day. One year I was tying flies at the FFF Conclave and was sitting next to my friend George Harmeling. George was a compulsive tyer who always carried pretty much any material or tool he had to the conclave so that he would be sure he had anything he may need. He carried all of this stuff in a big wheeled steamer trunk.
"Tom came in with a cigar box filled with just hooks and rabbit strips. He asked if he could sit with us. We were glad to see him and welcomed him to the table. He proceeded to borrow a fly-tying vise, a bobbin with thread and a small pair of scissors. He then proceeded to tie a great warm-water fly. Here is the largest supplier of fly-tying materials and tools borrowing such things from a tyer. He had a huge warehouse full of this stuff.
"When I organized the first fly-tying contest (originally at the Baxter Bulletin), my first call was to Tom. He was integral to planning, organizing and judging the contest. He insisted on adding a category for warm-water flies, his favorite. We did the first judging in the conference room at Wapsi. We did it there for years before moving it to my house after Tom's health declined.
"We have changed the name of the fly-tying contest to the Wapsi Fly Tying Contest to reflect his company's ongoing support to the project. The award for the best in show in the contest is now the Tom Schmuecker Award in honor of him. No individual has done more to promote fly-tying than Tom Schmuecker. His efforts have made Mountain Home a mecca for the sport.
"Tom you will be missed!"
Bull Shoals Lake
As of Thursday, the Army Corps of Engineers reported the lake's elevation at 675.31 feet msl (normal conservation pool: 659.00 feet msl; top flood elevation is 695.00 feet msl). By midday Thursday the flow was 18.069 cfs and has ranged about that same level past two days; tailwater elevation was 458.43 feet. The reported lake elevation at Table Rock Lake was 916.79 feet msl (normal conservation pool: 915.00 feet msl; top flood elevation is 931.0 feet msl).
(updated 4-6-2023) Del Colvin at Bull Shoals Lake Boat Dock said Bull Shoals Lake level 675 feet msl, or 16 feet above normal pool level, and rising. Water temperature is ranging 55 to 60-plus degrees. The lake is on the rise; watch for debris. There is definitely limited accessibility to ramps, and parking can be an issue, so call ahead.
Bass fishing is getting better. Still, weather will hinder some days. The fish are grouped up and they are prespawn feeding. You can find them spread out on flats and in the bushes now. Fish it like two separate lakes. Dirty creeks, cloudy days, warm rainwater calls for power fishing crankbaits, Chatterbait or square bills. Try on the last couple swing banks or in or around the pockets. Cover water. Fish warm runoff if available. For sunny days with flat water and stain conditions try slow-dragging a Jewel half-ounce Special Ops football jig in green pumpkin. For summer days with clear water look at the old shoreline points, keep the boat in 25-30 free and try a green pumpkin three-sixteenth-ounce shaky head or a Ned, fished slow, then go a little slower.
A wave of smallmouth bass are probably going to go with this moon. The ol' Wobble Head with a Menace slow-banging on the rocks, ledges or points in 5-15 feet of water early in the day, then look 15-20 feet by midday. Fish outside spawning areas. The fish are in moving. It's getting to where you can beat the bank and run into a few target staging early prespawn areas. If you're feeling brave, a Megabass Jerkbait 110 on breezy day over steeper swings and points with shad nearby will fool a few, but it has been hit or miss. You might run into a toothy one.
The shad are moving up again. Video gamers are everywhere from the main lake to the backs of the creeks. Look for bigger spreads shallower than 30 feet, and be sure to check flats. Graph time pays off. Throw around the ol' McMinnow 2.8 Swimbait in white or shad color, and also a fluke – this pattern has been the deal for me. The bass are definitely grouping up. Whites and walleyes are spawn or prespawn and active early or late in the day unless it's a cloudy, windy day. Each day is different, so fish the conditions.
Del regularly posts new YouTube videos. Visit his YouTube site (Bull Shoals Lake Boat Dock) for more information and tips on fishing Bull Shoals Lake.
Norfork Lake
As of midday Thursday, the Army Corps of Engineers reported the lake's elevation at 565.06 feet msl (normal conservation pool: Sept.-April, 553.75 feet msl; April-Sept. 556.25 feet msl; top flood elevation 580.0 feet msl). Flow below the dam Thursday midday was 8,198 cfs, with constant generation in that range for several days.
(updated 4-6-2023) Steven "Scuba Steve" Street at Blackburn's Resort said the lake level was 565.21 feet msl and had dropped three-quarters of an inch with one generator running continuously and spillway gates open equivalent to about three-quarters of a generator. The White River at Newport is 24.04 feet and is rising slowly. "We received a half-inch of rain on Tuesday. The water color is still tea colored in the Blackburns Creek area, but you can find as clear water as you want. It is not affecting fishing. The surface water temperature was 57 degrees Tuesday evening when I came in at about 6:30 p.m.
"The new news is that the smallmouth bass have moved on to their spring prespawn feeding banks and are hitting creature baits on a jighead. Other black bass fishing is also getting better. Male crappie have started their spawning process and are just outside their spawning banks right on schedule back in Pigeon, Middle Pigeon, Twin Coves and Briar Creek. There are still some white bass back in the bay in Big Creek and across from Cranfield Campground. Fishing is getting better, and it needed to."
Visit blackburnsresort.com and click on Scuba Steve's Blog for a daily report.
(updated 3-23-2023) Lou Gabric at Hummingbird Hideaway Resort said the bite for most species has been pretty good Tuesday and Wednesday of this week, but it will get better once we get some stable weather and a stable lake level. Normal early spring requests. "I have several guests in and they are all catching fish. The bite in the dark is going strong as long as you find where the fish are hanging out. Casting a small 3.5- to 5-inch paddle tail swimbait with a quarter-ounce jighead has been working the best.
"You can catch just about any species in the lake, including walleye, crappie and stripers, by casting out a swimbait. I prefer white or a Sexy Shad color. Once it gets light out, the fish tend to move off the shoreline and into deeper water, about 30-40 feet deep on the same points. I found fish yesterday morning on main lake points. I have been using Tater Baits, Tater Shads in the Bayou Magic, Key Lime and White Trash flavors. I catch most of my stripers by keeping the bait motionless about 3 feet off of the bottom.
"On Tuesday morning before the heavier rain started, I landed my limit of stripers/hybrids, including a 9-pound-plus hybrid. He really gave a great battle. Bob, another guest, found nice largemouth bass back in a creek in very shallow, muddy water. He was also casting out a swimbait. Another area that has been holding a ton of bait and fish is partway back in a creek where the fish are in 30-60 feet of water. Most of the stripers in this area are suspended 20-30 feet down. You will also find a lot of white bass in the same areas with the striped/hybrid bass.
"Wednesday morning was another good day to be on the lake. I checked out a new area and fished a flat in 30-40 feet of water. On one end of the flat I found a lot of bait and found white bass and a few stripers feeding heavily. The fish were at all depths, but the fish on the bottom were the most aggressive. I managed to land a monster striped bass weighing in at 30 pounds that was suspended 20 feet down in 37 feet of water. All my fish Wednesday were caught by slowly vertical-jigging a Bayou Magic Tater Shad. This big guy took 30 minutes to land on 8-pound test monofilament line."
The surface water temp is holding around 50 degrees. The lake level is falling and currently sits at 556.92 feet msl. The northern part of the lake remains stained. Enjoy Norfork Lake.
Lou also posts almost daily on his Facebook page with photos and where the fish are biting and what's biting. Check it out.
Norfork Tailwater
(updated 4-6-2023) John Berry of Berry Brothers Guide Service in Cotter (870-435-2169) said Norfork Lake rose 1.2 feet to rest at 11.4 feet above power pool of 553.75 feet msl and 14.8 feet below the top of flood pool. The Norfork tailwater had no wadable water this past week. All of the lakes in the White River system are now above power pool. Expect higher flows on the White and North Fork rivers.
The most productive flies have been small midge patterns like zebra midges (black or red with silver wire and silver bead). Double-fly nymph rigs have been very effective. Try a small bead-head nymph (zebra midge, copper John or pheasant tail) suspended 18 inches below a brightly colored San Juan worm (hot fluorescent pink or cerise). John says his favorite rig has been a pheasant tail nymph size 14 and a ruby midge size 18. The fishing is much better in the morning and late afternoon and tapers off midday.
Dry Run Creek has fished a bit better. Weekends can get quite crowded. The hot flies have been sowbugs, various colored San Juan worms (worm brown, red, hot fluorescent pink and cerise) and white mop flies. Small orange or peach eggs have been very effective. Be sure and carry a large net, as most fish are lost at the net.
Remember that the White and North Fork rivers and Dry Run Creek are infected with didymo, an invasive alga. Thoroughly clean and dry your waders (especially the felt soles on wading boots) before using them in any other water. Many manufacturers are now making rubber soled wading boots that are easier to clean and are not as likely to harbor didymo.
Buffalo National River/Crooked Creek
(updated 4-6-2023) John Berry of Berry Brothers Guide Service in Cotter (870-435-2169) said Crooked Creek and the Buffalo River are fishing poorly. With warmer temperatures, the smallmouths should be active soon. The most effective fly has been a tan and brown Clouser minnow. Carefully check the water level before entering Crooked Creek or the Buffalo River. There are no dams on these streams. They both have large drainages and are prone to flooding during and following any rain event. The water can rise very quickly.
---
Beaver Lake
As of Thursday, the Army Corps of Engineers reports the lake's elevation at 1,129.41 feet msl, or 5.8 above normal pool (normal conservation pool: 1,120.43 feet msl; top flood elevation is 1,130.0 feet msl).
(updated 4-6-2023) Jon Conklin with FishOn Guide Service (479-233-3474) said Beaver Lake is full to the top again for the fourth year in a row. "What that means is the lake is fishing big with tons of spawning areas in and under water, which will create good spawning conditions but will scatter the fish a bit more. With the warm weather in the next week, I believe everything that spawns will be moving in.
Stripers have continued an uptick, with fish bearing caught from Prairie Creek to Rocky Branch. Look for marks on your graph and fish those areas. Crappie are still very scattered, some shallow and some suspended at 15 feet in water from 20-40 feet deep. "Bass are picking up, and with all the flooded brush, etc., I would be pounding the banks. Walleye are almost done with spawn, as most we catch are post-spawn. White bass are still sputtering, with some days really good, others not. Should continue to get better.
"Lots of debris and floaters throughout, so keep your eyes open and save yourself a lower-unit expense. Good luck!"
Visit Jon's Facebook page for latest updates, FishOn Guide Service Goshen AR.
(updated 4-6-2023) Southtown Sporting Goods (479-443-7148) said conditions of the lake and the fish should make for great fishing both this weekend and next week. "The season is here," they said.
The white bass are enjoying a nice run up the rivers. The population of white bass may not be massive, they say, but a lot of 3-pounders and other "really good ones" are being caught. People are catching 15 or 20 out there.
The walleye run is still good in the river arms but it is probably at its peak. Both runs for white bass and walleye are strong, though.
Crappie are on the cusp of taking off, they report. They don't appear to be spawning yet, but they are active and by the first of next week things should be on.
Beaver Lake is very high, at 1,129 feet, which is way up and is creating a hazard for people wanting to bank fish. But on the other hand, the high water has the fish up in the vegetation looking to eat for boaters who can access those areas.
Black bass are also in prespawn like the crappie, they say. "They are just hunting around for something to eat." Outside of the high water, the water conditions are good. "We didn't get much moisture out of the last rain, and the rivers are clear and the water coming into Beaver Lake is good."
Out in the open water, guides are getting their customers to a good striper bite, catching them on live bait. The crappie and white bass that anglers are finding are biting on whatever anglers want to fish with, they say. Minnows and other live bait, and maybe a little artificial bait all will work. "There's not a special bait working," they report. You could go with an umbrella rig for white bass, as that has been a popular way to catch them.
"It's good fishing now in the northwest," they tell us.
Beaver Tailwater
(updated 3-30-2023) Guide Austin Kennedy (479-244-0039) said fishing this past week has been great. "Even with all the rain we got and the rising river levels, as soon as the debris cleared out, the bite was back on. Trout have been most responsive to Pautzke Fire Balls and Fire Bait, fished on bottom with light terminal tackle. Also, throwing quarter-ounce spoons has also gotten the job done. Walleye are spread out and you have to look for them. Some of the females have started spawning out and heading back towards Table Rock. The bite has been pretty solid between Beaver town and Holiday Island. Fishing ripping jigs, along with blade baits in the deeper water, has produced nice results as well. A few white bass are being caught here and there, but nothing to write home about. Most have been caught casting Flicker Shad in 10-15 feet of water. This week's hot spot has been between Houseman and the U.S. Highway 62 bridge for trout. I hope you all are enjoying the nice weather, get out and catch some fish!"
For daily fishing updates, follow Austin's fishing Facebook page (Busch Mountain Fishing Guide Service).
Lake Fayetteville
(updated 4-6-2023) Lake Fayetteville Boat Dock (479-444-3476) said crappie are doing really well on jigs. A couple of anglers were fishing with minnows as well. The crappie are now coming in shallow. The bream are doing really well on redworms and are up closer. Black bass have been "OK" on crankbaits and plastics (they are selling lots of those). Nothing has been reported on catfish.
---
Lake Charles
(updated 4-6-2023) Shelly Jeffrey at Lake Charles State Park (870-878-6595) said fishing continues to pick up at Lake Charles. Crappie and catfish are both biting well, and white bass have shown up nicely this past week. Crappie are good in shallow depth now. Try minnows, or throw jigs in all colors. Crappie are relating to the brush piles, stumps and rocky points. Catfish are good on worms, blood bait and stink bait. White bass catches were good, but anglers didn't share what they used to get them. Bream are fair on worms, crickets and jigs. Fish them like you would crappie, focusing on brush piles, stumps and rocky points.
The only species Shelly heard nothing about was black bass. But be looking for them this week as the water warms.
The water temperature had dropped this past Sunday from a week ago, recorded at 52.7 in shady conditions. The clarity is murky and the water remains high.
Shelly says the best days to fish this month based on moon times will be April 17-23. Good days will continue this week through Easter Sunday.
Lake Poinsett
(updated 4-6-2023) Seth Boone, the superintendent at Lake Poinsett State Park, said Lake Poinsett is kicking on all cylinders. The bream are biting on worms and Bream Killers.
"We haven't heard a lot of reports on catfish," Seth said, "but I bet they would bite all right in the evenings on live or stink bait."
Crappie, while catch-and-release only, have been tearing up pink and chartreuse jigs. Bass are doing well on crankbaits and shallow-water baits.
Crown Lake
(updated 3-30-2023) Boxhound Marina (870-670-4496) has seen some activity with bass being caught in good numbers and are reported to be healthy "and chunky." They are using a variety of baits, but it tends to lean toward crankbaits or jigs. No bass are on top yet, but they are moving into shallower areas. They've seen some crappie anglers out. The water level is normal and the clarity is dingy.
Spring River
(updated 4-6-2023) Mark Crawford with springriverfliesandguides.com (870-955-8300) said the Spring has been running at 560 cfs (well above the 350 average), and water clarity is stained a cloudy green. There has been a lot of rain over the last month to say the least. The river is up over a foot, making for tougher wading, but with the stocking increased through March and the bad weather, the rainbows have had a chance to build up and have been fun to catch. Really nice sizes, too! And high water is always a good time to chase browns.
With the flow stronger than normal, extra weight is a must to get down. Sink tips or long leaders and split shot will get the fish that are holding the bottom. Olive Woollies, egg patterns and big nymphs with a lot of weight have been working great. A few browns and smallmouth bass have been caught and released that have been heavy fish. Streamer action for the browns and deep slow presentations for the smallies work great when they are on the bite.
The campgrounds have all opened and are getting ready for the summer season. This is a great time to fish the campgrounds before school lets out for the summer. A person could have the river to oneself. The campgrounds have easier wading in most areas and that's a good thing with the higher water flows.
At times the river has had too much rain and turned muddy. Stay tuned to our blog page on our website at springriverfliesandguides.com for the latest river conditions and what the fish are hitting. It takes a lot of rain to flood the river, but it can flood with heavy prolonged rains. Be safe during nasty weather and keep on high ground.
Jim Hinkle Spring River State Fish Hatchery should open this spring after a full renovation. "We are very excited to have the new hatchery completed. Jim Hinkle stocks all of the trout streams in Arkansas and this new hatchery will be a huge asset to our area. Able to raise rainbows and brown trout, it may even be used to raise tiger trout in the future. Gonna be cool! To help support our river, all of us at Spring River Flies and Guides practice catch and release. The hatchery rainbow trout raised at Hinkle fish hatchery are strong and beautiful. We like to watch them grow," he said.
Mark adds, "Be safe wading. This is the time to buy that new wading staff. We all need one."
White River
The Army Corps of Engineers reported Thursday that the White River stage at Batesville was slightly rising at 10.98 feet (flood stage is 15.0 feet). The Newport stage is slightly rising 24.10 feet (flood stage is 26 feet). The stage at Augusta is steady at 32.11 feet, more than 6 feet above flood stage of 26.00 feet.
(updated 4-6-2023) Triangle Sports (870-793-7122) in Batesville said that due to so much rain and the river being so high that anglers are staying away from the water, they had no reports.
---
Arkansas River (Pine Bluff Pool)
On Thursday, the Corps of Engineers said water flow at the Emmett Sanders Lock and Dam at Pine Bluff was 75,262 cfs. Further upstream, the flow at the Maynard Lock and Dam was 67,970 cfs.
(updated 4-6-2023) The University of Arkansas at Pine Bluff Bass Fishing Team had no report this week.
---
Millwood Lake
As of Thursday, the Army Corps of Engineers reports the lake's elevation was 259.66 feet msl (normal pool: 259.20 feet msl; top flood elevation is 287.0 feet msl). Total hourly outflow at the dam is still very high; at midday it was 17,767 cfs, which is steady for the past few days, peaking at 19,581 cfs very early Wednesday morning.
(updated 4-6-2023) Mike Siefert at Millwood Lake Guide Service said that as of Tuesday Millwood had fallen a few inches over the past few days and clarity had improved from muddy to heavy stain in most locations. Up Little River near Cossatot inflow from Wilton Landing to McGuire oxbow remains muddy. There is high river flow rate and current. Millwood as of Tuesday was almost 5 inches above normal pool and falling after a big rise due to the recent storms. Millwood Lake tailwater elevation is still almost 17 feet above normal but falling with gate discharge at the dam near 15,000 cfs in Little River, according to the Army Corps of Engineers. Check the most recent lake level of Millwood Lake on the guide service's website linked above, or the Army Corps of Engineers website, for updated gate release changes and inflow rates. Watch for random floaters and broken timber during any navigation on Little River and Millwood Lake.
Surface temps are stable this week, ranging 59-68 degrees depending on location and the time of day. Clarity along Little River stained to muddy in many locations, and much worse further up Little River with river clarity ranging 3-5 inches visibility depending on location. Clarity of oxbows will vary widely from heavy stain, visibility 5-7 inches up to 3 feet visibility in a few locations away from river flow. Further up Little River near White Cliffs and Wilton Landing has heavier stain and muddy conditions with high current flow. Clarity and visibility can change dramatically on Millwood in just a few hours with high winds, gate discharge, rain or thunderstorms.
Mike offered these specifics in the fishing for the past few days:
* Largemouth bass have been staging for several weeks near creek channels and dumps into Little River and the oxbows. High river current flow rate conditions in Little River make river fishing somewhat difficult to maintain. Some males from 2-3 pounds were found shallow in 1-3 feet of water on flats near vegetation, and others in 6-9 feet deep creek channels where grass and reeds and fresh lily pad shoots are emerging, on Brazalo Spinnerbaits, lizards, Brush Hogs and Bass Assassins. Over the past couple weeks, largemouths have been randomly feeding in creek channels dumping into Little River. The oxbows continue providing best water clarity, albeit somewhat heavy stain to muddy conditions in many locations. Flats next to deep creeks and secondary points with any fresh grass growth, new lily pad blooms and vegetation will coax a bite on a Chatterbait or square bill on warm and sunny days, mainly in the afternoon. A few chunky 2- and 3-pound male bass were the most aggressive at midday into late afternoon over the past couple weeks, and those fish are showing up randomly near and close to deeper creek channels or ditches through the flats. The best activity from midday to mid-afternoon have been random on Brazalo Spinnerbaits in Spot Remover and Chatterbaits in chartreuse sexy shad, black and blue or white, and seemed as if the Firetiger color spinnerbait worked best in a few of the areas with heavier stain and water color. Bass Assassin Shads, finessing through the new vegetation and lily pad blooms, have picked up a few males in the 2- to 3-pound class. "We are beginning to see males on beds this week, and a few male and female bass have been caught with their tails bloody from fanning beds."
Floating Zoom Trick Worms, Barlow's Salty Rat Tails and the Yum Dingers are beginning to get good reactions. Merthiolate, Firecraw and Pumpkinseed/chartreuse colors were all randomly working in the back of Clear Lake, Horseshoe Lake and McGuire oxbows. Bass Assassin Shads in Pumpkinseed, Salt and Pepper Silver Phantom and Chico's Red Ear have been getting bit near cypress trees and fresh vegetation from both prespawn females and males near bedding areas over the past week. Brazalo Spinnerbaits in Spot Remover or River Shad with red blades were catching some decent prespawn males moving in and out of spawning flats over the past few weeks when the sun was up bright high in the sky and you could see movement in 3-5 feet of depths on the spawning flats.
Brush Hogs and Yum Christie Critters in black/blue and lizards in blackberry or cherry seed were picking up some cruising shallow bass. Big females have been moving into bedding areas along creek channels and ditches over the past week, and near the first vertical drops from the spawning flats to deeper water. "We have been observing a few big fish cruising through shallow grass, reeds and vegetation in bedding areas. Males have been observed making beds in numerous areas in fairly good numbers over the last week, with cold fronts chasing them back and forth from 1- to 3-foot flats back to the creek channels on cold nights. We continue to observe big female bass cruising in 2-4 feet of water near bedding areas, obviously on a mission."
Mud Lake's and Clear Lake's clarity improved slightly over the past few days with reduced current passing through there, but Horseshoe and McGuire oxbows along Little River have had the best water clarity and the most aggressive largemouth and Kentucky (spotted) bass over the past few weeks. "In the back of McGuire oxbow, we were throwing a custom-painted Little John Crankbait in Rayburn Red and a Bill Lewis SB-57 or MR-6 Crankbait in Strawberry Craw, Blood Craw or Red Glitter Craw and picking up a few random bites. One-Knocker Rat-L-Traps in Red Shad, Toledo Gold or Goldfire Craw picked up several chunky, fat male bass on cypress trees and knees in 7-8 feet depth near flats adjacent to spawning locations, but the retrieve had to be slow and deliberate deflecting off wood, stumps and cypress knees.
* White bass continue to bite well. A few large schools of white bass have shown up over the past couple weeks along Little River, and the most and largest schools have been between Cemetery Slough and Cossatot River inflow ditch. Those white bass were ranging 2-3.5 pounds, and continued biting well on Rat-L-Traps, Cordell Hammered Spoons, Bomber Fat Free Shads, Little George Tail-Spinners, Heddon Sonar Metal Blades and Rocket Shads. "We started simply casting the spoons, Sonar blades and Rocket Shads to the school, then ripping it up into the school.
"The current along Little River has continued with high flow rates this week, but the schools of white bass continue migrating up Little River for their annual spawning run. Tail Spinners and Underspins with lead heads like the Little Georges, Little Cleo's and Rocket Shads caught some 2- to 3-pound whites along Little River between Cemetery Slough and Cossatot inflow over the past week. We spoke with two fishermen at Wilton Landing this week, and they have been catching the white bass further upriver near Wilton Landing, Cossatot inflow ditch and Patterson Shoals over the past few days."
* Crappie have been hit or miss with the muddy current in Little River, high wind and lake wind advisories on main lake over the past few days. Best bite was near Saratoga, Beard's Bluff and Millwood State Park on live minnows from 9-14 feet deep in planted brush and PVC pipe attractors. These crappie have begun pulling into the ditches and silted creek channels leading to flats and cypress trees over the past week or so, and are aggressively feeding from 3-6 feet of depth near cypress trees and grass lines.
"We spoke with two crappie fishermen in Horseshoe the other day, and they were catching some nice 2- to 2.5-pound slabs suspended in standing timber from 8 feet deep all the way to the bottom in 15 feet depth. They were having best luck on jigs with the crappie facing the standing timber. We also had good reports of nice crappie from folks camping at Beard's Lake USACE campground and fishing Beards Lake, just below the dam."
* Still no reports on bream or catfish.
Lake Columbia
No reports.
Lake Erling
(updated 4-6-2023) Lake Erling Guide Service (870-904-8546) that the water is running over the spillway after all the rainfall of late. The water clarity is dingy, and the water temperature was 66 degrees before the latest rain and cooler air in the past day.
"We're still catching fish, the crappie are still jumping in the boat. We've got some up on the bank shallow and some out deep," they report.
Some crappie are still full of eggs and haven't spawned while some have finished spawning. They are being caught in 10, 12 and 16 feet depth. The hair-tied jig in gray, silver and white is the jig of choice. Also, crappie are favoring minnows, particularly silver shiners.
Catfish anglers have been catching cats on trotlines, noodles, limblines and rod-and-reel. "They've been catching some really nice flatheads on limblines," they say.
Also, anglers are catching a few redear. "Don't know if they're bedding up or they've found them bunched up out deep, but they're catching some nice bream."
There have been no bass reports.
Lake Greeson Tailwater
For the most updated Narrows Dam generation schedule from SWEPCO, click here.
Lake Greeson
As of Thursday, the Army Corps of Engineers reports the lake's elevation at Narrows Dam was 545.20 feet msl (full pool: 548.00 feet msl).
DeGray Lake
As of Thursday, the Army Corps of Engineers reports the lake's elevation was 405.37 feet msl (full pool: 408.00 feet msl).
(updated 4-6-2023 John Duncan of YoYo Guide Service at Iron Mountain Marina says, "Hello fisher-people, glad to be back. So, here is the latest on fishing (this is all based on Tuesday before the rain):
"The water surface temperature Tuesday was high 60s and you could get in 70-degree water if you got shallow enough. There is still quite a lot of dingy water and trash. Male black crappie were moving into water 4 feet and under. A few females are starting to show up with eggs, also.
"Cover ground. When you find the bedding area, they are usually stacked in. Different techniques work now. Throwing a jig around the edges of cover and bed areas is good; tight-line jigs are killer; and slip bobber and minnows is a proven winner.
"As for black bass, several tournaments lately have had some nice largemouths hitting the scales. Congratulations to our newest guide, Bryce, who finished third at last weekend's tournament. Gosh, they are hitting floating worms, spinnerbaits, jerkbaits, you name it. All over the lake and bedding.
No reports on bream, white bass, hybrids or catfish this week.
"Glad to be back, hope fishing keeps improving. Be courteous to other boaters, be safe, and go get 'em!"
(updated 3-30-2023) AGFC staff fishing here Sunday said the morning bite was slow, but it picked up as the water temperature rose with the nice, sunny weather. The largemouth and spots caught were keeper size but not really big fish – mostly male bass moving up to prepare the spawning beds. The big females are probably out deeper. Spinnerbaits, quarter-ounce Rat-L-Traps and wacky-rigged Senkos were the best presentations. Bass were caught in 1-5 feet of water but closer to the deeper water. The bigger bass are probably holding deeper in those secondary points or in the great new coontail sitting in 9-15 feet of water
In the BLF tournament held here on Saturday, tourney anglers had several five-bass limits of bass beginning to come up the shallower water, but most weren't made up of really big fish. First place was almost 19 pounds, second place was 13 pounds and a large number of anglers were in the 6- to 8-pound range among the five keeper bass. Fishing was good overall, but it was hard getting the big fish.
Sunday, the crappie anglers said they were catching them on the inside edge of those coontail mats sitting in 12 feet of water and they were catching them moving up into shoreline brush anywhere it was flooded. Best success came on curly tail grubs.
Clarity still a little stained in mid-lake and above in the creeks from recent runoff. Near the dam it's a lot clearer. Temperature was 52 degrees at the start, warming to 62 by the end of the day.
(updated 3-30-2023) Capt. Darryl Morris of Family Fishing Trips (501-844-5418) said he has been fishing DeGray, Hamilton and Ouachita lakes in the Hot Springs area frequently and the water temp is perfect for the beginning of the crappie and bass spawn at each. "We've been catching ample numbers of crappie and bass on staging brush piles with jigs and minnows fished 6-12 feet deep."
(updated 3-23-2023) Randy Plyler with Plyler Outdoors Guide Service (870-210-0522) said bass fishing has been up and down this past week with the weather changing from cold to warm conditions. Lake level is at 405.65 feet msl and falling. Bass are being caught on a Carolina rig as well as jerkbaits and spinnerbaits. Crappie are moving up to shallower brush piles and can be caught on jigs and live bait. White bass are still running upriver and can be caught on a variety of baits. No report for hybrids.
---
White Oak Lake Area
No reports.
---
Lake Catherine Tailwater (Below Carpenter Dam)
For weekly flow releases from Carpenter Dam, visit www.entergy.com/hydro
(updated 4-6-2023) Shane Goodner, owner of Catch'em All Guide Service, reports that water temperature below the dam is 55 degrees with stained conditions in the tailrace. Very heavy generation has been the norm for weeks, with both generators running huge amounts of water through the system to keep area lakes at normal summertime pool. Flood gates have been opened and closed in an effort to bring Lake Ouachita down out of flood pool. Weekly storms have forced Entergy to schedule heavy generation below all area dams to keep lakes stabilized. Little productive fishing has been seen in the tailrace under these adverse conditions and this scenario has continued since mid-January. Anglers should plan on staying off the water below Carpenter Dam until area lakes are safe to navigate and conditions return to normal. The public is urged to use extreme caution when visiting the Carpenter Dam use area during this time. Numerous rocks and shallow sandbars dot the area, creating treacherous boating and wading. The weekly generation report is posted every Wednesday evening on the Entergy website under Hydro-Operations.
The trout stocking program has proceeded as scheduled, so thousands of rainbow trout are in the tailrace and can be caught when safe conditions allow bank and boat anglers to access the lake. Lake Catherine has now been refilled to normal summertime pool, but is dangerous due to heavy flow from Carpenter Dam. Near zero walleye and trout have been taken in the tailrace due to the treacherous bank and boat conditions.
The following techniques will produce results when fishing is once again safe to engage:
San Juan worms in hot pink give trout a visible prey item in the murky conditions. Trout key in on the shad kill as these baitfish are drawn through the turbines and scattered throughout the tailrace area. Flies that imitate injured shad will draw immediate strikes from hungry rainbows. Spin-fishermen using PowerBaits and lures that represent fleeing crayfish will also catch trout in search of prey. Excellent angling opportunities are on the horizon as soon as stable conditions return to Carpenter Dam.
The massive influx of healthy rainbow trout to the lake gives hope for future good fishing.
It is important to note that dramatic drops in temperature greatly affect the trout bite in a negative way. It can take days for a regular bite pattern to resume after a big drop in temperature so anglers need to be aware. More importantly, rising water is the death sentence for quality trout fishing. Regardless of clear or muddy conditions, rising water kills a solid trout bite where consistent action has been the case. All the above information will enable anglers to successfully fish in Lake Catherine as soon as Lake Ouachita falls down out of flood pool and the need for heavy generation and open flood gates subsides.
Always follow all park and lake regulations when visiting the Carpenter Dam use area and be aware of lake conditions before planning a day on the water.
Lake Dardanelle
As of Thursday midday, the Army Corps of Engineers reports the lake's flow at Dardanelle Lock and Dam as 22,265 cfs. Elevation was 337.70 feet msl and the tailwater was at 287.16 feet msl. (Top navigation pool is 338.2 and bottom pool is 336.0.) The stage was at dropping at 7.72 feet, or down almost 4 feet in 24 hours, as of Thursday noon (flood stage is 32 feet).
(updated 3-30-2023) Charles Morrison at Classic Catch Guide Service (479-647-9945) said the river is still pretty dirty, but clearing slowly and falling slowly. Creeks are beginning to clear, with temperature around 57 degrees in the morning this week. Some of the backwater is up to 66-67 degrees. The protected pockets are reaching 70 degrees.
We started seeing beds Tuesday in the protected pockets. The bass spawn has started. The bait of choice has been black-and-blue jigs with a bamboozie trailer in cobalt blue. Black-and-blue Chatterbaits have been working well, also. Some people have been catching bass on spinnerbaits "but I have not been able to get that accomplished. Green pumpkin with a little chartreuse. with a Falcon Lake Rage Bug trailer. Baby Brush Hogs have been working well also in the color purple with blue flake. And green pumpkin with a little orange on its legs.
Crappie are kind of scattered; some are still deep, with some extremely shallow. I have noticed the creeks with a lot of stumps have the crappie up pretty shallow on the stumps. But in places that don't have stumps and they have brush, the crappie could be as deep as 10 feet, but we're seeing a lot of them suspended in the trees at 5 feet. In the deep creek, some of the crappie are down as deep as 20 feet. Monkey Milk has been working excellently. Black/chartreuse, chartreuse, Cajun Cricket, Electric Chicken, have also been working often.
White bass has been pretty thick in some of the creeks. You can catch them on spoons, white jigs and small crankbaits. Blue back/chartreuse has been working well. Stripers are being caught with swimbaits, Rat-L-Traps, spoons and bucktail jigs.
Blue catfish have been biting well on cut perch and cut skipjack. with the channel cats doing well on nightcrawlers and crickets. Flatheads have been doing well on sunfish.
Lake Hamilton
(updated 3-30-2023) Capt. Darryl Morris of Family Fishing Trips (501-844-5418) said for all the lakes he fishes in the Hot Springs area – DeGray, Hamilton and Ouachita – the water temp is perfect for the beginning of the crappie and bass spawn. "We've been catching ample numbers of crappie and bass on staging brush piles with jigs and minnows fished 6-12 feet deep."
Lake Nimrod
As of noon Thursday, the Army Corps of Engineers reports the lake's elevation was 19.3 feet high at 364.42 feet msl (normal pool: 343.71 feet msl; top flood elevation is 373.0 feet msl).
(updated 4-6-2023) Andrews Bait Shop and More (479-272-4025) says anglers are catching catfish down below the dam on liver or shad. Anglers are catching crappie 8-10 feet using minnows. Boaters can still launch Carden Point. They haven't heard anything on black bass.
Below the dam, the tailwater is at 314 feet msl.
Lake Ouachita
As of Thursday, the Army Corps of Engineers reports the lake's elevation at Blakely Dam was 577.76 feet msl (full pool: 578.00 feet msl).
(updated 4-6-2023) Capt. Darryl Morris of Family Fishing Trips (501-844-5418) said the crappie spawn is on at Lake Ouachita. Black crappie are on beds and the white crappie are moving in. Fishing tight to the banks can be tough but fishing the staging brush piles near good spawning banks in 12-20 feet of water fished with minnow or jigs 6-12 feet deep will produce ample numbers.
Spotted bass are doing much the same thing.
(updated 4-6-2023) Todd Gadberry at Mountain Harbor Resort and Spa (870-867-2191/800-832-2276 out-of-state) said black bass are still very good. Senko, Zoom Dinger, floating worm, jerkbait and Carolina rig are "go-to" baits right now. It's still that time! For walleye, shallow running crankbaits and jerkbaits are working for these fish. Try main river/lake channel points for these tasty rascals. Stripers are very good. These fish are up the river channels and can be caught on jerkbaits, Alabama rigs and topwater C-10 redfins. Bream are slow, but picking up a little. Try a cricket or worm near brush in the 20-25 depth range for a quality bite. Crappie are fair and still being caught on small jigs or minnows. Try brush and structure 8-15 feet deep. Catfish are fair to good on jugs and trotlines with live or cut bait.
Water temperature has worked its way up to a range of 59-63 degrees. The clarity is clearing. Lake level Thursday was 577.79 feet msl. Call the Mountain Harbor fishing guides (Mike Wurm, 501-622-7717, or Chris Darby, 870-867-7822) for more information.
(updated 3-30-2023) Fish 'n Stuff in Sherwood said the lake is high but there are a lot of fish moving up to spawn. Anglers have been catching a lot on Chatterbait covering the water, or a Senko or floating worm up shallow. Also they are flipping a jig in the bushes. And some are even Carolina rigging some of the points, too. Target those secondary points before a spawning flat or the back of the creek where they go spawn.

Blue Mountain Lake
As of Thursday, the Army Corps of Engineers reports the lake's elevation was 411.04 feet msl (full pool: 387.00 feet msl; top flood elevation is 419.0 feet msl).
---
White River/Clarendon Area
The Army Corps of Engineers on Thursday reported the Clarendon gauge is steady 29.23 feet, about a half-foot higher than this time last week, or 3.23 above the flood stage of 26.00 feet.
Horseshoe Lake
(updated 4-6-2023) Kent Williams of Oxbow Guide Service (870-278-7978) had no new reports.
Cook's Lake
(update 4-6-2023) Wil Hafner, facility manager at Cook's Lake Nature Center (501-404-2321), says high water from the White River (more than 2 feet above flood stage at Clarendon) is keeping the lake from officially opening. When the waters recede and allow access to the parking, the dock and ramp, Cook's will open for youth and mobility impaired and up to two guests. Please note the recent change in phone number to the facility as well, listed above.
Note: msl is mean sea level; cfs is cubic feet per second.
---
Recent News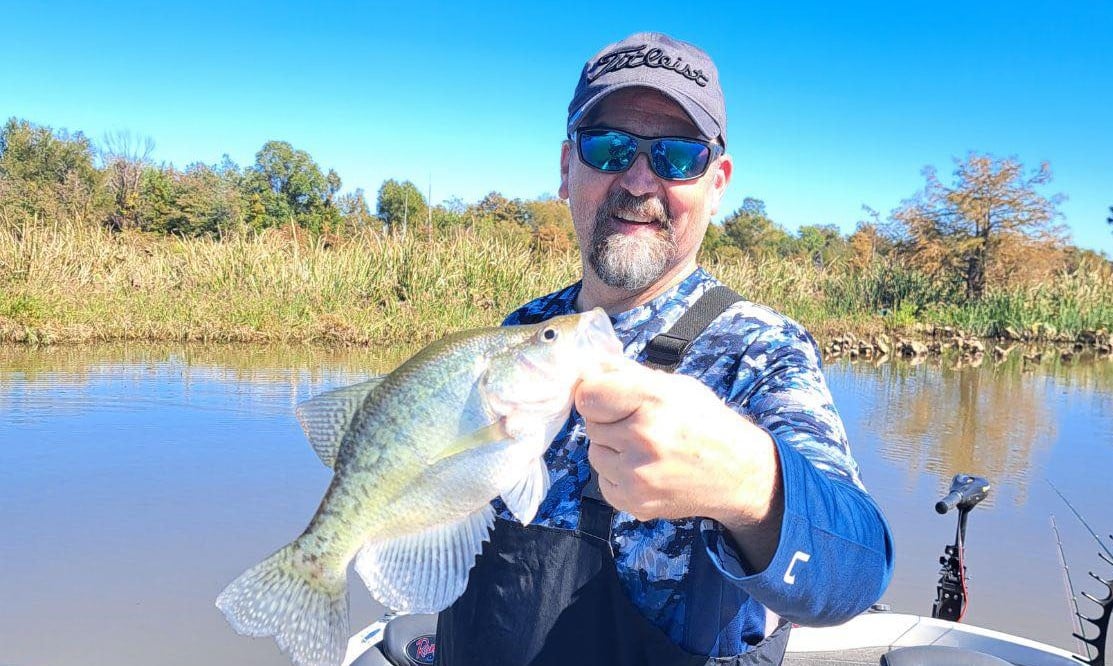 Subscribe to Our Weekly Newsletter E-mails
Don't miss another issue. Sign up now to receive the AGFC Wildlife Weekly Newsletter in your mailbox every Wednesday afternoon (Waterfowl Reports are published weekly during waterfowl season and periodically outside the season). Fishing Reports arrive on Thursdays. Fill in the following fields and hit submit. Thanks, and welcome!