Arkansas Wildlife Weekly Fishing Report
Feb. 9, 2023
Jim Harris

Managing Editor Arkansas Wildlife Magazine
Reports are updated weekly, although some reports may be published for two weeks if updates are not received promptly or if reporters say conditions haven't changed. Contact the reporter for current news for the lake or stream you plan to fish.
---
TOP: Will Heaton caught this nice healthy trout on a chilly day fishing the Spring River in northeast Arkansas with guide Mark Crawford. Trout, smallmouth bass and more are being caught these days on the Spring.
Quick links to regions:
Arkansas River and White River levels are available at: http://water.weather.gov/ahps2/index.php?wfo=lzk
For real-time information on stream flow in Arkansas from the U.S. Geological Survey, visit: http://waterdata.usgs.gov/ar/nwis/rt
For water-quality statistics (including temperature) in many Arkansas streams and lakes, visit: http://waterdata.usgs.gov/ar/nwis/current/?type=quality
Download the Fish Brain app and follow AGFC at: https://join.fishbrain.com/agfc-page
---


Craig D. Campbell Lake Conway Reservoir
Lake Conway is currently in its annual winter pool drawdown from normal seasonal level. For the most up-to-date lake level, visit the U.S. Geological Survey's Lake Conway water level site.
(updated 2-16-2023) Bates Field and Stream (501-470-1846) said similar to last week, things were OK before the big rain hit early Thursday morning, and as of midmorning all the gates were open at the dam. People were still going out Thursday morning and catching a few, but the water is chocolate milk. For time time being, anglers will have to use something bright — something with chartreuse in it, a Mo-Glo, that type of bait. Focus on Gold Creek, where last weekend crappie were at about 6 feet depth, and the Highway 89 bridge area, where crappie were reported earlier this week in 6-8 feet depth. Consider that the muddiness Thursday might have scattered their range, though.
Bass tournaments are starting at area lakes – Lake Conway has a tourney scheduled for the end of the month – and anglers are stopping in to pick up topwater lures, Chatterbaits, buzzbaits, worms, shad-type flukes, creature baits and swimbaits. Catfish had slowed this week after good reports Monday; try nightcrawlers, skipjack, shad, chicken liver and stink bait. People have been fishing for cats under the 89 bridge, Pierce Creek and around Dix, Green and Adams lakes.
Bream are starting to pick up. Redworms and crickets, of course, but also try bucktail jigs, maribou jigs and hair-tied jigs. Anglers seeking bream have been headed to Pierce Creek.
No specific water temperature was available, but it's been ranging 40-50 degrees. Cold nights are still keeping the temp from warming up to spring-like temps.
(updated 2-9-2023) Hatchet Jack's Sports Shop in Crystal Hill off I-40 (501-758-4958) said crappie are still on in the usual places like Gold Creek, but are hit and miss. This rain and all this water, and the rain in the forecast, are going to make things very up and down for a few days, they say.
Little Red River
The Army Corps of Engineers reported the outflow at Greers Ferry Dam to be 6,011 cfs (turbine) as of midday Thursday, where it had been for well over 24 hours. Greers Ferry Lake is 7.6 feet above normal conservation pool. Check with the Army Corps of Engineers website for real-time release data or by calling (501) 362-5150). Also check the Southwestern Power Administration website (swpa.gov) to see forecast generation schedule.
(updated 2-16-2023) Mike Winkler of Little River Fly Fishing Trips (501-507-3688) said Greers Ferry Lake is 7.6 feet above power pool. The Army Corps of Engineers has been releasing water to get the lake down, usually running two generators 24/7. Expect more of the same as far as generation schedule goes. Always check the USACE Little Rock app for the generation schedule before heading out.
Fishing on the Little Red from a boat in high water has been good as far as the streamer bite goes. Try throwing articulated patterns on a sink line toward the bank. "Double Deceiver patterns in yellow or olive have been working best for me," Mike said. "If your looking to drift-fish, try fishing a double-nymph rig and adjust for the depths you are fishing. Sam Juan worms and egg patterns have been working good."
(updated 2-16-2023) Lowell Myers of Sore Lip'em All Guide Service (501-250-0730) has no new updates. He suggests anglers and boaters check before heading to the Little Red River by calling the Corps of Engineers Little Rock District water data system (501-362-5150) for Greers Ferry Dam water release information or check the Corps of Engineers website (swl-wc.usace.army.mil) for real-time water release and the Southwestern Power Administration website (swpa.gov) to see forecasted generation schedule.
(updated 2-9-2023) Fish 'N Stuff (501-834-5733) in Sherwood said similar to the creeks or river up on the north end of Greers Ferry Lake, it's probably going to be the same thing on the Little Red River below the dam after this major rainfall. It will probably be a little blown out right now, but as they move water through the dam it should clear. For now, though, concentrate on throwing bigger baits like a jerkbait or a quarter-ounce spoon. And it would probably be best to use a brighter colored bait like Fire Tiger or something that would stand out in dirtier water. The Corps is running more water than they had been, which will mean more current and probably eliminate most wade fishing opportunities for now. Fishing from the dock at Lindsey's or at Lobo Landing might be the only consistent bank access while there is high water on the river.
Greers Ferry Lake
As of Thursday morning, the Army Corps of Engineers reports the lake's elevation at 469.68 feet msl with little change over the past 24 hours (normal conservation pool: 462.54 feet msl, top flood elevation 487.0 msl).
(updated 2-16-2023) Tommy Cauley of Fishfinder Guide Service (501-940-1318) said the water at Greers Ferry Lake has lots of floaters, stumps and trees and lots of stuff that's dangerous. Be cautious. The lake level is 469.70 feet msl, 7.66 feet above normal for this time of year of 462.04 feet with more rain already here. Lakes and rivers are clearing from the last rain but lots still blow out.
Bass fishing is good all over. Try to stay away from the most stained areas unless you want to fish in that type of water. Try to stay in medium-stained water and throw Wiggle Warts, Rat-L-Traps, spinnerbaits, Alabama rigs or drag a football head or hop a jig off that second drop. Deeper fish can be caught on Carolina rig as well as football head, and remember that this time of year some are right on the shorelin. Some topwater baits are working.
Crappie fishing is great all over, but remember that they have moved with the water now and it's a new puzzle. Fish straight up and down or troll; casting works, also. Use bait, crankbaits, jigs. The river walleye spawners are on the move, for sure, but will eat big crankbaits trolled 15-40 feet. Lake walleye are best with jighead minnows straight up and down or on down-riggers with big cranks down to 50 feet.
Still no reports on bream or catfish. Hybrid and white bass will eat two or three times a day now, or sometimes all day, in 40-80 feet in turns or off of turns in deeper guts. Use hair jigs, spoons, swimbaits, inline spinners or live bait for best results.
(updated 2-9-2023) Fish 'N Stuff (501-834-5733) in Sherwood said the upper part of Greers Ferry Lake, around Devil's Fork and Cherokee and the like, all of that part up in the river is blown out with the major rainfall earlier this week. They suggest concentrating your fishing on the lower end of the lake. And focus that on fishing with a crankbait like a regular Rock Crawler or Wiggle Wart in red color for the bass. Also, with the stained water the Alabama rig bite will be good, just throw an A-rig with bigger blades on it. The swimbait portion should be a white color.
It's hard to tell how the crappie are going to react in the higher current in the upper part of the lake, but on the lower and they are catching crappie in 20-25 feet depth using a natural hair jig in an eight- or sixteenth-ounce size.
The water level is a little high now and rising. The upper portion of the lake will be muddy. On the lower end it will be stained to clear as we move toward the weekend.
Harris Brake Lake
(updated 2-9-2023) Ken Winstead at Whiskers Sporting Goods (501-889-2011) in Perryville says crappie are biting and typical with the water change because of weather, so move around from shallow to deep water – and google luck. It will be hit and miss, but colors working are Monkey Milk, black/chartreuse, Cajun Cricket, Kiwi, Mo-Glo, silver and Blue Ice jigs as well as on an orange/white/Diamond Mist Crappie Magnet. Also, minnows and nightcrawlers will work.
Bream are biting year-round on redworms and crickets, but it's slow now. Bass are biting but it's also slow. Use either a dark color or go with watermelon red or red/blue or grape colors. Also try minnows or a nightcrawler. Catfish are biting, but they are also slow right now. Use liver of all kinds, and there is also a dough bite, as well as minnows and nightcrawlers.
(updated 2-9-2023) Harris Brake Lake Resort (501-889-2745) says crappie are biting well on minnows. They were catching them on the dock fishing the bait in 5 feet depth. The water came up a lot after the rainfall from earlier in the week.
They report that some anglers are arriving as early as 3 a.m. to get to to the crappie, fishing to sunup, while others will be out after the bait shop closes at 5 p.m.
The minnows being fished for crappie were also getting hit by white bass as well, they report.
While the boat dock provides a nice place from which to fish, you'll need a boat to get to the lake's deeper areas to catch largemouth bass. Some bass in the neighborhood of 2 pounds have been brought in this past week. Plastic worms, particularly in watermelon red color, are working best.
The clarity Thursday was "really muddy.
Lake Overcup
(updated 2-9-2023) Lacey Williams at Lakeview Landing on Arkansas Highway 95 (501-252-1437) said late last week that the catfish are big and hungry on the landing. Trotlines are doing well baited with shad or slicks. Get out there deep. Folks have caught plenty to feed the family and more in just a few days. "I saw the biggest catfish I've personally seen get pulled out of here, at 13 pounds. But I know there is much bigger ones. Hopefully I will see one soon. Yall be safe out there and Happy Fishing!" Check out the Lakeview Landing Hwy 95 Facebook page for water temperature and other updates.
Brewer Lake
(update 2-16-2023) David Hall at Dad's Bait Shop (501-289-2210), a 24/7 self-serve bait shop at the lake, had no new reports from the lake.
Lake Maumelle
(updated 2-9-2023) Hatchet Jack's Sports Shop in Crystal Hill off I-40 (501-758-4958) says the water has been very low from their 10-foot drawdown, but a lot of crappie and other fish are going to get active after a big rise in the water. But you've got to find out where they are, and don't expect them to be consistent.
(updated 2-9-2023) WestRock Landing in Roland (501-658-5598) reported that water temperature is in the mid-40s. Lake level is now down 6.5 feet. Ramps are still accessible. Central Arkansas Water will stop drawing down the lake on March 1. CAW has been planning a 10-foot drawdown to eliminate the hydrilla in the lake.
Largemouth bass reports have been good. Reports have the bass being found both in deep water and shallow along rocky points. Some reports say they are deep at 18-22 feet. Anglers should try using Carolina-rigged lizards, crankbaits, spinnerbaits and drop-shots. Kentucky (spotted) bass are good. There have been some reports of them being found near drop-offs around 16-20 feet and off rocky banks. Other reports have come of them being found on brush piles. Try using a Texas rige on the brush, or fish with jigs. No reports of white bass, crappie, bream or catfish.
Arkansas River at Morrilton
As of Thursday, the Corps of Engineers said water flow at the Ormond Lock and Dam was 72,106 cfs. The stage at Morrilton was down almost 10 feet from this time a week ago, to 17.08 feet (flood stage is 30 feet). Flow further upriver at Dardanelle Lock and Dam the flow was 65,673 cfs.
Little Maumelle River
(updated 2-16-2023) Ray Hudson at River Valley Marina (501-517-1250) said that crappie had moved into about 5 feet of water and the bite was excellent right up into the latest (Thursday morning) rain. "Not sure how much water is coming down and whether that will mess it up for a day or two," he said. "But before this came, the bite was just excellent." Minnows and jigs are working. Anglers are catching them early in the morning and late in the evening.
One group of bass anglers had been catching "a bunch of bass" way up in the Little Maumelle. Ray didn't get their baits of choice, but he says that this time of year the best bass fishing is on crankbaits and maybe a jig.
Rod-and-reel fishing for catfish and bream isn't going on right now, but some yo-yos baited with minnows caught some crappie, he said.
The water clarity is kind of stained, he says, and is flowing just a little bit. "Unless (the Army Corps of Engineers at the dam) slows it down it should clear up in a couple of days."
Arkansas River (Maumelle Pool)
On Thursday, the Corps of Engineers said water flow at the Toad Suck Lock and Dam was 90,185 cfs.
Arkansas River (Little Rock Area Pools)
On Thursday, the Corps of Engineers said water flow at the Murray Lock and Dam was 100,222 cfs. The elevation is 248.66 feet msl. The stage in the Little Rock pool was at 8.54 feet, down about 3 feet from this time a week ago (flood stage is 25 feet). Flow at the Terry Lock and Dam was 0 cfs.
(updated 2-9-2023) Fish 'N Stuff (501-834-5733) says that with the area receiving a bunch of rainfall this week, it really jumped the river up and the current is well into that "boating advisory" level as of Thursday. It was at about 150,000 cfs at midday Thursday and they recommend staying off the river until the current coimes down. Better to stay safe and fish another day. "It's moving."
(updated 2-9-2023) Hatchet Jack's Sports Shop in Crystal Hill off I-40 (501-758-4958) said even with high flow you can fish the bank, and if you can figure out where the fish are, you can have success. Anything shad-like will be a great bait now. White bass, hybrid bass and striped bass will be catching all the knocked-around bait fish stunned in this water. They will be feeding. The catfish will be burying in their holes and then will come out and be feeding. "The water is going to be so high, you have to know where the holes are to catch these guys. Once it hits a peak and starters to fall, the fish will scatter more. It's going to be very up and down but if you can find them, you can do really well."
Clear Lake (off Arkansas River-Little Rock Pool)
(updated 2-16-2023) McSwain Sports Center (501-945-2471) has not heard any reports from the lake or from the lower LR pool or beyond Terry Lock and Dam this week.
White River
(updated 2-16-2023) Dave McCulley, owner of Jenkins Fishing Service in Calico Rock, said the storms last week dumped a lot of rain into the Buffalo River Valley and Bull Shoals and Norfork lakes. As a result, by lats Thursday the river reached 17 feet and was very muddy. During the muddy conditions the trout moved into the creeks where they could find cleaner water and feed on the worms, etc., being washed down. By Sunday the water cleared up enough for the fish to move out of the creeks. The river has remained over 8 feet since the rain (this report arrived before this Thursday's latest rain).
Fishing has been difficult this week as the river and fish stabilize, but silver-colored inline spinners with bright-colored Power Eggs with shrimp worked best. Because of the higher water depths, there was minimal success using lures.
(updated 2-16-2023) Cotter Trout Dock (870-435-6525) said White River anglers in Cotter have had a myriad of water conditions this week; they've been treated to a little bit of high water and some low water; they've fished on very cold, sunny days and caught trout on wet, rainy days; they've had an opportunity to lay their line in dingy water or the more usual crystal clear White River water. Conditions change, but what never changes is the thrill of trout catching here in The Natural State Ozark territory.
The lake level on Bull Shoals Lake has been rising with the recent rains and we are now just a little above power pool. Average generation this week was around two units (6,000 cfs) but with the high lake level the Army Corps of Engineers and Southwestern Power Administration will be releasing more water – Wednesday we were seeing seeing about three units (9,000 cfs). The lake level was 661.09 msl, 2 feet over seasonal power pool.
Catching trout is always a good experience given most any circumstance, and the anglers succeeded in all conditions. Some days required more patience, more trial-and-error experiments with baits; some days were easier with the usual shrimp and scented egg or dough bait combinations. Streamers caused the most sensation for fly-fishers, white and/or ginger-colored with weighted line. Minnows worked best for the brown trout catch with sculpins a close second. Higher water levels call for large jerkbaits such as black back/white bellied Smithwicks played near the bank.
This time of year, white or translucent lures should be part of your armory. "The changing water and weather offer fun challenges. You won't get bored fishing the Cotter waters of the White. Join us."
(updated 2-16-2023) John Berry of Berry Brothers Guide Service said that during the past week, and before Thursday's heavy rains, they had a significant rain event (3 inches in Cotter), warmer temperatures and moderate winds. The lake level at Bull Shoals rose 3.7 feet to rest at 1.9 feet above power pool of 659 feet msl, 34.1 four feet below the top of flood pool. Upstream, Table Rock Lake rose 1.4 feet to rest at 0.9 foot below power pool and 15.1 feet below the top of flood pool. Beaver Lake rose 2.4 feet to rest at 1 foot above power pool or 8.6 feet below the top of flood pool. The White has had no wadable water and moderate flows. Norfork Lake rose 3.1 feet to rest at 2.6 feet above power pool of 553.75 feet msl, 23.6 feet below the top of flood pool. The Norfork tailwater has had less wadable water.
John said, "Streamer season is upon us. The brown trout that have been spawning for the last three months are now working their way back downstream. Anglers are now targeting them by banging the bank with big streamers on sink tip lines.
"On the White, the hot spot has been the state park below Bull Shoals Dam. We have had higher flows that have fished well. The hot flies were Y2Ks, prince nymphs, zebra midges (black with silver wire and silver bead or red with silver wire and silver bead), pheasant tails, copper Johns, pink and cerise San Juan worms, gold ribbed hare's ears and sowbugs. Double-fly nymph rigs have been very effective. My favorite has been a cerise San Juan worm with an orange egg dropper.
John also said, "The weather for the past couple of weeks has been quite challenging for me, my fellow guides and anglers in general. Two weeks ago we had 9 inches of snow. It was a heavy, wet snow that resulted in a lot of downed tree limbs and power outages in the area. That is a lot for a lifelong Southerner. I know those folks in Minneapolis think this is just a light dusting, but this is a lot to me. I had no clients that were interested in fishing here through it, nor was I. So I hunkered down and read a good book.
"It took several days for the roads to clear. About the time it was drivable, my wife, Lori, and I drove to Purina Farms in gray Summit, Missouri, for a dog show. My big Labrador, Ghillie, had a good show and brought home a nice ribbon. About the time we got unpacked we had another winter storm.
"This time it was sleet that turned into a sheet of ice. Once again nothing was moving on my street. What bothered me the most was that the catch-and-release section below Bull Shoals Dam opened that Wednesday after being closed for three months to accommodate the brown trout spawn. I wanted to fish there but was not interested in towing my boat during icy conditions. I hunkered down again to wait out the ice.
"I was seeking better conditions. I am not just a fair-weather fisherman. If I have a client that is not bothered by adverse weather conditions, I am quite willing to guide them in snow, sleet, rain or oppressive cold or heat. I have the best fishing gear available and regularly push the envelope. However, when Lori and I go fishing, we prefer nice weather.
"Our opportunity came last Sunday. The weather forecast was for a high temperature of 62 degrees, sunny skies and no precipitation of any kind. The winds were to be 2-7 mph and the water was low and clear.
"As usual, I hooked the boat to my Suburban and drove to Rim Shoals while Lori walked the dogs. I put two rods in the boat that were still rigged from my last fishing trip. This is my usual procedure. If those flies worked last time, surely they would work again. I launched the boat and was climbing in as Lori drove up. As soon as she was aboard, we cast off.
"We motored upstream and began fishing. The drift was easy. There was enough current to keep us moving and little wind to interfere with the fishing. The bite was slow but we didn't care. It was nice to be there. The sun warmed us and we shucked a layer. I enjoyed watching Lori cast. We ended the day with few fish and no big ones. It was the best day I have had in a long time.
"This is the advantage to living here. We occasionally get those sunny 60-degree days with little or no wind and perfect water in the middle of winter. When we get one, Lori and I jump at the chance to fish it. Life is good!"
Bull Shoals Lake
As of Thursday, the Army Corps of Engineers reported the lake's elevation at 661.14 feet msl (normal conservation pool: 659.00 feet msl; top flood elevation is 695.00 feet msl). By midday Thursday the flow was 10,879 cfs and has ranged 8,068 to 12,071 over the past 24 hours, while tailwater elevation was 455.57 feet. The reported lake elevation at Table Rock Lake was 916.13 feet msl (normal conservation pool: 915.00 feet msl; top flood elevation is 931.0 feet msl).
(updated 2-16-2023) Del Colvin at Bull Shoals Lake Boat Dock said Bull Shoals Lake fishing has been up and down just like the weather. "The rain will most likely give us a good rise," he said. "February typically has some fish moving, spreading out. Some will move shallower under the right conditions and hold on swings points and ledges. Temperature and conditions over the next month will dictate your gameplan and daily success.
"There's hasn't been any noticeable shad kill here in the mid- to lower end. The shad that are holding in the mouths of the creeks and main lake are over 120-150 feet and have been suspended 90-100 feet down. I feel most of the bass have pulled off the deeper shad and holding in the 30-50 feet on ledges, tree tops, bluff ends or points nearby. We're capitalizing on the shad if they come up to feed early or in the evening, or if the stripers or white bass push them up in the column.
"The shad bite video gaming isn't over yet. When they push back in, try a Rapala Jigging Rap or Tater Shad on a Moon Eye. Most the bass are only 25-55 foot over the shad.
"Some fish are already staging early pre-spawn areas in the creeks. The crankbait bite is fair as temps rise. This should improve; warm days with wind and clouds will help. Parallel steeper ledge banks and steeper transition banks, and cover water. A jerkbait on breezy day bluff ends over steeper swings and points will fool a few. The smallmouths are definitely grouping up if you can find them; they are in roaming mode. Been getting bit on a jig or shaky head on the points. Flat, clear and sunny the drop-shot is a player at 30-45 feet You'll have keep moving to find them but when you do there's usually a few. Each day is different so Fish the Conditions."
Del regularly posts new YouTube videos. Visit his YouTube site (Bull Shoals Lake Boat Dock) for more information and tips on fishing Bull Shoals Lake.
Norfork Lake
As of midday Thursday, the Army Corps of Engineers reported the lake's elevation at 556.22 feet msl (normal conservation pool: Sept.-April, 553.75 feet msl; April-Sept. 556.25 feet msl; top flood elevation 580.0 feet msl). Flow below the dam Thursday midday was 3,041 cfs.
(updated 2-16-2023) Steven "Scuba Steve" Street at Blackburn's Resort said the lake level was 556.34 feet msl on Wednesday and had dropped 1½ inches in the last 24 hours with both generators running continuously. The White River at Newport is 24.19 feet and they are doing what they can to drop the lake level. It is up about 3½ feet since the 3-inches-plus rain on Feb 7. There is some debris in the water from Cranfield to the bridges but not bad. The water is clear south of there. The surface water temperature is 49 degrees and has come up a little.
Bass fishing has improved both in the backs of the creeks on crankbaits and on the main lake on grubs on a jighead on steep banks near deep water. Crappie fishing is slow, but a few nice ones are being caught. Trollers are catching a few temperate bass trolling umbrellas through shad but are working hard for them. White bass and walleye are up the river spawning. Overall the fishing is just fair and the lake is clearing.
For a daily fishing report and lake condition go to www.blackburnsresort.com and click on Scuba Steve's Blog.
(updated 2-9-2023) Lou Gabric at Hummingbird Hideaway Resort said t he bite has been pretty good for striped bass as of late. Lots of jigging soft plastics and lead spoons. He said, "I had a much better day of catching fish (Monday). The fish were being a little more aggressive. I didn't get to head out on the lake until 10 a.m., but as luck would have it, the bite was on as soon as I got to the area that I wanted to check out. I could see the birds feeding from a distance, which made me smile really big. I knew what was going on. I stopped the boat and looked at my graph and there were fish all over the place.
"I was in roughly 80 feet of water just outside of a channel swing with fish suspended 20-70 feet down. I started to target the 30-feet-deep fish and found that they wanted to chase my bait today. I dropped my bait down to 50 feet, and when a small school of fish came under me, I would reel up as fast as I could through the middle of the school. I saw a couple fish turn and follow my bait. At about 15 feet down they would attack and then dive! These fish were hybrids, stripers and white bass. I did catch a few fish on a dead stick, meaning no motion at all except for what the boat was doing.
"All species were out there feeding. I got to land a couple of nice largemouth bass, a big 15-inch crappie, a handful of white bass and 4 hybrid stripers. I landed fish on a Bayou Magic Tater Shad with a half-ounce white big eye jighead, as well as a three-quarter-ounce Binks Many Shad white spoon. The fish I was marking at 60 feet or deeper did not want to bite. If you are out looking for striped bass, they will be in an area from East Pigeon to the 101 bridge and/or from the Highway 62 bridge back to the 101 Boat Docks. Find the bait, then make sure you mark a few fish before you start fishing. It does take some looking, but once you find them it is a blast.
"With the rising water level, the largemouth bass bite will become really good. Look for water flowing back in creeks and coves and start casting a Wiggle Wart or a Rock Crawler crankbait into shallow water."
Water temp was 44-46 degrees. The lake is rising with the current rains and sits at 553.5 feet msl. The lake is slightly stained in most areas, but will become more stained in the next day or so. Enjoy Norfork Lake!
Lou posts almost daily on his Facebook page with photos and where the fish are biting and what's biting. Check it out.
Norfork Tailwater
(updated 2-16-2023) John Berry of Berry Brothers Guide Service in Cotter (870-435-2169) said Norfork Lake rose 3.1 feet to rest at 2.6 feet above power pool of 553.75 feet msl, 23.6 feet below the top of flood pool. There has been less wadable water on the Norfork. The most productive flies have been small midge patterns like zebra midges (black or red with silver wire and silver bead). Double-fly nymph rigs have been very effective. Try a small bead-headed nymph (zebra midge, copper John or pheasant tail) suspended 18 inches below a brightly colored San Juan worm (hot fluorescent pink or cerise). John says his favorite rig has been a size 14 pheasant tail nymph and a size 18 ruby midge. The fishing is much better in the morning and late afternoon and tapers off midday.
Dry Run Creek has fished a bit better. Weekends can get a quite crowded. The hot flies have been sowbugs, various colored San Juan worms (worm brown, red, hot fluorescent pink and cerise) and white mop flies. Small orange or peach eggs have been very effective. Carry a large net, as most fish are lost at the net.
Buffalo National River/Crooked Creek
(updated 2-16-2023) John Berry of Berry Brothers Guide Service in Cotter (870-435-2169) said Crooked Creek and the Buffalo River are fishing poorly. With colder temperatures, the smallmouths are much less active. The most effective fly has been a tan and brown Clouser minnow. Carefully check the water level before entering Crooked Creek or the Buffalo River. There are no dams on these streams. They both have large drainages and are prone to flooding during and following any rain event. The water can rise very quickly.
---
Beaver Lake
As of Thursday, the Army Corps of Engineers reports the lake's elevation at 1,121.59 feet msl (normal conservation pool: 1,121.43 feet msl; top flood elevation is 1,130.0 feet msl). There was a 5-hour-plus release of about 3,880 cfs early Thursday morning, and a 12-hour release of similar cfs on Wednesday.
(updated 2-16-2023) Jon Conklin with FishOn Guide Service (479-233-3474) said, "Well, the lake has risen and now sits a tad above normal pools. There is some pretty good stained water from Point 12 down past Hickory but it is clearing daily. Fishing still is fair with the recent rises, which totaled around 2 feet on the lake, scattering fish searching for prespawn staging areas. Stripers have been very hard to locate the last week. My advice is to look for bait, which is my normal response, and fish those areas.
"Walleye are starting to move up the river arms. Water temps are in the mid-40s and climbing to the magic 50-degree mark. When that happens fishing should really see an uptick!
"Crappie are fair/good on brush located on main river channel points and flats. Look in and around 12 to 20 feet. I have heard of some good catfish reports up in the White from some people. Bass should really be pushing up with the warming going on. Good luck and stay safe out on the lake."
Visit Jon's Facebook page for latest updates, FishOn Guide Service Goshen AR.
(updated 2-2-2023) Southtown Sporting Goods (479-443-7148) said the weather is terrible but the fish are biting. You can catch crappie. You just can't get to them. They are selling bait (minnows) for other locations, such as Sequoyah with an old bridge to fish off of. You just have to take into account that nobody can get around much. They received a lot of sleet in the area, and on Thursday they had had no boats come through. "The fish are there if you can get there," they say. "They were catching crappie right up to before the storm hit. We had walleye reports before the storm, up in the river arms. Nothing on white bass. And below the dams we've had some trout fishing. It ought to be good by the weekend." February is typically a low-pressure month for the fish, but fishing tournaments on Beaver Lake will be cranking up in about two weeks, they add.
Beaver Tailwater
(updated 2-16-2023) Guide Austin Kennedy (479-244-0039) said that "fishing this past week has been great! Trout have been biting on Fire Bait and Fire Eggs fished on light terminal tackle. The trout have also been very responsive to 3-inch floating stickbaits being trolled. Some white bass have arrived in the tailwater, but more toward Beaver town. An umbrella rig with white grubs have produced nicely. Some walleye have also started to make the run up into the tailwater as well. Try fishing for them between Beaver town and Holiday Island. Try jigging soft plastics and throwing jerkbaits.
"Looks like we are going to cool down again; get out there and catch some fish. Follow my fishing Facebook page (Busch Mountain Fishing Guide Service) for near daily walleye reports and catches!"
Lake Fayetteville
(updated 2-9-2023) Lake Fayetteville Boat Dock (479-444-3476) said the crappie were doing pretty well Thursday morning. They were small and you had to "put some work in" to get them, but they will bite jigs right now. Black bass are "kind of slow." With the rain and the moon phase, they expect the hear of some bites on catfish this week.
The water is murky from the rain they had this week, but typical of Lake Fayetteville after a rain they usually see the lake clear up in 24 hours or so. They were term it murky to stained for the week leading up to this publication.
---
Lake Charles
(updated 2-16-2023) Shelly Jeffrey at Lake Charles State Park (870-878-6595) said anglers have returned to Lake Charles, particularly for crappie and catfish. Bright-colored jigs are getting fair responses from the crappie. To catch the catfish, try worms or stink bait. Results have been fair. No reports came in on bass or bream. The lake is murky as usual and the water is high. Surface temperature on Monday morning was 48.2 degrees. Best "moon times" for catching fish will be this week, Feb. 17-23, she notes.
Lake Poinsett
(updated 2-16-2023) Seth Boone, the superintendent at Lake Poinsett State Park, reported Lake Poinsett is full with bream and catfish, and they can be caught a regular state limits, according to AGFC. Bream have been biting on nightcrawlers toward the bottom of the lake bed. Try chicken liver for catfish. Bass and crappie are catch-and-release only; a few are being caught on jigs and some live minnows.
Crown Lake
Boxhound Marina (870-670-4496) is closed for the winter and will reopen this month. They are taking reservations on their answering machine for spring.
Spring River
(updated 2-9-2023) Mark Crawford with springriverfliesandguides.com (870-955-8300) said the Spring has been flowing at 355 cfs (nearly average for the Spring) over the last week. Snow and ice melt has kept the river up a bit with good clarity. Rains over the next week may change conditions. Check Mark's blog on his website linked above for the latest water conditions.
This week has had some excellent hatches of caddis and midges. With the good clarity, dries do work on good days. Nymphing and eggs have been good also. A few really nice browns have been landed and safely released, mostly on egg patterns.
A few nice smallies have been caught, but it has been slow on the bite. To catch the smallmouth during the winter, streamers work well with a very slow retrieve. Sculpin and crawfish patterns are the fave.
Be safe wading and be very careful floating the Spring River in the winter. With a very slick river bottom and lots of Class 2 rapids it's not hard to get wet and cold. It's also a great time to have the river to yourself and the trout love the cold weather!
(updated 2-16-2023) John Berry of Berry Brothers Guide Service in Cotter (870-435-2169) said the water level on the Spring River is fishable. "This is a great place to wade fish when they are running water on the White and North Fork rivers." Wear cleated boots and carry a wading staff. There is a lot of bedrock that can get very slick. The hot flies have been olive Woolly Buggers with a bit of flash, cerise and hot pink San Juan worms and Y2Ks.
White River
The Army Corps of Engineers reported Thursday that the White River stage at Batesville had dropped almost 6 feet from this time last week and was at 10.26 feet, almost 5 feet below the flood stage of 15.0 feet. The Newport stage higher than last week's rising water and was at 23.52, but that was almost a half-foot drop from 24 hours earlier (flood stage is 26 feet). The stage at Augusta continue to rise above flood stage to 32.62 feet, more than 6.5 feet above flood stage of 26.00 feet.
(updated 2-16-2022) Triangle Sports (870-793-7122) in Batesville had no reports.
---
Arkansas River (Pine Bluff Pool)
On Thursday, the Corps of Engineers said water flow at the Emmett Sanders Lock and Dam at Pine Bluff was 80,505 cfs. The stage at Pine Bluff is at 31.47 feet and steady (flood stage is 42 feet). Further upstream, the flow at the Maynard Lock and Dam was 77,269 cfs.
(updated 2-16-2023) The University of Arkansas at Pine Bluff Bass Fishing Team had no new report from the river.
Cane Creek Lake
(updated 2-16-2022) Cane Creek State Park had no new reports on the lake.
Lake Monticello
(updated 2-16-2023) After a two-year project of rebuilding the lake habitat by the AGFC while the city of Monticello rebuild the lake's dam, Lake Monticello is reopened for fishing though the water is still well below what will be full pool when it refills. Lake Monticellos is mostly dependant on rainwater for refilling all of its 1,520 acres, and in late fall it had reached a coverage of almost 500 acres.
All fish that are caught are catch-and-release at this time and the AGFC Fisheries staff rebuilds the predator population and the forage base.
Late in 2022 the AGFC hatchery staff stocked about 180,000 fathead minnows, 111,902 golden shiners, 78,840 bluegill and 82,056 redear sunfish. Florida largemouth bass will be stocked during the summer of 2025. The aforementioned forage and bream species will be stocked again in the fall of 2025, along with black crappie.
---
Millwood Lake
As of Thursday, the Army Corps of Engineers reports the lake's elevation was 261.65 feet msl (normal pool: 259.20 feet msl; top flood elevation is 287.0 feet msl). Total hourly outflow at the dam by midday was 26,400 cfs, and in the past two days the floor has been as high as 29,315 cfs before dropping down to the current level.
(updated 2-16-2023) Mike Siefert at Millwood Lake Guide Service said that as of Wednesday, Millwood Lake has risen over 3 feet and was muddy from recent storms. The lake level's rise from recent thunderstorms but was falling Thursday. Clarity is heavy stain to muddy in places this week along Little River, while the main lake is heavily stained/low visibility. Millwood Lake tailwater elevation is near 251 feet msl (almost 25 FEET above normal) and rising with gate discharge at the dam near 29,000 cfs Little River, according to the Army Corps of Engineers. Check the most recent lake level of Millwood Lake on the guide service's website linked above, or at the Army Corps of Engineers website, for updated gate release changes and inflow rates with rising and falling lake levels. Watch for random floaters and broken timber during any navigation on Little River and Millwood Lake with discharge rates and fhigh flow conditions in Little River. Lake elevation and discharge at Millwood Dam can change dramatically in mere hours with thunderstorms and fresh water influx.
Surface temps were stable this week, ranging 48-50 degrees depending on location and the time of day. Clarity along Little River is stained and much worse further up Little River with river clarity ranging 3-5 inches visibility depending on location. Clarity of the oxbows is normal stain, and visibility is about 5-10 inches depending on location. Further up Little River near White Cliffs and Wilton Landing has heavier stain conditions. Clarity and visibility can change dramatically on Millwood in just a few hours with high winds, gate discharge, rain or thunderstorms.
Mike had these specifics on the fishing this week:
* Over the past couple weeks the largemouths and spotted bass (Kentucky bass) have been randomly feeding along Little River and the oxbows with a few warmer days being best days to make a run upriver. Flats next to deep creeks and secondary points with any remaining dead lily pad stems will coax a bite on a Chatterbait or square bill on warm and sunny days, mainly in the afternoon. A few chunky 2- and 3-pound male vass were most aggressive at midday into late afternoon over the past few weeks, and those fish are being found randomly near and close to deeper creek channels. The best bass activity has come from randomly hitting Brazalo spinnerbaits in Spot Remover, Chatterbaits in white, and Rat-L-Traps in natural-colored crawfish browns and oranges or Toledo Gold and Red Chrome, and custom-painted Bent Pole Little John Cranks in Rayburn Red finessed through the dead pad stems. The best water clarity and reaction from chunky bass has left the river and moved to the back of the oxbows where the clarity is somewhat better, away from the current of Little River, although the main lake from Paraloma Trail to mile marker 4 in Little River was fairly clear over the past few days before the thunderstorms.
Mud Lake, Horseshoe and McGuire oxbows along Little River have had the best water clarity and the most aggressive largemouth and spotted bass over the past several weeks. "In the back of McGuire oxbow, we were throwing a custom-painted Little John Crankbait in Rayburn Red, and a Bill Lewis SB-57 or MR-6 crankbait in Strawberry Craw, Blood Craw or Red Glitter Craw and picking up a few random bites. One-Knocker Rat-L-Traps in Red Shad, Toledo Gold, or Goldfire Craw picked up several chunky, fat male bass on cypress trees and knees in 7-8 feet of depth near flats adjacent to spawning locations, but the retrieve had to be slow and with deliberate deflection off wood, stumps and cypress knees. Expect to get hung up, but expect a big fat prespawn female to bust that 1-knocker any minute or the very next cast this time of year."
* White bass continue to bite well. "We continue to find a few large schools over the past couple weeks along Little River above White Cliffs about 2 miles before getting to the mouth of McGuire Lake. Those whites were in large number ranging from 2-3 pounds, and were biting well on Cordell Hammered Spoons, Little George Tail-Spinners, Heddon Sonar Metal Blades, and Rocket Shads. The spoons, Sonar Blades and Rocket Shads seemed to work better by vertical-jigging in the school, letting the blade/spoon drop into the depth zone BELOW the school, then ripping it up, and letting it fall back into the school. The schools were very obvious on your electronics and are migrating up and along Little River. Many different schools continue roaming Little River and have been caught for several weeks, casting or vertical-jigging spoons, along Little River. Tail-Spinner lead heads like the Little Georges, Little Cleos, and Rocket Shads, caught some 2-3 pound whites along Little River between White Cliffs Campground and mouth of McGuire oxbow over the past few weeks. We expect to see greater numbers of large white bass schools running upriver for their annual spawning runs over the next few weeks as the surface temps begin to climb into the low- to mid-50-degree range. Stay tuned; we can't wait for that, and we will be chasing those schools up river!
* Crappie improved the past few weeks, then thunderstorms and lake wind advisories destroyed clarity while discharge along Little River went back to over 30,000 cfs. Now with all the increased thunderstorms this week and increase of discharge at Millwood Dam and gates, it remains to be seen how the crappie will respond over the next week. "As we expected, the lake rose over 3 feet with over 4-6 inch rainfall we had over the past week. Little River turned to chocolate milk again this week with all the inflow, current and gate discharge.
"Best bite for us last week flipped back to jigs from minnows, but they will randomly pick up a few decent bites on sunny days. Bee Lake recently had a few keepers to play with, as long as the wind would let you stay out on the main lake. The best activity was midday, and the crappie were holding 12-15 feet of depth in our planted brush piles."
No reports on bream or catfish.
Lake Columbia
No reports.
Lake Erling
NOTICE: The American Gamebird Research Education and Development Foundation, under recommendation from the Arkansas Game and Fish Commission, is conducting a 5-foot drawdown of Lake Erling in Lafayette County to combat the spread of giant salvinia, a highly invasive aquatic plant species not native to the United States. Giant salvinia, a free-floating South American plant that has become a major threat to fisheries in the southern U.S., was first spotted on a small portion of Lake Erling in 2018. Since that time the AGFC and AGRED, the lake's owner, have worked together to monitor and minimize potential spread of the invasive species through information campaigns. With the recent detection of the plant at nearby Mercer Bayou and the spread of the plant within Erling, AGRED worked with the AGFC to determine a plan that would help combat the aquatic nuisance species. The drawdown will remain in effect until March 1, at which time the 7,000-acre lake will be allowed to refill.
(updated 2-2-2023) Lake Erling Guide Service (870-904-8546) said there is very little ice but lots of water, rising over the spillway. Very you people have been fishing for about a week. Crappie have been caught up in the creeks, but that is all that has been heard. "It will be back to normal in a week or so. Those fish have to eat."
Lake Greeson Tailwater
Visit www.littlemissouriflyfishing.com for a daily update on fishing conditions.
Lake Greeson
As of Thursday, the Army Corps of Engineers reports the lake's elevation at Narrows Dam was 549.95 feet msl (full pool: 548.00 feet msl).
DeGray Lake
As of Thursday, the Army Corps of Engineers reports the lake's elevation was 409.54 feet msl (full pool: 408.00 feet msl).
(updated 2-2-2022) Randy Plyler with Plyler Outdoors Guide Service (870-210-0522) said that there's only been a few folks out here over the course of the last couple weeks on Degray. Some reports say folks are getting bit on green pumpkin jigs in 25 feet of water on ledges. Look for balls of shad and try throwing an Alabama rig. Degray Lake water level is 406.5 feet msl.
De Queen Lake
As of Thursday, the Army Corps of Engineers reports the lake's elevation was 455.90 feet msl (full pool: 437.00 feet msl).
Dierks Lake
As of Thursday, the Army Corps of Engineers reports the lake's elevation was 542.43 feet msl (full pool: 526.00 feet msl).
---
White Oak Lake Area
(update 2-16-2023) Curtis Willingham at River Rat Bait in Camden (870-251-3831) had no new reports.
---
Lake Atkins
(updated 2-16-2023) Donald Ramirez at Lucky Landing (479-641-7615) had no new reports.
Lake Catherine Tailwater (Below Carpenter Dam)
For weekly flow releases from Carpenter Dam, visit www.entergy.com/hydro
(updated 2-16-2023) Shane Goodner, owner of Catch'em All Guide Service, reports that water temperature below the dam is 48 degrees with stained conditions in the tailrace. Very heavy generation has been the norm this past week with both generators running huge amounts of water through the system to keep area lakes at winter drawdown levels. Flood gates remain open to aid in lowering Lake Ouachita out of flood pool. Little productive fishing has been seen in the tailrace under these adverse conditions. Anglers should plan on staying off the water below Carpenter Dam until area lakes are brought back to winter drawdown level and conditions return to normal. This process will take several more weeks as more rain is predicted. The public is urged to use extreme caution when visiting the Carpenter Dam use area during this time.
The 5-foot drawdown creates a dangerous environment when attempting to navigate the tailrace in current or zero flow. Numerous rocks and shallow sandbars dot the area creating treacherous boating and wading. The weekly generation report is posted every Wednesday evening on the Entergy website under Hydro-Operations.
January marked the first big month of rainbow trout stocking with 9,300 fish scheduled for Lake Catherine. February will follow suit with about 12,000 rainbow trout scheduled to be released, which will create a perfect environment for quality trout fishing. Trout now are widely scattered from the bridge to the dam and can be caught in the shoals by fly-fishermen casting micro-jigs in black and white under a strike indicator. A San Juan worm in hot pink gives trout a visible prey item in the murky conditions.
Trout key in on the shad kill this time of year as freezing temperatures stun threadfin shad in Lake Hamilton and these baitfish are drawn through the turbines and scattered throughout the tailrace area. Flies that imitate injured shad will draw immediate strikes from hungry rainbows. Spin fishermen using PowerBaits and lures that represent fleeing crayfish will also catch trout that are searching for prey.
Excellent angling opportunities are on the horizon as soon as stable conditions return to Carpenter Dam dependent on consistent weather fronts. The massive influx of healthy rainbow trout to the lake rejuvenates the tailrace to an earlier scenario of quality fishing. Mid-February marks the beginning of the walleye run for Lake Catherine. Smaller males migrate first into the tailrace to prepare the spawning beds. Larger females soon follow and all will remain in the area for weeks until the spawn is complete. Trolling shallow-running crankbaits that imitate shad or crayfish against the current will draw strikes from spawning walleye and is an excellent method of locating areas where walleye are congregating.
Refilling of the lakes after the 5-foot-winter drawdown will begin somewhere between March 1-8 with the process completed by March 15. It is important to note that dramatic drops in temperature greatly affect the trout bite in a negative way. It can take days for a regular bite pattern to resume after a big drop in temperature, so anglers need to be aware. All the above information will enable anglers to successfully fish in Lake Catherine as soon as Lake Ouachita falls down out of flood pool and the need for heavy generation and open flood gates subsides. As stated earlier, this process is ongoing and is regulated by Entergy on a weekly basis. Always follow all park and lake regulations when visiting the Carpenter Dam use area and be aware of lake conditions before planning a day on the water.
Lake Dardanelle
As of Thursday midday, the Army Corps of Engineers reports the lake's flow at Dardanelle Lock and Dam as 65,673 cfs. Elevation was 337.74 feet msl and the tailwater was at 292.28 feet msl. (Top navigation pool is 338.2 and bottom pool is 336.0.) The stage is at 12.06 feet and rising (flood stage is 32 feet), down by half of last Thursday's reading.
Lake Hamilton
No reports.
Lake Nimrod
As of Friday, the Army Corps of Engineers reports the lake's elevation was at 363.32 feet msl (normal pool: 342.00 feet msl; top flood elevation is 373.0 feet msl).
(updated 2-9-2023) Andrews Bait Shop and More (479-272-4025) said they would have had a nice report for fishing from last week, but then the water came in. "I'd be lying to you if I told y ou you can catch a fish now," they told us, "Nimrod went up 14 foot form yesterday to last night. Best I'd say is stay off the water now." The Corps of Engineers was of Thursday morning was not releasing water because of flooding already going on below the dam at Houston, Andrews reports.
But, there is an available fishing alternative, they add: If you like the yo-yo, Andrews has yo-yos to string up and minnows as bait for blue catfish and crappie. "I know some of the elderly guys with two-man boats and they get out and fill those baskets up this time of year. We have places on the lake you can get in and out. There are boat ramps, but the parks are flooded. And if they are hard-core fisherman and want to fish from the backwaters, they can catch some bass there."
(updated 2-9-2023) Ken Winstead at Whiskers Sporting Goods (501-889-2011) in Perryville says crappie are biting and typical with this week's water changes because of weather and heavy rain. Nimrod rose quickly on Wednesday. So move around from shallow to deep water. The bite will be hit and miss, but make sure to have jigs in Monkey Milk, black/chartreuse, Cajun Cricket, Kiwi, Mo-Glo, silver and Blue Ice colors. Also throw an orange/white/Diamond Mist Crappie Magnet. And don't forget the minnows and nightcrawlers.
Bream are always available but the bite these days is slow. Use redworms or crickets. Fish for black bass now with dark-colored baits or with watermelon red and red or blue shad, as well as with minnows and nightcrawlers. The bite is there but slow. For catfish, use liver, dough bait, minnows and crawlers. Catfish are biting, but like the bass and bream it is slow.
Lake Ouachita
As of Thursday, the Army Corps of Engineers reports the lake's elevation at Blakely Dam was 579.32 feet msl (full pool: 578.00 feet msl).
(updated 2-16-2023) Todd Gadberry at Mountain Harbor Resort and Spa (870-867-2191/800-832-2276 out-of-state) said black bass are very good. Alabama rig, crawfish-colored square-bill crankbait or a PB&J jig were working best. Stripers are good. Bama rig or live bait on main lake points or creek channel mouths on the rivers should be the best spot to find these. Crappie have been good on small jigs or minnows. Try brush 20-35 feet deep. No reports on walleye. Bream are trying to hide from the big fish. Catfish are looking for the bream.
Water temperature is ranging 42-46 degrees. Water clarity is stained. Lake level on Thursday was 579.38 feet msl. Call the Mountain Harbor fishing guides (Mike Wurm, 501-622-7717, or Chris Darby, 870-867-7822) for more information.
(updated 2-9-2022) Capt. Darryl Morris of Family Fishing Trips (501-844-5418) said, "I know it's still cold but the crappie and bass spawn is just around the corner. Everything is still deep but moving up the channels. We are still catching crappie and other bass deep – 25-55 feet deep, but all the fish are going farther toward the river portions of the primary and secondary channels. Watch the water temperature, and as it warms they will begin to move up into shallower water on brush piles. Follow them and have a great season this year. I'll post again when they begin to shallow."
Blue Mountain Lake
As of Friday, the Army Corps of Engineers reports the lake's elevation was 405.44 feet msl (full pool: 387.00 feet msl; top flood elevation is 419.0 feet msl).
(updated 2-9-2023) Hatchet Jack's Sports Shop in Crystal Hill off I-40 (501-758-4958) reports that one of their regulars went to Blue Mountain Lake before this latest rainfall that inundated places, and he reported that for crappie he "just slayed 'em."
"But the amount of rain we've had, the crappie will be out of the flow of the lake, now, in the murky waters, and won't be deep. Anytime lakes like this and other similar lakes come up, they get out of the flow," they said.
---
White River/Clarendon Area
The Army Corps of Engineers on Thursday reported the Clarendon gauge rising slightly at 27.74 feet, above the flood stage of 26.00 feet.
Horseshoe Lake
(updated 2-9-2023) Kent Williams of Oxbow Guide Service (870-278-7978) said the water is clear and at normal level for this time of year. The water temperature is still cold and was ranging 41-44 degrees. The cold water will keep fish in a winter pattern for the time being.
On a side note, during the month of February there will be some commercial fishermen on Horseshoe running nets. If you see a jug floating in the water, they will have a net tied from the jug toward the shore on the pier side. They are only running nets right now on the outside shores. Try to avoid their nets as they are catching buffalo that desperately need to be removed.
The crappie are in a winter pattern and are not overly responsive. Downsize your baits and move SLOW! Fish this week were caught in 20 feet of water and they were 20 feet deep. Dead-sticking with a jig pole was the ticket but it required lots of patience.
"There were no reports on bass from any of the fishermen, but I did notice a couple of folks fishing the shallower water along the riprap banks," Kent said. Also, he heard no reports on catfish or bream.
Cook's Lake
The lake is closed to fishing until spring as it serves as a rest area for migrating waterfowl. Call the center at 870-241-3373 for more information.
Note: msl is mean sea level; cfs is cubic feet per second.
---
Recent News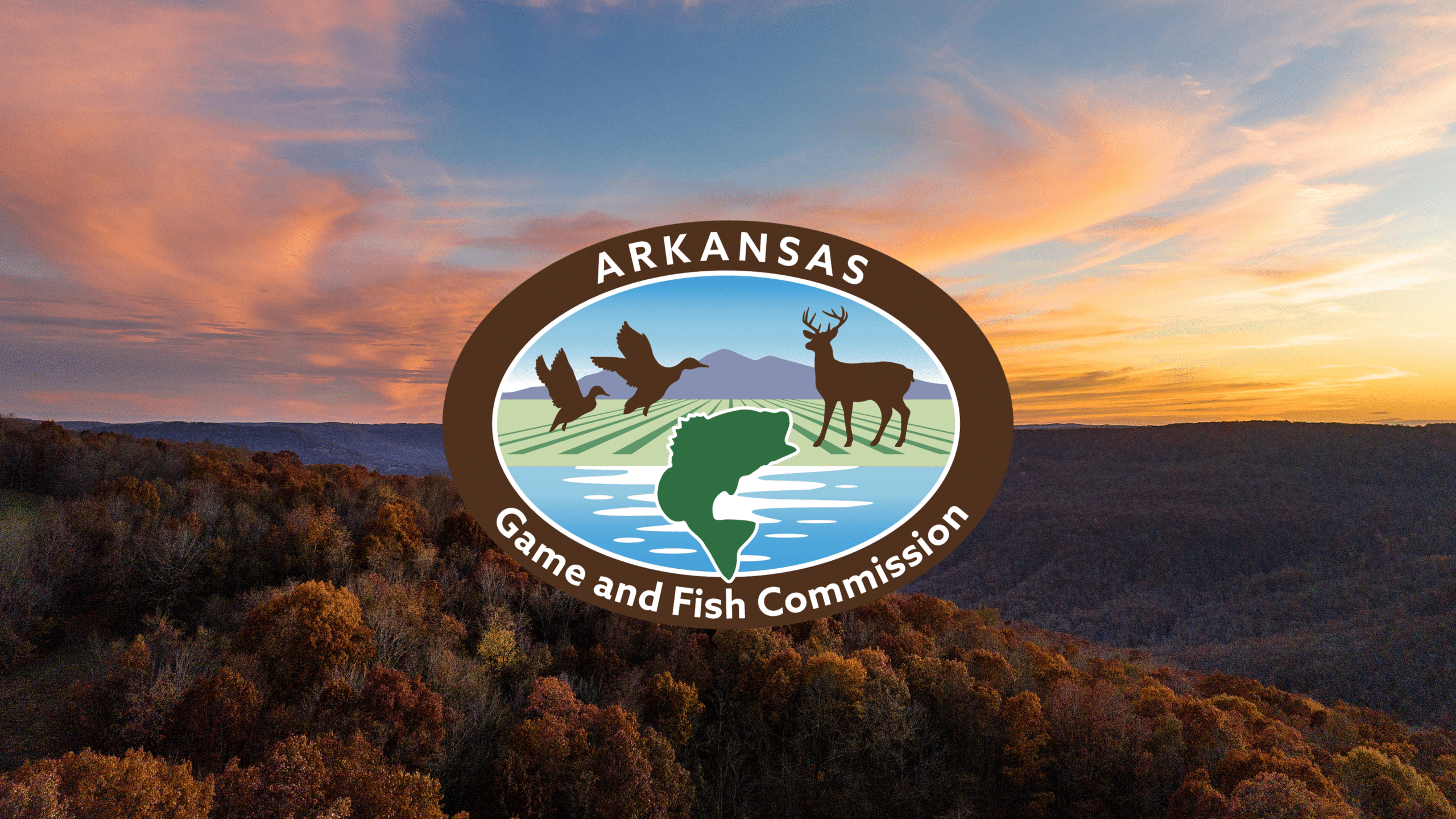 Subscribe to Our Weekly Newsletter E-mails
Don't miss another issue. Sign up now to receive the AGFC Wildlife Weekly Newsletter in your mailbox every Wednesday afternoon (Waterfowl Reports are published weekly during waterfowl season and periodically outside the season). Fishing Reports arrive on Thursdays. Fill in the following fields and hit submit. Thanks, and welcome!