Arkansas Wildlife Weekly Fishing Report
March 17, 2022
Jim Harris

Managing Editor Arkansas Wildlife Magazine
This is the Arkansas Game and Fish Commission's fishing report for March 17, 2022. If there is a body of water you would like included in this report, please email

jim.harris@agfc.ar.gov

with information on possible sources for reports about that lake or river. Reports are updated weekly, although some reports might be published for two weeks if updates are not received promptly or if reporters say conditions haven't changed. Contact the reporter for the lake or stream you plan to fish for current news. Note: msl = mean sea level; cfs = cubic feet per second. All Corps of Engineers lake and river readings were taken at 11 a.m. the day of publication (March 17).


****Buy an Arkansas Fishing License by

clicking here

. Your purchase of a Fishing License helps support the AGFC's work in maintaining the fishing resources throughout the state.
Arkansas River and White River levels are available at: http://water.weather.gov/ahps2/index.php?wfo=lzk
For real-time information on stream flow in Arkansas from the U.S. Geological Survey, visit: http://waterdata.usgs.gov/ar/nwis/rt
For water-quality statistics (including temperature) in many Arkansas streams and lakes, visit: http://waterdata.usgs.gov/ar/nwis/current/?type=quality
---

TOP AND LEFT: Guide Craig Yowell (left in photo) enjoys the celebration as angler Eric Underhill from Colorado holds on to a 34-inch, 25.8-pound brown trout caught in the Bull Shoals Dam tailwater out of Cranor's White River Lodge this past weekend. Yowell says the trout took the bait to the middle of the river, then back to the shoreline for a 7-minute tussle with Underhill. A minnow was used for bait, Yowell said. Photo courtesy of Craig Yowell.


Craig D. Campbell Lake Conway Reservoir
(updated 3-17-2022) Bates Field and Stream (501-470-1846) reported that the lake has its normal Lake Conway stain and water returned to regular pool level. No surface temperature was reported. Bream are good on redworms, crickets or hair-tied jigs. Crappie are good, with best activity in the creeks. Try a minnow or jig and focus around the flats and brushpiles. Black bass are good on spinnerbaits, crankbaits, swimbait or anything resembling a batfish. Also try buzzbaits and Chatterbait. Catfish are good using stink bait, dough bait, trotline minnows or goldfish.
Little Red River
As of Thursday, the Army Corps of Engineers reports the outflow at Greers Ferry Dam to be 6,227 cfs (both turbine and spillway). The tailwater is 276.60 feet msl.

(updated 3-17-2022) Lowell Myers of Sore Lip'em All Guide Service (501-230-0730) said that as of writing this report, they were receiving 12 hours of daily generation beginning early morning. This could change with rain in the forecast. This pattern does provide wading opportunities along all sections of the river and good boating conditions. San Juan worms, pheasant tails, hare's ear and Woolly Buggers for fly-fishing. For Trout Magnet fishing, pink and white-colored bodies on chartreuse or gold jigheads are recommended. Always check before heading to the Little Red River by calling the Army Corps of Engineers Little Rock District water data system (501-362-5150) for Greers Ferry Dam water release information or check the Corps of Engineers website (swl-wc.usace.army.mil) for real-time water release and the Southwestern Power Administration website (swpa.gov) to see forecasted generation schedule.
(updated 3-17-2022) Mike Winkler, who operates Little Red River Guide Service (501-690-9166, 501-507-3688), said Greers Ferry Lake should be at pool as of March 17, according to the Army Corps of Engineers projection. The Corps has been running one generator 24/7 for the last week to get the lake down. Check daily for the generation schedule as it might change.
On Wednesday, the release was two units starting at 8 a.m. and running until 8 p.m.
Pheasant tail nymphs and soft hackles under an indicator set around 4-6 feet deep fished well in the falling water.
A high-water nymph rig has been productive this last week while the Corps of Engineers was running one unit of generation 24/7, fishing various depths between 6-12 feet deep. San Juan worm's and bead-head nymphs have been producing.
Streamer fishing has been good. "Yellow and brown, and olive streamer patterns were the ticket catching and moving fish on a streamer trip I had on Tuesday," Mike said.
Greers Ferry Lake
As of Thursday, the Army Corps of Engineers reports the lake's elevation at 462.34 feet msl (normal conservation pool: 462.04 feet msl, top flood elevation 487.0 msl).
(updated 3-17-2022) Tommy Cauley of Fishfinder Guide Service (501-940-1318) said Thursday that the water level at Greers Ferry Lake is at 462.43 feet msl and falling with generation. It is 0.39 feet above normal pool of 462.04 feet msl. Temps range from the high 40s to mid-50s in places. Crappie are eating sometimes at only 5 feet down over 80 feet, but most are suspended in deep water and some in pole timber and brushpile at 25-40 feet. They can be caught with crankbaits, jigs and minnows. The big push toward bushes is happening by the minute.
Walleye are in all four phases of spawn, but be on the lookout for bluebird days, which are super hard to catch any. Try fishing in as bad of weather as you can for the best bite. Crankbaits, live bait and swimbaits are working.
Black bass are all over from super shallow out to 80 feet, eating crankbaits and Carolina rigs. Lots of suspended fish, as well as lots of big schools of shad floating around up in the water column and also roaming around in the shallows, so bass will follow. Bream are showing up shallow in good numbers that you can see, so lots more are just a little deeper. Crawlers and crickets in 5-20 feet are working. Hybrid and white bass are roaming, some are staying put, and others are around shad wherever they may be, on the bank out to 80 feet. Spoons, inline spinners and Alabama rigs are working. No reports on catfish.
(updated 3-17-2022) Fish 'N Stuff (501-834-5733) in Sherwood said bass are good on medium-diving crankbaits 5-6 feet deep and good on jerkbaits.
Harris Brake Lake
(updated 3-17-2022) Harris Brake Lake Resort (501-889-2745) says the water is slightly stained and still low but on the rise. Bream went back into hiding, no reports this week. Crappie improved this week with good catches. Try minnows or jigs (including the Bobby Garland in Shiny Hiney color). Black bass have decided they're comfortable around the shoreline the past few weeks and are biting well on the typical bass lures. Catfish didn't bite this week.
Lake Overcup
(updated 3-17-2022) Johnny "Catfish" Banks at Overcup Bait Shop and R.V. Park (501-354-9007) off Arkansas Highway 9 says water level is normal and clarity is improving. Surface temperature is around 58 degrees. Bass are doing well in shallow water. Bream have not started yet but should if the weather stays this way. Catfish are starting to be caught on trotlines and yo-yos. Crappie are starting to move up in the buckbrush and brushtops. Males are moving in while the females are still in the deeper water, around 10-12 feet.
Brewer Lake
(update 3-17-2022) David Hall at Dad's Bait Shop (501-289-2210) reports that the lake is slightly stained and at normal level. Bream are fair on redworms and nightcrawlers. Throw around the brushpiles. Crappie are good and have moved shallower. They're being caught in 6-8 feet depth. Minnows and jigs are always a safe bet. Anglers really like the Bobby Garland jigs in Baby Shad, the patriot color and anything chartreuse. Black bass are good on jigs and anything white and spinning. They seem to be biting at 6 feet depth. Catfish are also good. They're on the bottom and biting on anything (live bait, goldfish, etc.), David says.
Dad's is a 24/7 self-serve bait shop.
Lake Maumelle
(updated 3-17-2022) Fish 'N Stuff (501-834-5733) said bass good between 10-20 feet of water on Alabama rigs and on 3.3-size swimbait.
(updated 3-3-2022) WestRock Landing in Roland (501-658-5598) said the water temperature is in the low 50s. The lake is still low (1-2 feet) so be cautious. The largemouth bass bite is good. Some reports of the bass being found inside the grass 4-12 feet early in the morning and going deep after the sun comes out (scattered at all depths). Alabama rigs are working great with swimbaits. Kentucky bass (spots) are fair. Some reports of them being found near drop offs around 16-20 feet and off rocky banks and other reports of them being found on brushpiles. Try using a Texas rig on brush or jigs. Brad Sherrill and Scotty Smith caught an amazing 5-pound stringer of black bass totaling 28.84 on Sunday at the Central Arkansas Bass League tournament. Their catch included the Big Bass of 7.3 pounds. They were fishing deep with Alabama rigs. Sounds like the big bass are on.
No reports on white bass, but that should be just around the corner. Try using swimbaits. Crappie are fair. Reports this week of the crappie being found in the channels around 20 feet deep. They're chasing shad, so if you find the shad they're there. Try using jigs or minnows. No reports on bream or catfish this week. If you seek bream, throw worms. Catfish should take to chicken liver, worms and crayfish.
Arkansas River at Morrilton
On Thursday, the Corps of Engineers said water flow at the Ormond Lock and Dam was 4,015 cfs with a pool elevation of 286.28 feet msl. The stage is at 9.76 feet. Flow further upriver at Dardanelle Lock and Dam was 9,959 cfs.
Little Maumelle River
(updated 3-17-2022) Ray Hudson at River Valley Marina (501-517-1250) said the river is clear and at a normal level. No surface temperature was available. Bream are good. They are still being caught on the bottom on redworms or crickets. Crappie were about to go shallow, Ray says, but the recent cold weather pushed them back into the deep water. Good catches have been made this week on minnows and jigs. Black bass also appeared to be moving shallower but went back deeper with the colder temps. Anglers are finding them in 5-6 feet of water. Crankbaits and Chatterbaits are working best. No reports still on catfish.
Arkansas River (Maumelle Pool)
On Thursday, the Corps of Engineers said water flow at the Toad Suck Lock and Dam was 6.901 cfs with a pool elevation of 265.28 feet msl.
Arkansas River (Little Rock Area Pools)
On Thursday, the Corps of Engineers said water flow at the Murray Lock and Dam was 12,484 cfs, and the stream gauge stage was at 7.52 feet. Pool elevation is 249.26 feet msl. Flow at the Terry Lock and Dam was 13,089 cfs with a pool elevation of 231.15.
(updated 3-17-2022) Fish 'N Stuff (501-834-5733) said bass are good on square bills in 5-8 feet of water and good in the backwaters on white/chartreuse and Spot Remover-colored spinnerbaits.
(updated 3-17-2022) Zimmerman's Exxon (501-944-2527) said crappie fishing has been really good in the pool. The crappie are moving up in the backwaters around Willow Beach and White Oak Bayou and being caught on Crappie Magnets in "Heavy D" color. Also, white bass are good below both dams (Terry and Murray) on white shad baits and white grubs. Sauger are good below the dams on black and pink crappie jigs
Catfish are fair on cut shad below the dams.
(updated 3-17-2022) Hatchet Jack's Sports Shop at Crystal Hill (501-758-4958) said catfish are full of shad on the river.
Clear Lake (off Arkansas River-Little Rock Pool)
(updated 3-17-2022) McSwain Sports Center (501-945-2471) said crappie are biting well on minnows and jigs. No other species was reported.
Peckerwood Lake
(update 3-17-2022) Donna Mulherin at Herman's Landing (870-241-3731) said that the repaired gate is "looking a lot better, but not officially fixed yet." There is some fishing going on around the maintenance work, though. Crappie are fair on minnows and jigs. No other reports. The lake level is low but no stumps are showing.
---
White River
(updated 3-17-2022) Cotter Trout Dock (870-435-6525) said, "Spring break has sprung and the fishing community is welcoming lots of visiting families to the beautiful Arkansas Ozarks for terrific trout fishing on the White. We're reeling in a whole lot of good browns and a few trophy-sized rainbow trout this week, including a 22-inch golden rainbow (Wednesday) morning."
Bull Shoals Lake has reached desired power pool level, now sitting at 658.59 feet msl – a decrease in output from the dam is anticipated as the lake continues to drop. Generation from Bull Shoals Dam has stayed steady at around three units (9,000-11,000 cfs). Minnows and sculpin have still been standout baits for the browns, along with blue-backed, orange-bellied Smithwick and Rebel lures. "We've seen several larger-than-20-inch rainbows caught and released this week. Some were caught on sculpin and some on the tried-and-true shrimp/PowerBait combo; try yellow or orange eggs first."
Best bait this week was the red/gold hammered Thomas Buoyant Spoon, followed by the gold Cleo (quarter-ounce).
Continued high water means that weighted line is popular for most fly-fishing, or waiting for a glimpse of the sun to do some quick dry fly-fishing has been the way to go. Won't be long before the crawdads poke their heads out, so Rebel Wee Craws and crawfish will attract attention. "We're seeing some greening on the bluffs across from Cotter – just in time for the "wearin' o' the green", St. Patrick's Day. Enjoy the season and come visit us on the river."
(updated 3-17-2022) Dave McCulley, owner of Jenkins Fishing Service in Calico Rock, said the river conditions have stabilized this last week with clear water and depths between 7-9 feet. The weather has been great, other than the snow Friday afternoon and the frigid temperatures Saturday. The warmer weather means spring break is here and it has been great seeing a lot of younger anglers with their parents on the river whether with a guide, private boat, boat rental or fishing on the bank. The fish have been cooperating, creating a lot of smiles on many faces and lifetime memories.
Bright-colored Power Eggs with or without shrimp or corn or worms worked well this week, and there has been success with adding inline spinners. When it is cloudy, try using a silver-colored spinner, and when it is sunny, try a gold-colored spinner. Rapala Countdowns (gold and rainbow trout colors have worked best) have been successful as have Shad Raps and Little Cleo spoons.
(updated 3-17-2022) John Berry of Berry Brothers Guide Service said that during the past week they had snow (about 2 inches in Cotter), frigid temperatures and heavy winds. The lake level at Bull Shoals fell 0.3 foot to rest at 0.3 foot below power pool of 659 feet msl. This is 36.3 feet below the top of flood pool. Upstream, Table Rock Lake fell 0.8 foot to rest at 0.4 foot below power pool and sixteen and 0.4 feet below the top of flood pool. Beaver Lake fell 0.4 foot to rest at 0.4 foot below power pool or 10 feet below the top of flood pool. The White had no wadable water. Norfork Lake fell 0.8 foot to rest at 0.4 foot below power pool of 553.75 feet msl and 26.6 feet below the top of flood pool. The Norfork tailwater had no wadable water during the day. All of the lakes in the White River system are now below power pool. With the current lake levels, we can expect more wadable water in the future.
The shad kill on the White River at Bull Shoals Dam and on the Norfork tailwater at Norfork Dam is about over. This is a natural phenomenon that occurs occasionally during cold weather and high generation. Use white flies like marabou jigs or mop flies.
Streamer season fishing is upon us. Now that the brown trout spawn is over, they are moving back to their regular locations. It is a good time to target them. Fishing is best with heavy generation. Bang the bank with big streamers on sink tip lines. White is John's current favorite color, he said.
On the White, the hot spot has been the catch-and-release section below Bull Shoals Dam. After opening day, there have been some big browns caught. The hot flies were Y2Ks, prince nymphs, zebra midges (black with silver wire and silver bead or red with silver wire and silver bead), pheasant tails, copper Johns, pink and cerise San Juan worms, gold-ribbed hare's ears and sowbugs. Double-fly nymph rigs have been very effective. Try an orange egg with a size 18 purple zebra midge.
John also said, "One of the most exciting and anticipated times to be fly-fishing on our rivers during the winter is the shad kill. This is a natural phenomenon that occurs when we have very low temperatures and high levels of power generation on our dams. The shad on the lake are killed by low temperatures on the lake and are drawn through the generators in the dams. Some make it through whole and some are chopped up. Both are tempting morsels for the trout below the dam.
"This phenomenon is pretty much impossible to predict. It just happens. It can begin quickly and end just as easily. The tale-tell sign that it is beginning is to see gulls get active just below the dam feeding on the shad coming through. The story goes out quickly. Nearby anglers in the area head toward the dam and call their buddies on cell phones to report the shad kill. Of course, this means that you will generally be fishing high water in cold conditions.
"The shad are white and the flies to imitate them are the same. Since some of the shad are on the surface of the water you will need a floating fly. This is my favorite method as you see big fish come up and take big flies. I use a foam and hackle shad pattern. However many of the shad are below the surface and the fishing on the bottom is often the most productive. You can use a white Woolly Bugger, but I prefer a white mop fly tied on a jig hook because it doesn't hang the bottom.
"I prefer to fish this below Bull Shoals Dam. The catch-and-release section there is home to some very large trout. It probably holds more large trout than any other section of our rivers. In addition, it is closed from fishing from Nov. 1 through Jan. 31 to accommodate the brown trout spawn. It is also much larger than the section below the Norfork Dam, giving more room to maneuver and fish. Even so, this section below Bull Shoals dam can get congested. There was one day recently when there were no less than 17 boats in this section of river. That is crowded.
"As the shad kill goes on, the fish at the top of the river get gorged and the food drifts downstream tempting the trout there. I have caught trout as far downstream as Rim Shoals on shad patterns just after a shad kill. That is 24 miles from Bull Shoals dam.
"I have caught the shad kill on several occasions and done quite well when fishing it. As a result, I always keep several different white shad flies in my boat fly box so that I am always ready for it. You should do the same."
Bull Shoals Lake
As of Thursday, the Army Corps of Engineers reported the lake's elevation at 658.51 feet msl (normal conservation pool: 659.00 feet msl; top flood elevation is 695.00 feet msl). Total outflow from the dam is 11,273 cfs. The reported lake elevation at Table Rock Lake was 914.08 feet msl (normal conservation pool: 915.00 feet msl; top flood elevation is 931.0 feet msl).
(updated 3-17-2022) Del Colvin at Bull Shoals Lake Boat Dock said bass fishing has been fair. Generation has been steady. The deep bite is going away. Shad are moving into the creeks. Graph to look for shad and look for loons. Active diving loons will trigger feeding. Try a Moon Eye Damiki rig and Rapala Jigging Rap. As more fish move up and leave the shad, crawfish are on the menu. Del's found success dragging a jig, shaky head or Ned rig in 10-20 feet secondary points and channel swings. Over the next couple of weeks, key in on areas outside of spawning areas; south facing pockets and creeks with stain are doing a little better. Jerkbait is catching a few around points on bluff ends, shallower brushpiles – a little wind helps. As the temps rise, fish are seeing red. Use a Rock crawler, Wiggle Wart on wind, steeper ledges and nasty rock transitions with stained water and wind. If you find warm stained runoff, use a Chatterbait or square bill. White bass and walleye are staging to spawn. Fish the conditions.
Visit Del's YouTube site (Bull Shoals Lake Boat Dock) for more information and tips on fishing Bull Shoals Lake.
Norfork Lake
As of Thursday, the Army Corps of Engineers reported the lake's elevation at 552.66 feet msl (normal conservation pool: Sept.-April, 553.75 feet msl; April-Sept. 555.75 feet msl; top flood elevation 580.0 feet msl). Total outflow from Norfork Dam is 204 cfs.
(updated 3-17-2022) Steven "Scuba Steve" Street at Blackburn's Resort says the lake level is 552.81 feet msl and has dropped 1.2 inches in the last 24-hours with both generators running about 2/3rds the time. The White River at Newport is 20.27 and dropping but they are still letting out a lot of water. The lake is at a good level now. The surface water temperature was 50-plus degrees Wednesday afternoon and the water is stained a little green and you can see your lure down about 3 feet. "There is some moss on the rocks near the shore that we do not normally have. I see no fish making or on nests yet. The boat traffic is picking up every day now with the warmer weather and spring break. Several fish of most species have moved back into the creeks but some are still on shad in open water depending on the prevailing wind."
Stripers are simulating their spawn and are on their spawning banks near the shore at dark and then move out to deeper water during the day. Fish for walleye on the shadowy banks with a soft plastic in the evening and then switch to a 5-inch stick bait at dusk. You will catch some bass also in the same places. Crappie are on brush but in different places and different places during the day. In the sunshine they are deeper and on cloudy days shallower. "They bite for a few minutes and then quit for a couple of hours. I am staying away from the brush and casting past it and letting the grub or jig sink down into it. They are hitting on the drop at various depths but mostly about 15 feet down and I am catching some very nice ones in the 15- to 16-inch range. White bass have moved back in the major creeks in bays in their normal places for mid-March.
For a daily fishing report and lake condition go to www.blackburnsresort.com and click on Scuba Steve's Blog.
(updated 3-10-2022) Lou Gabric at Hummingbird Hideaway Resort said the bite continues to be good for most species in the lake, especially striped bass, largemouth bass and crappie. "It really surprised me that after the lake temperature dropped about 3 degrees it didn't affect the feeding habits of the fish. What the drop in water temperature did was to make the bait move to other areas of the lake, but not necessarily far away from where they were. The fish will follow the bait.
"Striped bass fishing continues to be strong. Yes, you will need to do some searching, but if you find some bait, I just about guarantee you will find striped bass nearby. The best areas to find these fish have been back in major creeks, deep flats and (Wednesday) I found them in the old river channel in the main lake area. In the creeks, they have been on or very close to the banks first thing in the morning. After the sun gets over the tree line, they seem to concentrate more in the creek channel. Their depth will depend on the depth of the bait. The deeper flats have started to hold more bait in the 40- to 50-foot range. The fish again relate to the depth of the bait. I have found that the stripers seem to be on the flats late morning. The bait that I found today was in the old river channel, which in this area was roughly 70 feet deep. The bait was 20-40 deep and varied. The fish were at the same depths. The striped bass that I found today were in large schools that appeared to be feeding. My bait of choice for the shallower fish, say from the shoreline out to 30 feet down, has been casting a Kastmaster blade-style bait. I do replace the hook with a feathered treble hook. I think that gives it a closer resemblance to an injured live shad, especially if you work it in a twitching motion. I reel back to the boat very slowly, letting it sink more as it is being retrieved. For deeper fish, I have been vertical-jigging with a spoon or a small 3-inch plastic jig with a three-eighth-ounce jighead."
Crappie fishing has also continued to be very good. Of course, crappie is like most species that go through a feeding cycle. If you find them and they are not feeding, you will need to wait them out until they get energetic again or move to the next brushpile. Small spoons or small crappie jigs and, of course, live minnows are all working very well. The best brush has been in 20-25 feet of water and the fish will be on the tops to bury within the brush. You will just need to keep working different depths until you find that magic area.
"I have not done a lot of bass fishing lately, but they do appear to be going shallow. Crankbait, Wiggle Warts, soft plastics and Alabama rigs have all produced some nice fish. As the water temperature continues to rise back in the creeks the fish head back to the warmer water. (Wednesday) I fished a brushpile to see if crappie were there. No crappie, but the brushpile was inhabited by some nice-sized largemouth bass. They loved my Tater Baits Electric Monkey crappie jig. The bass were buried inside of the brush towards the bottom. I can't believe I could pull these beasts out of the brush with 4-pound test."
Norfork Lake surface water temperature is rising very slowly after the 3-degree drop from last weekend's storms. The lake temperature was 48-52 degrees Wednesday morning. The lake level has been stable with a slight drop with intermittent power generation and currently sits at 554.05 feet msl. The lake is clear to stained, depending on where you are at in the lake. "If our current forecast holds true, we have another deep freeze arriving Friday afternoon. I guess I will be out seeing where the bait moved to next Sunday.
"I post almost daily on Facebook. If you want more frequent information please visit and like Hummingbird Hideaway Resort's Facebook page. Happy Fishing and enjoy Norfork Lake."
Norfork Tailwater
(updated 3-17-2022) John Berry of Berry Brothers Guide Service in Cotter (870-435-2169) said Norfork Lake fell 0.8 foot to rest at 0.4 foot below power pool of 553.75 feet msl and 26.6 feet below the top of flood pool. There has been no wadable water on the Norfork during the day and it fished well some days and poorly on others. The most productive flies have been small midge patterns like zebra midges (black or red with silver wire and silver bead). Grasshoppers have produced fish, particularly when used in conjunction with a small nymph dropper (try a size 20 black zebra midge). Double-fly nymph rigs have been very effective. Try a small bead=headed nymph (zebra midge, copper John or pheasant tail) suspended 18 inches below a brightly colored San Juan worm (hot fluorescent pink or cerise). The fishing is much better in the morning and late afternoon and tapers off midday.
Dry Run Creek has fished particularly well. School is back in session (some schools may be in spring break now) and this is a great time to fish it, particularly during the week. Weekends can get a bit crowded. The hot flies have been sowbugs and various colored San Juan worms (worm brown, red, hot fluorescent pink and cerise). Small orange or peach eggs have been very effective. Be sure and carry a large net, as most fish are lost at the net.
Buffalo National River/Crooked Creek
(updated 3-170-2022) John Berry of Berry Brothers Guide Service in Cotter (870-435-2169) said Crooked Creek and the Buffalo River are still navigable. With colder temperatures, the smallmouths are not active. The most effective fly has been a tan and brown Clouser minnow. Carefully check the water level before entering Crooked Creek or the Buffalo River. There are no dams on these streams. They both have large drainages and are prone to flooding during and following any rain event. The water can rise very quickly.
---
Beaver Lake
As of Thursday, the Army Corps of Engineers reports the lake's elevation at 1,119.97 feet msl (normal conservation pool: 1,120.43 feet msl; top flood elevation is 1,130.0 feet msl). Total outflow from Beaver Dam is 3,901 cfs.
(updated 3-17-2022) Jon Conklin with FishOn Guide Service (479-233-3474) said Beaver Lake remains right near normal levels. Water temps are upper 40s. That magic 50-degree mark will filter through the lake soon. Fishing this week started slow with the water temps dropping last week, but with the warming trend, fishing has picked up Tuesday. Striper are finally starting to bite. Look at Prairie Creek around the islands. Also fish will be migrating to the Point 12 area and up the river arms in the next few weeks.
"White bass are still not on yet. I fished all of War Eagle as far as I could go (Tuesday) and couldn't get on them. Big schools I did graph at Camp War Eagle area. Crappie are moving and probably 3-4 weeks away from spawn. Crappie are staging in and around brush in 10 feet of water. Black and chartreuse jigs and anything in a blue/silver and Monkey Milk have worked.
"Bass also picking up on A-rigs and jerkbaits. Walleye have been good to real good depending on the day. They have been caught up the White River from Neil's Bluff up and beyond the Highway 45 bridge. Flicker Shad and Rapalas trolled are getting it done. Enjoy the warmer weather and be safe on the lake."
Visit Jon's Facebook page for latest updates, FishOn Guide Service Goshen AR.
(updated 3-17-2022) Southtown Sporting Goods (479-443-7148) reported Thursday morning that Beaver Lake has cleared and the surface temperature is in the low 50s. Lake level is just slightly below normal pool. Walleye are "real good,: they report, on White and War Eagle arms trolling Flicker Shads and a variety pf plastic lures on jigheads, and with live minnows. Anglers are just starting to catch some white bass are just starting to catch some up the river. Stripers are fair on live bait. No report on bream. Crappie are good using minnows and jigs. They're biting in 10-20 feet of water. Focus on the brushpiles. Black bass are good on crankbaits, jerkbaits, jigs and spoons. No reports on catfish.
Beaver Tailwater
(updated 3-10-2022) Guide Austin Kennedy (479-244-0039) said fishing has been hit and miss this week. With the different weather systems moving in, some days have been hot and others not so much. The trout have been biting well on light terminal tackle fished with various PowerBait. Quarter-ounce spoons have done well on the overcast days. Most trout are being caught between Spider Creek and Parker Bottoms. The walleye bite has been hot as well. Most are being caught jigging live minnows or pulling Flicker Shads. Try hitting the deep areas of the river when looking for these fish. "Looks like we've got more snow headed our way, along with rain. So get out there and catch some fish!"
Visit Austin's fishing Facebook Page (Busch Mountain Fishing Guide Service) for fishing videos and tips on the tailwater.
Lake Fayetteville
(updated 3-17-2022) Lake Fayetteville Boat Dock (479-444-3476) said the lake is murky and at a normal level. Surface water temperature wasn't reported. Bream remain fair, with jigs working this week. Crappie are good; use minnows or jigs. Black bass are good still on crankbaits and worms. No reports on catfish.
Lake Sequoyah
(updated 3-17-2022) Lake Sequoyah Boat Dock (479-444-3475) says that fishing picked up from the previous week. The lake is "pretty clear" and at a normal level. No surface temperature was recorded. Bream are starting the show themselves and anglers saw a fair bite; use redworms. Crappie improved to good this week. They are in 10 feet of water and biting minnows or jigs. Anglers are consistently catching crappie off the old bridge. Black bass also picked up better with good results. Bass are off the shoreline now and were biting minnows and jigs. Still no reports on catfish.
---
Lake Charles
(updated 3-17-2022) Shelly Jeffrey at Lake Charles State Park (870-878-6595) said that after a nice week of fishing for bream, the weather change turned off the fishing this past weekend. She had no reports. Water temperature earlier this week was 51.9 degrees. The lake is its usual murky and remains high.
Lake Poinsett
(updated 3-17-2022) Lake Poinsett is in the process of refilling, but is rainfall dependent. The fishing now is predominantly catch-and-release for bream. They seem to be biting on crickets and worms.
The gate at the dam at Lake Poinsett was closed in late 2020 following the completion of a three-year renovation project, and the lake began to refill. The lake has been undergoing an extensive renovation with a new water control structure, more than 10,000 linear feet of shoreline work, more than 100 habitat structures placed on the lakebed, and nearly 100 trees anchored for fish habitat.
Other forage species that were stocked last year include fathead minnows, golden shiners and threadfin shad. They have been added in huge numbers to the lake to build up the food supply for the predators, which will be stocked this year.

Crown Lake
(updated 3-10-2022) Boxhound Marina (870-670-4496) said anglers are back at it and they've had success. Crappie fishing is good using minnows, jigs and jerkbaits. Black bass are good on spinnerbaits and jerkbaits. No reports on catfish or bream. The lake is murky and the surface temperature is 48 degrees. Water level is normal.
Spring River
(updated 3-3-2022) Mark Crawford with springriverfliesandguides.com (870-955-8300) said water levels have been running at 490 cfs on Tuesday, that is up about a foot above average flow (350 cfs). Ice and rain last week has the river up and clarity has been poor. The area needs to dry up for a while.
We are still catching fish with the White Lightning being the hot fly this week. Y2Ks, olive and brown Woollies have also worked well on other days. It does take extra work to get the fly down. Plenty of blue-wing olives are hatching, but we need better clarity for nymphs.
For spin-fishing, gold and silver spoons or spinners are best in off-clarity water.
"Be very careful wading with the river up. The river is slick on good days, so be safe and go slow. Wading staffs are a must lately.
"Stocking should ramp up in March getting ready for the springtime anglers. In April all of the campgrounds will open for the season. That gives us all many more places to fish."
Visit Mark's blog at springriverfliesandguides.com/blog for the latest updates.
(updated 3-17-2022) John Berry of Berry Brothers Guide Service in Cotter (870-435-2169) said the water level on the Spring River is fishable. This is a great place to wade fish when they are running water on the White and North Fork rivers. Canoe season is over and the canoes are mostly gone. Fish the upper river at the Lassiter Access to avoid them or fish Dam 3 late in the afternoon, after they have left the area. Wear cleated boots and carry a wading staff – there is a lot of bedrock that can get very slick. The hot flies have been olive Woolly Buggers with a bit of flash, cerise and hot pink San Juan worms and Y2Ks.
White River
The Army Corps of Engineers reported Thursday that the White River stage at Batesville was steady at 9.64 feet, about 5 feet below the flood stage of 15.0 feet. The Newport stage stayed up at 19.53 feet, or more than 6 feet below the flood stage of 26.0 feet. The stage at Augusta is steady at 30.88 feet, which is almost 5 feet above the flood stage of 26.00 feet.
(updated 3-3-2022) Triangle Sports (870-793-7122) in Batesville reported that anglers are catching a few walleye. That's the only species reported.
---
Arkansas River (Pine Bluff Pool)
On Thursday, the Corps of Engineers said water flow at the Emmett Sanders Lock and Dam at Pine Bluff was 12,828 cfs. The pool elevation is 196.18 feet msl and the stage at Pine Bluff is 31.11 feet (flood stage is 42 feet). Further upriver at the C.D. Maynard Lock and Dam near Redfield, the flow was 9.764 cfs. The pool elevation is 213.29 feet msl.
(updated 3-17-2022) The University of Arkansas at Pine Bluff Bass Fishing Team had no new reports.
Cane Creek Lake
(updated 3-3-2022) Jeff Shell, the superintendent at Cane Creek State Park, said Cane Creek Lake water temperatures are running in the mid-50s and should be expected to rise. Water clarity is about 1 foot. Crappie are in a prespawn pattern. "We have continued to receive reports that Electric Chicken pattern jigs are producing results," Shell said.
Bass remain in a winter pattern and your best chance is fishing suspended structure. No reports on catfish. "Historically for this time of year they can be found fishing in the lake's deeper areas on trotlines," he said.
Lake Monticello
(updated 3-17-2022) Dam repair work has been completed by the city of Monticello's contractor, while the AGFC has been rebuilding the lake bottom and areas near where the shoreline will be for fish habitat when the lake is refilled, which will mostly be done by rainfall collection. The gates on the dam are closed and the lake refilling is underway, but it is rainfall dependent. Many artificial fish habitat structures have been created and put in place, and the AGFC has pumped several of the small ponds and has added rotenone to those areas for the elimination of unwanted species (i.e. grass carp, yellow bass), before the refilling of the lake began.
Millwood Lake
As of Thursday, the Army Corps of Engineers reports the lake's elevation was 259.72 feet msl (normal pool: 259.20 feet msl; top flood elevation is 287.0 feet msl). Total outflow at the dam is 12,638 cfs.
(updated 3-17-2022) Mike Siefert at Millwood Lake Guide Service said that as of Wednesday, Millwood Lake was 7 inches above normal pool at 259.8 feet msl and falling, and clarity was heavy stain to chocolate milk in a few areas along Little River. Millwood Lake tailwater elevation was near 235 feet msl with gate discharge at the dam around 9,300 cfs in Little River, according to the Army Corps of Engineers Be sure and check the most recent lake level of Millwood Lake on the guide service's website linked above, or at the Corps of Engineers website, for updated gate release changes and inflow rates with rising and falling lake levels. Watch for random floaters and broken timber during any navigation on Little River and Millwood Lake.
Surface temps are stable this week, ranging in 55-61 degrees depending on location and the day. Lots of Little River buoy markers along the main lake channel MAY HAVE MOVED with recent gate changes at the Millwood Dam and high wind but are in process of being replaced by the Corps on Wednesday along main lake channels. Use caution in navigation on main lake river channels where river buoys may be out of channel from recent high wind, or not yet replaced.
Current along Little River stained this week with discharge release at the dam, and river clarity ranging 2-4 inches visibility depending on location. Clarity and visibility of oxbows was 5-10 inches depending on location. Further up Little River near White Cliffs and Wilton Landing has heavier stain/muddy conditions. Be aware of missing or wind driven and moved, river channel buoys along main lake river channel out on the open lake in front of the dam.
Mike offered these specifics on fishing Millwood this week:
* The largemouth bass were hammered this week with thunderstorms, high wind and hail, and were hit and miss. The largemouth prime activity and cycles have been best midday and afternoon. Numerous male bass continue to be found roaming flats from 2-6 feet deep where bedding areas exist, searching out new bedding sites. For the last 2 weeks, these roaming Largemouths have been eager to strike on trick worms, Senkos, salty rat tails, Chatterbaits and Bass Assassin Shads.
The shallow-cruising male largemouth bass we found roaming bedding areas this week, were around 2.5-3 pounds, and fairly spooky in the clearer water areas, continue moving in and out of 2-6 feet deep flats with stumps and grass present near creek channel drops from 4-9 feet deep, near vertical structure. We have coaxed a few to hit a Chatterbait, a Brazalo Spinnerbait in Spot Remover or Chartreuse/white, or a black and blue salty rat tail and Bass Assassins over the past week.
Warmer days with bright skies continue to be best daily conditions. The best locations are near vertical structure and deeper drops with 3-8 feet deep flats in close proximity. Over the past week, Bass were fair on swim jigs with thumper-tail trailers, Chatterbaits, jigs, and heavy thumping 1-Knocker Rat-L-Traps deep in the creek channel outside bends near stumps and standing timber. The best bite of the day for Largemouths, continue during the heat of the day, better on bright, sunny, clear days when water temps will rise a few degrees in mid-day and early afternoons.
Square-bill crankbaits, Chatterbaits and Brazalo Spinnerbaits will randomly connecting with the shallow roaming Bass. Bill Lewis's MR-6, Echo 1.75, and SB-57 crankbaits, in Sneaky Shad, Tennessee Shad, Millwood Magic, and Rayburn Red Craw will draw a few random reactions from the Bass. Anywhere a creek channel runs into the deeper creek bends or vertical structure and drops into the oxbows, where stumps and creek mouths drop, have held some decent sized bass over the past week. The best bite continues during heat of the day from 12pm-3pm.
Cordell or Kastmaster spoons, are finding vertical suspended Bass from 10-15 feet on ledges or deep creek, outside bends, with stumps present.
In addition, lizards have begun getting a fair reaction in the oxbows near bedding areas by males and female bass alike. Best lizard colors for us have been June Bug, Blackberry, black/blue tail, pumpkinseed/chart tail, and white. Southern Pro Flipping Tube or Tournament Tube in Black/Blue tail, Smoke/black/red flake w/ chartreuse dipped tail, Smoke Purple flake w/ chartreuse dip tail, will connect with 2-4lb male Bass, over the past several weeks near dead pad stems, near stumps from 8-10 feet deep in Little River's oxbow lakes and creek channels, upriver, near where creek junctions and on tapering points where they will eventually pull into the creek channels to spawn.
Real Deal Custom Jigs caught a few Largemouth up Little River in McGuire oxbow last week around 3-3.5 pounds, best colors were Texas Craw, Black/Blue/Purple, or Pumpkinseed/chartreuse with a Gene Larew Hog Craw as a trailer.
* The white bass have been staging all along Little River, and heavily schooled up at various creek dumps into Little River for several weeks now. A few nice sized schools of Whites were found near Cemetery Slough, and Black's Branch creek dumps into Little River. Hammered Cordell chrome spoons with a red bucktail, Rocket Shads, Fat Free Shads in Tennessee Shad and Citrus Shad, 1/2oz Rat-L-Traps, Bill Lewis' MR-6 Crankbaits, and Spin Traps in Chrome/Blue, Millwood Magic, Tennessee Shad, and Threadfin Shad colors, all have been working catching Whites, over the past several weeks. We have not yet found the Whites all the way up Little River near Patterson Shoals yet, but it's getting close. We were seeing surface temps in Little River today of 55-60ºF and this is when we have found in years past, for the White Bass Spawn to really fire up. Most years from 55-60ºF is the magic number that the Whites will be ganged up in huge schools at Wilton on State Highway 71 and at the dump of Cossatot River into Little River. We have not been all the way up to Wilton Landing this week to observe if the large schools have made it that far up yet, for their annual spawning run, but warm days this week could be the key to White Bass beginning the spawn run at Patterson Shoals this week or next week!
* Crappie continue to improve this week with the warmer temperatures, and have been stacked up in planted brush piles at 8 feet depths one day and 13 feet deep the next. A few nice 2 to 2.5lb Crappie have been hitting jigs and minnows over the last week. Our Crappie Gurus had a few good days this week (see photos attached above).
* Catfish improved this week with the increase of river current. Best on yo-yo's, and limb lines over the past few weeks set from 8-12 feet deep, and biting good with red worms, cut Buffalo, chicken hearts and livers. Yo-Yo's, and limb lines have been improving for Cats from 4-8 pounds, over the past few weeks, seemed to have the best responses.
Lake Columbia
No reports.
Lake Erling
(updated 3-17-2022) Lake Erling Guide Service (870-904-8546) reports the lake seems to be trying to get clear but is still a little dingy. The lake has risen some but is still 4 feet below normal. Crappie are good in 8-12 feet depth. Use minnows, jigs or hand-tied jigs. Catfish remain excellent on any kind of bait. Catches recently were reported in the 2- to 7-pound range. No reports on bass or bream.
Lake Greeson Tailwater
Visit www.littlemissouriflyfishing.com for a daily update on fishing conditions.
Lake Greeson
As of Thursday, the Army Corps of Engineers reports the lake's elevation at Narrows Dam was 538.81 feet msl (full pool: 548.00 feet msl).
DeGray Lake
As of Thursday, the Army Corps of Engineers reports the lake's elevation was 402.68 feet msl (full pool: 408.00 feet msl).
(updated 3-17-2022) Capt. Darryl Morris of Family Fishing Trips (501-844-5418) said the crappie are moving back up after our little cold snap. "(Wednesday), we caught crappie on brushpiles in 20 feet of water 8-10 feet deep on minnows. By noon, we were catching them 3-4 feet deep over shallow, scattered cover in 8-10 feet of water. Most were all females, so that lets me know the males are scattered in and near the banks looking for the right conditions to make spawning beds."

De Queen Lake
As of Thursday, the Army Corps of Engineers reports the lake's elevation was 440.37 feet msl (full pool: 437.00 feet msl).

Dierks Lake
As of Thursday, the Army Corps of Engineers reports the lake's elevation was 528.04 feet msl (full pool: 526.00 feet msl).
---
White Oak Lake Area
No reports.
---
Lake Atkins
(updated 3-17-2022) Donald Ramirez at Lucky Landing (479-641-7615) said that the lake is clear and the level is normal. No temperature was recorded. Crappie are picking up with good results on minnows and jigs. Black bass also are biting better with good results this week; best results are seen on soft plastic swimbaits. White bass have appeared and anglers are catching good numbers on jigs. No reports on bream or catfish.
Lake Catherine
(updated 3-17-2022) Slycked Back Fishing LLC, producers of the world's finest fishing jigs and fishing products in Hot Springs, reports Lake Catherine water temps right at 50 degrees throughout the lake with water levels still low 12-18 inches, but rising. Water clarity is good but off-color and debris is minimal. "I wish we had a better report but bass are still very slow, especially with the lake levels not where they need to be for spawning bass. The best bet is a lipless craw-colored crankbait or orange Chatter-bait or Alabama rig fished on gravely points on the main channel. The fish are still not transitioned to spawn mode, and they can be very tough to find in in-between depths like they are right now. The good news is we have warmer weather coming! Any day now fish will begin working their way shallow, with the males leading the way.
"The highlight of Catherine right now has to be the walleye! Walleye are still in their winter routine in the deep pockets of the lake (40-plus feet). They are easy to find! Use your electronics to spot the baitfish balls in deep water and drop a white jigging spoon to the bottom and work it. Walleye are laying on the bottom waiting for a wounded baitfish to fall. It really is a fish-in-a-barrel scenario due to depth limitations on Catherine. Keep grinding! The wait is almost over!"
Lake Catherine (Below Carpenter Dam)
For weekly flow releases from Carpenter Dam, visit www.entergy.com/hydro
(updated 3-17-2022) Shane Goodner, owner of Catch'em All Guide Service, reports that water temperature below the dam is 46 degrees with stained conditions in the tailrace. Entergy has completed the refill of lakes Hamilton and Catherine to normal pool from its winter drawdown. Rainbow trout are everywhere in the Carpenter Dam tailrace and thriving in the nutrient-rich waters of Lake Catherine. The AGFC will stock an additional 9,700 rainbow trout in March. It is important to remember that while trout numbers are in the many thousands, the bite can be unpredictable and always subject to rapid change due to weather and lake conditions. A very good bite pattern can disappear in a matter of hours, so anglers should be aware of this potential problem and have an alternative plan of action. Bank anglers should stick to basic patterns of live bait such as waxworms or mealworms fished just off the bottom with a marshmallow floater. Nightcrawlers will also work when cut into 2-inch sections presented in the same manner. PowerBait can save a fishing trip due to the fact that this presentation is designed to capitalize on a trout's inborn instinct to feed on fish eggs. Fly-fishermen casting egg patterns in white or yellow under a strike indicator have caught and released decent numbers of rainbow trout in the tailrace where current is present. Micro-jigs and Woolly Buggers have taken trout over 14 inches, although there has been a huge influx of smaller trout. The San Juan worm in hot pink has accounted for nice catches of trout, especially when the fish are in a slower bite pattern.
White bass have been observed breaking in the early morning hours chasing threadfin shad below the bridge. Casting spinnerbaits and jigs in one-eighth-ounce weights has been the best presentation to catch these fish. Hybrid bass often school alongside white bass and can be caught on the same techniques. Trolling shallow-running crankbaits against the current has been productive catching white bass and hybrids, as well as walleye of around 2 pounds. Walleye thrive in the tailrace as these fish prefer colder water temperatures than other area game fish. The walleye spawn below Carpenter Dam is now in full swing with smaller males being caught in the 1½-pound range. Some larger females have also been taken in the 3- to 4-pound class. The best action has taken place during times of generation.
Finally, it cannot be stressed enough that anglers will experience dramatic changes in bite patterns as cold fronts move in and out of our area. Temperatures can change as much as 30 degrees or more in less than a day. Rapid temperature change shuts down many fish species until consistent weather resumes. Rising and stained water spells the death sentence for quality rainbow trout fishing. Trout despise muddy conditions and often refuse to feed for days and sometimes weeks.
Always wear a life jacket when on the water and continue to follow park rules and regulations. The daily possession limit for rainbow trout is five fish per person. Don't make the mistake of attempting to keep more than the legal limit of any fish species from Arkansas waters. Always have your fishing license up-to-date and be ready to cooperate with our game officials when asked.
Lake Dardanelle
As of Thursday, the Army Corps of Engineers reports the lake's flow at Dardanelle Lock and Dam as 9.959 cfs. Elevation was 337.31 feet msl, with the tailwater at 287.27 feet msl. (Top navigation pool is 338.2 and bottom pool is 336.0.) The stage is falling at 5.89 feet (flood stage is 32 feet).
(updated 3-17-2022) Charles Morrison at Classic Catch Guide Service (479-647-9945) had no report.
Lake Hamilton
(updated 3-17-2022) Greeson Marine, hometown dealer of the Arkansas-born-and-bred Xpress, all-welded aluminum fishing boats in Hot Springs, reports Lake Hamilton's water levels now at full pool after the raising of the lake last week. Water temps remain in the low 50s and water clarity is semi-hazy in all areas. Bass have all started the prespawn and males can be found up shallow near docks or submerged grass (especially bordering the main channel.) Bass are on the verge of spawning, and the smaller males have moved up into the shallows on points especially. Floating worm, spinnerbaits, swim jigs and crankbaits have been getting good action in shallower water. Females have not moved up as of yet, so target deeper areas near shallow water with lipless crankbaits, Alabama rigs and Carolina rigs. If you can get out on the lake after heavy rains that muddy the water, use a chartreuse Chatterbait on shallow sea walls visible structure.
Crappie have been fair over brush plies in 15-35 feet of water. Live pink minnows and white/chartreuse jigs have been doing well depending on the weather. Walleye and hybrid bass have started to move toward creek channels and upriver following the baitfish. Find the baitfish and drop a spoon or Damiki Rig down below the baitfish. No bream or catfish reported.
Use caution on Hamilton. Pleasure boats are beginning to return to the waters for the season.

Lake Nimrod
As of Thursday, the Army Corps of Engineers reports the lake's elevation was 346.55 feet msl (normal pool: 342.00 feet msl; top flood elevation is 373.0 feet msl).
(updated 3-17-2022) Andrews Bait Shop and More (479-272-4025) said Wednesday afternoon that the clarity is murky and the lake level is normal but rising. No surface water temperature was recorded. There were no reports this week on bream. Last week they were scattered and not bedding. Crappie are fair on minnows and jigs. Black bass are fair on spinnerbaits and jigs. Catfishing is all that improved this week, with fair catches.
(updated 3-10-2022) Masterbaiters Bait and Tackle (501-209-6538) on Arkansas Highway 7 outside Hot Springs Village says Nimrod has been hot under the dam on minnows for crappie, as well as up the river. Bass are being caught on Rat-L-Traps, while crappie are about 14 feet on the edge of the channel. "Good luck from Masterbaiters Bait and Tackle, and don't forget to take the kids fishing."
Lake Ouachita
As of Thursday, the Army Corps of Engineers reports the lake's elevation at Blakely Dam was 572.30 feet msl (full pool: 578.00 feet msl).
(updated 3-17-2022) Todd Gadberry at Mountain Harbor Resort and Spa (870-867-2191/800-832-2276 out of state) said black bass are good. Try a lipless crankbait or jerkbait over main lake points for these fish. Floating worm and Carolina-rigging season are soon to break loose! Walleye are up the river channels to spawn. A swim jig or Shad Rap should work to find and catch these fish. Stripers are good and are staging to make their runs up the river channels. Live bait or trolling an Alabama rig should be the best option. Bream are fair on crickets or worms 20-25 feet deep on brush. Crappie are very good on small jigs or minnows. Try brushpiles in the 18-30 foot depth range. No reports on catfish. Water temperature is ranging 52-55 degrees and the clarity is clear. Lake level is 572.12. Call the Mountain Harbor fishing guides (Mike Wurm, 501-622-7717, or Chris Darby, 870-867-7822) for more information.
(updated 3-10-2022) Masterbaiters Bait and Tackle (501-209-6538) on Arkansas Highway 7 outside Hot Springs Village reports that they are still getting good numbers of walleye on crankbaits and nightcrawlers from 40 feet in the trees to rocky points in 20-25 feet. Also look in the grass; also getting some mixed in with the white bass on jigging spoons
Blue Mountain Lake
As of Thursday, the Army Corps of Engineers reports the lake's elevation was 387.65 feet msl (full pool: 384.00 feet msl; top flood elevation is 419.0 feet msl).
No reports.
---
White River/Clarendon Area
The Army Corps of Engineers on Thursday reported the Clarendon gauge was up again from last week to 27.52 feet, about a foot and a half above the flood stage of 26.00 feet.
Horseshoe Lake
(updated 3-17-2022) Kent Williams of Oxbow Guide Service (870-278-7978) said the water temperature in Horseshoe fell with this past week's cold spell and snow. The surface temperature was down to 50.3 degrees at the start of the day on Wednesday.
Crappie are still in a prespawn pattern and are suspended over deeper water. A variety of tactics will work to catch these fish. Right now, spider rigging seems to be the most popular, with others using advanced electronics to target particular fish.
Fish are suspended between 10-18 feet deep. Minnows and jigs are working. Red/white combos or chartreuse/white were good yesterday. If you aren't catching fish, move. The fish are scattered.
"I am starting to see a few bass fishermen working the shorelines once the sun gets on up in the sky around 10 a.m. The shallow areas should be warming enough to move a few in. With the warm days ahead, fish should start to move quickly," Kent says.
No reports on catfish or bream.
Cooks Lake
(updated 3-17-2022) Wil Hafner, facility manager at Potlatch Cooks Lake Nature Center (870-241-3373), said that at the lake, it's the same story, different week. The white White River has been holding steady in the 27-foot range at Clarendon, making fishing inaccessible at Cooks Lake. "We will keep an eye on the water and let everyone know when we plan to reopen," Wil said. "Now is a great time to find some smaller water bodies as they warm up quicker. It should not be too long until the crappie start to pull up shallow."Cook's Lake is a 2-mile long oxbow off of the White River, nestled in the heart of the Dale Bumpers White River National Wildlife Refuge near Casscoe in Arkansas County. This fertile oxbow receives very little fishing pressure due to being used only for education purposes and youth and mobility-impaired fishing. The scenic lake is full of slab crappie, giant bluegills, largemouth bass, and catfish of all species. Under current guidelines, Cook's Lake will be open to fishing during normal business hours Tuesday through Saturday 8 a.m. to 4 p.m., water level pending. Cook's Lake is open to fishing for youths under 16 or mobility-impaired anglers and up to two helpers (who may also fish). Fish from the 140-foot mobility-impaired accessible dock or launch a boat. To comply with current guidelines, please call ahead at least a day in advance to register to fish. Before launching, please check in at the Conservation Education Center, and report back before leaving. For information or unscheduled closures, call the center at 870-241-3373.
Bear Creek Lake/Storm Creek Lake
(updated 3-17-2022) Mississippi River State Park (870-295-4040) had no new reports.
---
Recent News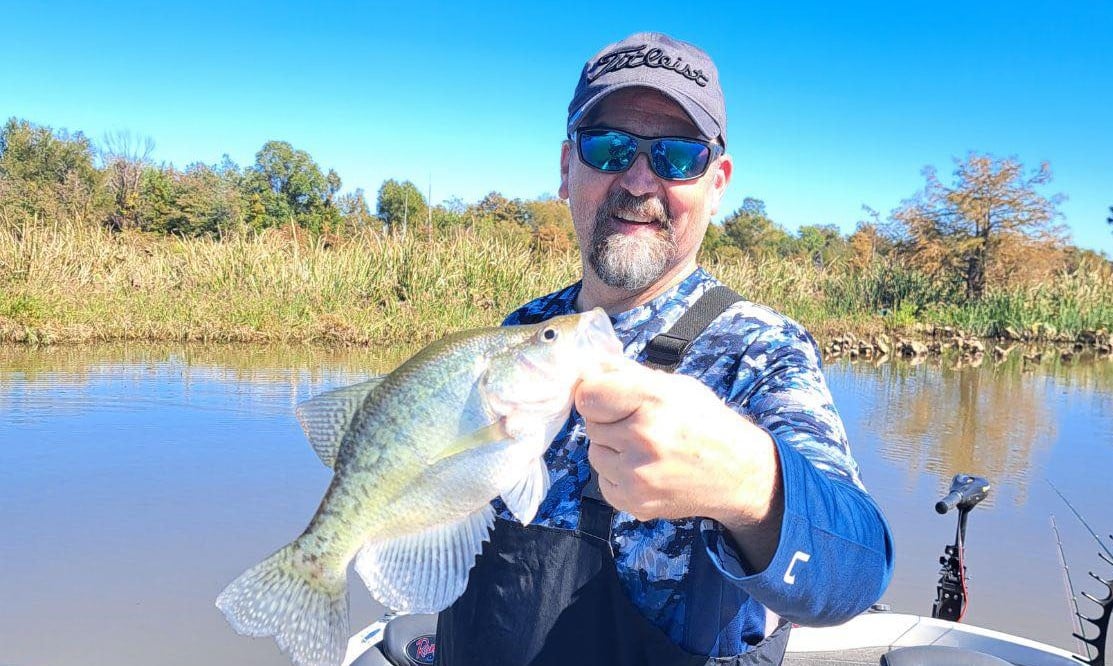 Subscribe to Our Weekly Newsletter E-mails
Don't miss another issue. Sign up now to receive the AGFC Wildlife Weekly Newsletter in your mailbox every Wednesday afternoon (Waterfowl Reports are published weekly during waterfowl season and periodically outside the season). Fishing Reports arrive on Thursdays. Fill in the following fields and hit submit. Thanks, and welcome!