Arkansas Wildlife Weekly Fishing Report
Feb. 24, 2022
Jim Harris

Managing Editor Arkansas Wildlife Magazine
This is the Arkansas Game and Fish Commission's fishing report for Feb. 24, 2022. If there is a body of water you would like included in this report, please email

jim.harris@agfc.ar.gov

with information on possible sources for reports about that lake or river. Reports are updated weekly, although some reports might be published for two weeks if updates are not received promptly or if reporters say conditions haven't changed. Contact the reporter for the lake or stream you plan to fish for current news. Note: msl = mean sea level; cfs = cubic feet per second. All Corps of Engineers lake and river readings were taken at 11 a.m. the day of publication (Feb. 24).


****Buy an Arkansas Fishing License by

clicking here

. Your purchase of a Fishing License helps support the AGFC's work in maintaining the fishing resources throughout the state.
Arkansas River and White River levels are available at: http://water.weather.gov/ahps2/index.php?wfo=lzk
For real-time information on stream flow in Arkansas from the U.S. Geological Survey, visit: http://waterdata.usgs.gov/ar/nwis/rt
For water-quality statistics (including temperature) in many Arkansas streams and lakes, visit: http://waterdata.usgs.gov/ar/nwis/current/?type=quality
---
TOP AND LEFT: Kim Emrich holds two beautiful Beaver Lake walleye that she caught recently while fishing with guide Jon Conklin. The walleye were caught on Flicker Shad in the river arm. Check out more of Jon Conklin's report in this week's news under Northwest Arkansas.
---


Craig D. Campbell Lake Conway Reservoir
(updated 2-24-2022) Bates Field and Stream (501-470-1846) was closed on Thursday because of the weather. No reports. Last week's report: The lake level is teetering between normal and low. Normal Lake Conway stain in clarity. Bream are good on redworms, crickets and hair jigs. Crappie bounced back with good reports as the weather warmed. Try minnows or 1- to 3-inch jigs. Bass fishing is good again. Football jigs were working as well as worms, white swimbaits and Chatterbaits. Catfishing is good. Best baits are stink bait, nightcrawlers, trotline minnows, shad and dough bait.
Little Red River
(updated 2-17-2022) Fish 'N Stuff (501-834-5733) in Sherwood said trout are good on Rooster Tails and Marabou Jigs.
(updated 2-10-2022) Lowell Myers of Sore Lip'em All Guide Service (501-230-0730) said the Army Corps of Engineers has both generators back up and operating at the Greers Ferry Dam. Current generation pattern includes several hours in the morning and additional hours late afternoon. San Juan worms, pheasant tails, hare's ear and Woolly Buggers will work for fly-fishing. For Trout Magnet fishing, pink and white-colored bodies on chartreuse or gold jigheads are recommended. Always check before heading to the Little Red River by calling the Corps of Engineers Little Rock District water data system (501-362-5150) for Greers Ferry Dam water release information or check the Corps of Engineers website (swl-wc.usace.army.mil) for real-time water release and the Southwestern Power Administration website (swpa.gov) to see forecasted generation schedule.
(updated 2-24-2022) Mike Winkler, who operates Little Red River Guide Service (501-690-9166, 501-507-3688), had no new reports.
Greers Ferry Lake
As of Thursday, the Army Corps of Engineers reports the lake's elevation at 463.26 feet msl (normal conservation pool: 462.04 feet msl, top flood elevation 487.0 msl).
(updated 2-24-2022) Tommy Cauley of Fishfinder Guide Service (501-940-1318) said Tuesday the water level at Greers Ferry Lake was at 462.03 feet msl, or 0.01 feet below normal pool of 462.04 feet "and is going to be on a rise after all rain this week. So going into March is more and more change, changing for better and worse, as after cold fronts all species will play new tricks."
Crappie will move up more with warmer water and more rain in the water column. Use jigs, crankbaits or minnows in 12-40 feet. Walleye are moving, setting up and eating at various times. Try trolling big crankbaits, live bait fishing, swimbaits, grubs, spoons from 6 inches to 45 feet.
Black bass are chewing well on cloudy days, and some sunny days, from super shallow to 60 feet of water on a variety of baits. No reports on bream. Hybrid and white bass are eating off and on all day all over the lake and rivers on Alabama Rigs, spoons, inline spinners, grubs and topwater baits in 25-60 feet of water. Some are out to 80 feet. No reports on catfish other than some are coming in from bass or crappie anglers.
(updated 2-24-2022) Fish 'N Stuff (501-834-5733) in Sherwood said bass are really good on Rock Crawler or crankbait in any red or crawfish color and good on Alabama rigs around brushpiles.
Harris Brake Lake
(updated 2-24-2022) Harris Brake Lake Resort (501-889-2745) says the water is clear and low. Crappie are good, with early mornings being the best time to fish. Use minnows or jigs (particularly jigs in Shiney Honey or pearl white colors). Black bass are fair around the shoreline still. Use you're typical bass lures like jerkbaits and Rat-L-Traps, or a worm. Still no reports on catfish. Bream fishing fell off to poor this week.
Lake Overcup
(updated 2-24-2022) Johnny "Catfish" Banks at Overcup Bait Shop and R.V. Park (501-354-9007) said water is up about foot and a half. Surface temperature is around 44 degrees and clarity is muddy. "Other than that there's nothing else I can tell anyone, cause no one is fishing," Johnny said. Last week, with warming weather, he said anglers were catching a few bream on worms while bass were being caught with a white spinnerbait and black plastic worms. Crappie were slow but anglers were catching some good size – 2.92-, 2.75- and 2.62-pounders in 10-12 feet of water. Catfish were slow but it should pick up with warmer weather. "Come see me, Johnny Banks, at Overcup Bait Shop off Arkansas Highway 9."
Brewer Lake
(update 2-24-2022) David Hall at Dad's Bait Shop (501-289-2210). a 24/7 self-serve shot, had no new report.
Lake Maumelle
(updated 2-17-2022) WestRock Landing in Roland (501-658-5598) reported that water temperatures are in the low 50s. The lake is still low by about 2-3 feet, so be cautious. Largemouth bass are fair. Some reports of the bass being found inside the grass 4-12 feet early in the morning and going deep after the sun comes out (scattered at all depths). Try using crankbaits, spinnerbaits or drop-shots. Kentucky bass (spotted bass) are fair. Some reports of them being found near drop-offs around 16-20 feet and off rocky banks and other reports of them being found on brushpiles. Try using Texas rig on brush or jigs. White bass are slow. No reports this week. Try using swimbaits. Crappie are good. Reports this week of the crappie being found suspended 25-30 feet deep on the move. They stacked up once this week but went back to suspended. They're chasing shad, so if you find the shad they're there. Try using jigs or minnows. Bream are slow, no reports. Try using rooms. Catfish are slow, no reports. Try using chicken liver, worms or crayfish.
Arkansas River at Morrilton
On Thursday, the Corps of Engineers said water flow at the Ormond Lock and Dam was 43,195 cfs. Flow further upriver at Dardanelle Lock and Dam was 39,778 cfs.
Little Maumelle River
(updated 2-17-2022) Ray Hudson at River Valley Marina (501-517-1250) said Thursday morning that the Little Maumelle is very muddy. He had no fishing reports for this week. When the river was clear last week, he said bream are good on redworms or crickets, and biting on the bottom, 8-10 feet deep, on worms. Crappie were good and being caught in 8-10 feet deep on minnows or jigs. Black bass were good, and like the bream and crappie they were in 8-10 feet depth; crankbaits were the way to go. Catfish haven't reported in a while.
Arkansas River (Maumelle Pool)
OnOn Thursday, the Corps of Engineers said water flow at the Toad Suck Lock and Dam was 55,472 cfs.
Arkansas River (Little Rock Area Pools)
On On Thursday, the Corps of Engineers said water flow at the Murray Lock and Dam was 73,506 cfs, and the stream gauge stage was at 7.70 feet. Flow at the Terry Lock and Dam was 82,113 cfs.
(updated 2-24-2022) Fish 'N Stuff (501-834-5733) said water is flowing just under small craft advisory, so be careful on the river Bass are biting in the main channel with anglers throwing half-ounce and quarter-ounce jigs around jetis in black/blue and black/red colors. Also, in the backwaters, anglers are throwing white swimbaits around dead grass with success. Crappie are pretty hard to catch, but you can find some in the backwaters in shallow water around wood on black/chartreuse crappie tubes in 2-5 feet of water.
(updated 2-24-2022) Zimmerman's Exxon (501-944-2527) saidsaid the fishing was pretty much the same as last week.
sauger are being caught in good numbers down at the Murray Lock and Dam on black and hot pink tube jigs. White bass are starting to move below the dam on white shad bait and grubs, as well as chartreuse Lil' Fishies. Crappie are still out deep on the jetties and are biting the new ATX lure Wicked Shad. Catfish are fair below the Terry Lock and dam and up by the Murray hydroelectric plant. Use shad for bait.
(updated 2-24-2022) Hatchet Jack's Sports Shop at Crystal Hill (501-758-4958) said crappie are good on the river in the sloughs on minnows and jigs.
Clear Lake (off Arkansas River-Little Rock Pool)
(updated 2-24-2022) McSwain Sports Center (501-945-2471) said the water is normal and muddy with the weather, and not much fishing activity is going on. Before this latest temperature drop, anglers had been catching some good-sized crappie on minnows.
Peckerwood Lake
(update 2-24-2022) Donna Mulherin at Herman's Landing (870-241-3731) said that scheduled maintenance is still ongoing on the spillway. The water is a little dingy and the level is low (a few stumps are showing). The only fishing reports to come her way were for crappie. Results were good on minnows and jigs.
---
White River
(updated 2-24-2022) Cotter Trout Dock (870-435-6525) said the White River watershed is on the rise: Bull Shoals Lake is up 2 feet (msl) to 659.5 feet msl over last week's report. The two larger lakes behind Bull Shoals – Table Rock and Beaver – are also rising due to winter precipitation. That usually means we will see an increase in releases from the dams, and so far that's held true. Winter is still with us: Wome sleet and ice Wednesday, but weather forecasters are promising sun by the weekend and March might not come roaring in too loudly. Until then, our nights are pretty chilly, so bundle up for early morning take-offs on the river.
The trout bite has been a somewhat tricky this past week, possibly due to the up-and-down flow from Bull Shoals Dam. Water releases have been ranging from 2,500 cfs (just under one generator early in the morning) to 16,000-plus cfs (five units or more), then dropping back to a unit or two later in the day. But it's good to know that the browns are returning to their favorite spots after the annual spawn and are looking at larger sculpins and, sometimes, a minnow or two, if placed near some burbling waters around underwater structure.
Favorite stick bait this week: The Rapala CD9s and CD7s, brown trout or rainbow; reeled in several browns playing the Rapalas in the higher, fast-moving water. Those keeper rainbows are favoring peach-colored or fluorescent yellow eggs. Try adding some garlic scent to your bait if fishing from the bank or in areas of calmer water.
"We caught a trophy-sized brown this morning in the sleet, so don't let the weather hold you back. Stop in to warm up or grab a cup of coffee and share the news of your latest trophy. Stay dry and warm."
(updated 2-24-2022) Dave McCulley, owner of Jenkins Fishing Service in Calico Rock, said the rain last week made the river muddy and the fishing was poor. By late Sunday the morning the water color had cleared up enough for the fishing to be good Sunday afternoon and Monday. The fish were biting on Power Eggs; the sunrise color worked best but other bright colors had success. The rain Monday night and into Tuesday morning again muddied the river and caused the river to rise to over 12-foot depth, well above the 4.5-6.5 feet depth we have been seeing. It will take couple of days for the river to clear up again. The winter weather Wednesday and Thursday has the roads slick and we'll see how much the winter precipitation affects the river.
(updated 2-24-2022) John Berry of Berry Brothers Guide Service said that during the past week they have had two rain events (combined for 2 inches in Cotter), cold temperatures and heavy winds. "We are currently waiting for an ice storm," he said Tuesday. The lake level at Bull Shoals rose 1.6 feet to rest at 0.4 foot below power pool of 659 feet msl. This is 35.6 feet below the top of flood pool. Upstream, Table Rock Lake rose 1.7 feet to rest at 0.7 foot below power pool and 15.3 feet below the top of flood pool. Beaver Lake rose 1 foot to rest at power pool or 9.6 feet below the top of flood pool. The White has had no wadable water. Norfork Lake rose 2.5 feet to rest at 1.1 feet above power pool of 553.75 feet msl and 25.1 feet below the top of flood pool. The Norfork tailwater has had no wadable water.
"There has been a shad kill on the White River at Bull Shoals Dam," John reports. "This is a natural phenomenon that occurs occasionally during cold weather and high generation. Use white flies like marabou jigs or mop flies.
"Streamer season fishing is upon us. Now that the brown trout spawn is over, they are moving back to their regular locations. Now is a good time to target them. Fishing is best with heavy generation. Bang the bank with big streamers on sink tip lines. White is my current favorite color.
"On the White, the hot spot has been the-catch-and-release section below Bull Shoals Dam. After opening day, there have been some big browns caught. The hot flies were Y2Ks, prince nymphs, zebra midges (black with silver wire and silver bead or red with silver wire and silver bead), pheasant tails, copper Johns, pink and cerise San Juan worms, gold ribbed hare's ears and sowbugs. Double-fly nymph rigs have been very effective. Try an orange egg with a size 18 purple zebra midge.
John also said, "Like many of you, I have spent quite a bit of time indoors watching the rain, ice, sleet and snow accumulate. Somehow, between the winter storm warnings, my wife, Lori, and I found a nice day when we wanted to go fishing.
"The day was to be sunny with a high in the lower 60s with light and variable winds. To sweeten the deal the water level prediction called for a couple of hours of generation on the Norfork tailwater ending at 8 a.m. We figured that the Norfork would be quite wadable at the Ackerman Access around 11 a.m. We decided to head for the river but took a detour to have lunch at Heidi's Ugly Cakes in Norfork. I somehow avoided eating a delicious piece of peanut butter pie in a vain attempt to stay on my diet (Lori and I have picked up a few pounds during the coronavirus debacle).
"We traveled over to the access and donned our waders. I opted to begin fishing with the flies on my rod from a previous trip, a partridge and orange soft hackle with a size 18 Dan's turkey tail emerger. Lori started with an olive Woolly Bugger.
"The river was on the bottom and was gin clear. It was about 50 degrees with little wind and plenty of sunshine. We waded far upstream. This was the first wade trip for Lori since she broke her arm. She did well and made the long hike with no trouble.
"She hit one spot and I waded further upstream to try another spot.
"I was off to a slow start and changed flies to a double nymph rig. I did no better and changed flies several times. I walked down to where Lori was fishing. She had no success and went further downstream. I met a friend and was talking to him. Out of the corner of my eye I saw Lori's rod bend. I returned to my conversation but watched Lori as I talked. Minutes passed and she was still fighting the fish.
"She had no net, so I thought that I would wade down to where she was fishing and see if I could help her. About that time, the fish jumped. I got a good look at it and it was huge. I tried to move closer to the fish, in an attempt to net it.
"Lori was fishing with a size 18 Dan's turkey tail emerger. I had tried it earlier with no success. There were some small midges coming off and Lori had read the water well. This was my brother, Dan's, signature fly and we fish it often. The problem is that it is very small (No. 18) and when barbless it does not have a lot of metal in it to hold big fish.
"The trout was a solid 26-inch rainbow (we don't see a lot of rainbows that big). It took one last jump and slipped the hook. Lori was disappointed but at the same time happy to have hooked a good fish like that. This time the trout got lucky and got away. Lori thought it was camera shy."
Bull Shoals Lake
As of Thursday, the Army Corps of Engineers reported the lake's elevation at 659.76 feet msl (normal conservation pool: 659.00 feet msl; top flood elevation is 695.00 feet msl). The reported lake elevation at Table Rock Lake was 915.78 feet msl (normal conservation pool: 915.00 feet msl; top flood elevation is 931.0 feet msl).
(updated 2-24-2022) Del Colvin at Bull Shoals Lake Boat Dock said the lake level is 659 feet msl and the temperature is 46, give or take. Bass fishing has been fair with generation at the dam and cooler temps pushing big balls of shad over 120 feet and further out of creeks. The deep bite is going away. If you are going to do it, graph to look for shad and look for loons. Active diving loons will trigger feeding. Damiki on a Moon Eye and Rapala jigging Rap. As more fish move up and leave the shad, crawfish are on the menu. Dragging a jig, shaky head or Ned rig in 10-20 feet secondary. Over the next couple of weeks, key in on areas outside of spawning areas. Jerkbait has started catching a few on points and bluff ends in shallower water around brushpiles, and a little wind helps. As the temps rise, fish are seeing red. Rock Crawlers, Wiggle Warts on windy transitions, and cover water.
See Del's YouTube site (Bull Shoals Lake Boat Dock) for more information and tips on fishing Bull Shoals Lake.
Norfork Lake
As of Thursday, the Army Corps of Engineers reported the lake's elevation at 554.74 feet msl (normal conservation pool: Sept.-April, 553.75 feet msl; April-Sept. 555.75 feet msl; top flood elevation 580.0 feet msl).
(updated 2-24-2022) Steven "Scuba Steve" Street at Blackburn's Resort says the lake level is 554.86 feet msl and has risen a half-inch in the last 24 hours with both generators running continuously. It is dropping slowly now if they keep both generators on but has come up about 2.5 feet in the last week. The White River at Newport is 19-plus feet. A winter storm is on its way here now on Wednesday with ice, snow and sleet expected. The surface water temperature is about 46 degrees, and it got very cold last night after balmy weather the last weekend with highs in the 60s. The lake is very clear and you can see your lure down about 8 feet in the sunshine.
The cold fronts just keep coming through, hurting fishing, and then it warms up again. It is typical weather for early March and it's only the last week in February. The fishing was slow early last week but got better as the weekend approached with crappie and bass being the best bite and a few walleye and stripers also coming in. Most fish were caught on Blackburn's new brushpiles on either the spoon, jig or grub. Trollers are catching stripers in the 5- to 8-pound range, and the white bass and hybrids are going deeper.
The weather should improve by Sunday with much warmer temperatures, but the snow, sleet and ice will not warm the water up any. Some nice fish are being caught but not high numbers.
For a daily fishing report and lake condition go to www.blackburnsresort.com and click on Scuba Steve's Blog.
(updated 2-17-2022) Lou Gabric at Hummingbird Hideaway Resort said there are currently three good bites on the lake, making fishing Norfork Lake fun for everyone. Striped bass, black bass (largemouth and spotted bass) and crappie are the three best bites on the lake at this time.
You can find largemouth bass in several different types of areas. Bluff walls have been very productive. The fish can be up tight to the rocks or suspended out from the bluff. Most of these fish are 10-20 feet down either on the bottom, or suspended over deep water. Alabama rigs are working great with white swimbaits. You can judge how heavy of a jighead you need depending on the depth you want to get the bait to. Typical quarter-ounce works great. If you are using an A-rig that already has added weight to the center piece, you may only want a hook with no weight. Crankbaits, jigs and spinners are also producing some nice fish. There are still some nice fish hugging the bottom off of long rocky points from 30-40 feet down. "My best way to catch these deep fish is to vertical-jig a spoon slowly right on the bottom."
Striped bass are still in their winter pattern. Basically, this is saying that the bait has moved out to the deep-water river channels or very close to the channel. You will find streams of bait 10-30 feet thick and the stripers will be very close by. "I find the striped bass on top of the bait, at the bottom of the bait or some are even buried inside the bait. If there is a deep flat next to the channel you may find large schools of stripers cruising through the flat, but they always stay close to the large streams of bait. The bait is typically suspended 30 to 60 feet down. This depth will vary and the thickness of the bait will vary. The fish will be found suspended at the same depths as the bait. There are various methods to fish for this species. Live bait is a tried-and-true method, vertical jigging a one-ounce spoon, vertical jigging a 3-inch swim bait with a 3/8-ounce jig head or trolling swimbaits, umbrella rigs, or hard crank baits. The key is to get your bait at the same depth as the fish. This pattern will stick around until the water temperature starts to warm, which should be in the next couple of weeks. With the warmer water the bait tends to start to move back in the creeks or farther up river. When the bait moves the stripers will be chasing.
Crappie are on brush. Find brush in 20-40 feet of water. The fish will be at all depths depending on the time of day. Early and late in the day they are typically suspended on top of the brush and on occasion only 5-10 feet down. Midday they tend to drop a little deeper. Of course, the weather plays a big role on how the bait acts in the brush, and just like all fish species they tend to follow their food source. "(Wednesday) morning I hit a couple of brushpiles. It was a very cloudy, windy day and the fish seemed to be deeper and buried inside of the brush. Live bait, small twister tail grubs with a one-sixteenth-ounce jighead and a small one-eighth- to quarter-ounce spoon are all working great."
Norfork Lake surface water temperature is holding in the 45-46 degree range, but may start to rise slowly with the spring type weather we are having. The lake level has been rising slowly with minimal power generation and currently sits at 552.75 feet msl. The lake is trying to clear but still remains slightly stained.
"I post almost daily on Facebook. If you want more frequent information please visit and Like Hummingbird Hideaway Resort's Facebook page. Happy Fishing and enjoy Norfork Lake."
Norfork Tailwater
(updated 2-24-2022) John Berry of Berry Brothers Guide Service in Cotter (870-435-2169) in Cotter (870-435-2169) said Norfork Lake rose 2.5 feet to rest at 1.1 feet above power pool of 553.75 feet msl and 25.1 feet below the top of flood pool. The Norfork tailwater has had no wadable water.
There has been less wadable water on the Norfork and it fished well some days and poorly on others. The most productive flies have been small midge patterns like zebra midges (black or red with silver wire and silver bead). Grasshoppers have produced fish, particularly when used in conjunction with a small nymph dropper (try a size 20 black zebra midge). Double-fly nymph rigs have been very effective. Try a small bead-headed nymph (zebra midge, copper John or pheasant tail) suspended 18 inches below a brightly colored San Juan worm (hot fluorescent pink or cerise). The fishing is much better in the morning and late afternoon and tapers off midday.
Dry Run Creek has fished particularly well. School is back in session and now is a great time to fish it, particularly during the week. Weekends can get a bit crowded. The hot flies have been sowbugs and various colored San Juan worms (worm brown, red, hot fluorescent pink and cerise). Small orange or peach eggs have been very effective. Carry a large net, as most fish are lost at the net.
Remember that the White and North Fork rivers and Dry Run Creek are infected with didymo, an invasive alga. Thoroughly clean and dry your waders (especially the felt soles on wading boots) before using them in any other water. Many manufacturers are now making rubber soled wading boots that are easier to clean and are not as likely to harbor didymo.
Buffalo National River/Crooked Creek
(updated 2-24-2022) John Berry of Berry Brothers Guide Service in Cotter (870-435-2169) said Crooked Creek and the Buffalo River are still navigable. With colder temperatures, the smallmouths are not active. The most effective fly has been a tan and brown Clouser minnow. Carefully check the water level before entering Crooked Creek or the Buffalo River. There are no dams on these streams. They both have large drainages and are prone to flooding during and following any rain event. The water can rise very quickly.
---
Beaver Lake
As of Thursday, the Army Corps of Engineers reports the lake's elevation at 1,120.92 feet msl (normal conservation pool: 1,120.43 feet msl; top flood elevation is 1,130.0 feet msl).
(updated 2-24-2022) Jon Conklin with FishOn Guide Service (479-233-3474) said Beaver Lake came up a couple feet after the last rains. "Water temps were slowly warming but as I write this we are in the middle of a winter storm. Biggest news is that the prespawn movement is on. Bass are loading up off main points. This is jerkbait and A-rig time. Stripers are still roaming and hard to pattern as of late. There was a lot of bait up the War Eagle near the high lines. Tons of white birds, also. That is a great indicator of bait and game fish in same area. I look for that all the time when guiding." The crappie bite has been fairly good in between these winter fronts. It will only get better in the coming weeks, he said. "I have been concentrating on the river arms and we have done OK with some nice keeper walleye using swimbaits. Last Monday the water temps way up the river hit 49 degrees and we switched over to Flicker Shad and caught several short walleye. On that note, walleye must be 18 inches to keep. Personally I get really tired of watching short walleye being kept. I also get asked weekly by some angler that has a short walleye on a stringer if I 'know what kind of fish this is?'! Come on, people; we need to know regulations and stand by them. Greed is the downfall of many things. We need to protect our resources. If you do not know what fish it is, put your hand in its mouth and if it clamps down on you with some major teeth it probably is a walleye.
"Good luck and be safe. Good fishing is around the corner!"
Visit Jon's Facebook page for latest updates, FishOn Guide Service Goshen AR.
(updated 2-24-2022) Southtown Sporting Goods (479-443-7148) reported Thursday morning that fishing is not bad, and some big tournaments are coming up on Beaver Lake. Walleye are due to start spawning soon, getting close, they say. The river arms are stained and the water level is normal. Anglers are catching a few crappie, fair amounts, on minnows and jigs. They're mostly catching them around cover. Black bass are fair on jerkbaits, jigs and spoons around cover. No reports on catfish or bream
Beaver Tailwater
(updated 2-24-2022) Guide Austin Kennedy (479-244-0039) said fishing this week in the tailwater has been great, with mixed bag results. The trout bite has been active through all parts of the day. You may, however, need to change up the tactics a bit. The most productive has been various PowerBait fished with light terminal tackle. The spoon bite has slowed a bit, but if you pull size-appropriate crankbaits, those have picked up the slack. This week's hot spot has been between Houseman and U.S. Highway 62 Bridge.
With that, the walleye bite has been good as well. "Jig raps, crawler harnesses with nightcrawlers and jigging with live minnows have produced some nice numbers! You can find these fish from Holiday Island, all the way up to Houseman. Most of my focus has been in the Beaver town area, fishing some deeper water. Hope you able to get out and catch some fish!"
Visit Austin's fishing Facebook Page (Busch Mountain Fishing Guide Service) for fishing videos and tips on the tailwater.
Lake Fayetteville
(updated 2-24-2022) Lake Fayetteville Boat Dock (479-444-3476) said the lake clarity is murky and the lake rose with the rain but as of Thursday morning was back to normal. Crappie were good before the bad weather, biting well on minnows and jigs. Black bass also were good up until this recent bad weather. Topwater lures were working. No reports on bream or catfish.
Lake Sequoyah
(updated 2-17-2022) Lake Sequoyah Boat Dock (479-444-3475) reports that the lake is clear and low by about 1 foot. Bream have appeared this week with fair catches on redworms and crickets. Crappie are good on minnows and jigs. The best fishing continues to be off the old bridge. Black bass really picked up this week with good reports. They were mostly cost up toward the mouth of the river. Best bait seems to be
---
Lake Charles
(updated 2-24-2022) Shelly Jeffrey at Lake Charles State Park (870-878-6595) said the water at Lake Charles is very high and the clarity is murky. Surface water temperature on Monday was 57.1 degrees. She had no fishing reports from this past week. "We have a good selection of baits and worms. Stop in and see us at the Visitor Center." Best fishing days based on moon times are coming up March 1-7. Water temperature rose 3 degrees since this time last week
Lake Poinsett
(updated 2-24-2022) Lake Poinsett is in the process of refilling, but is rainfall dependent and the region hasn't had a lot of rainfall lately. The fishing now is predominantly catch-and-release for bream. They seem to be biting on crickets and worms. Small boats, kayaks or canoes are the only watercraft that can launch at this time.
The gate at the dam at Lake Poinsett was closed a year ago, following the completion of a three-year renovation projection, and the lake began to refilling. The lake has been undergoing an extensive renovation with a new water control structure, more than 10,000 linear feet of shoreline work, more than 100 habitat structures placed on the lakebed, and nearly 100 trees anchored for fish habitat.
Other forage species that were stocked this spring include fathead minnows, golden shiners and threadfin shad have been added in huge numbers to the lake to build up the food supply for the predators, which will be stocked this year.
Crown Lake
(updated 2-24-2022) Boxhound Marina (870-670-4496) has been closed for the season but is looking to open soon.
Spring River
(updated 2-10-2022) Mark Crawford with springriverfliesandguides.com (870-955-8300) said water levels have been just below average, at 340 cfs this week. Water clarity is perfect. The water has just a slight green tint to it; just enough rain and snow lately to keep the river from getting too low.
"The caddis have been hatching heavy and caddis dries have been working. Nymphs in sizes 6-14 bead heads have been very productive. And, yes, I said a size 6 nymph. I tie a bead chain eye pheasant tail/bobcat nymph that is very hot. Lots of big nymphs in the spring, hexagenia and hellgrammites are huge bugs.
"The smallies are biting but they have been down deep in the deeper pools. Gotta work the bottom slow with a sink tip or heavy fly. Gonna hang up a lot, so bring plenty of flies. The winter time can be the best time to catch a big smallie."
Crankbaits have been hot lately for spin-fishing. Trout cranks and Berkley Flicker Shad have been working great. They're perfect for getting down deep and float up after snagging on bottom. Hot pink Trout Magnets remain the go-to for catching the rainbows with a float. Use a split shot and get it to the bottom. The Trout Magnet should tick off the bottom occasionally.
Check out Mark's blog at springriverfliesandguides.com/blog. "We still having some cold days out there so be safe, if you fall in and get wet, find a warm place fast. The Spring River is very slick!"
(updated 2-24-2022) John Berry of Berry Brothers Guide Service in Cotter (870-435-2169) said the water level on the Spring River is fishable. This is a great place to wade fish when they are running water on the White and North Fork rivers. Canoe season is over and the canoes are mostly gone. Fish the upper river at the Lassiter Access to avoid them or fish Dam 3 late in the afternoon, after they have left the area. Wear cleated boots and carry a wading staff – there is a lot of bedrock that can get very slick. The hot flies have been olive Woolly Buggers with a bit of flash, cerise and hot pink San Juan worms and Y2Ks.
White River
The Army Corps of Engineers reported Thursday that the White River stage at Batesville was at 12.00 feet, up significantly from where it had been and 3 feet below the flood stage of 15.0 feet. The Newport stage took a big jump to 21.05 feet, about 5 feet below the flood stage of 26.0 feet. The stage at Augusta also jumped more than 8 feet to 29.92 which is almost 4 feet above the flood stage of 26.00 feet.
(updated 2-10-2022) Triangle Sports (870-793-7122) in Batesville reported that anglers have returned to this area on the White. Anglers are catching a few walleye on crankbaits, jigs and minnows. The river is clear and at a normal level.
---
Arkansas River (Pine Bluff Pool)
On Thursday, the Corps of Engineers said water flow at the Emmett Sanders Lock and Dam at Pine Bluff was 83,626 cfs. Further upriver at the Maynard Lock and Dam near Redfield, the flow was 84,918 cfs.
(updated 2-17-2022) The University of Arkansas at Pine Bluff Bass Fishing Team reports that water temperatures are in the mid- to upper 40s with shallow protected areas in the low 50s. Water visibility is about 12 inches overall. Expect temperatures to warm some this week, especially in shallow protected areas. The main channel and Lake Langhofer typically warm very slowly. Black bass are slow but can be caught along steeper rock banks using shad-colored crankbaits and dark-colored jigs crawled very slowly along the bottom.
Cane Creek Lake
(updated 2-17-2022) Jeff Shell, the superintendent at Cane Creek State Park, said Cane Creek Lake water temperatures are running in the 50s; however, with February's ever-changing weather this can change day to day. Water clarity is about a half-foot.
Crappie are starting to get in a prespawn pattern. "We have received reports that Electric Chicken pattern jigs are producing results." Bass are in a winter pattern and your best chance is fishing suspended structure. On warm afternoons, windblown coves may yield fish at shallow depths chasing baitfish. No reports on catfish. Historically for this time of year they can be found in the lake's deeper areas on trotlines.
Lake Monticello
(updated 2-24-2022) Dam repair work has been completed by the city of Monticello's contractor, while the AGFC has been rebuilding the lake bottom and areas near where the shoreline will be for fish habitat when the lake is refilled, which will mostly be done by rainfall collection. The gates on the dam are now closed and the lake refilling is underway. Many artificial fish habitat structures have been created and put in place, and the AGFC has pumped several of the small ponds and has added rotenone to those areas for the elimination of unwanted species (i.e. grass carp, yellow bass), before the refilling of the lake began.
Millwood Lake
As of Thursday, the Army Corps of Engineers reports the lake's elevation was 259.95 feet msl (normal pool: 259.20 feet msl; top flood elevation is 287.0 feet msl).
(updated 2-24-2022) Mike Siefert at Millwood Lake Guide Service said Wednesday that not much change with the report since last week except lake level, which is up to almost 260 feet msl, discharge, and water temps, and a few male largemouth bass roaming in and out of spawning flats on warm afternoons.
|We have only been out on the lake a couple hours this week to do some scouting and document water temps, with the cold and rain here," he said. "We did find a few male largemouth bass scouting, over the last weekend and earlier this week. Those bass were in 4-8 feet of water where we found 54 degrees water temps. They were evidently scouting for bedding sites, eager to hit a Brazalo Spinnerbait, or a 1-Knocker Rat-L-Trap.
Mike reminds travelers to the area that Millwood State Park Marina is closed through the end of February, but plans are for it to reopen for fishing, docking, boat rentals and supplies on March 1.
Millwood Lake tailwater elevation on Wednesday was near 226 feet msl with gate discharge at the dam around 1,500 cfs in Little River according to the Army Corps of Engineers. Check the most recent lake level of Millwood Lake the guide service's website linked above, or at Army Corps of Engineers website, for updated gate release changes and inflow rates with rising and falling lake levels. Watch for random floaters and broken timber during any navigation on Little River and Millwood Lake.
As for fishing details:
* Not much change over the past several weeks, with the largemouth bass being hit or miss depending on daily conditions. The largemouth activities slowed with the colder water temperatures; best feeding cycles shifted to midday and afternoon. The bass have been suspended as of late and in deeper depths of creek channels or drop-off structures. Their feeding cycles seemed to fluctuate wildly over the past several weeks. Rat-L-Traps in red chrome, burnt orange Crawdad, Toledo Gold and Red Shad in the three-quarter-ounce flavors continue to be the go-to colors. The 1-Knocker Rat-L-Traps seemed to get the best responses over the past couple of weeks.
"We did find a few male Largemouth Bass roaming shallow over the last few days up and onto 3-6 feet' deep flats with stumps present near creek channel drops from 4-9 feet deep, before the cold front and freezing rain arriving, eager to hit a Brazalo Spinnerbait in Spot Remover or chartreuse/white, or a 1-Knocker Rat-L-Trap."
Warmer days with blue skies have been best near vertical structure and deeper drops with 6-9 feet deep flats in close range. Over the past couple weeks, nass were fair on swim jigs with thumper-tail trailers, Chatterbaits, jigs and heavy thumping 1-Knocker Rat-L-Traps. Most bass we are finding continue randomly roaming shallow on full sun and bright skies into the 6-10 foot depths of flats adjacent to deeper drops into 9-15 feet depth ranges. The largemouths continue randomly turning on during the heat of the day – better on bright, sunny, clear days when water temps will rise a few degrees in midday. Square-bill crankbaits, Chatterbaits and spinnerbaits will randomly connect with the shallow roaming bass. MR-6, Echo 1.75 and Little John Cranks will draw a few random reactions from the bass. Wherever a creek channel runs into the deeper creek bends or vertical structure and drops into the oxbows, where stumps and creek mouths drop, some decent-sized bass have been holding over the past week. The best bite continues during heat of the day from noon-3 p.m.
Cordell or Kastmaster Spoons are finding vertical suspended bass from 10-15 feet on ledges or deep creek, outside bends with stumps present.
When fishing the points dumping into Little River, the Rat-L-Trap 1-Knockers in three-quarter size will get down deeper on the points with stumps present, and drop off into the river with a different vibration and presentation than the smaller Rat-L-Traps, and connect with larger schools. One point may hold all largemouths, the next point may hold all white bass. Both species are following any remaining shad all along Little River and they are staging on the points, with some of the bass pulling into the creek channels where deep access to the river, stumps and points are attracting the shad.
Bill Lewis Lures MR-6 or SB-57 medium-diving cranks and heavy three-quarter-ounce Rat-L-Traps in Millwood Magic, Toledo Gold or red chrome and Craw colors continue getting best reactions, and anglers should be patient this time of year. McGuire Lake and Horseshoe Lake oxbows up Little River have the clearest water conditions. Majority of these roaming, midday bass are suspending near vertical structure for many hours of the day, and turn on like a light switch for a few hours under the warmest 2-3 hours of daylight, from 5-9 feet depth with 12-18 feet of depth nearby.
Southern Pro Flipping Tubes or Tournament Tubes in black/blue tail, Smoke/black/red flake with chartreuse dipped tail, and Smoke Purple flake with chartreuse dip tail have been taking 2- to 4-pound bass over the past several weeks near dead pad stems, on stumps from 8-10 feet deep in Little River's oxbow lakes upriver, near creek junctions and on tapering points where shad have moved deeper into the creek channels. Ten- to 12-inch Berkley Power Worms caught a couple of decent bass last week with black, blue Fleck, or Black Grape being the best colors for a reaction bite.
Real Deal Custom Jigs caught a few largemouth up Little River in McGuire Oxbow last week around 2-3 pounds. Best colors were Texas Craw, black/blue/purple or pumpkinseed/chartreuse with a Gene Larew Hog Craw as a trailer.
* The white bass continue roaming all along Little River, and have been heavily schooled up all along Little River for several weeks now. They've been found from White Cliffs campground all the way up to U.S. Highway 71 bridge, and where the Cossatot River intersects and dumps into Little River. Hammered Cordell Chrome Spoons with a red bucktail, Rocket Shads, Fat Free Shads in Tennessee Shad and Citrus Shad, half-ounce Rat-L-Traps, Bill Lewis MR-6 Crankbaits and Spin Traps in chrome/blue, Millwood Magic, Tennessee Shad and Threadfin Shad colors all have been working catching whites, over the past several weeks.
"One day we are catching them along Little River, roaming and slamming those crankbaits; next day they are hugging the bottom of the river just underneath the shad schools fighting over a dropped and vertical-jigging Cordell Spoon into the school. Watch your electronics for the mass of shad and whites from 12-22 feet of depth between White Cliffs Campground and Cemetery Slough along the river."
* Crappie has been slow for us and everyone else we spoke with on the lake over the past couple weeks. Nothing to update.
* Catfish improved on limblines over the past week set from 8-12 feet deep, biting good with redworms, cut buffalo, chicken hearts and livers. Trotlines slowed over the past week, but yo-yos and limblines seem to have the best responses and have been catching cats from 4-8 pounds over the past few weeks.
Lake Erling
(updated 2-24-2022) Lake Erling Guide Service (870-904-8546) reports that the lake is a little dingy and is still low by 6 feet. Crappie are fair. They're moving out of deep water into shallow water. Use minnows, jigs and hair jigs. Catfish continue to be excellent on any kind of bait. You'll find channel cats, flatheads and blues in Erling.
Lake Columbia
No reports.
Lake Greeson Tailwater
Visit www.littlemissouriflyfishing.com for a daily update on fishing conditions.
Lake Greeson
As of Thursday, the Army Corps of Engineers reports the lake's elevation at Narrows Dam was 538.06 feet msl (full pool: 548.00 feet msl).
DeGray Lake
As of Thursday, the Army Corps of Engineers reports the lake's elevation was 400.83 feet msl (full pool: 408.00 feet msl).
(updated 2-24-2022) Angler Charles Abernathy said, "I've been out to DeGray a few times over the last couple of weeks. Last week, I found myself up in shallower water just looking around. I found crappie roaming around in the middle of a popular spawning pocket and was able to catch one as shallow as 6 feet. It's early yet for that magical time of year, but their eggs are getting plump. It's on their mind. The weather had been pretty fair and the surface temperature was around 50 degrees, so with those conditions it's not uncommon to catch them in shallow water. This time of year, you can't go wrong cruising the deeper main channels as well as in the middle of popular shallower spawning pockets. You also can't go wrong picking a major creek channel and side scanning it looking for schools as well as just roamers.
"I spent Monday morning of this week in a major creek channel and went down it until it started narrowing down. It was full of eater-size crappie. They were on shallow brush as well as just cruising around. There were also tons of hybrids there, too, which sometimes makes it hard to focus just on the crappie. It was also full of bait. By midday we had a pretty good mess of crappie as well as a mixed bag. Most of them were caught on a Mr. Crappie Slab Slanger in Monkey Milk paired with an orange head worked slow, slow, slow. The water was a little dirty, too, but that is what they seemed to want.
"If you haven't done so already, you really need to get a map of the lake. I use Navionics, and they do have a free viewer online. I'm always looking for new places on the map, even on my home lake DeGray. If you see something of interest, take some time to check it out. Any amount of pre-study that you do at home will just help you get more familiar with the lake and help you identify deep to shallow water transitions that they are starting to make. Also, keep a lookout for those diving ducks, as I call them. If you see them in deeper water or in a main channel you know bait is close by. If bait is close by, so will the schools of fish be. I also always try to set some time aside just for scanning around from the console.
"The water is down a bunch on this lake. Be careful out there. When traveling, I'm following channels on my map and paying very close attention to hidden humps from map contours that aren't necessarily marked as hazards since the levels are so low.
"I appreciate you all reaching out and feedback you provide. It makes my day for you to call me out at the ramp or on the water. I know it's been a while since I've given a report. I appreciate your patience. As always, feel free to ping me at c.abernathy32@gmail.com for more info. I have a YouTube channel where I share some fishing content and have already posted this last trip from this week (a little creek channel action). Be safe … I look forward to seeing you on the water."

De Queen Lake
As of Thursday, the Army Corps of Engineers reports the lake's elevation was 440.98 feet msl (full pool: 437.00 feet msl).
Dierks Lake
As of Thursday, the Army Corps of Engineers reports the lake's elevation was 528.24 feet msl (full pool: 526.00 feet msl).
---
White Oak Lake Area
(update 2-10-2022) Curtis Willingham at River Rat Bait in Camden (870-231-3831) said crappie were doing well last weekend at White Oak on minnows and jigs.
---
Lake Atkins
(updated 2-17-2022) Donald Ramirez at Lucky Landing (479-641-7615) said that the lake is clear and the level is normal. No temperature was recorded. Crappie are fair on minnows and jigs (recently it's been Bobby Garland Jigs in a chartreuse color). Bass are fair on jerkbaits. No reports on bream or catfish.
Lake Catherine (Below Carpenter Dam)
For weekly flow releases from Carpenter Dam, visit www.entergy.com/hydro
(updated 2-24-2022) Shane Goodner, owner of Catch'em All Guide Service, reports that water temperature below the dam is 44 degrees with stained conditions in the tailrace. Entergy has posted the weekly generation schedule starting Friday, Feb. 25, that extends through Thursday, March 3. Anyone planning on navigating the Carpenter Dam tailrace is urged to view these flow releases and plan accordingly. This schedule is posted weekly on the Entergy website for public viewing normally on Wednesday evening. The 5-foot winter drawdown for both lakes Hamilton and Catherine will end on March 1. In the meantime, the Carpenter Dam tailrace is very dangerous to navigate with numerous underway obstructions exposed. Wade fisherman and boaters alike must use extreme caution when attempting to use the area. Flow from the dam hides many of the shallow water dangers so boating becomes increasingly more treacherous as anglers approach the dam from the Arkansas Highway 128 bridge. Extremely slick rock structure all of over the tailrace further complicates matters.
Rainbow trout are everywhere in the Carpenter Dam tailrace and thriving in the nutrient-rich waters of Lake Catherine. It is important to remember that while trout numbers are in the many thousands, the bite can be unpredictable and always subject to rapid change due to weather and lake conditions. A very good bite pattern can disappear in a matter of hours, so anglers should be aware of this potential problem and have an alternative plan of action. Bank fishermen should stick to basic patterns of live bait such as waxworms or mealworms fished just off the bottom with a marshmallow floater. Nightcrawlers will also work when cut into 2-inch sections presented in the same manner. PowerBait can save a fishing trip due to the fact that these presentations are designed to capitalize on a trout's inborn instinct to feed on fish eggs. Fly-fishermen casting egg patterns in white or yellow under a strike indicator have caught and released scores of rainbow trout in the tailrace where current is present. Micro-jigs and Woolly Buggers have taken trout over 14 inches this week, although there has been a huge influx of smaller trout. The San Juan worm in hot pink has accounted for nice catches of trout especially when the fish are in a slower bite pattern.
White bass have been observed breaking in the early morning hours chasing threadfin shad below the bridge. Casting spinner baits and jigs in one-eighth-ounce weights has been the best presentation to catch these fish. Hybrid bass often school alongside white bass and can be caught on the same techniques. Trolling shallow-running crankbaits against the current has been productive catching white bass and hybrids, as well as walleye in the 2-pound class. Walleye thrive in the tailrace in the early winter months as these fish prefer colder water temperatures than other area game fish. The walleye spawn below Carpenter Dam is now underway with smaller males being caught in the 1½-pound range. Some larger females have also been taken in the 3- to 4-pound class. The best action has taken place during times of generation.
Sleet and snow has fallen in our area from early Wednesday morning and expected through most of Thursday. Entergy will be generating below all area dams to control the lake levels, so caution on waterways must be used during this time.
Finally, it cannot be stressed enough that anglers will experience dramatic changes in bite patterns as cold fronts move in and out of our area.Temperatures can change as much as 30 degrees or more in less than a day. Rapid temperature change shuts down many fish species until consistent weather resumes.The arrival of rainbow trout to Lake Catherine in November and December has brought life to the Carpenter Dam tailrace and kicks off the trout fishing season. Quality fishing for rainbow trout is now happening and anglers need to take advantage while the bite is solid.
Always wear a life jacket when on the water and continue to follow park rules and regulations. The daily possession limit for rainbow trout is five fish per person. Don't make the mistake of attempting to keep more than the legal limit of any fish species from Arkansas waters. Always have your fishing license up-to-date and be ready to cooperate with our game officials when asked.
Lake Dardanelle
As of Thursday, the Army Corps of Engineers reports the lake's flow at Dardanelle Lock and Dam as 30,503 cfs. Elevation was 337.53 feet msl, with the tailwater at 286.15feet msl. (Top navigation pool is 338.2 and bottom pool is 336.0.) The stage is at 7.72 feet.
Lake Hamilton
(updated 2-17-2022) Fish 'N Stuff (501-834-5733) in Sherwood ventured over to Garland County to check out Lake Hamilton and reported that bass are good on half-ounce Rat-L-Traps.
(updated 2-10-2022) Greeson Marine, hometown dealer of the Arkansas-born-and-bred Xpress, all-welded aluminum fishing boats in Hot Springs, reports Lake Hamilton's water temps in the mid-40s throughout the lake at the surface. Water clarity is slightly off-color and hazy. Bass, especially largemouth, have been caught well deep using a white jigging spoon and fished vertically in depths of 42-55 feet. With the onset of stable cold temperatures, the fishing has normalized, and bass are back to feeding during the first part of the day, and early afternoon. When 4 p.m. rolls around its time to go home as the fish in all species simply turn off.
Bass are going to transition to crawfish imitations due to the decline in baitfish present at the depths they typically hold. Craw Drop shot patterns and craw crankbait and jigs are going to become more the staple, so keep that in mind and fish some rocky, shallower points as a fallback plan.
Crappie have been caught over brush piles in 40-55 feet and several have been caught accidentally roaming under vertical-jigging bass anglers. Many fish are roaming around looking for baitfish that are no longer present in the areas that they have been and the predators attack anything dropped in their general area for this reason. Walleye have still been very good in deep drop-off areas where they can transition from 30-60 feet quickly to intercept bait balls of skip jack. There are few areas that meet these criteria from the Highway 7 South bridge north, so if its walleye you are after, then fish the bottom end of the lake.
"Wear those life jackets, folks! The water temps can kill, and we all think we are good swimmers until we aren't. Good luck and Go Greeson!"
(updated 2-10-2022) Capt. Darryl Morris of Family Fishing Trips (501-844-5418) has been fishing Hamilton and Lake Ouachita, and said crappie are biting well on deep structure in the channels 35-45 feet deep. Watch though, at different times of the day they may rise up and suspended 15-18 feet deep over the same deep channel structure.
Lake Nimrod
As of Thursday, the Army Corps of Engineers reports the lake's elevation was 346.31 feet msl (normal pool: 342.00 feet msl; top flood elevation is 373.0 feet msl).
(updated 2-17-2022) Andrews Bait Shop and More (479-272-4025) said Thursday morning that the lake is clear and at a normal level. Surface water temperature was a cool 42 degrees. Crappie fishing remains good, with minnows and jigs working. Black bass are active in 5-6 feet of water. The bite is good; try worms or black/blue jigs. Catfishing is fair on cut shad. Bream have not started up yet.
Lake Ouachita
As of Thursday, the Army Corps of Engineers reports the lake's elevation at Blakely Dam was 571.60 feet msl (full pool: 578.00 feet msl).
(updated 2-24-2022) Todd Gadberry at Mountain Harbor Resort and Spa (870-867-2191/800-832-2276 out of state) said black bass are fair. Try an Alabama rig or a PB&J jig for these fish. Walleye have started to move up the river channels to spawn. A swim jig or Shad Rap should work to find and catch these fish. Stripers are still fair and should be staging to make their runs up the river channels. Live bait or trolling an Alabama rig should be the best options for catching these fish. No report on bream. Crappie are still good on small jigs or minnows. Try brushpiles in the 20-40 foot depth range. No report on catfish. Ouachita's water clarity is clearing and the surface water temperature is 46-50 degrees. The lake level is up a foot from this time last week, sitting at 571.80 feet msl. Call the Mountain Harbor fishing guides (Mike Wurm, 501-622-7717, or Chris Darby, 870-867-7822) for more information.
(updated 2-10-2022) Capt. Darryl Morris of Family Fishing Trips (501-844-5418) said crappie are biting well on deep structure in the channels 35-45 feet deep. Watch though, at different times of the day they may rise up and suspended 15-18 feet deep over the same deep channel structure.
Blue Mountain Lake
As of Wednesday at 5 p.m., the Army Corps of Engineers reports the lake's elevation was 388.69 feet msl (full pool: 384.00 feet msl; top flood elevation is 419.0 feet msl).
---
White River/Clarendon Area
The Army Corps of Engineers on Thursday reported the Clarendon gauge was well up from last week to 25.52 feet, about a half-foot below the flood stage of 26.00 feet.
Cook's Lake
(updated 2-24-2022) Wil Hafner, education specialist at Cook's Lake Conservation Education Center (870-241-3373), said he was hoping the lake would be able to open next week for youth and mobility-impaired angles, but the White River went on a big rise and those plans now will have to wait until water recedes. Keep an eye out here for the latest news.
Cook's Lake is a 2-mile long oxbow off of the White River, nestled in the heart of the Dale Bumpers White River National Wildlife Refuge near Casscoe in Arkansas County. This fertile oxbow receives very little fishing pressure due to being used only for education purposes and youth and mobility-impaired fishing. The scenic lake is full of slab crappie, giant bluegills, largemouth bass, and catfish of all species. Due to current guidelines, Cook's Lake will be open to fishing during normal business hours Tuesday through Saturday 8 a.m. to 4 p.m., water level pending. Cook's Lake is open to fishing for youths under 16 or mobility-impaired anglers and up to two helpers (who may also fish). Fish from the 140-foot mobility-impaired accessible dock or launch a boat. To comply with current guidelines, please call ahead at least a day in advance to register to fish. Before launching, please check in at the Conservation Education Center, and report back before leaving. For information or unscheduled closures, call the center at 870-241-3373.
Horseshoe Lake
(updated 2-17-2022) Kent Williams of Oxbow Guide Service (870-278-7978) said crappie were found between 14-16 feet deep but were not cooperating with jigs. Minnows might fare better. With the weather pattern we are in, it is tough most days to fish the deeper water due to the wind. Water temp was 42.7 degrees. Look for that water temperature to rise with some more warm days. No report on bass, bream or catfish.
Bear Creek Lake/Storm Creek Lake
(updated 2-24-2022) Mississippi River State Park (870-295-4040) had no new reports.
---
Recent News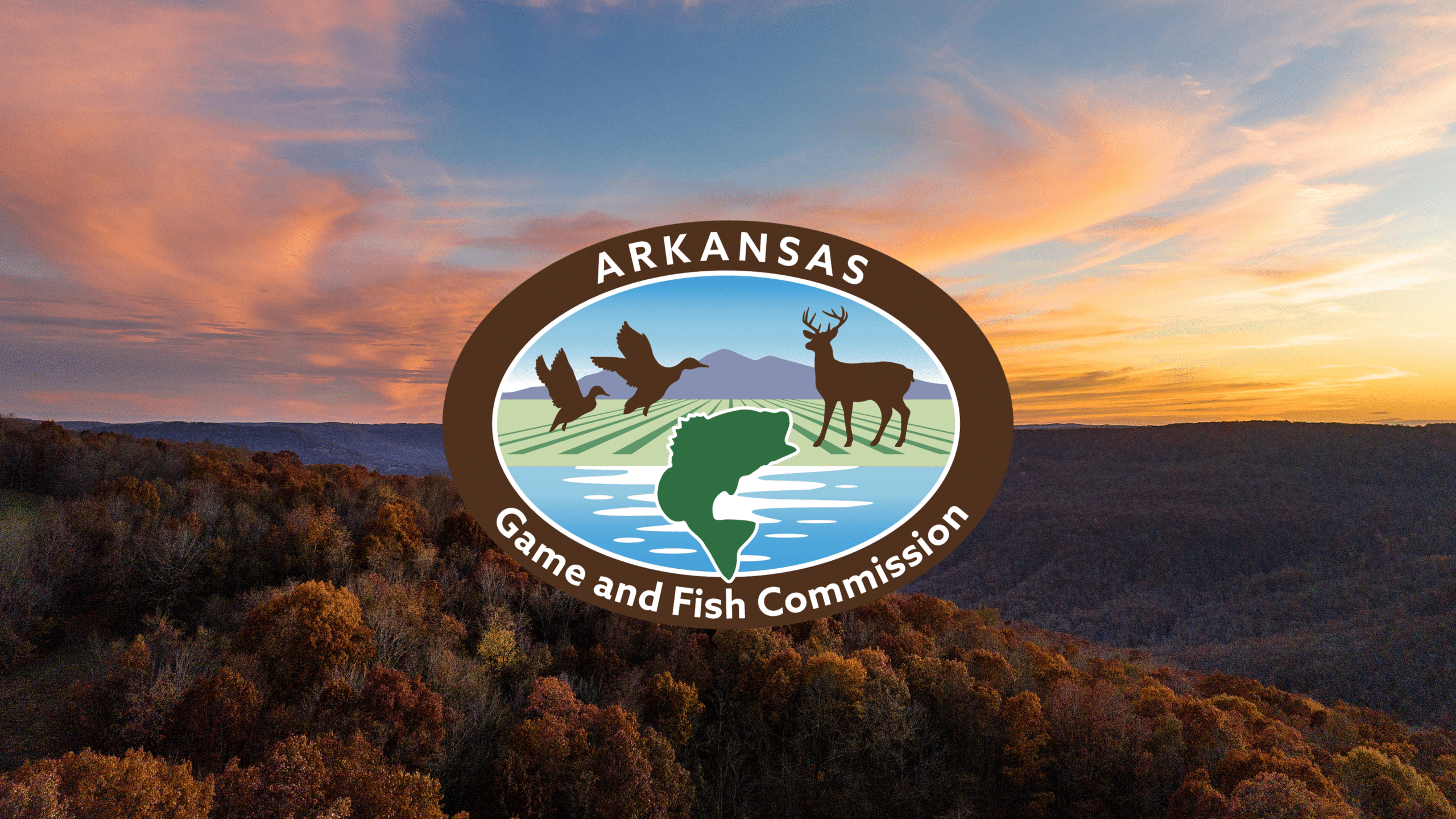 Subscribe to Our Weekly Newsletter E-mails
Don't miss another issue. Sign up now to receive the AGFC Wildlife Weekly Newsletter in your mailbox every Wednesday afternoon (Waterfowl Reports are published weekly during waterfowl season and periodically outside the season). Fishing Reports arrive on Thursdays. Fill in the following fields and hit submit. Thanks, and welcome!