Arkansas Wildlife Fishing Report
July 19, 2017
Jim Harris

Managing Editor Arkansas Wildlife Magazine
WEEKLY FISHING REPORT
This is the Arkansas Game and Fish Commission's fishing report for July 19, 2017. If there is a body of water you would like included in this report, please email AGFCfishingreport@outlook.com with information on possible sources for reports about that lake or river. Reports are updated weekly, although some reports might be published for two weeks if updates are not received promptly or if reporters say conditions haven't changed. Contact the reporter for the lake or stream you plan to fish for current news.
Arkansas River and White River levels are available at: http://water.weather.gov/ahps2/index.php?wfo=lzk
For real-time information on stream flow in Arkansas from the U.S. Geological Survey, visit: http://waterdata.usgs.gov/ar/nwis/rt
For water-quality statistics (including temperature) in many Arkansas streams and lakes, visit: http://waterdata.usgs.gov/ar/nwis/current/?type=quality
Craig D. Campbell Lake Conway Reservoir
The AGFC is treating alligator weed in Lake Conway using EPA-registered herbicides approved for use in aquatic systems. The AGFC strongly recommends that adjacent landowners not use lake water for irrigation of lawns or gardens through March 1, 2018. For more information please contact the AGFC Fisheries Office in Mayflower at (877)-470-3309.
(update 7-19-2017) Bates Field and Stream (501-470-1846) said water is stained and the water surface temperature is 90 degrees. Water level is normal. Bream are biting well around lily pads; use worms and crickets. Crappie reports were fair. Best action was in Adams Lake or around greens, and don't forget to work the cypress trees. Minnows or jigs will work. Bass fishing has been good. Bass also are staying around the lily pads (seeking shade, no doubt). Spinnerbaits, topwater frogs and a 10-inch plastic worm all will get a reaction. Catfish reports have been excellent. The fish are in the creek channels and are taking to goldfish and large minnows.
Little Red River
(update 7-19-2017) Lowell Myers of Sore Lip'em All Guide Service said they continue to receive 12 hours of daily generation on the Little Red River with generation. This generation schedule is providing excellent wading conditions on the upper sections of the river in the mornings and on the middle and lower sections later in the day. This generation schedule is also providing excellent drift fishing on all sections. For fly-fishing, we recommend sowbugs, midges, emergers and streamers. Red and hot pink-colored Trout Magnet bodies on chartreuse heads are recommended for spin fishing. Always check before heading to the Little Red River by calling the Corps of Engineers Little Rock District water data system (501-362-5150) for Greers Ferry Dam water release information or check the Corps of Engineers website (swl-wc.usace.army.mil) for real-time water release and the Southwestern Power Administration website (swpa.gov) to see forecasted generation schedule.
(update 7-19-2017) Greg Seaton of littleredflyfishingtrips.com (501-690-9166) said the generation schedule has been hard to figure the last couple of days due to one of the generators malfunctioning. It's hoped that this has been corrected and the 12-hour generation will return on Wednesday adjusted to start at 11 a.m. (Wednesday only), then back to the 9 a.m. starting time. The lake is now 464.67feet msl, a little over 2 feet over normal. The hours of generation should decrease when the lake returns to normal. Fishing slowed during the generation Tuesday but the bite should be good now that the generation is back on schedule. Greg's best choice of flies remains a size 16 mayfly nymph or midge pupa.
Greg adds, "On a more serious note, and I think I speak for all on the Little Red, I would like to extend our deepest sympathy to the families of two drowning victims in the last two months on the river. I was personally involved with the latest, since two men working next to my home heard the daughter's cries for help and were able to save her and retrieve her father from the water to my dock and tried their best to revive him. Both father and daughter were wearing life jackets but the father was forced under a dock by the current and was unable to free himself in time. I ask that all persons kayaking and canoeing on tailwater rivers respect and realize the danger present when the flow is exaggerated by the generation. Enjoy the rivers, but be safe by realizing that a simple mistake during strong flows can be costly. The river can be a great place to float and fish from small craft during low water but not during generation periods. Local outdoorsmen can help by politely asking persons launching small craft during high water if they are aware of the current's danger. Many visitors to our state's tailwaters are not aware of this danger."
(update 7-12-2017) James Dillard at Tailwater Fishing Co. said the fishing has been excellent this week. The Army Corps of Engineers has been releasing water for 12-15 hours each day, providing great drift-fishing from the boat in the falling water. The hot flies have been sowbugs, pheasant tails and egg patterns.
Greers Ferry Lake
As of Wednesday, the Army Corps of Engineers reports the lake's elevation at 464.68 feet msl (normal conservation pool: 462.04 feet msl Oct. 1-April 30; 463.04 feet msl May 1-June 1; 462.54 feet msl June 1-Sept. 30).
(update 7-19-2017) Tommy Cauley of Fishfinder Guide Service (501-940-1318) said the water level at Greers Ferry Lake has been falling. At last look it was 2.15 feet above normal pool of 462.54 feet it will continue to fall until they reach normal pool and then will go down as they generate for power needs. The water temperature has gotten hot and the lake should develop a well-defined thermocline soon. The catching overall is good all over the lake off and on throughout the day and night. The crappie are in big schools in the standing pole timer over, in and around brush piles and even sitting out suspended in open water in the guts of cuts 15-30 feet deep. Try minnows and jigs fished vertical for best results. The bream are guarding fry up shallow and out to 28 feet of water. Try using crickets and crawlers, and the shallow fish will eat the same as well as small in-line spinners and small crankbaits. The catfishing is real good on certain days and nights with a variety of baits all over the lake, with all three species being caught. The black bass are all over the place from real shallow out to 65 feet. Spinnerbaits, crankbaits and topwater baits are working shallow; jigs and jighead worms are working on the in-between fish. Te deeper fish can be caught with Texas rigged worms, C-rigs, spoons, in-line spinners, hair jigs and football heads. There is some schooling going on off and on all day as well. The walleye are roaming around monster flats eating off and on during the day and night. The hybrid and white bass are eating off and on around-the-clock as well from 25 out to 70 feet of water on in-line spinners, spoons, hair jigs, swimbaits and of course live bait. Some big schools are surface feeding as well, but they are up and down pretty quick. They will get better over time.
Harris Brake Lake
(update 7-19-2017) Harris Brake Lake Resort (501-889-2745) said that bream fishing is good on crickets. Catfishing has been excellent, according to anglers, but they're not revealing what they're using, the resort says. No reports on bass. No reports on crappie.
Lake Overcup
The AGFC is treating alligator weed in Lake Overcup using EPA-registered herbicides approved for use in aquatic systems. The AGFC strongly recommends that adjacent landowners not use lake water for irrigation of lawns or gardens through March 1, 2018. For more information please contact the AGFC Fisheries Office in Mayflower at (877)-470-3309
(update 7-12-2017) Johnny "Catfish" Banks at Overcup Bait Shop and R.V. Park (501-354-9007) said water level is about 1 foot above normal and clarity is good with a surface temperature of 85 degrees. Bass are still doing well with crankbaits, plastic worms and assorted topwater baits. Crappie are being caught in 5 feet and 9-11 feet of water on minnows and jigs. Catfish are doing well with crickets on pole while bream fishing, but slow on jugs and trotlines due to so many small shad. Bream are picking up now, but not in usual beds still catching 30-40 in the evening just have to work for them.
Brewer Lake
(update 7-19-2017) Larry Walters at Bones Bait Shop (501-354-9900) said the week has been great for fishing, it's just hot. Water is clear and the surface temperature was 85 degrees. Level is normal. Bass are excellent, with some 8-pounders caught. Anglers are using spinnerbaits, crankbaits and buzzbaits. Bream are good on worms and crickets. Crappie are good and are in about 12-14 feet of water around brush piles. Use minnows or jigs. Catfishing was fair, with worms or shad working best. White bass reports were poor.
Lake Maumelle
(update 7-19-2017) Jolly Rogers Marina (501-868-5558) said black bass fishing has slowed down some. The bass that are biting are reacting to jigs, crankbaits, wacky rig worms, spinnerbaits and Sweet Beaver. Bass are about 10-15 feet off the weeks by about 10 feet. They are biting in shallow water around dusk and at dawn. Keeton Blaylock and Kyle Wise, who won Tuesday night's Black Bass tournament, were able to reel in a stringer weight 15.82 pounds, along with the Big Bass of 5.26 pounds, so the fish are out there. Matt Hedrick and Matt France caught a winning stringer of 12.66 pounds in a Friday night tournament. Like the black bass, reports on Kentucky bass are slow. They are being caught on jigs and minnows and can be found mixed in with the black bass in shallow water. On the positive side, white bass fishing has been excellent. They are reported schooling on the east end of the lake, with some in the midwest portion. They are coming up for a short period of time and moving quickly with the schools. Use Rooster Tails, CC Spoons and deep-diving Bandits and Bombers. Crappie reports are good. They are being caught on crappie minnows and jigs (chartreuse and white with very light line). Lots of 11-15 inch crappie are being caught 22-25 feet of water. Fish off the channel or underwater bridges. Bream are excellent and can be found on the brush piles but moving quickly. Lots of reports about redear on the west end of lake. They are being caught on crickets and live worms. Catfish is excellent. The catfish are being caught in 15-25 feet of water but are moving into shallower water. Use stink bait, small bream and chicken livers.
(update 7-12-2017) Hatchet Jack's (501-758-4948) reported bream are fair on redworms and crickets. Catfish are excellent; use shad or goldfish.
Sunset Lake
(update 7-19-2017) Lisa's Bait Shop (501-778-6944) said fishing has been fair at Sunset Lake if you get there early in the morning. Catfish have been biting chicken livers, nightcrawlers and minnows. Bream are biting crickets and redworms. Bass have been hitting minnows and Carolina rigged plastics. Crappie have been biting slow. The best bites are coming early in the mornings and slow down shortly after daylight.
Bishop Park Ponds
(update 7-19-2017) Lisa's Bait Shop (501-778-6944) said bream fishing has been fair with crickets and redworms. Catfish have been biting chicken livers, nightcrawlers and bait shrimp. Bass fishing has been slow to fair with minnows and Carolina or Texas rigged plastics. Crappie have been biting slow and only a few small ones have been biting pink and No. 6 minnows.
Saline River Access in Benton
(update 7-19-2017) Lisa's Bait Shop (501-778-6944) saidbass have been biting minnows, small Texas rigged lizards and small spinnerbaits. Catfish have been hitting minnows, goldfish and black salties on trotlines and limblines at night. Crappie fishing has been fair for a few customers using size 6 minnows around submerged logs in 3-5 feet of water. Bream are biting crickets and redworms around almost any log, rock or grass. Gar are easy to spot right now in the river and fun to catch. Just get a minnow close to one and you'll probably get a bite.
Lake Norrell
(update 7-19-2017) Lisa's Bait Shop (501-778-6944) said bream are biting in the mornings and evenings. Redworms or crickets fished about 12-18 inches of the bottom in 12-20 feet of water. Fish close to logs, rocks or other structure. Catfish are biting fair at night on minnows, goldfish and black salties. Bass fishing has been fair at night with Carolina rigged plastics, topwater baits and black buzzbaits. Crappie have been tight lipped and not biting anything customers have thrown at them this week.
Lake Winona
(update 7-19-2017) Lisa's Bait Shop (501-778-6944) said crappie fishing has slowed a bit but some are still being caught on size 6 minnows and Kalin's Triple Threat Grubs in Cajun Cricket and Tennessee Shad colors. Bass have been hitting minnows and Texas rigged plastic worms or lizards. Bream are biting crickets and redworms fished close to the bottom in 12-20 feet of water. Catfish are biting best right before and for a while after dark. Chicken livers, nightcrawlers and minnows are working best right now.
Lake Valencia
(update 7-12-2017) Hatchet Jack's (501-758-4948) reported that catfishing improved quite a bit the past week, and ended up excellent. Chicken livers, chicken hearts and nightcrawlers were all appetizing to the cats.
Arkansas River at Morrilton
(update 7-19-2017) Charley's Hidden Harbor at Oppelo (501-354-8080) said more and more people are coming back to the river to fish. Black bass are in the backwater early, then moving to jetties. Fish a Chatterbait or Tiny Torpedo early, then go to the jetties and fish with Sexy Shad in 5-15 feet deep water. Reports have been very good. White bass are schooling on the jetty tips; use shad or pearl crankbaits and then when they move down use CC Spoons. Reports are very good. Catfishing is good drift-fishing with combination nightcrawler and shad. Work it in 10-20 feet depth. Results have been very good. No reports on bream, crappie or stripers.
Arkansas River (Cadron Pool)
(update 7-19-2017) Professional angler Cody Kelley, owner of Best in Bass Guide Service (501-733-5282),) reports that the flows on the river are slowing and fishing is still good. Bass fishing is good to excellent right now depending on the day. The fish are definitely in full summer mode and sticking close to that highly oxygenated water found near current. Look ambush areas near the main river where the current is broken up. Good fish can also be caught in deeper back waters where there are small blowholes that keep a small amount of water moving. Use moving baits like spinnerbaits and squarebills around current. Try slower baits, like big worms and jigs, around the slack water. Crappie fishing is slow. Some can be caught in the deeper slack water holes behind jetties. Use jigs and minnows in 20-25 feet. Most of the catfish are fully recovered and eating well. Now is the time to use your biggest offerings. Place large live or cut bait (the fresher the better) in the deepest holes you can find. Be sure to set up on the upstream side so the current and 'walk' your bait back to the cats. For bream, Trout Magnet on a single pole is deadly right now. Look for water willow grass around the shallower jetties. Flip in there and hold on!
Little Maumelle River
(update 7-19-2017) River Valley Marina (501-517-1250) said water clarity is perfect and the water and current are at a normal level. Bass reports have been excellent both early in the day and late in the evening. Try a spinnerbait or crankbait. Crappie are good on minnows or jigs. Bream are biting well on worms and crickets. Catfish reports were good, picking up from last week. White bass were poor.
(update 7-12-2017) Hatchet Jack's (501-758-4948) reported bass are fair on spinnerbaits, crankbaits and black buzz baits. Catfish is fair with skipjack or shad.
Arkansas River (Maumelle Pool)
(update 7-19-2017) Hatchet Jack's (501-758-4948) said bass are excellent in the Murray Lock and Dam area. Use a plastic worm, white twister tails and minnows. No other reports.
(update 7-19-2017) Zimmerman's Exxon (501-944-2527) reported the water is dingy and at a normal level and current. Surface temperature is mid 80s to low 90s. Largemouth bass are excellent early in the morning and late in the day. Use topwater frogs or plastic worms. Bream are ranging fair to good. Bream are in 6-7 feet depth and hitting worms and crickets. Crappie still are good and are reacting well to jigs. Catfishing is fair on worms. White bass reports are good. They're mostly found in 10-15 feet depth.
Arkansas River (Little Rock Pool)
(update 7-19-2017) Vince Miller from Fish 'N' Stuff (501-834-5733) said the clarity is clearing up and the river is now at a normal level and current. Surface temperature is "hot." Bass fishing is good, especially working around the jetties. Use Texas redworms, a crankbait or topwater lures. Catfishing is good next to the dam; use stink bait. Bream reports were poor, as were crappie reports.
(update 7-19-2017) McSwain Sports Center (501-945-2471) said water level is now normal near the Terry Lock and Dam, but no clarity or temperature details were available. Reports of bream are fair using worms and crickets. Crappie are fair on minnows or jigs. Bass have been poor the past week. Catfishing is fair. In Clear Lake, crappie are fair but seem to be picking up; use a jig. Bass are poor there as well. Catfish are fair on skipjack. Use redworms and crickets for bream, which are biting fair.
(update 7-19-2017) Zimmerman's Exxon (501-944-2527) said the water is dingy. Surface temperature is a "hot mid-80s." Level and current are normal.That's apparently making the bass hungry and active. Reports have been excellent below the Murray Dam. Anglers are using 2-ounce jigs in pearl color and Zoom Flukes. Also plastic worms are working nicely. Crappie are reported good and are in 10-12 feet of water around rocky points. Use a red tube jig around the rocky points. Bream have been fair. They are in 5-6 feet depth and are biting worms or crickets. Catfishing is fair on worms. White bass reports have been good. The white bass are found in 10-15 feet of water and are biting Shakey Head, Red Bug and trick worms. Near Terry Dam, white bass reports still are good and trick worms are working best. Bass are excellent in that area on topwater lures and plastic worms, while catfish are fair on worms. Crappie reports are good from the south end of the pool in minnows and jigs. Bream are fair on worms and crickets.
(update 7-19-2017) Hatchet Jack's (501-758-4948) said reports have been excellent on bass from the north end of the pool and in the Murray Dam area. Anglers report great success working plastic worms as well as white twister tails and minnows. With the extremely hot conditions, fishing appears to have slowed down, they report.
Peckerwood Lake
(update 7-19-2017) Herman's Landing (870-241-3731) said the water is clear but the level is high. No temperature was recorded. Crappie anglers are getting good results trolling. Bass are biting well on spinnerbaits and crankbaits. Catfishing is excellent using stink bait, hot dogs and minnows. Bream reports were good.
White River
(update 7-19-2017) Cotter Trout Dock (870-435-6525) says, "It's hot … but the river is cold, brisk, refreshing and inviting. When the early morning mist is on the river, it's a perfect time to lay a line on the water and wait for that first pull on your line. Visit the White River in Arkansas Ozark country and take some time to slow down and enjoy summertime again like a kid." The water level has returned to a constant flow of two to three generators, so you'll see a swift current in many parts of the river. Keep your bait closer to the bottom and expect the bite nearer the bank. Turn to the old faithful baits: the red-gold Thomas Buoyant Spoon was causing a splash this past week, and the ever-successful shrimp/PowerBait brought in rainbows left and right. That old-timer flat fish No. 4 would be fun to try again right now. Redworms have rewarded lots of anglers in the afternoon when the flow from the dam increases. Stay cool and stay hydrated, and keep fishing. See you at the river.
(update 7-19-2017) Sportsman's White River Resort (870-453-2424) said 1,500 rainbow trout were stocked Wednesday morning. The river level has been normal to love, with 2-6 generators running at various times. Clarity is fair. Anglers are fishing both on the bank and with boats and having excellent success. Trout will be great on shrimp and pink worms.
(update 7-19-2017) John Berry of Berry Brothers Guide Service in Cotter (870-435-2169) said that last week they had no rain, warmer temperatures and moderate winds. The lake level at Bull Shoals dropped 0.1 feet to rest at 26.7 feet above seasonal power pool of 661.1 feet msl. This is 6.8 feet below the top of flood pool. Upstream, Table Rock fell 0.4 feet to rest at 3.6 feet above seasonal power pool and 10.4 feet below the top of flood pool. Beaver Lake fell 0.2 feet to rest at 6.7 feet above seasonal power pool and 1.9 feet below the top of flood pool. On the White, we had wadable water with moderate generation. We should expect a lot of generation, with limited wadable water, in the near future. On the White, the hot spot has been Rim Shoals. The hot flies were olive Woolly Buggers (sizes 8, 10), Y2Ks (sizes 14, 12), prince nymphs (size 14), zebra midges (black with silver wire and silver bead or red with silver wire and silver bead sizes 16, 18), pheasant tails (size 14), ruby midges (size 18), root beer midges (size 18), pink and cerise San Juan worms (size 10), and sowbugs (size 16). Double-fly nymph rigs have been very effective (my current favorite is a bead-head pheasant tail nymph (size 14) with a ruby midge suspended below it). Use lots of lead and long leaders to get your flies down.
Berry added, "If you have checked the river levels for the last few days you have probably noticed that they are much lower. I figure that they are not running much water right now because of flooding downstream. This is a temporary respite from heavy generation. One of the big advantages of living here is that we can take advantage of great conditions. Last Friday was such a day. The forecast was for a cool morning and a hot afternoon. The sky was sunny, the winds were to be light and variable and there was to be low generation (about 2,500 cfs or 2/3 of a full generator). This is a great level to fish from the boat at Rim Shoals. The fish are still concentrated in the main channels and you do not have to use heavy weight, long leaders or big strike indicators.
"I asked my wife, Lori, if she would join me for a morning on the river. She quickly agreed. She had been very busy with our new puppy, Ghillie, and had not fished on her own (not guiding) much recently. We arrived at Rim Shoals at 9:30 a.m. and took a couple of my client rods and quickly changed them for the water conditions. We stripped off the heavy AAA split shot and put on a lighter BB shot. We adjusted the strike indicator for shallower water. Lori kept the Y2K and hare and copper fly on her rod. I kept the pheasant tail nymph and tied on a ruby midge dropper.
"We began catching trout immediately. It was evident from the start that the ruby was out-fishing all of the other flies, three or four to one. We stopped fishing for a while so that Lori could re-rig her rod to swap out the hare and copper dropper for a ruby midge dropper. This is standard procedure for us. We always begin fishing together with different rigs so that we can quickly determine what is working. It only took us two drifts to key in on the ruby midge.
"We had been doing OK, but now we were on fire. We were catching trout after trout. I didn't keep up with the number of trout caught but did note that we had seven doubles in our two hours of fishing. About 11:30 a.m., Lori decided to return home to check on the puppy. She had caught plenty of trout. I stayed and fished for another hour and probably picked up another dozen trout. It had been one of my best days ever on the river. To be able to share it with Lori made it special. We had caught some perfect conditions and moved to take advantage. When you get an opportunity like, this take it!"
Bull Shoals Lake
As of Wednesday, the Army Corps of Engineers reports the lake's elevation at 681.16 feet msl (normal conservation pool: 659.00 feet msl).
(update 7-5-2017) Del Colvin at Bull Shoals Lake Boat Dock said last Thursday that at 688 feet msl the lake is still high but is dropping slowly. Del said he doesn't know how long it's going to take for the water to go down. Water temperature is about 82 degrees starting out, 88 by the end of the day depending on location. Fishing is in the summer pattern, and a couple of different things are working. For Del, bluffs, points, saddles. And, he said, because of where the water is at, 29 feet above normal, those fish that are normally deep (the drop-shot fish, the spoon fish) are still in the bushes. You can pick up a few on the bluff walls. When you come off the bluff walls, try drop-shotting, either using worm or shad-style bait. Del also says that you want to have a topwater tied on at all times and ready to go. They've had it where the fish are just blowing up anytime of the day. All those little shad balls, there are "wolf packs" going through. You'll see the shad popping and if you can get that bait in there, you'll do all right. Del suggests a Whopper Plopper; he says he's excited about the new 110, it's catching some fish. Buzzbaits are catching the fish. Zara Spoon, whatever topwater you're comfortable with. Natural shad pattern seems to be the key. It's summertime, you want to be out toward the main lake. The long points that go way out to the lake, those points are holding lots of fish. You can drag a jig off the points. Del says he is still not dragging it, he's swimming it or stroking it off the tops of bushes. The fish in there are just going to hammer it. If he's covering water, Del says, the Keitech is catching a few – quarter-ounce head, shad pattern, whatever color you like, depending on the day. And spinnerbait – if you have plenty of wind you can still catch fish on a spinnerbait. A lot of these fish he's catching are still shallow, 20 feet or less. Walleyes, lot of guys are asking about them, Dell says he's catching a few fairly shallow on a jig, 15 feet. "I know that's messed up for the walleye guys. Usually this time of year you can bottom bounce one but the ones I'm catching on the jig are in the 10-15 feet range. All that bait is up there so the fish are up there eating and they don't have any need to go deep. They have cover and they've got food. I don't know if the deep bite is going to turn on. A lot of those fish are suspended too. The suspended fish can be tougher to target," he said.
(update 7-5-2017) K Dock Marina said they have been preoccupied with the devastating flood that hit there at the end of April and apologize that it's been so long to post a report, but they have been very busy trying to straighten the marina out. However, things are looking up! The lake is still very high (688.7 feet msl, or 29 feet above normal) but in perfect fishing and boating conditions this week. Water temperature is ranging 83-86 degrees and the water is clear to stained. Here is what they have been hearing from the anglers the past two weeks. Black bass (Largemouth, smallmouth and spotted bass) are Good on big 10-inch plum-colored plastic worms off of flooded roadbeds. Also good on ½-ounce jigs in 10-20 feet off of flooded flats and points. Crankbaits are also good off of points and rocky bluffs. Topwater bite is good to fair in flooded brush. Try a weedless frog. Walleye are good to fair on nightcrawlers on flooded flats. Medium-size crankbaits are also working being trolled along the points and bluffs. Many are being caught still shallow in 6-15 feet. But look for suspended walleye in 20-30 feet on your graph. Drop a white or silver ½-ounce spoon if you get on top of them. Crappie are slow due to high water. Swimming minnows or live minnows around flooded trees work best. White bass are slow due to high water. Catfish are good to fair on trotlines. Also nightcrawlers in the entrance to coves. Bluegill are very good on crickets about anywhere. Also it's a great time to rig the kids up with a worm and a bobber in any cove.
As of Wednesday, the Army Corps of Engineers reports the lake's elevation at 572.37 feet msl (normal conservation pool: September-April 552.00 feet msl; April-September, 554.00 feet msl).
(update 7-19-2017) Lou Gabric at Hummingbird Hideaway Resort said Norfork Lake striped bass fishing has been really good for the last month and should continue for some time. Lou says he has been spending most of his fishing time catching stripers. Lou's daughter and granddaughter have been visiting and they have been having a blast. It is so much fun watching young fishermen and women take to the sport, he says. Lou has been keying in on striped bass in 55-65 feet of water on the bottom. This is where he has been finding the bigger fish. He has caught a few suspended fish down 40-50 feet in deeper water, but they seem to be the smaller fish. Live bait has been working exceptionally well, but artificial baits are also picking up some good fish. For artificial baits use a 1-ounce spoon and vertical-jig it off of the bottom, or if you see suspended fish reel up to them and jig at their depth. Trollers are also picking up some nice fish. The trollers are mainly using swimbaits with 4-6 ounces of weight attached to the line with a snap-on weight. If you have a downrigger, get your bait down to 50-60 feet of water. The best places to start looking for stripers is on main lake points, especially the points that go out well into the lake. Fish the edges of the point where it drops off to 60 feet of water, plus or minus 10 feet. As the sun comes up, go out a little deeper. The main area to find the stripers is south of Point 2 to the dam, then east of the dam toward Jordan Island.
Lou says largemouth bass fishing has been up and down. The best place to look for them is back in the creeks. If you can find a stand of trees that are out in 10-15 feet of water, there will be lots of bass in the area. One good place to fish for largemouth is back in Pigeon Creek where there is a large grove of trees in the water. Crankbaits, soft plastics and tube jigs are good choices to use for your bass fishing. Crappie appear to be scattered though out the sunken shoreline. Live bait is a good choice, or small jig casted into the brush and bringing them out slowly. Norfork Lake level is currently 572.54 feet above sea level and falling a little more than 2 inches per day. The main lake is clearing nicely and the creeks and coves are still somewhat stained. The lake surface water temperature was 86-87 degrees early Wednesday morning.
(update 7-12-2017) Tom Reynolds of STR Outfitters says striper fishing continues to be outstanding Norfork Lake. Tom says he cannot remember when the fishing has been this good. Tom and his son have been bringing in limits of stripers every day they have fished for the last three weeks. Because of the warm water, striper fishing is strictly catch and keep so we only fish until we can a limit and then go home. The AGFC has requested that all persons fishing on Norfork keep all legal stripers and quit when you catch your limit. The basic fishing rig has not changed – a 3- or 4-ounce weight with a short leader and putting the bait on the bottom, then bringing it up about a foot and keeping it there as we move around. The stripers are still concentrated around the dam area; the best places are Dam Cove, Koso, Thumb, Point 1 and the Hudson area. There has been some topwater action in Hand Cove as of late, usually in the early evening. Trolling and spooning are also producing some fish, but not the numbers seen with live bait. This action should continue into August.
Tom says his son took Mike his grandson Cody and Cody's friend Braxton out for a fast-action striper trip. Tom took Mike and Cody out last year and says they had a great time and caught their limit. Cody did a great job last year in fighting a striper. As usual, the action starts early and is pretty steady the whole time. Right now they are using six downlines and there have been times where four and five rods are hit at the same time. It's total chaos but a lot of fun. Right before they were finishing up on their limits, Cody's rod went down and the fight was on because Cody knew how to fight the fish from last year; he handled the fish with ease. When they got it in, it weighed 30 pounds. You could not have a bigger smile on a boy's face as was on Cody's. What a way to end their fishing trip. Now he will have a wall mount for a lifetime.
Norfork Tailwater
(update 7-19-2017) John Berry of Berry Brothers Guide Service in Cotter (870-435-2169) said Norfork Lake fell 0.3 feet to rest at 17.5 feet feet above seasonal power pool of 556 feet and 6.8 feet below the top of flood pool. On the Norfork, we had a bit more wadable water. On the Norfork, the water is stained. It fishes well one day and poorly the next. Navigate this stream with caution as things have changed a bit during the recent flooding. There has been major gravel recruitment at the bottom of Mill Pond and the dock hole. The most productive flies have been small midge patterns (sizes 18, 20, 22) like ruby midges, root beer midges, zebra midges (black or red with silver wire and silver bead) and soft hackles (sizes 14, 16) like the green butt. Egg patterns have also been productive. Double fly nymph rigs have been very effective. Try a small bead headed nymph (zebra midge, copper John or pheasant tail) suspended eighteen inches below a brightly colored San Juan worm (hot fluorescent pink or cerise size 10). The fishing is better in the morning. My favorite rig has been a cerise San Juan worm with a ruby midge dropper. Dry Run Creek is fishing well. With school out it can get a bit crowded. The hot flies have been sowbugs (size 14), Y2Ks (size 12) and various colored San Juan worms (worm brown, red, hot fluorescent pink and cerise size 10). While you are at the creek you should visit the Norfork National Fish Hatchery. It is fascinating. Be sure and remove your waders before entering to prevent the spread of aquatic diseases.
Buffalo National River/Crooked Creek
(update 7-19-2017) John Berry of Berry Brothers Guide Service in Cotter (870-435-2169) said the Buffalo National River and Crooked Creek are higher. With the warmer weather the smallmouths are more active. Berry's favorite fly is a Clouser minnow. Carefully check the water level before entering Crooked Creek or the Buffalo River. There are no dams on these streams. They both have large drainages and are prone to flooding during and following any rain event. The water can rise very quickly.
Beaver Lake
As of Wednesday, the Army Corps of Engineers reports the lake's elevation at 1,127.82 feet msl (normal conservation pool: 1,121.00 msl).
(update 7-19-2017) Southtown Sporting Goods (479-443-7148) said that while it is hot, hot, hot, the fishing has been good. Water level is "a little high," they say, but the clarity is good. Surface water temperature is also hot. The bass bite is on early in the morning as well as at night. Anglers are using spinnerbaits, jigs and topwater lures. Catfishing has been good using unprepared bait. Crappie reports were good, with anglers having success trolling crankbaits in 16 feet of water. Bream are fair using crickets. Bream also appear to be about 16 feet deep.
(update 7-19-2017) Bailey's Beaver Lake Guide Service (479-366-8664) said stripers are back on the main lake. They have gone deep for the most part and they are on the feed with most striper using 40-100-plus feet of water. Some Beaver Lake striper are using gravel bars, points, humps, treetops, bluffs and cuts in the bank adjacent to the main channel to corner bait. Fishing downlines with live bait will definitely get you some fish. Night fishing has also been productive in these areas. Make sure you do not keep striper under 20 inches and not more than three striper or hybrid or combination; walleye must be 18 inches long with a limit of four. Beaver Lake striper fishing will be good using live shad fished on downlines from 30 feet down to about 60 feet; also try trolling small umbrella rigs with white or chartreuse grubs for staind water, along with plugs like Rapala No. 14 Husky Jerks in black back or purple back colors and the 5-6-inch Smithwick Rogues in similar colors on downriggers or snap weights to get some depth and stagger your presentation. Jerkbaits like flukes, swimbaits and jigs will also produce. Fish location is greatly influenced by lake level and current flow; current in the lake from generation will generally position fish on upstream or downstream edges of structure Check the daily lake level and flow data link on Mike's website linked above. When fishing for trophy stripers on Beaver Lake, Mike says, live bait is the go-to approach. Water surface temperatures are in the mid- to high 80s on the mid and lower sections of Beaver Lake. These are the hot spots (check the main lake structures and secondary points in the area where the channel intersects): Point 1, Indian Creek, Lost Bridge North, Point 3, Lost Bridge South, Point 4, Big Clifty, point 5 and 6, Rambo Creek Arm.
Walleye are making their way back to the main lake in numbers in late spring/summer migration mode and can be found scattered throughout the lake and are on the feed. Walleye can be found from 20-30 feet deep depending on areas you fish. Use three-way rigging Rapalas in natural colors for clear water or chartreuse/orange and clown colors in areas of stained water. Try Rapala Tail Dancers, Bagley Rumble B's, Flicker Shad and Bandit 300 series in colors that include orange and chartreuse. Try slow death rigs and spinner rigs on bottom bouncers in orange/chartreuse. Bink Pro Ccale 1-ounce jigging spoons in white or white/chartreuse combo and a variety of jigs are also producing walleye.
Beaver Tailwaters
(update 7-19-2017) Guide Austin Kennedy (479-244-0039) said water temperatures have been between 70 degrees and 58 degrees between Houseman Access and U.S. Highway 62 bridge. The trout bite has improved significantly just upstream from the 62 bridge. Trout are being caught on light terminal tackle with various PowerBaits and waxworms. Spoons of various sizes and Rapalas are also doing the trick. Walleye are being caught toward Beaver town. The most productive rig has been the crawler rig with a nightcrawler. Rapalas are also doing well fished between 6-15 feet of water. Smallmouths are hitting off brush piles and other structure; using soft plastic or drop-shot seems to do the trick. Once again, please: If you are going to take a boat in the tailwaters, please do not be negligent when operating your water craft. There is hidden structure that is inches below the water that could injure yourself or another if operating a watercraft at a high rate of speed. Also, smaller boats and kayakers can and will be swamped by your wake. If you approach an anchored boat, kayakers or a smaller boat, lower your speed as to not cause a wake. Thank you, have fun and be safe.
(update 7-12-2017) Beaver Dam Store reported water is still too high to wade. Conventional fishermen are catching their limits of trout from the bank and boat alike. Fly-fisherman are out of luck again this week as the water levels remain too high to wade and who knows when the water will recede enough for fly-fisherman to wade again. Nightcrawlers and waxworms are working well for catching trout. PowerBait in dough or balls are also working well. Fish the Bertrand and the launching ramp just below the dam using PowerBait. Also, try fishing the Parker Bottoms area. When water is flowing, throw quarter-ounce spoons Flicker Shad are also doing the job. Good lures in this area are gold and silver Colorado Spoons, red and gold Bouyant Spoons and Flicker Shad in Pro Series Nos. 4 and 5. Good PowerBait colors are white, red, orange, yellow, chartreuse and peach. Good flies are pheasant tails; midges in blue dun, olive; hare's ear; tungsten copper johns; WD40s; Trout Magnets; and San Juan worms.
War Eagle Creek
(update 7-19-2017) Loy Lewis of War Eagle Creek Outfitting (479-530-3262) said smallmouth bass are hitting topwater hoppers and poppers, soft plastics, crankbaits, Rooster Tails, spoons, live minnows and crawdads from the creek. Pools above, during and below rapids are hot spots between AGFC's Clifty Access to War Eagle Mills area. Reminder that the length limit is 14 inches. Largemouth bass are biting well in stretches of War Eagle into Beaver Lake. Anglers are fishing around bushes, trees and grass with topwater lures, spinnerbaits, plastic worms, and go toward deeper water with crankbaits, jigs and soft plastics. A reminder that the black bass combined daily limit is two. Goggle eye are hitting small jigs, Rooster Tails and live worms. When you catch one, there are more likely many more fish in same area. Catfishing is excellent with liver, stink bait and live bait. Good spots are at bluff holes and the War Eagle stretch going into Beaver Lake. Bowfishing beginning to get good with summer heat. Walk bluff line stretches for great action, and from boats below War Eagle Mills into Beaver Lake.
Lake Fayetteville
(update 7-19-2017) Lake Fayetteville Boat Dock (479-444-3476) said anglers enjoyed a good to great week of fishing despite the rising heat. The water is clearing up and is at a normal level. Bream are excellent on worms and crickets. Crappie ranged fair to good on minnows and jigs. Bass fishing was excellent, with crankbaits and plastic worms working best. The catfish bite is good, anglers say.
Lake Sequoyah
(update 7-19-2017) Lake Sequoyah Boat Dock (479-444-3475) said water level is normal and the clarity is dingy. Water surface temperature is 89 degrees. Bass are good early in the morning on plastic worms and buzzbaits. Bream are good on worms and crickets. Catfishing is good using chicken livers, shad and goldfish. No reports on crappie.
Lake Poinsett
(update 7-19-2017) Ome Coleman at Lake Poinsett State Park wonders, "Who wants to be out in this heat? Some do. They are the fishermen!" Ome says bait sales are slower here at Lake Poinsett this week. The AGFC began to drain the lake last week. There is no limit on anything you catch. Minnows, worms, crickets and goldfish are all being bought. You can expect a fish dinner tonight.
Crown Lake
(update 7-19-2017) Boxhound Marina (870-670-4496) said the water is clear and at a normal level. Bream are good on worms and crickets. Bass are biting very late in the evening, and reports are fair. Catfishing is excellent on liver and nightcrawlers. No reports on crappie.
Spring River
(update 7-19-2017) Mark Crawford with springriverfliesandguides.com (870-955-8300) said water levels are running at 409 cfs (350 is average) and water clarity has been clear. The river is looking great. It has been hot out, but the river is cold and the fish are friendly. We have a new fly called Diablo that has been really hot with the clear water. Y2Ks and bead-head nymphs are coming in second. Hot pink Trout Magnets and silver spinners have been hot for spin fishers. The Spring River runs a cool 58 degrees – a great place to cool off.
(update 7-19-2017) John Berry of Berry Brothers Guide Service in Cotter (870-435-2169) said the Spring River is fishing better. This is a great place to wade fish, when they are running water on the White and Norfork rivers. Canoe season is on and there many boats on the river. Be sure to wear cleated boots and carry a wading staff. There is a lot of bedrock that can get very slick. The hot flies have been olive Woolly Buggers with a bit of flash (size 10), cerise and hot pink San Juan worms (size 10) and Y2Ks (size 10).
White River
(update 7-19-2017) Triangle Sports (870-793-7122) said the weather was too hot for anglers, and it had no reports. Last week, Triangle said the fishing was mostly slow with clear water and at a normal level. Bream were fair on worms and crickets. Bass were fair on spinnerbaits and crankbaits
Arkansas River at Pine Bluff
(update 7-19-2017) The University of Arkansas at Pine Bluff Bass Team reported that water temperatures are in the upper 80s throughout. Visibility in Lake Langhofer and the main channel of the river is around 1 foot. The river is flowing slowly at normal level. There is still enough flow to congregate main-channel fish in ambush points behind current breaks. When using crankbaits, remember to make contact with the rocks or cover. Fish often hold close to cover to stay out of the main current, and lure deflections off of hard surfaces often trigger bites. Despite the high temperatures black bass are still biting well, but mostly in the morning. Some mornings they will take moving topwaters such as buzzbaits, walking plugs and poppers. Other mornings they will only take crawfish or worm imitations worked more slowly along the bottom. Experiment each day to gauge their mood. A major key this time of year is to follow shade. Fish will feed early in shallow areas covered by shadows cast from trees or steep shorelines and then move to vegetation, brush piles, logs or manmade structures during the day to get out of direct sunlight.
Cane Creek Lake
(update 7-19-2017) Jennifer Albertson, park interpreter at Cane Creek State Park, said the sun is shining at Cane Creek Lake! Bream are great right now, biting mostly on crickets. Bass are good, and biting on topwater artificial baits. Crappie are fair, biting on minnows and jigs. Bream fishing is good any time of day right now, but if you want crappie, be sure to come in the morning. Weather has been clear, but the afternoons have been very hot and humid. Mornings are very pleasant right now, with hot temperatures beginning around 10:30 a.m. most days.
Lake Chicot
Lake Chicot State Park (870-265-9705) had no report.
Lake Monticello
(update 7-19-2017) Local angler Chris Van Duren at Lucky's of Monticello said the largemouth bass bite is on. Bass were excellent for the past week. They have moved deep in 10-15 feet of water and are reacting great to plastic worms. Catfishing is excellent on trotlines. Bream are good in shallow water (3-5 feet) on crickets. Crappie reports were poor, and white bass action was poor. The water clarity is fair and the lake is at a normal level. Water surface temperature was in the mid-80s.
Millwood Lake
As of Wednesday, the Army Corps of Engineers reports the lake's elevation at 259.15 feet msl (normal conservation pool: 259.20 msl).
(update 7-19-2017) Mike Siefert at Millwood Lake Guide Service said lake level Monday was about 8 inches above normal conservation pool and falling at 259.9 feet msl. There is current of 2,820 cfs in Little River; tailwater about 232.3 feet msl. Water temperature was stable over the past week. Lake level is returning to normal pool elevation. Use normal caution during navigation. Mayfly hatch is in full swing on Millwood, and like they have never seen in recent years. It is super-hot this time of year, but man, so is the bream bite after these mayflies, Mike says. Surface temps ranged near 82 degrees early to 90 on Monday under a full sun. Clarity and visibility is improved compared to last week on most areas of main lake and Little River. Monday, on main lake structure away from current, clarity and visibility ranged 10-15 inches. Cottonshed and the northeast section of the lake remains heavy stained. Little River's visibility ranges 12-15 inches depending on location and current. The oxbow's clarity ranges 20 inches depth of visibility depending on location. Clarity and visibility can change dramatically on Millwood in just a few hours with high winds, rain, or thunderstorms.
Mike says largemouth bass are good from 2 to 3 pounds on topwaters early and late. Bass are the most aggressive at dawn around lily pad stands, stumps, cypress trees and vegetation in Little River near deep drops. Buzzbaits, Pop-R's in bone color and Baby Torpedoes in frog and shad patterns are still drawing reactions at the surface at daybreak. Spit'n Images, Chug Bugs, and Stuttersteps are all drawing good topwater reactions at daybreak. Soft plastic Bass Assassin Shads and soft plastic frogs all continue drawing good responses early in the morning. Best color of buzzbaits are black and blue, Firecracker, Bream or Ghost around pads and vegetation adjacent to deeper sections of the creek channels or in the river. Bass Assassin Shads in Salt and Pepper Silver Phantom, Grey Ghost and Bad to the Bone colors are working. Good bites continue on black or June Bug-colored soft plastic frogs around pads in clearest water you can find. Big bulky 10-inch worms in black, black grape and plum or peanut butter'n jelly continue working 5-10 feet deep in Little River around grass mats after morning topwater bite subsides, in the same areas, moving deeper in the creek channels or to the points of Little River where the creek junctions the river. The deep- and medium-diving crankbaits like the Bomber Fat Free Shad in Tennessee Shad, Citrus Shad and Citruse colors remain working across underwater points in Little River; squarebill crankbaits are working long old river channel swings where creek mouths and sloughs feed and dump into Little River. Rat-L-Trap/Echo 1.75 squarebills continue working in Millwood Magic and Ghost colors around deeper drops in Little River, and in the mouths of creek channels dumping into the river. Nice-size bass are also biting on magnum sized, 4-inch salty tubes in Bluegill, Irish Whiskey and Appleseed colors, and have been working over the past several weeks. War Eagle spinnerbaits and Chatterbaits also continue drawning good reactions in Firecracker, Aurora and Spot Remover colors, working around stumps and in vegetation in a few of the oxbows once the sun gets up. Bream-colored crankbaits are also working around pads, hydrilla and stumps from 3-6 feet deep near cypress trees along creeks dumping into the oxbows, in the mouths of the creeks, and across secondary points.
Mike says whites and hybrids continue roaming Little River and the oxbows, and have been caught on Fat Free Shad crankbaits, Little Georges, Beetle Spins, Rooster Tails and Rocket Shads in about 7-12 feet deep water. Schooling whites have been noted in the back of McGuire and Horseshoe oxbows off Little River early at daybreak on flats adjacent to deeper drops in the depths from 5-10 feet deep. The crappie bite continued improving over the past week, and they were biting over planted brush piles using vertical jigging tubes and jigs from 8-12 feet of depth, out of any remaining current in Little River. Best colors were white, chartreuse and blue combinations. Also, minnows were tagging a few slabs this past week too. The bluegills and longear sunfish bream were biting really well all along Little River the past 10 days or so, and especially under leaning cypress or willow trees where the mayfly hatch is like none the regulars can remember. The mayfly hatch this year is tremendous, and anything faintly resembling a mayfly will get you a limit of bream really quick along the river. Several anglers were tied off to stumps on the edge of Little River over the past few days, casting under overhanging willow tree limbs with popping bugs, crickets and redworms, and catching a limit in as little as 30 minutes to an hour of nice-sized Mason bream. It's hot, but so is the bream bite! Blues and channel cats continue biting well in Little River on trotlines set about 10-15 feet in creek mouths and outer bends of the river. Best bites continue to be on cut shad, chicken hearts, gizzards and chicken livers.
As of Wednesday, the Army Corps of Engineers reports the lake's elevation was 547.01 feet msl (full pool: 548.00 feet msl).
No reports.
Lake Greeson Tailwater (Little Missouri River)
Visit www.littlemissouriflyfishing.com for a daily update on fishing conditions.
Cossatot River
Cossatot River State Park had no report this week.
DeGray Lake
As of Wednesday, the Army Corps of Engineers reports the lake's elevation was 404.73 feet msl (flood pool: 408.00 feet msl).
(update 7-19-2017) Local angler George Graves said the surface water temperature is in the mid-80s and the lake is clear throughout. Bass fishing is pretty good but almost exclusively in the early morning. Look for surface feeding fish along the south side between the dam and Point 4. Also try the big coves along the state park and the marina. Throw surface plugs, soft plastics and 3- to 4-inch swimbaits. Be sure your lure lands next or close to the "break" because the fish come up for a shad and right back down again. A few bigger fish are showing around the standing timber in coves along the south side. Try a spinner or buzzbait. Crappie fishing is slow with only a few fish reported coming from the deep attractors in 25-30 feet of water. Drop a 2-inch grub or tube on a 1/16-ounce jighead to just above the brush and work slowly around the thickest part. Tennessee shad is a good color in the clear water. Early morning is the best and probably the only time for summer crappies. Look for attractors between Edgewood and Shouse Ford. Also try Brushy Creek. Hybrid and white bass fishing is very good with lots of schooling activity between the dam and Caddo Bend, with the area around the islands across from the park lodge probably the best. Most any smaller topwater lure will work along with the smaller Zoom Flukes and swimbaits. The only real secret to this fishing is to be there early, even before sunup. Bream fishing is holding up well with lots of fish showing in coves and off shore humps. Look for fish in 5-15 feet of water and bait with crickets and redworms. Most any area in the lake will produce bream. Catfish are biting well at night on both noodles and trotlines. Try the major creeks such as Brushy and Big Hill, and also the big flat adjacent to points 10 and Ozan. Bait with chicken livers, hot dogs, nightcrawlers, cut shad, live minnows or small live bream.
(update 7-19-2017) Capt. Darryl Morris at Family Fishing Trips said white bass and hybrid striper are schooling at first light. Casting spoons will yield a limit or two.
(update 7-5-2017) John Duncan of YoYoGuideService.com at Iron Mountain Marina said the Fourth is over, and water will be calming down soon. Hope everyone had a great and safe holiday. The lake has water temperatures of mid-80s depending on your exact location. Water level is 405.64 feet msl (as of Tuesday). Bream fishing is still stead. Fish near the bottom in 6-10 feet of water. Brush piles are your best bet with bedding zone. Ozane, Lennox Marcus and Arlie Moore are good areas. Don't overlook Alpine Ridge, either. Hybrids, white bass and black bass are surfacing if you can find calm water. They are coming up from 2 Up to Arlie Moore. Use topwaters (Tiny Torpedo, Zara Spook, Devil Horse) shad-colored. Spoons can pick them up below the surface, or deep divers like Shad Rap will get you down deeper. Black bass are hitting topwaters on the backside of points early and late. Same summer patterns of black spinnerbaits and topwater after dark. Crappie are slowing down. They are getting deeper and closer to the cover. Brush piles in Brushy area up to Shouse Ford are your best bet. Try 15 feet minimum depth to start.
(update 7-12-2017) Phillip Kastner of Trader Bill's said on US97 that he had a good report from some guys who were catching quite a few fish early morning on topwater bait right on the shore. They were catching black bass and in good sizes. If you go along the shoreline, there is still grass along the shore and you can catch some fish around that.
De Queen Lake
As of Wednesday, the Army Corps of Engineers reports the lake's elevation was 437.91 feet msl (flood pool: 437.00 feet msl).
No report.
Felsenthal
(update 7-12-2017) Sportsman's One Stop in El Dorado (870-863-7248) said bass are still biting well. There is a better morning bite. A few bream are still being caught. Not much report on crappie and catfish.
Lake Columbia
(update 7-12-2017) Sportsman's One Stop (870-863-7248) said a few bass are schooling. No report on crappie, bream or catfish.
Mike Knoedl Tri-County Lake
No report.
Moro Bay
(update 7-19-2017) Moro Bay State Park, at the junction of the Ouachita River, Raymond Lake and Moro Bay, had no report.
White Oak Lake
(update 7-19-2017) White Oak Lake State Park (870-685-2748) had no report.
Lake Atkins
(update 7-19-2017) Lucky Landing (479-641-7615) said it has been a good week overall for fishing. The water is clear and at a normal level. Bream are good on worms and crickets. Crappie are still good; use minnows or jigs. Bass are good on spinnerbaits and crankbaits. Catfish are biting well on worms, bloodbait and shad. Poor reports on white bass.
Lake Bailey (Petit Jean State Park)
(update 7-19-2017) Whiskers Sporting Goods (501-889-2011) had no report.
Lake Catherine
For weekly flow releases from Carpenter Dam, visit www.entergy.com/hydro.
(update 7-19-2017) Shane Goodner, owner of Catch'em All Guide Service, reports that water temperature below Carpenter Dam is 63 degrees with clear conditions in the tailrace. The lake is now at normal summertime pool with Entergy scheduling 10-hour generation periods each day to help maintain lake levels. Boaters and anglers should use caution approaching the dam when the flow is at its highest peak. Fast currents and open floodgates are dangerous and keeping the proper distance from the area is vital for safety. Life jackets should be worn at all times. Rainbow trout fishing is extremely slow, which is the norm for this time of year. The bite is very slow and patience is key regardless of the techniques used. Live bait presentations are best presented under a bobber or just off the bottom with a marshmallow floater. Redworms, nightcrawlers, waxworms or mealworms are an excellent choice along with live minnows and crickets. Artificial lures are nonproductive as hundreds of thousands of threadfin shad have migrated into the area to spawn. Summer trout fishing requires stealth and patience as the fish are extremely wary and the bite lasts for only a few hours. White bass are in the tailrace and are being caught on live minnows tight-lined over deep water below the bridge. In periods of current flow, jerkbaits in a black/silver pattern has worked well over rock structure and sandbars. These fish are spawning and should be present from the bridge to the dam until late July. Stripers have migrated into the tailrace to feed on the shad migration that occurs every May and June. Fish in the 20-pound class have been observed feeding below the bridge in the late evening while the flood gates are open. With fish feeding on small shad, anglers should downsize their techniques to match the forage. Smaller Alabama rigs and jigs are much more effective now than earlier in the spring. Casting weightless soft plastics perfectly match the injured shad drawn through the open gate flow. Strong lines and rods are highly recommended as many of these large predator fish are in excess of 20 pounds and are ferocious fighters when hooked. Anyone navigating the Carpenter Dam tailrace is urged to be aware of the generation schedules and always follow all park and lake regulations.
Lake Dardanelle
(update 7-19-2017) Charles Morrison at Classic Catch Guide Service (479-647-9945) said water temperature is in the upper 80s to lower 90s. Water clarity is good throughout the river and the creeks. Black bass are good early and late with a good topwater bite. And a good crankbait, jig and Bamboozie and worm bite of the afternoon deep. Stripers and white bass are excellent in the main river channel on dikes and just outside the buoy line; use crankbaits, swimbaits, spinnerbaits and topwater popping baits. Bream have been excellent on crickets and worms and small jigs along river rock with grass. Crappie have been good in creeks on minnows 10-11 feet deep. Catfish havebeen good on shad and bream main river creek channels.
Lake Hamilton
(update 7-19-2017) Phillip Kastner of Trader Bill's Outdoor Sports noted on US97 the weights on tournaments at Lake Hamilton from night fishing. It's consistently taking 14-, 15 16 pounds in a 5-hour tournament to win. The topwater bite is going well, and spinnerbaits are as well.
Lake Nimrod
As of Wednesday, the Army Corps of Engineers reports the lake's elevation was 344.84 feet msl (full pool: 342.00 feet msl).
(update 7-19-2017) Andrews Bait Shop and More (479-272-4025) reported that the water is slight stained and the surface temperature is 87 degrees. Water is at a normal level. Bream are fair on worms and crickets. Crappie are fair in shallow water, about 4 feet deep. Use minnows. Bass are fair. Things have been slower for the bass, but still some good reports. Use spinnerbaits or crankbaits. Catfish are good to excellent, depending on where you fish, and they seem to be biting everything. Try worms, blood bait, stink bait, chicken livers, minnows or shad.
(update 7-12-2017) Good Ole Boys Trading Post (479-272-4710) said the action there was slow to about none of the past few. What they are hearing is that people are going to Blue Mountain Lake rather than fishing Nimrod from there. But they believe the fish are out there in Nimrod. Water level is normal. There termed the few reports on bream, crappie, bass and catfish all at a "fair" level.
As of Wednesday, the Army Corps of Engineers reports the lake's elevation was 574.96 feet msl (full pool: 578.00 feet msl).
(update 7-12-2017) Todd Gadberry at Mountain Harbor Resort and Spa (870-867-2191/800-832-2276 out of state) said black bass are fair and being caught with Texas rigged plastics and crankbaits fished late evening and night. Main lake and secondary points have been the most productive. Walleye are excellent and being caught on spoons on main lake humps and points near brush. Stripers are good on live bait. The central and eastern parts of the lake are the best areas for these fish. Bream are good in water 15-20 feet deep on crickets and worms. Crappie are fair. Try using minnows or crappie jigs at depths around 20-25 feet deep fished near brush. Catfish are excellent on live bait, stink bait and hot dogs. Try depths of 10-20 feet. Water temperature is ranging 84-88 degrees and the clarity is clear. Water level is about 2.5 feet below. Call the Mountain Harbor guides – Mike Wurm (501-622-7717), Chris Darby (870-867-7822) or Jerry Bean (501-282-6104) – for more information.
(update 7-12-2017) Phillip Kastner of Trader Bill's Outdoor Sports said on US97 radio that there is a bumper crop of moss growing on Ouachita right now. It's absolutely beautiful. Thick, lush – Kastner says he tells people it's almost looks like the mid-'80s again. It's a definitely a thing of beauty, this thick moss. Over the weekend in a tournament on the lake, he notes, Bruce Keller caught the event's "Big Bass" of 4.6 pounds. And the winning two-person stringer was 14.55 pounds.
Phillip says that while the summer is getting hotter and hotter, there are ways to still fish in the heat. You'll be looking to fish shaded areas. Along Lake Ouachita, two things to consider: the deep edge of that moss line and, two, brush piles or timber. Without eyelids, fish are looking to shade or shield their eyes from the sun. Whether they are in 18 feet of water at the deep edge of a moss line, or in any brush pile, or next to standing timber, that's what you're looking for: cover and structure. And it doesn't have to be that deep under water, he said. The other scenario for summer fishing, more so on Lake Hamilton where you've got boat docks: Just going down the edges of boat docks is a very productive way to catch fish during the heat and the high sun part of the day.
Kastner also says, though, that what most locals do, "95 percent of us," is night fish this time of the year. There is no sense beating yourself up. Most people have to work during the day, anyway. About 7 p.m. or so, it starts cooling off and you put the boat in the water and go fish until midnight, 1 o'clock, or until you get tired. "That's exactly what I did last week on the full moon and that's exactly what most guys do this time of year," he said. He added that if you're going out on Ouachita, there is still that very good crop of moss on the inside edge and there are lots of bluegill there. Trader Bill's, he said, is selling as many crickets this time of year as they have in quite some time. Kastner said he thinks the full moon had a lot to do with it last week, but the bream beds are still there. "It's rare for me to say that there are bream beds in July, but there are a lot of guys who have seen them and they're catching a lot of big bream doing it. I'm not saying that there is a lot, but there is enough to go have fun and catch a big mess of bream." He says that on the north side of the lake, the moss is really good, and bream beds are all over the place there. "If you see those beds, one other thing it's also going to mean is you can take a squarebill crankbait in some bluegill colors and probably catch a few bass as well," Kastner said.
Spring Lake
(update 7-19-2017) Angler Jacques Ridenour reports that everything but bass and catfish is slow this week. Catfish are being the best for night fishing and bass early morning. Water level is above normal for this time of year.
Blue Mountain Lake
As of Wednesday, the Army Corps of Engineers reports the lake's elevation was 386.80 feet msl (flood pool: 384.00 feet msl).
No reports.
EAST ARKANSAS
Horseshoe Lake
(update 7-12-2017) Professional guide Ronnie Tice of Horseshoe Lake Guide Service (901-687-6800) said the lake is on fire with several crappie limits in the past week.
Bear Creek Lake
(update 7-5-2017) Natalie Faughn, ranger at Mississippi River State Park (870-295-4040), said Bear Creek Lake has been having moderate bream activity on live bait, reported around the shoreline from the day-use peninsula. Bass seem to be biting on jigs over habitat, back in the coves to the far side of the park campground Lone Pine. No specific time of day on those.
Maddox Bay
No report.
Storm Creek Lake
(update 7-5-2017) Mississippi River State Park (870-295-4040) said Storm Creek Lake has seen little increase in activity. Fishermen have been trying to coax bream out to bite, but no luck so far. Pretty scarce all the way around.
---
Recent News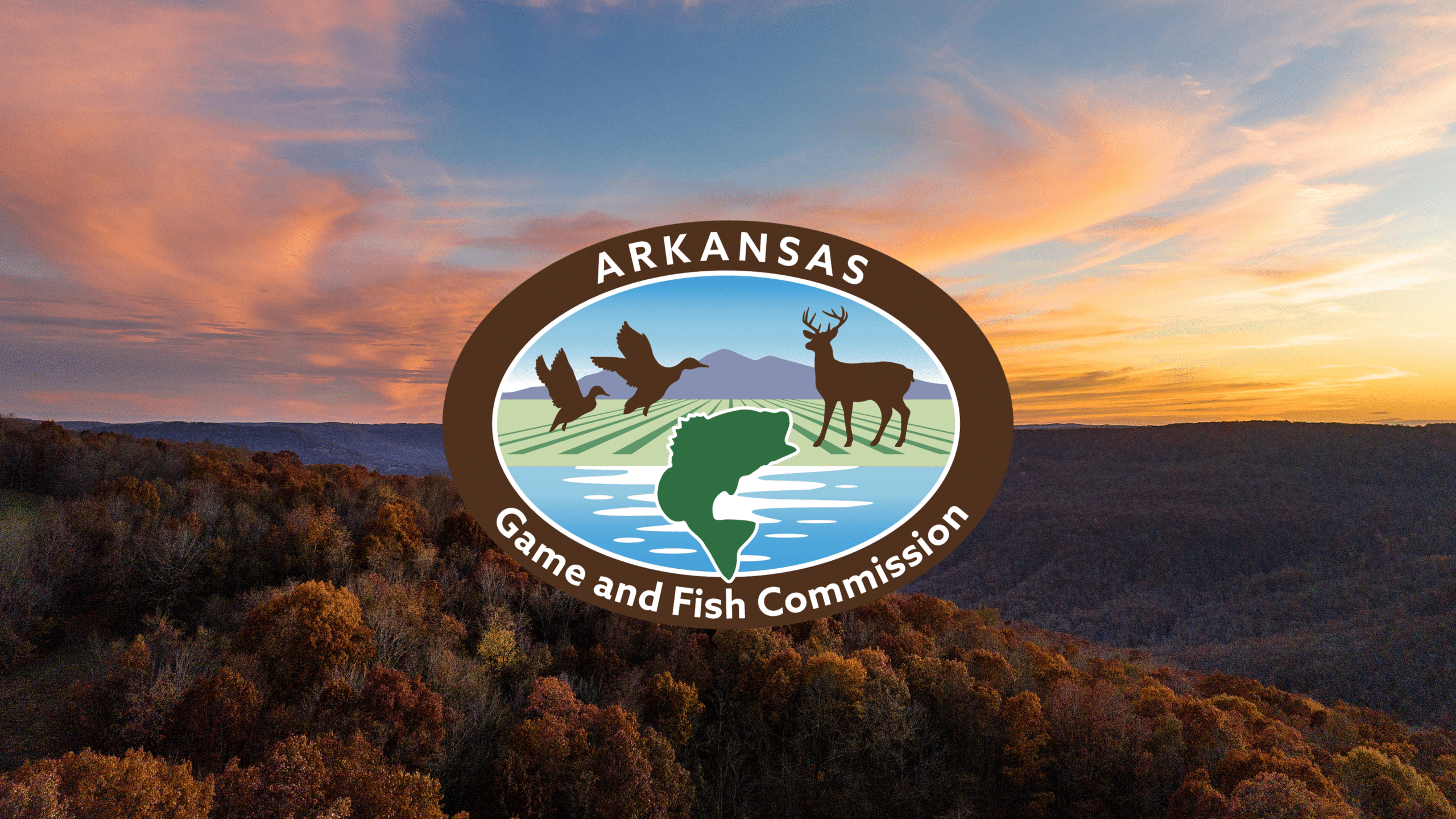 Subscribe to Our Weekly Newsletter E-mails
Don't miss another issue. Sign up now to receive the AGFC Wildlife Weekly Newsletter in your mailbox every Wednesday afternoon (Waterfowl Reports are published weekly during waterfowl season and periodically outside the season). Fishing Reports arrive on Thursdays. Fill in the following fields and hit submit. Thanks, and welcome!