Arkansas Wildlife Fishing Report
Feb. 28, 2018
Jim Harris

Managing Editor Arkansas Wildlife Magazine
Weekly Fishing Report
This is the Arkansas Game and Fish Commission's fishing report for Feb. 28, 2018. If there is a body of water you would like included in this report, please email AGFCfishingreport@outlook.com with information on possible sources for reports about that lake or river. Reports are updated weekly, although some reports might be published for two weeks if updates are not received promptly or if reporters say conditions haven't changed. Contact the reporter for the lake or stream you plan to fish for current news.
Arkansas River and White River levels are available at: http://water.weather.gov/ahps2/index.php?wfo=lzk
For real-time information on stream flow in Arkansas from the U.S. Geological Survey, visit: http://waterdata.usgs.gov/ar/nwis/rt
For water-quality statistics (including temperature) in many Arkansas streams and lakes, visit: http://waterdata.usgs.gov/ar/nwis/current/?type=quality

---
Craig D. Campbell Lake Conway Reservoir
(updated 2-28-2018) Bates Field and Stream (501-470-1846) reported that the water is muddy with a surface temperature in mid-40s. Water level was up just a few feet. Crappie are good using either minnows or orange and other bright-colored jigs. Bream are fair on worms and crickets. Bass reports were fair. No report on catfish.
(updated 2-28-2018) Gold Creek Landing (501-607-0590) reports that b fishing is good on jigs or minnows. Crappie are at 2-6 feet depth. All other species are slow.
(updated 2-28-2018) Greg Seaton of littleredflyfishingtrips.com (501-690-9166) said the rain last week and Tuesday night raised the level of the lake to 468.4 feet msl. This is 6 feet above normal. The Army Corps of Engineers has said that they will run the equivalent of 3,000 dsf per day the rest of this week. This amounts to two units of generation for 12 hours or one unit running for 24 hours. As of Tuesday, this worked out to be 16 hours of generation alternating between two units and one unit. It all boils down to high water on the river. Tuesday night's rain has muddied the river and it will probably take a couple of days generation to help the water clarity. As soon as the White River is able to take the additional water, the Corps will be releasing two units on a 24-hour basis until the lake level is back to normal. Drift-fishing will be the only option until the water recedes. Check the updated forecast each day for the current releases. Remember to be safe on the river during high water. Dripping Springs Landing at Pangburn will be closed indefinitely because of a mudslide and debris.
(updated 2-28-2018) Lowell Myers says that Sore Lip'em All Guide Service reported that the good news is the recent heavy rains have raised the Greers Ferry Lake above seasonal pool level. The bad news is the rains have muddied the middle and lower sections of the river for extended days. We expect to see a more consistent water release of 1-2 units of generation until the lake gets down to seasonal pool. This will create good drift-fishing conditions from a boat, but could make wade-fishing challenging. Sowbugs, pheasant tails, Copper Johns and streamers are working well for fly anglers. Pink and white-colored Trout Magnets are recommended for spin fishing. Always check before heading to the Little Red River by calling the Army Corps of Engineers Little Rock District water data system (501-362-5150) for Greers Ferry Dam water release information or check the Corps of Engineers website (swl-wc.usace.army.mil) for real-time water release and the Southwestern Power Administration website (swpa.gov) to see forecasted generation schedule.
As of Wednesday, the Army Corps of Engineers reports the lake's elevation at 468.40 feet msl (normal conservation pool: 462.04 feet msl Oct. 1-April 30; 463.04 feet msl May 1-June 1; 462.54 feet msl June 1-Sept. 30).
(updated 2-28-2018) Tommy Cauley of Fishfinder Guide Service (501-940-1318) said The Anglers Expo will be held at Heber Springs this weekend. Visit www.anglersexpo.com for more information. There will be something for all ages, fishing seminars, a chili cook-off, cheap tackle on down. The expo is open Friday from noon to 5 p.m. and Saturday 8 a.m. to 5 p.m. Look to see ya there. Meanwhile, the lake has come up over 12 feet, from 456.03 feet to 468.46 feet msl. It is currently 6.42 feet over normal pool of 462.04 feet msl and rising and will continue to come up with the rain. The black bass fishing is good if you can find them, as they have moved a lot with the rise and warmup. Run-ins and secondary points should be great and getting better every day on Rat-L-Traps, spinnerbaits, jigs and squarebilled crankbaits. When the water clears some, look for a great jerkbait bite in mid-depths and a C-rig and football headed jig to still work for the deeper fish. The crappie are on the move as well, coming up with the water. Longer days will put them in some of the bushes, up creeks and rivers, and the lake fish suspended shallower in the water column as well. Try dipping a minnow or jig in shallow bushes, while for the lake fish look in pole timber and over buckbrush in the 5-8-feet range. Bream will be moving shallower as well. Concentrate in 10-15 feet of water, using crawlers. The walleye have gone on upriver to where the river species will spawn. When the water clears, the bite should be good. A few can be caught now by whomever wants to brave the elements. Right now use bright-colored crankbaits and bright-colored jigheads tipped with minnows or a small bream. The lake fish will be moving more toward humps, points and riprap banks to where they will try and spawn later on. Try dragging a minnow or small bream on a jighead, catfish rigs or a drop-shot. The hybrid bass and white bass feed will be off the charts when the water clears some as they do not like dirty water. Look on flats, points and bends in the river or next to it on humps, etc. for the best action. Be sure and find the shad, use spoons, inline spinners, hair jigs, swimbaits and Alabama rigs.
Cody S. Smith of FishGreersFerry.com (501-691-5701) said
(updated 2-21-2018) Lisa's Bait Shot in Benton reports that customers have been catching slab crappie. The fish have been hitting No. 4 crappie minnows.
(updated 2-28-2018) Johnny "Catfish" Banks at Overcup Bait Shop and R.V. Park (501-354-9007) had no reports.
(updated 2-28-2018) Larry Walters at Bones Bait Shop (501-354-9900) said the clarity is stained and the water level is high. Bream are fair on worms and crickets. Crappie are biting fair on chartreuse jigs. No reports on bass, catfish or any other species.
(updated 2-28-2018) Jolly Rogers Marina (501-868-5558) said the lake is a little high and has a little color from all the rain but is starting to clear up. Black bass are good. With water temps in the low 50s and on the rise, the bass are starting to move into pre-spawn areas. Crankbaits and jerkbaits are working well in 6-10 feet of water. A few can also be caught in shallow water on spinnerbaits or chatterbaits. Kentucky bass are good. Spots for the most part are still a little deeper than the largemouth. Main lake rocky banks or points are best with a crankbait or jig. White bass are excellent. More reports coming in this week from anglers catching limits of white bass. They can be found on the west end of the lake and under the Highway 10 bridge. Use Rooster Tails, CC Spoons, deep-diving Bandits, and Bombers. Crappie reports are poor. The high muddy water is making for a tough crappie bite. Once the water settles down, they will start heading shallower due to the warming weather. No reports of bream, and no reports on catfish.
(updated 2-28-2018) Lisa Spencer at Lisa's Bait Shop (501-778-6944) said the lake got high, but had a few anglers going out with chicken livers and nightcrawlers getting some catfish. Not really heard much more than that.
Bishop Park Ponds
(updated 2-28-2018) Lisa at Lisa's Bait Shop (501-778-6944) said the back one they call Lake Charles was producing some crappie right before the rains, biting on No. 6 crappie minnows. But now all Lisa has been hearing about are small catfish off of chicken livers. Let the rain get over and all the waters around here get back down. Then it will be busting loose with lots of fish reports. Lisa thanks those customers who have been trying to keep up on the area fishing and the surrounding fishing reports.
Saline River Access in Benton
(updated 2-28-2018) Lisa's Bait Shop (501-778-6944) said that well before all the rain it was doing excellent on walleye , smallmouth and Kentucky bass. It's high and muddy now, with more rain on the way this week. It will be a good little bit before it's back down and good.
(updated 2-28-2018) Lisa at Lisa's Bait Shop (501-778-6944) said the last word from there before all the rain was that bass were biting on No. 6 crappie minnows. No other reports.
(updated 2-28-2018) Lisa's Bait Shop (501-778-6944) said there have been no reports lately. However, give it a week or so and crappie will be back and going.
(updated 2-28-2018) Charley's Hidden Harbor at Oppelo (501-354-8080) had no report.
(updated 2-21-2018) Professional angler Cody Kelley with Best in Bass Guide Service (501-733-5282) reports that bass fishing is poor right now. Water temps are currently 44-46 degrees. The bite is very, very slow. Water color is actually pretty good (as of Feb. 15), and is around 12-18 inches of clarity. Most of the baitfish is in about 20 feet of water in backwater holes, or slackwater holes off main channel. Cody says he hasn't gone for crappie in a while, but most of their food is pretty deep. Follow that, he suggests. Catfish, too, are something Cody hasn't fished for the past week. But, he says, he did spend some time graphing the main river. He marked several large fish on washed up trees just on the edge of holes and current. Typical depth was about 30-35 feet. Cody expects that fishing will get better just as soon as we get some sun and warmth. He says he will also be spending more time on Lake Conway as well this year, so be on the lookout for those reports!
(updated 2-28-2018) River Valley Marina (501-517-1250) said the water is just a little high. Crappie are good in the backwaters. Use minnows or jigs. Anglers had no reports on bass, bream or catfish.
Arkansas River (Maumelle Pool)
(updated 2-28-2018) Zimmerman's Exxon (501-944-2527) said the report was little to report. The river is muddy and the surface water temperature is in the 50s, with little fishing because of the rain.
Arkansas River (Little Rock Pool)
(updated 2-28-2018) Vince Miller from Fish 'N' Stuff (501-834-5733) said the river is murky. Crappie are biting well on minnows and jigs. Bass are fair around brush. Use crankbaits or jerkbaits. No reports on bream. No reports on catfish.
(updated 2-28-2018) Zimmerman's Exxon (501-944-2527) said the river is muddy and the surface water temperature is in the 50s. There hasn't been much fishing with the rain, they report. Near the Terry Lock and Dam, though, crappie reports were good. Try around the rocky points. Blue and chartreuse jigs were working best.
(updated 2-28-2018) McSwain Sports Center (501-945-2471) had no reports on temperature or clarity after Tuesday night's heavy rains, and the fishing reports haven't been good for crappie, bream or bass. Crappie are poor but will reaction a little to either minnows or jigs. Bream reports are poor. Poor reports on bass. Catfishing is good using cut bait.
Clear Lake (off Arkansas River-Little Rock Pool)
(updated 2-28-2018) McSwain Sports Center (501-945-2471) said the reports haven't been very good. Crappie are poor but there is a little reaction with either minnows or jigs. Bream reports are poor. No report on bass. Catfishing, however, is good. Use cut bait or big minnows.
Peckerwood Lake
(updated 2-21-2018) Herman's Landing (870-241-3731) reported that the water is stained and no surface temperature was recorded. The water level is high as of Wednesday morning. Crappie are good. Best reaction has been to minnows. Bass are good on plastic worms. Catfish reports are good. Use hot dogs for bait. No reports on bream.
---
White River
(updated 3-2-2018) Cotter Trout Dock (870-435-6525) says February ended with a nice round of fishing; everybody brought at least one fighting brown to the boats on the final day of the month and lots of rainbows in between. The browns have been hitting consistently on sculpins, less consistently on minnows. Try salting your shrimp and marinate it for a few minutes before placing it on the barbed end of the hook, with a bit of fluorescent power bait (orange, chartreuse or garlic yellow) around the eye of the hook. Rainbows will follow you for a nibble and a snatch. We've had lots of luck in the dingy water with a black and silver floating Rapala drifting it just below the top of the water: four browns and two cutthroats, same day. Fly-fishers have enjoyed the tinge of color to the river with the rains this week, playing silver and red midges and 2-inch olive Woolly Buggers.
(updated 2-28-2018) Sportsman's White River Resort (870-453-2424) said the trout catches have been fair. The river level is high, as generators are running in the morning and shutting off in the afternoon.
(updated 2-28-2018) John Berry of Berry Brothers Guide Service in Cotter (870-435-2169) said that during the past week, Cotter had several rain events totaling at least 3 inches with more expected over the weekend, after this report was filed. Also, they had warmer temperatures and heavy winds. The lake level at Bull Shoals rose 2.6 feet to rest 4 feet below seasonal power pool of 659 feet msl. This is 40 feet below the top of the flood pool. Upstream, Table Rock rose 1.3 feet to rest at 5.3 feet below seasonal power pool and 21.3 feet below the top of flood pool. Beaver Lake rose 3.1 feet to rest at 4.4 feet below seasonal power pool and 14 feet below the top of flood pool. The White saw more wadable water with less generation. On the White, the hot spot has been Rim Shoals. The hot flies were olive Woolly Buggers (sizes 8, 10), Y2Ks (sizes 14, 12), prince nymphs (size 14), zebra midges (black with silver wire and silver bead or red with silver wire and silver bead sizes 16, 18), pheasant tails (size 14), ruby midges (size 18), root beer midges (size 18), pink and cerise San Juan worms (size 10), and sowbugs (size 16). Double-fly nymph rigs have been very effective (John's current favorite is a size 10 Y2K with a size 14 ruby midge suspended below it). Use lead to get your flies down. Remember that the White and Norfork rivers and Dry Run Creek are infected with didymo, an invasive alga. Be sure and thoroughly clean and dry your waders (especially the felt soles on wading boots) before using them in any other water. Many manufacturers are now making rubber soled wading boots that are easier to clean and are not as likely to harbor didymo.
Prompted by all this recent rain, John also said, "When I woke up (Friday) morning, it was raining. It rained yesterday and there is rain scheduled later in the week. That may sound like bad news, but to me it is music to my ears. I always say that nothing thins the herd like a little rain. I do not mind fishing in the rain at all. I can trace this to my tours in Vietnam when I was in country for two monsoons (the rainy season). During that time it rained just about every day and I was not truly dry for several months at a time.
"The best way to deal with rain is to have good rain gear. When I first took up fly fishing over thirty five years ago, my brother, Dan, told me I only needed to know three things to catch fish. Keep your hook sharp, your line tight and always carry rain gear.
"I have embraced the last rule with a passion. I now own no less than seven rain jackets. I keep one with a pair of rain pants in my boat and another one with a pair of rain pants in my wader bag that I keep in the back of my suburban. I use the other jackets around the house or out and about. This leaves me several to loan to clients that did not bring rain gear. On days where the forecast calls for rain, I always make sure that my clients have raingear.
"Whenever I purchase raingear I look for several things. First I want the garment to be made from a good reliable material. I generally opt for Gore-Tex which is light, breathable and pricey. Cheap raingear is no bargain. I also like waxed cotton which is breathable, pricey and a bit heavy. It is incredibly durable. I have a Barbour waxed cotton rain jacket that is over 25 years old and it still looks great and sheds water.
"I want all of my rain jackets to be one size larger so that I can wear it over several layers on a cold day. I can even wear mine over a fully loaded fishing vest. I also like a hood to keep my head dry especially in a blowing rain that is coming in sideways. Hand warmer pockets are always welcome as are sleeves that are a bit too long that I can pull down to keep my hands dry and warm.
"I like to wear a baseball cap under the rain hood to keep the rain off of my glasses. Wool fingerless gloves keep my hands warm even when wet. I carry an extra set in case they get too water logged.
"As I wrote earlier, I always carry a pair of rain pants with me. If you don't have a pair, you can always use your waders. The only thing that you need to remember is that, if you are in the boat, you should not wear studded wading boots as they do not provide secure footing on boat decks. They could also damage your boat.
"Don't let the rain bother you. If you have the right gear it doesn't matter, if it's raining. The fish don't care, they are already wet.
As of Wednesday, the Army Corps of Engineers reports the lake's elevation at 660.73 feet msl (normal conservation pool: 659.00 feet msl).
(updated 2-28-2018) Del Colvin at Bull Shoals Lake Boat Dock said on Monday the lake level was at 652 water and the temperature was about 46 degrees. He said it's starting to warm up. You could find some 48-, 49-degree water Monday in the backs of some of these creeks. There's a couple different patterns going on. It seems like the fish are in transition from winter haunts coming into spring. The shad are starting to move around and it's made the bite tough the last couple days. There's been a shad kill up the lake and there's a little bit of a shad kill on the lower end, too, depending on where you're at. The brush piles the AGFC put in are amazing. Fish are already on them – not all of them have fish on them, but a lot of them are holding a lot of little fish, which is great. Del said, "A big shout out to those guys – great job on the brush piles. We're catching fish off them already."
Del said the deep bite has been pretty sporadic still with the shad moving around, but if you get on top of them on the secondary points or the main lake points, anywhere the channel swing comes in on a bluff, and if you see you can drop in on them – they're not there all the time – drop the drop-shot or spoon. You can video game those fish and pull a few off there. Del said that's not really a go-to style he would rely on, but it's something he'd look for when he was out. There's a deep bite for the jig, too. Some of the old brush piles, and some of the new ones, that bite is going to be mostly on the channel swing banks. Keep the boat in 30 feet of water and dragging it all the way back. The conditions you're looking for that is going to be, if you don't have a ton of wind you can pick up a few fish on a Ned Rig and a shaky head. Now, if you find those fish coming up on the flats to feed, those secondary points coming off the channel swings, we're starting to hold some fish as those fish start migrating in off the main lake. They're going to use that channel to go back into the creek and start doing their thing. The shad are already starting to do it.
We're expected to get a ton of rain, a couple inches of rain, which would be great. I've anticipated those baitfish are already starting to move in there, so if that happens the fish won't be too far behind. If you've got the wind and the clouds, you can crankbait the shallow fish. You're looking for that chunk rock bank with the wind just hammering on it. That'll put a few fish in the boat. Throw either a Wiggle Wart or the Rock Crawler. And the jerkbait bite has been hit-or-miss over some of the brush piles. It's been conditional with the water temperatures starting to come up. I've been having to do as much as a 5 to 8 count on the jerkbait to get bit on. Or throw a Mega Bass or a Mix Stick, whichever one you cater to. Then we've also got a swimbait bite that's starting to happen now. As the water temperature approaches that magic 50-degree mark, that's going to come more into play and you're going to see some of that spinnerbait stuff come back. The bites should be getting real good here.
K Dock Marina will reopen for the season in March.
As of Wednesday, the Army Corps of Engineers reports the lake's elevation at 551.72 feet msl (normal conservation pool: September-April 552.00 feet msl; April-September, 554.00 feet msl).
(updated 2-21-2018) Tom Reynolds of STR Outfitters said that last week he fished Norfork Lake for walleye up by Calamity Beach and the state line. The first day the water temperature was 40 degrees at Calamity and 43 degrees at the state line. The first day Tom's group caught one short walleye and missed three more. The next day the water temperature was 43 degrees at Calamity and 52 degrees at the state line. The first day they caught their fish at the state line, but the next day the fish had moved from the line because of the warmer water. They tried moving up the river but about a mile up the lake the water level was too low to continue. They moved back to the colder water and started fishing near the shore in 5 feet of water and caught a 19-inch keeper and a short one in quick succession. He said they did not catch anymore, but it was late in the morning and the bite was over. What surprised him, he said, was the farther up the river the water temperature continued to rise. It seems just opposite of what he expected. The crappie are also being caught off the brush piles on both sides of the state line. Tom said he plans on continuing chasing walleye and crappie in the upper part of the lake and creeks on the main lake. Right now they are catching both off brush piles using small jigs and minnows. He said he'll be fishing up near Udall using live bait for walleye and long-line trolling for crappie in the creeks off the main lake like Bennett's, Pigeon Creek and Big Creek. Lots of big crappie are caught trolling small jigs and minnows.
(updated 2-21-2018) Lou Gabric at Hummingbird Hideaway Resort said winter fishing is slowly coming to an end and he's looking forward to the warmer weather fishing of spring. The lake surface water temperature is rising slowly, which will help make all species more active. At this time bass fishing has been good and walleye fishing is starting to pick up. Lou has been catching some nice-sized spotted bass and largemouth bass with many shorts among the keeper-sized fish. Monday morning he tried out a tube jig, working it in about 25-30 feet of water with good success. The slower he worked the bait along the bottom the better. He has also been picking up some nice fish vertical-jigging a spoon in 30-45 feet of water. Brush piles are also holding some nice fish.
Lou said walleye are starting their spawning run. Some of the fish are staging out in 20-30 feet of water and others are heading into shallower water. Gravel banks will be some of the best areas to find these spawning fish. One of the well-known spots to fish for walleye is upriver in the Calamity area and farther north into Missouri. Berkley's Flicker Shad and Smithwick Rogues are a couple of good baits to cast out for those shallow spawning fish. For the deeper walleye, drag a crawler harness or a live shiner on the bottom at a very slow speed. Remember, with live bait you may need to feed line out once you get a strike to let the walleye take the whole bait into it mouth. Other areas that will be holding walleye are back in the major creeks. Also look for those gravel banks.
The last several mornings (not including Tuesday) Lou said he was out looking for striped bass in the Cranfield area. He is finally marking a few big fish following bait balls, but every time he finds a few fish he is graphing and not fishing. When he starts to fish he says he loses sight of them. The good sign is that he is starting to mark bait balls suspended down 20-40 feet in 50-60 feet of water. As the water warms, the larger bait will continue coming off the bottom and the fish will follow. What he has found in the bait balls are white bass. This is telling Lou the whites are starting to move toward their spawning areas. It will not be long before the Bennetts and Calamity areas will be filled with spawning whites.
Lou notes that Hummingbird Hideaway Resort's fourth annual fishing derby commences on March 1. Last year produced some really nice fish and the winners won nice monetary prizes for the longest striped bass, crappie and large/smallmouth bass. All of our guests can enter for a chance to win the longest fish categories as well as a drawing for a free week stay.
The Norfork Lake level is starting to rise with the rains we are having and sits at 545.56 feet msl. If we get the rain that is forecast, he can see a substantial rise in the lake level over the next couple of days. Norfork Lake is currently 8 feet below normal pool. The surface water temperature is also on the rise and currently is in the mid-40s. The main lake is clearing as well as the creeks and coves. The lake is still not as clear as it typically is this time of year. Norfork Lake is shaping up to be in great condition for spring fishing.
(updated 2-28-2018) John Berry of Berry Brothers Guide Service in Cotter (870-435-2169) said Norfork Lake rose 1.6 feet to rest at 6.7 feet below seasonal power pool of 553.75 feet msl and 32.9 feet below the top of flood pool. The Norfork had less generation and more wadable water. The Norfork saw less generation and more wadable water. The water is has cleared substantially but has fished poorly. Navigate this stream with caution as things have changed a bit during last year's flooding. There has been major gravel recruitment at the bottom of Mill Pond and the dock hole. The most productive flies have been small midge patterns (sizes 18, 20, 22) like ruby midges, root beer midges, zebra midges (black or red with silver wire and silver bead) and soft hackles (sizes 14, 16) like the Green Butt. Egg patterns have also been productive. Double-fly nymph rigs have been very effective. Try a small bead-headed nymph (zebra midge, Copper John or pheasant tail) suspended 18 inches below a brightly colored San Juan worm (hot fluorescent pink or cerise size 10). The fishing is better in the morning. John's favorite rig has been a Y2K with a ruby midge dropper. Dry Run Creek has cleared some and still fishing well. The brown trout have moved in for the spawn. The hot flies have been No. 14 sowbugs, No. 12 Y2Ks and various colored San Juan worms (worm brown, red, hot fluorescent pink and cerise size 10). It is cold out there. Take frequent breaks, bring cocoa and dress your children warmly.
Buffalo National River/Crooked Creek
(updated 2-28-2018) John Berry of Berry Brothers Guide Service in Cotter (870-435-2169) said the Buffalo National River and Crooked Creek are high and stained. With the cold weather the smallmouths are less active. John's favorite fly is a Clouser minnow. Carefully check the water level before entering Crooked Creek or the Buffalo River. There are no dams on these streams. They both have large drainages and are prone to flooding during and following any rain event. The water can rise very quickly.
---
As of Wednesday, the Army Corps of Engineers reports the lake's elevation at 1,121.38 feet msl (normal conservation pool: 1,121.00 msl).
(updated 2-28-2018) Southtown Sporting Goods (479-443-7148) said the water is muddy and is at normal level but on the rise. No surface temperature was recorded. Bream are fair on worms and crickets. Crappie are good on minnows or jigs. The crappie are in 6-12 feet of water. Bass are fair using plastic worms. Catfish reports were fair.
(updated 2-28-2018) Bailey's Beaver Lake Guide Service (479-366-8664) said the rain and runoff has moved Beaver Lake stripers and changed some of their patterns but they are still using mouths of coves, creek arms and the channel adjacent to shallow gravel bars. You should look for warmer water temps that are concentrating bait, as only a degree or two can attract baitfish. Use these intersections of warm water/structure to your advantage as it will often concentrate schools of bait and stripers. You should also look for the "mud line," a distinct break between stained and clear water that will also concentrate bait/fish. There has been an ongoing shad kill, so fishing with cut bait on the bottom will be productive. You will need to identify areas that the dead shad are drifting into and make your presentation there. Possible places would be river channel bends, gravel bars and banks where the wind is blowing in. For you diehard live baiters, fishing free lines, balloons and downlines between the surface and about 40 feet deep should get you some stripers. For the artificial baits, you can try trolling umbrella rigs with white or chartreuse jigs/grubs or plugs like Rapala No. 14 husky jerks in black back or purple back colors, or Smithwick Rogues in similar colors in the 5-6-inch model on planer boards to stagger your presentation. You should also try dead-sticking with 1- or 2-ounce jigheads and a fluke or soft jerk of your choice. Dead-sticking is the act of presenting a soft plastic lure by a vertical drop and allowing the bait to remain motionless for an extended period time before retrieval. Make sure that when dead-sticking you present the lure above or in the top of the schools of bait. Water surface temps have been in the 30s-low 40s the past week. Check out these hot spots on the mid-and upper sections: Rambo Creek Arm, Rocky Branch, Ford and Cedar creeks, Larue, Coppermine, Ventris, Shaddox Hollow, Prairie Creek and Coose Hollow.
Walleye are in wintering locations. The spawn will begin in a few weeks so walleye are fattening up and can be found 20-40 feet deep depending on areas you fish. Use three-way rigging Rapalas in natural colors for clear water or chartreuse/orange and clown colors in areas of stained water. Try Rapala Tail Dancers, Bagley Rumble B's, Flicker Shad, Bandit 300 Series and Arkie 350s in colors that include orange and chartreuse. Also try slow death rigs and spinner rigs on bottom bouncers in orange/chartreuse. Bink Pro Scale 1-ounce jigging spoons in white or white/chartreuse combo and a variety of jigs will also produce walleye.
Mike Bailey also reminds anglers that they should make sure they do not keep striper under 20 inches and not more than 3 striper or hybrid or combination. Walleye must be 18 inches long with a limit of 4. Fish location is greatly influenced by lake level and current flow. Current in the lake from generation will generally position fish on upstream or downstream edges of structure. Check the daily lake level and flow data link on Mike website linked above. Live bait as always is the go-to approach on Beaver Lake when fishing for trophy stripers.
(updated 2-14-2018) Guide Austin Kennedy (479-244-0039) said the trout bite has very good this week. Most trout are being caught between Spider Creek, Parker Bottoms and Arkansas Highway 62 bridge. Trout are biting on various quarter-ounce spoons and various PowerBaits fished with light terminal tackle. The water temperature in the area mentioned above has been between 45 and 50 degrees. The big issue is lack of water. The river is extremely low right now, so the use of a boat may not be practical. The spots mentioned above were accessed by the bank. If you do not mind a bit of walking, the effort is likely to pay off.
(updated 2-19-2018) Beaver Dam Store said the river below the dam sure is low right now. The fish don't care, though. The Bertrand ramp area has been fishing well. Fish upstream from Parkers Bottom in the Trophy Management area for as well as Campground C, Riverview walk-in areas. Nymphs, midges are working well. Always be attentive to rising water conditions. Conventional fisherman are catching nice fish using PowerBait and waxworms. Spring is right around the corner. Typical good lures here are gold and silver Colorado Spoons, red and gold Bouyant Spoons, and Flicker Shad in Pro Series Nos. 4 and 5. Good PowerBait colors are white, red, orange, yellow, chartreuse and peach. Good flies are pheasant tails, midges in blue dun, black, olive, hare's ear, tungsten Copper Johns, WD 40s, Trout Magnets and San Juan worms. Winter store hours are 7 a.m. to 5 p.m. Thursday through Saturday.
(updated 2-28-2018) Lake Fayetteville Boat Dock (479-444-3476) said they had nothing to report. Anglers weren't fishing due to all the rain of late.
(updated 2-28-2018) Lake Sequoyah Boat Dock (479-444-3475) reports that water level is normal. No clarity or temperature was reported. Bream are fair around brush piles. Use worms. Crappie are fair on jigs. Nothing to report on bass or catfish.

---
(updated 2-21-2018) Ome Coleman at Lake Poinsett State Park says that while the lake is in total drawdown and being repaired for the next couple of years, "We sure don't want you to forget about us here at Lake Poinsett State Park. Although we won't have a lake for a while, we are still selling bait and other fishing accessories. We're selling a lot of minnows and have a fresh supply of night crawlers. We expect to have crickets in 6 to 8 weeks.
(updated 2-28-2018) Boxhound Marina (870-670-4496) said the water is a bit stained from the rainfall. Level and current are normal. Bream were reported fair on worms or crickets. No report on crappie. Bass are fair on crankbaits. No report on catfish.
(updated 2-28-2018) Mark Crawford with springriverfliesandguides.com (870-955-8300) said water levels are running at 400 cfs at the spring and water clarity has been off-color. There was a lot of rain over the last week. The river a week ago was at 220 cfs and it has almost doubled. It was much needed rain and the river should clear up by the weekend. Woolly Buggers and Y2Ks will be hot on the fly. Hot pink and red and black Trout Magnets will work great with a spinning rod with these conditions. The higher water will make for tough wading, so be careful and use a wading staff.
(updated 2-28-2018) John Berry of Berry Brothers Guide Service in Cotter (870-435-2169) said the Spring River is high and stained. This is a great place to wade fish when they are running water on the White and Norfork rivers. There have been few boats on the river. Be sure to wear cleated boots and carry a wading staff. There is a lot of bedrock that can get very slick. The hot flies have been olive woolly buggers with a bit of flash (size 10), cerise and hot pink San Juan worms (size 10) and Y2Ks (size 10).
(updated 2-28-2018) Triangle Sports (870-793-7122) said the river is at flood stage and too high for fishing.
SOUTHEAST ARKANSAS
(updated 2-28-2018) Park Interpreter Austin Davidson at Cane Creek State Park said high water levels from the recent rains have actually caused quite a bit of commotion in Cane Creek Lake. Coupled with warmer temperatures, it seems that fishing season is trying to make its anxiously awaited yearly comeback. The most notable activity at the moment is the spillway into Bayou Bartholomew. With overflow water running into the bayou being a different temperature and carrying all kinds of food washed in by the rain we are seeing loads of activity on both the bayou and lake side of the spillway. Crappie are biting shiners around both ends early in the morning. Bass are waking up all around the lake and striking anything that looks like a minnow or shad. The water is still cool enough that a clumsy squarebilled crankbait is going to be your best bet, but some sparse reports are coming in of topwaters working around the lake. With warm temperatures and a sudden influx of foodstuff being washed into the lake by heavy rain runoff, catfish reports have started coming back in. Yo-yo's are a good way to go this time of year. Cane Creek State Park's visitor center has just gotten in a large shipment of new fishing equipment for the upcoming season. If you're interested in fishing the lake or the bayou, stop by the park and talk with one of the knowledgeable staff while picking up any supplies that you think you might need.
(updated 2-21-2018) Brandy Oliver at Lake Chicot State Park (870-265-9705) said crappie are biting at Lake Chicot. Anglers are having the best luck with electric chicken and crickets. Catfish are a little slow but catchable with patience. Meanwhile, bass fishermen should use black and blue jigs with craw and blackberry worms.
(updated 2-28-2018) Angler Chris Van Duren at Lucky's of Monticello reports the lake is muddy. Crappie are good, responding to both minnows and jigs. Bass are fair on crankbaits and plastic worms. Catfishing was fair using worms or cut bait. White bass reports were fair. No reports on bream.

---
As of Wednesday, the Army Corps of Engineers reports the lake's elevation at 270.17 feet msl (normal conservation pool: 259.20 msl).
(updated 2-28-2018) Mike Siefert at Millwood Lake Guide Service said he was hoping for better news, but no such luck. "We have not been out on Millwood this week due to hazardous navigation conditions! Lake is between 11-12 feet above normal conservation pool with near 30,000 cfs and heavy current, broken timber, entire trees, logs and huge vegetation mats in a flush-out mode! Use extreme caution during navigation if necessary.
Last week, he said Largemouth bass activity was still in typical late winter patterns. Bass were improved over the past few days with the warmer ambient conditions, and best on sunny and warm days, from 2-3 pounds each, up to 6 pounds, best during the heat of the day. For suspended bass is was best to go with Z-Man Chatterbaits, slow-moving swimbaits or suspending jerkbaits, dead-sticking Trick Worms and Bass Assassin Shads on a light wire hook. Smithwick Rouges, Cordell Redfin and other suspending hard jerk-baits, along with slow-rolling heavy spinnerbaits and Rat-L-Traps in and near creek channels where any remaining vegetation and lily pad stems remained, have been taking a few stragglers. Heavy, large thumping, ½-ounce and up to ¾-ounce Rat-L-Traps such colors as Natural (brown/orange) Crawfish, Red Chrome, Red Shad, Toledo Gold or Rayburn Red Zombie, and medium-diving Bomber Fat Free Shad crankbaits in Tennessee Shad or Citrus Shad, and slow-rolling heavy ¾-ounce War Eagle spinnerbaits in white/chartreuse or Spot Remover colors, used deep in the creeks, will pick up a few decent bass in the 2-5-pound class, in the creek channels or along sloping points dumping into the river. You have to use a really slow roll or stop-and-go type retrieve to entice a bite these past couple of weeks here. Big, slow-moving swimbaits with a stop-and-go retrieve are randomly picking up a few nice contenders in the 4-5-pound class in deeper creeks and ditches. Further upriver and into the oxbows away from muddy Little River current, you'll find a few reactive bass, and the clearer water near standing timber continues to be several degrees cooler than the dirty/stained water sections closer to the river. The back of the oxbows definitely have the best water clarity, yet the most lethargic bass. Deflecting Rat-L-Traps and Echo 1.75 crankbaits, banging them into the standing timber on points in backs of the oxbows where feeder creeks dump into the oxbows, and deflecting them off stumps from 8-12 feet deep, and were taking a few 14-17-inch bass away from the river, where better water clarity was located without current. Also, heavy ¾-ounce War Eagle Spinnerbaits continue working cypress trees from 9-12 feet deep, best colors drawing reactions over the past couple weeks were Spot Remover, or white/chartreuse and FireTiger. Go-to colors of cranks in the clear water in back of the oxbows, like the Echo 1.75 squarebills, over the past week or so have been the Millwood Magic, Ghost Minnow, Pro Blue, or Sexy Chrome. Oversized 3-4-inch tube jigs like Gitzits with internal rattles continue working most anywhere in clear or the heavy stain water areas, where stumps, timber and any vegetation remains. Internal glass or brass heavy-knocking rattles are helping the bass locate the lure in the stained water clarity. Black/blue tail, purple smoke/chartreuse tail, black neon, or pumpkinseed/chartreuse tail, were getting the best reactions over the past 3-4 weeks, the darker colors seem to draw better reactions in the more stained water areas. Real Deal Kustom Tackle jigs with a heavy craw worm trailer are picking up random, solitary bass on cypress trees and knees from 8-11 feet deep. Black/blue/purple, black/red or Texas Craw continue to be the go-to colors, all with a black or green pumpkin craw trailer. Texas rigged, Berkley 10-inch Power Worms in black, blue fleck and black grape, slowly crawled by stumps and timber, continue finding a few 15-18-inch bass.
Mike says whites and hybrids have begun their annual spawning runs up Little River. Large schools were connected last week between entrance to McGuire Lake and Brown's slough. Another huge school was found between Cemetery Slough and U.S. Highway 71 bridge. These whites reacted well to 6-9-feet depth-diving Bomber Fat Free Shad crankbaits in white, Citruse and Tennessee Shad colors; Rooster Tails in red/chrome; and Little Georges in white and blue colors. The ¾-ounce size heavy Rat-L-Traps in White Glass, Chrome Black Zombie, Gizzard Shad and Millwood Magic (Silverado) fished slow, with a stop-and-go from 9-12 feet of depth, got good reactions from the whites over the past few days in the above locations, best behind primary points extending into Little River, out of direct current flow, where creeks dump into the channel where eddies are created with a back wash. Crappie improved late last week on jigs and minnows from 12-16 feet deep, along standing timber and brush planted in Little River, just out of the current, above Horseshoe oxbow. Blues and channel cats improved on trotlines with increased current using punch baits, spoiled chicken livers, or gizzards and hearts, and hot dogs in heavy current along Little River from 12-18 feet of depth.
Lake Greeson Tailwater (Little Missouri River)
Visit www.littlemissouriflyfishing.com for a daily update on fishing conditions.
Lake Greeson
As of Wednesday, the Army Corps of Engineers reports the lake's elevation was 557.44 feet msl (full pool: 548.00 feet msl).
(updated 2-21-2018) Jason Lenderman with JL Guide Service (870-490-0804) said the lake level is 541.52 feet msl as of Tuesday and up almost a foot from last week, which is still well under normal pool. Water temperature is 44-49 degrees with some color throughout the lake, with more in the upper lake due to the recent rains. Although bass are biting fair to good using a variety of methods, quality bites are hard to come by. Booyah jigs in brown or green pumpkin colors are working well around brush and rocks from 10 feet to as deep as 30 feet. Bandit crankbaits in crawfish colors are catching several fish on rocky and windblown banks. Crankbaits are working better in the more colored water. Smithwick Rogue jerkbaits are also working well around windy main lake points. Crappie are fair to good around deeper brush using minnows or Kalin's Grubs.
DeGray Lake
As of Wednesday, the Army Corps of Engineers reports the lake's elevation was 417.39 feet msl (flood pool: 408.00 feet msl).
(updated 2-28-2018) Local angler George Graves said fishing at DeGray is virtually impossible right now due to the extremely high water and most of the ramps closed. As of Tuesday only two ramps were open: Iron Mountain and the State Park Marina. The State Park ramp will probably close if the water gets much higher. The water is muddy down to Edgewood with lots of floating debris and logs, so be very careful if boating. Sometimes bass fishing can be quite good with high water and the fish relating to the flooded timber. Look for clearer water toward the dam and throw a floating worm or squarebill crank bait. Hybrid and crappie fishing will be poor because those fish are in the upper end at Shouse Ford and Point Cedar where the water is extremely muddy and loaded with trash and debris. Also the productive crappie attractors at 20 feet are now at 37 feet. Overall, now is not a good time for fishing on DeGray, even if you can get you boat launched. Better conditions are coming in a few weeks.
(updated 2-21-2018) Capt. Darryl Morris at Family Fishing Trips said the white bass and hybrid striper are biting very well. Water temperature is in the low 50s, so brush pile fishing for crappie should be getting better all the time and Darryl said he will be checking the spawning shallows (northwest corners warm up first).
John Duncan of YoYoGuideService.com at Iron Mountain Marina had no report.
De Queen Lake
As of Tuesday, the Army Corps of Engineers reports the lake's elevation was 440.92 feet msl (flood pool: 437.00 feet msl).
No reports.

---
White Oak Lake
(updated 2-21-2018) Andy Yung, AGFC district supervisor, says that the crappie bite has been excellent since the start of the new year. Lower White Oak Lake was renovated in 2012-13, and catch-and-release rules were in effect for crappie until Jan. 1. Now, anglers are taking out limits (30) of crappie in good sizes, Yung said. Bass and redear are also biting well, he said.
Felsenthal
(updated 2-14-2018) Sportsman's One Stop in El Dorado (870-863-7248) said fishing has been slow in the river bottoms, there are a few reports starting to trickle in. A few bass are being caught in current. A few crappie are being caught in the lakes but overall still slow. No report on catfish yet.
(updated 2-14-2018) Sportsman's One Stop (870-863-7248) said they had seen a few good bass caught the last couple weeks, Also, some crappie being caught on the brush tops.

---
Hot Springs Village Area Lakes
(updated 2-28-2018) Lucky Landing (479-641-7615) said the water is stained and the surface temperature is in the 40s. Crappie are good. The crappie are in about 3-10 feet of water and biting minnows or jigs. No other reports.
Lake Catherine
For weekly flow releases from Carpenter Dam, visit www.entergy.com/hydro.
Lake Catherine (Below Carpenter Dam)
For weekly flow releases from Carpenter Dam, visit www.entergy.com/hydro.
(updated 2-28-2018) Shane Goodner, owner of Catch'em All Guide Service, reports that over 10 inches of rainfall in the Hot Springs area last week led to open flood gates and very heavy generation below Carpenter Dam. Massive amounts of water were released through all area dams to keep lakes Hamilton and Catherine from flooding. The heavy rainfall raised Lake Ouachita over 12 feet in five days and put the big lake into flood pool. Extremely muddy water and fast currents have been the norm below Carpenter Dam for the past week. Sadly, more heavy rainfall was forecast to fall late Tuesday afternoon through early Thursday morning. Entergy will be forced to open flood gates again and schedule heavier generation to rid the lakes of water that will be mostly runoff because the ground is already saturated from earlier rain. This process will take weeks to bring Lake Ouachita out of flood pool along with regulating area lake levels close to normal. Little fishing has taken place in the Carpenter Dam tailrace due to the treacherous conditions. All boaters and bank fishermen are urged to keep off the lake until the situation has been brought back to normal. March 1 marks the start of the refill of both lakes Hamilton and Catherine with each lake brought back to normal summertime pool on March 15. Again, no one should attempt to navigate the tailrace by boat or wade fish until flood conditions have passed and the water levels are once again safe to use.
(updated 2-21-2018) Charles Morrison at Classic Catch Guide Service (479-647-9945) said upriver is stained. The mid-river and lower river and both dingy. Some creeks are dirty, and other creeks are clean. River temperature is 48 degrees; backwater temperature is 51 degrees. White bass and stripers has been excellent on swimbaits, Rat-L-Traps, Alabama rigs and live shad. White bass have been excellent as well on white jigs, spoons and small jerkbaits. Catfish have been very good on whole shad. Crappie have been fair minnows, and chartreuse and black/chartreuse jigs have been doing well also, and some good success has been seen with pink-and-black jigs. Largemouth bass have been excellent on jerkbaits, jigs and bamboozles. Soft jerkbaits likes scam shad have been working well in the back of the pockets. It's hit-or-miss on Rat-L-Traps, though.
(updated 2-28-2018) Capt. Darryl Morris at Family Fishing Trips said lake level is maintaining but scheduled to start filling to summer pool March 1. The water is muddy but clearing quickly. Water temperature Tuesday was 54. The bite is slow but all the brush piles Darryl has fish are loaded with fish, he said. With clearing and warming water, the bite should turn on soon. If you've not got your gear ready for spring crappie, now is the time.
(updated 2-28-2018) Phillip Kastner of Trader Bill's Outdoor Sports noted on US97 that Hamilton is one of the best bass lakes in January and February. A lot of people are on Hamilton pre-fishing for tournaments this weekend, and a lot of 5-pounders were caught during the high school tournament held there last weekend. Heard two good reports from Monday; it was one of the prettiest days we'd had in a very long time. Guys were throwing Alabama rig and a jig both. Some warm water was still coming in and there was some crankbait action in the creeks. That's going to continue. With more water coming in, it's going to be awfully hard not to throw a Rat-L-Trap. It works well in those freshwater runoffs. Rat-L-Traps were what was used by several of the anglers last weekend in the high school tournament.
(updated 2-21-2018) Lisa's Bait Shop in Benton said Lake Hamilton remains a hot spot as their customers report doing great on crappie using No. 6 crappie minnows.
As of Tuesday, the Army Corps of Engineers reports the lake's elevation was 368.69 feet msl (full pool: 342.00 feet msl).
(updated 2-28-2018) Andrews Bait Shop and More (479-272-4025) said water level on Tuesday morning was normal. The water level is stained. Surface water temperature was in the 40s. Crappie are good in 6-12 feet of water. Use bright jigs or try minnows. No reports on any other species. UPDATE (3-1-2018) Due to high water levels, Andrews Bait Shop and More will be postponing its regular hours until March 15.
(updated 2-28-2018) Good Ole Boys Trading Post (479-272-4710) said water is stained. Crappie good on red and chartreuse jigs or on minnows. No other reports.
As of Wednesday, the Army Corps of Engineers reports the lake's elevation was 580.93 feet msl (full pool: 578.00 feet msl).
(updated 2-28-2018) Todd Gadberry at Mountain Harbor Resort and Spa (870-867-2191/800-832-2276 out of state) says the lake is at flood stage, 583.72 feet msl. Water temperature is ranging 52-54 degrees, and the clarity is muddy. He says black bass are good. Jigs and Alabama rigs are producing some quality fish. Traps and jerkbaits are starting to pick up as well. Walleye are staging for a spawning run and are moving up the river and major creek channels. Stripers are still fair on Bama rigs. Major creek channels on the central and western part of the lake are still the best for these fish. No report on bream. Crappie are still fair and being caught on minnows in 30-40 feet of water near structure. No report on catfish. Call the Mountain Harbor fishing guides – Mike Wurm (501-622-7717), Chris Darby (870-867-7822) or Jerry Bean (501-282-6104) for more information.
Blue Mountain Lake
As of Wednesday, the Army Corps of Engineers reports the lake's elevation was 309.24 feet msl (full pool: 384.00 feet msl).
No reports.

---
(updated 2-28-2018) Natalie Faughn, ranger at Mississippi River State Park (870-295-4040), said lake levels at Bear Creek Lake are back up. The boat ramp is currently open. Anglers on Bear Creek have reported increased activity especially when fishing for bass. The warmer temperatures over the weekend seemed to get them moving. They have also had some anglers out fishing for crappie, but it may still be a bit premature with the temperatures fluctuating. Not sure how the rain will affect fishing this week.
(updated 2-28-2018) Natalie Faughn, ranger at Mississippi River State Park (870-295-4040), said Storm Creek lake has seen a slight increase in bass activity, however not as much has been reported down there as of yet compared with Bear Creek Lake. No anglers out on Storm Creek fishing for crappie that we've talked to.
---
Recent News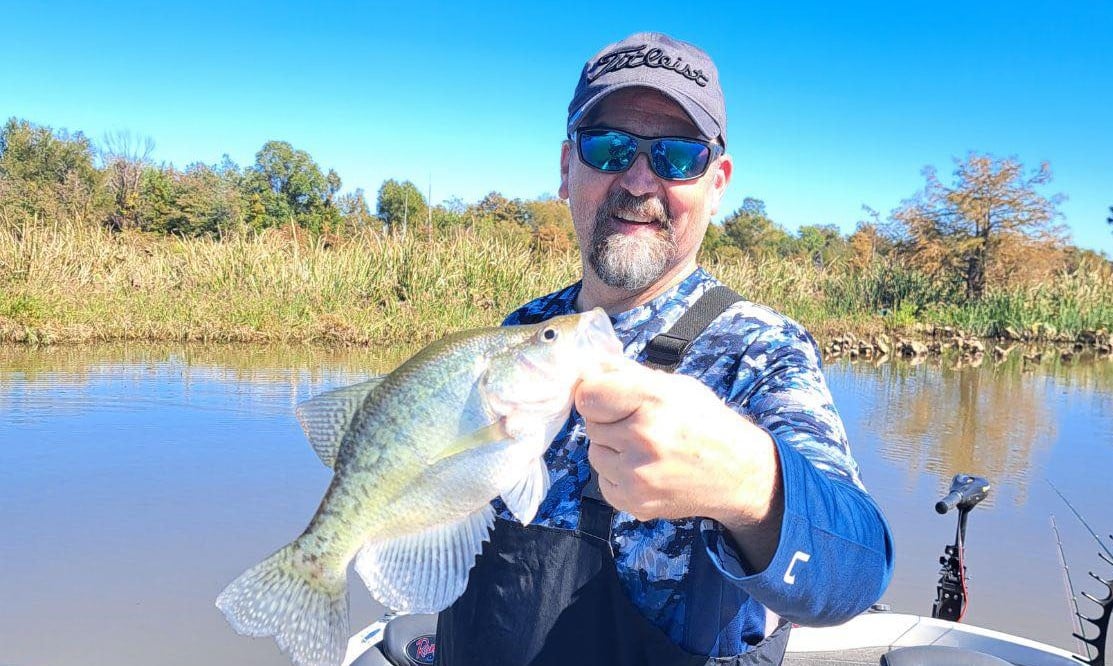 Subscribe to Our Weekly Newsletter E-mails
Don't miss another issue. Sign up now to receive the AGFC Wildlife Weekly Newsletter in your mailbox every Wednesday afternoon (Waterfowl Reports are published weekly during waterfowl season and periodically outside the season). Fishing Reports arrive on Thursdays. Fill in the following fields and hit submit. Thanks, and welcome!