Arkansas Wildlife Fishing Report
Feb. 21, 2018
Jim Harris

Managing Editor Arkansas Wildlife Magazine
Weekly Fishing Report
This is the Arkansas Game and Fish Commission's fishing report for Feb. 21, 2018. If there is a body of water you would like included in this report, please email AGFCfishingreport@outlook.com with information on possible sources for reports about that lake or river. Reports are updated weekly, although some reports might be published for two weeks if updates are not received promptly or if reporters say conditions haven't changed. Contact the reporter for the lake or stream you plan to fish for current news.
Arkansas River and White River levels are available at: http://water.weather.gov/ahps2/index.php?wfo=lzk
For real-time information on stream flow in Arkansas from the U.S. Geological Survey, visit: http://waterdata.usgs.gov/ar/nwis/rt
For water-quality statistics (including temperature) in many Arkansas streams and lakes, visit: http://waterdata.usgs.gov/ar/nwis/current/?type=quality
---
Craig D. Campbell Lake Conway Reservoir
The AGFC is treating alligator weed in Lake Conway using EPA-registered herbicides approved for use in aquatic systems. The AGFC strongly recommends that adjacent landowners not use lake water for irrigation of lawns or gardens through March 1, 2018. For more information please contact the AGFC Fisheries Office in Mayflower at (877)-470-3309.
(updated 2-21-2018) Bates Field and Stream (501-470-1846) reported the lake is stained. Water level was normal as of Tuesday, before the weather system entered the state. Bream are biting fair on worms and crickets. The crappie action is fair. Crappie are in about 4-6 feet depth of water. You'll find most of them around the Highway 89 bridge and in the Farm Creek area. Use minnows or jigs. Bass have been biting fair on white crankbaits. Catfishing is fair on worms.
(updated 2-7-2018) Gold Creek Landing (501-607-0590) reports crappie fishing is good on jigs or minnows. Crappie are in 2-6 feet depth. All other species slow.
(updated 2-21-2018) Lowell Myers says that Sore Lip'em All Guide Service reported limited water release from the Greers Ferry Dam is still creating low water conditions on the Little Red River. The recent rains have muddied the middle and lower sections of the river over the past few days. Forecasted rains will probably continue these conditions. The hope is that the forecasted rains will get the lake level back up to seasonal pool level, allowing for consistent scheduled water release from the dam. If fishing over the next few days, consider fishing the upper sections of the Little Red to avoid stained/muddy river conditions. Sowbugs, midges, soft hackles and Woolly Buggers are working well for fly anglers. Pink and white-colored Trout Magnets are recommended for spin fishing. Always check before heading to the Little Red River by calling the Army Corps of Engineers Little Rock District water data system (501-362-5150) for Greers Ferry Dam water release information or check the Corps of Engineers website (swl-wc.usace.army.mil) for real-time water release and the Southwestern Power Administration website (swpa.gov) to see forecasted generation schedule.
(updated 2-21-2018) Greg Seaton of littleredflyfishingtrips.com (501-690-9166) said Wednesday that it is a complete washout up here. The river is high and muddy and until the rain quits and there is some generation, they will be washed out of any fishing.
NOTE: Greg is offering a free fly-fishing class at First United Methodist Church in Heber Springs every Thursday through March 8. The class lasts for three more weeks (each Thursday night from 7-9 p.m). To register for this class, please contact Greg Seaton at 501-690-9166. Leave a message or text if he doesn't answer.
As of Wednesday, the Army Corps of Engineers reports the lake's elevation at 458.02 feet msl (normal conservation pool: 462.04 feet msl Oct. 1-April 30; 463.04 feet msl May 1-June 1; 462.54 feet msl June 1-Sept. 30).
(updated 2-21-2018) Tommy Cauley of Fishfinder Guide Service (501-940-1318) said the water level Tuesday at Greers Ferry Lake was at 456.12 feet msl and rising; it is 5.92 feet below normal pool of 462.04 feet msl and should steady come up with the needed rainfall. With the warm rains warming the water temperature and south winds doing the same, the fish are on the move and feeding all over the lake, as it is that time of year, and from now until its gets super-hot the bite will be as well for all species. The hybrid bass and white bass catching is good on flats with shad and warmer water next to drops and travel routes all over the lake in 25-45 feet of water. Try spoons, inline spinners, grubs, Alabama rigs, swimbaits and an occasional topwater plug for the best results. Just stay around the shad. The crappie fishing is excellent, Tommy has been told, with crappie suspended in the pole timber, over brush piles, suspended in open water and some roaming around looking to go shallow. Try 14-30 feet of water on minnows, jigs and crappie spins. No report on catfish. The walleye are moving and eating some, and some are staged, while others are up real shallow in the river. Try catfish rigs with bream, minnows, on drop-shots and jigheads and crankbaits. The black bass are chewing on certain days. Some of the bigger fish can be caught now on Wiggle Warts, Rat-L-Traps, spinnerbaits and jigs up real shallow, and the deeper fish can be caught on C-rigs and football heads. The middle fish can be caught on jerkbaits. They're around classic rocky points and bluffs, and for the deeper fish stay around the shad. No report on bream.
(updated 2-7-2018) Cody S. Smith of FishGreersFerry.com (501-691-5701) said Greers Ferry is currently 6.5 feet below power pool and holding steady with limited generation and a bit of inflow from recent rain over the reservoir basin. Water temps are in the lower to mid-40s lakewide and water clarity is good for this time of year. Clear on the south end and slightly colored to the north. Crappie fishing is good and will continue to get even better as the month carries on. These fish are staging for their spring spawn and can be caught adjacent to spawning areas in primary and secondary creeks and rivers. The walleye bite is slow, to say the least. Look for that bite to turn on in a couple more weeks. Hybrids and white bass are on the move and staging as well. Feeding mainly in the early morning and once again late in the day. Look at depths of 18-35 feet at the mouths of our rivers and spawning bays. Spring dates are filling fast here, call email or text to book your next trip with Fish Greers Ferry Guide Service. Call or find them on the web @ fishgreersferry.com or on facebook @ Fish Greers Ferry Guide Service.
(updated 2-21-2018) Lisa's Bait Shot in Benton reports that customers have been catching slab crappie. The fish have been hitting No. 4 crappie minnows.
(updated 2-21-2018) Harris Brake Lake Resort (501-889-2745) had no report.
The AGFC is treating alligator weed in Lake Overcup using EPA-registered herbicides approved for use in aquatic systems. The AGFC strongly recommends that adjacent landowners not use lake water for irrigation of lawns or gardens through March 1, 2018. For more information please contact the AGFC Fisheries Office in Mayflower at (877)-470-3309.
(updated 2-21-2018) Johnny "Catfish" Banks at Overcup Bait Shop and R.V. Park (501-354-9007) had no report.
(updated 2-21-2018) Larry Walters at Bones Bait Shop (501-354-9900) said Wednesday morning the water is rising rapidly and not much fishing is going on. The clarity is muddy and the water has a surface temperature of 47 degrees. Level has been normal of late. Crappie reports have been good. Crappie are in 8-10 feet of water and responding well to minnows and red jigs. Fish for them around the brush piles. Bass are good around the rocky points. Fish with a crankbait. No reports on any other species.
(updated 2-21-2018) Jolly Rogers Marina (501-868-5558) said the lake is coming up fast. It was 4 feet down and has come up almost 2 feet (as of Wednesday morning) and is expected to come up 3 more feet in the next few days. This will drive the white bass wild, Roger says. The temperature yesterday was 43 degrees in front of the marina and 54 degrees at the west end of the lake. Black bass fishing is great. Black bass are biting on shaky head worms, crankbaits, drop-shot and jerkbaits. They can be found off steep rocky banks. They're shallow during dusk and dawn. Drop 12-18 feet in deep water. Kentucky bass are good. Kentucky bass are being caught on hair and finesse jigs. They can be found near the edge of the creek channel. White bass are excellent. More reports are coming in this week of limits being caught. They can be found on the west end of the lake and under the Highway 10 bridge. Use Rooster Tails, CC Spoons, deep-diving Bandits, and Bombers. Crappie are good. They are being caught on crappie minnows and soft plastic bodies with a weighted jighead. Try using chartreuse or lead as well as bladed jigs. They're being caught 28-34 feet deep. Fish in the channel or under bridges. No reports have come in this week on bream or catfish.
(updated 2-21-2018) Lisa Spencer at Lisa's Bait Shop (501-778-6944) said "To be honest with you, I haven't heard anything from there. But they have catfish, bream, crappie and bass. But the bass have to be returned immediately back into the lake. Be sure to check the fishing regulation guide for other limits; we have plenty if you need one." Anglers will find Sunset Lake on Page 69 of the AGFC Fishing Guide. This too is a great place to take kids, Lisa says; it has a paved walking trail all the way around it. Public restrooms, too. Take a kid fishing and make some great memories. "There's nothing better than seeing a kid reel in a fish or they could also reel in a turtle," she says. "I hear there are lots of them there. This is [an AGFC] Family and Community Lake; they stock it with catfish monthly. It is also the same lake that the Benton Police Department holds their kids tournament around May. I always keep people posted on my Facebook page on the date and time."
Bishop Park Ponds
(updated 2-21-2018) Lisa Spencer at Lisa's Bait Shop (501-778-6944) said she had a customer Tuesday that caught some very nice crappie at the back one that they call Lake Charles. He was using No. 6 crappie minnows. He reported that they were out about 8 feet from the bank. That was earlier in the morning, around 9 a.m. "So, after seeing his fish my husband and his nephew decided to go over there after work," Lisa said. "They probably got over there about 5 p.m. and fished for almost two hours. They ended up catching seven crappie and two catfish. Using No. 6 crappie minnows, they too were catching them 8 feet or a little further out from the bank. That was the first time either had ever fished there. It has pretty clear water and it's a great place to take kids to fish." She says the front lake, which is called Lake Norma, has produced some very nice fish, too. But the back one, called Lake Charles, gets the most attention. It is fished under state regulations. "That is why a lot of people like going here rather than to Sunset Lake. For you can keep 10 bass, 10 catfish, 30 crappie, 50 bream," Lisa says. "These two lakes, which I usually just call ponds, have Hurricane Creek running beside them, which comes from Hurricane Lake. So when the creek floods then they run in to Norma and Charles, and then when the creek goes back down the fish from the creek are in there. All this rain, I bet some new fish will be going into them lakes, so wait a couple of days after it stops raining and the creek goes back down; you will probably do good. There have been bass, catfish, bream crappie and even yellow bass caught out of the two lakes."
Saline River Access in Benton
(updated 2-21-2018) Lisa's Bait Shop (501-778-6944) said that over the weekend and Monday the river was doing great on walleye, smallmouth and Kentucky bass. Lots of people ventured out to the spillway, using brooder minnows. Some weren't as lucky as others. Fishing for the walleye from a boat can be done, nut better results come from going there and getting out on the bank. Lisa Spencer says they don't use swivels or wire leaders or big hooks or big split shots. Or heavy line or colored. All that extra stuff usually gets the attention of the walleye and it's like a warning to them. She suggests anglers use BB split shot, plain shank No. 2 hook and 8-pound clear line (no float unless fishing in a current). If there's current, "Then we will use a cigar 2½- to 3-inch float. My husband went this past weekend and they only came back with two walleye. They did catch some huge smallmouth and a nice Kentucky. They hit the Saline early Sunday morning a little after 5:30 a.m. They missed a lot. The area that they were at was a little high but not too high, the color was just right though. They ended up running out of minnows, but they still had a great day of fishing." She said other areas doing well on walleye were Peeler Bend access and Lyle Park access. However, with all the rain Tuesday night and Wednesday morning the river has risen considerably, 10 feet or more, making fishing not good until it goes back down, she reported.
(updated 2-21-2018) Lisa Spencer at Lisa's Bait Shop (501-778-6944) said she hasn't heard of any crappie lately coming from here but that doesn't mean there hasn't been any caught. There are not a whole lot of crappie in there but the ones she has seen caught out of there were big. Bass are abundant in there; one of her customers has been hitting it in his kayak using No. 6 crappie minnows and has been catching a lot of bass. Crickets do very well out there on the big redear bream fishing on bottom. One of her customers lives at Hurricane Lake and he fishes for bream at Lake Norrell. Some catfish are being caught off of minnows as well as on black salties and nightcrawlers.
(updated 2-21-2018) Lisa's Bait Shop (501-778-6944) said none of their regular customers have been going here lately, so no recent reports are available. But, Lisa Spencer says, it is a good crappie lake and she has seen in the past "some dandy ones come from there. It's a secluded lake, though, for it has a long gravel road to it, so it doesn't get a lot of pressure on it." The lake has bass, crappie, catfish, bream and walleye in it.
(updated 2-7-2018) Charley's Hidden Harbor at Oppelo (501-354-8080) said the recent weather has kept people off the river. He said catfish are in deep holes. Use shad with nightcrawlers. Bass are around jetties; use worms. Crappie are in the Petit Jean River. Float jigs in 8-14 feet of water. Sauger are biting below No. 9 on spook rigs.
(updated 2-21-2018) Professional angler Cody Kelley with Best in Bass Guide Service (501-733-5282) reports that bass fishing is poor right now. Water temps are currently 44-46 degrees. The bite is very, very slow. Water color is actually pretty good (as of Feb. 15), and is around 12-18 inches of clarity. Most of the baitfish is in about 20 feet of water in backwater holes, or slackwater holes off main channel. Cody says he hasn't gone for crappie in a while, but most of their food is pretty deep. Follow that, he suggests. Catfish, too, are something Cody hasn't fished for the past week. But, he says, he did spend some time graphing the main river. He marked several large fish on washed-up trees just on the edge of holes and current. Typical depth was about 30-35 feet. Cody expects that fishing will get better just as soon as we get some sun and warmth. He says he will also be spending more time on Lake Conway as well this year, so be on the lookout for those reports!
(updated 2-21-2018) River Valley Marina (501-517-1250) said the water Tuesday was clear. Water level and current are normal. No temperature was recorded. Crappie are good in 4-6 feet of water and are biting minnows and jigs. Bass are fair on crankbaits. No reports on bream. No reports on catfish or white bass.
Arkansas River (Little Rock Pool)
(updated 2-21-2018) Vince Miller from Fish 'N' Stuff (501-834-5733) said the river is muddy and the level is high with current. Crappie are good and anglers are finding them in the main channel in a depth of about 5-10 feet. Use black and blue jigs. Bass are good. They are by grass in the backwater and in the main channel near jetties. Use jerkbaits. No reports on catfish. No reports on bream.
(updated 2-21-2018) Zimmerman's Exxon (501-944-2527) said the reports on crappie have been good. Crappie are in 5-6 feet of water. Use white and chartreuse jigs. No other reports.
(updated 2-21-2018) McSwain Sports Center (501-945-2471) said the clarity is muddy and the water level and current are high. Crappie are good. They're mostly around the brush piles and are favoring red-chartreuse and orange jigs. No reports on any other species.
Clear Lake (off Arkansas River-Little Rock Pool)
(updated 2-21-2018) McSwain Sports Center (501-945-2471) said the clarity is muddy and the water level and current are high. Crappie are good. They're mostly around the brush piles and are favoring red-chartreuse and orange jigs. No reports on any other species.
Peckerwood Lake
(updated 2-21-2018) Herman's Landing (870-241-3731) reported that the water is stained and no surface temperature was recorded. The water level is high as of Wednesday morning. Crappie are good. Best reaction has been to minnows. Bass are good on plastic worms. Catfish reports are good. Use hot dogs for bait. No reports on bream.
---
White River
(updated 2-21-2018) Cotter Trout Dock (870-435-6525) says springtime is knocking at the door with much needed, soaking rain showers this week, raising the lake levels some but mainly watering the thirsty banks. White River levels have been mostly at minimum flow this past week making navigating a jon boat somewhat tricky, but with the crystal clear water of the White you can see those gorgeous trout even better than usual. Once you get to your favorite fishing hole you can drop an anchor and catch for quite a while. Because the fishing pressure has been light over the winter, the rainbows are snatching all the traditional baits: egg pattern PowerBaits in yellow, white and red are good; try some with a scent of garlic, add some shrimp to the hook for extra attention. Put a nightcrawler or red wiggler on your hook when the river is rising. Browns are moving out of their spawning beds and downriver; some folks are having luck with redfin minnows, but it's been noted that they're turning their noses up at average-sized sculpins. You'll catch some rainbows and some smaller aggressive cutthroats with them, but you'll want to use the biggest sculpin in your arsenal to get a larger brown to bite. Keep angling! We'll see you on the river.
(updated 2-21-2018) Sportsman's White River Resort (870-453-2424) said generators are running in the morning and shut off in the evening. Typically the water is stained while the generators are running. There have been no fishing reports.
(updated 2-21-2018) John Berry of Berry Brothers Guide Service in Cotter (870-435-2169) said that during the past week, Cotter experienced a trace of rain, warmer temperatures and heavy winds. The lake level at Bull Shoals fell 0.1 feet to rest at 6.6 feet below seasonal power pool of 659 feet msl. This is 42.6 feet below the top of flood pool. Upstream, Table Rock fell 0.3 feet to rest at 6.6 feet below seasonal power pool and 22.6 feet below the top of flood pool. Beaver Lake fell 0.3 feet to rest at 7.5 feet below seasonal power pool and 17.1 feet below the top of flood pool. The White River had more wadable water with less generation. On the White, the hot spot has been Rim Shoals. The hot flies were olive Woolly Buggers (sizes 8, 10), Y2Ks (sizes 14, 12), prince nymphs (size 14), zebra midges (black with silver wire and silver bead or red with silver wire and silver bead sizes 16, 18), pheasant tails (size 14), ruby midges (size 18), root beer midges (size 18), pink and cerise San Juan worms (size 10), and sowbugs (size 16). Double-fly nymph rigs have been very effective (John's current favorite is a size 10 Y2K with a size 14 ruby midge suspended below it). Use lead to get your flies down. Remember that the White and Norfork Rivers and Dry Run Creek are infected with didymo, an invasive alga. Be sure and thoroughly clean and dry your waders (especially the felt soles on wading boots) before using them in any other water. Many manufacturers are now making rubber soled wading boots that are easier to clean and are not as likely to harbor didymo.
John says that he had written previously about the local Trout Unlimited annual banquet usually being "the high point of the social life for trout fishers in the Twin Lakes Area" and as for the most recent one, "For once I was 100 percent correct. My wife, Lori, and I had the best time ever. Everyone around us felt the same. Lori checked Facebook the next day and saw post after post referring to the great time everyone had. Then, just yesterday, at the Sowbug Roundup committee, one of the main topics of discussion was the Trout Unlimited Banquet.
"I am no stranger to fundraising banquets. For several years before I moved here 18 years ago, I worked for Ducks Unlimited as an accountant. They know a thing or two about fundraising. If they did not invent them, they perfected them. I was on the committee for seven different fundraisers and was the committee chairman for the annual cigar dinner. Despite this I have trouble figuring out just what it was that made the Trout Unlimited event so much fun.
"I thought that the venue might have something to do with it. The event is always held at the Elks Club. It is a nice large building with plenty of parking and is centrally located. It has a large hall that is getting crowded as this event grows. Each year the word gets out and more and more people attend. It seems to be a younger crowd. There are a lot of fishing guides there along with a number of boat builders. There is even more diversity. We have people coming from across the state to attend. Lori and I sat with a couple of guys that drove over from Fayetteville to attend. They were serious Trout Unlimited members who wanted to support the local chapter's efforts. It also seemed like everyone else that we knew was there.
"Another thing was the food and drink. There were waitresses walking around taking orders. If that wasn't quick enough, you could walk over to the bar and get your own. The food was heavy hors d'oeuvres. It was tasty and plenty filling. They had two food lines to make sure that everything went quickly. I spent next to no time in line.
"There was an auction. They kept the items to a few great ones and had the auction go quickly. It drives me crazy for an auction to go on for hours. This is bit of a pet peeve. "
"Finally there was music. As usual it was supplied by a DJ. I always enjoy dancing with my lovely wife. For those who do not know, the Trout Unlimited Chapter President, Kevin Brantonies, has a pretty darn-good singing voice. He regaled us with some great music.
"If you missed this year's Trout Unlimited banquet, make sure to plan to attend next year'. If you were there, you know what to do."
As of Wednesday, the Army Corps of Engineers reports the lake's elevation at 654.23 feet msl (normal conservation pool: 659.00 feet msl).
(updated 2-21-2018) Del Colvin at Bull Shoals Lake Boat Dock said on Monday the lake level was at 652 feet msl and the temperature was about 46 degrees. He said the lake is starting to warm up. You could find some 48-, 49-degree water Monday in the backs of some of the creeks. There's a couple different patterns going on. It seems like the fish are in transition from winter haunts coming into spring. The shad are starting to move around and it's made the bite tough the last couple days. There's been a shad kill up the lake and there's a little bit of a shad kill on the lower end, too, depending on where you're at. The brush piles the AGFC put in are amazing. Fish are already on them – not all of them have fish on them, but a lot of them are holding a lot of little fish, which is great. Del said, "A big shout out to those guys – great job on the brush piles. We're catching fish off them already."
Del said the deep bite has been pretty sporadic still with the shad moving around, but if you get on top of them on the secondary points or the main lake points, anywhere the channel swing comes in on a bluff, and if you see you can drop in on them – they're not there all the time – drop the drop-shot or spoon. You can video-game those fish and pull a few off there. Del said that's not really a go-to style he would rely on, but it's something he'd look for when he's out. There's a deep bite for the jig, too. Some of the old brush piles, and some of the new ones, that bite is going to be mostly on the channel swing banks. Keep the boat in 30 feet of water and dragging it all the way back. The conditions you're looking for that are going to be, if you don't have a ton of wind you can pick up a few fish on a Ned Rig and a shaky head. Now, if you find those fish coming up on the flats to feed, those secondary points coming off the channel swings, Del says they're starting to hold some fish they start migrating in off the main lake. They're going to use that channel to go back into the creek and start doing their thing. The shad are already starting to do it.
A ton of rain is expected, at least a couple inches of rain, which would be great, he said. He's anticipating those baitfish are already starting to move in there, so if that happens the fish won't be too far behind. If you've got the wind and clouds, you can crankbait the shallow fish. You're looking for that chunk rock bank with the wind just hammering on it. That'll put a few fish in the boat. Throw either a Wiggle Wart or Rock Crawler. And the jerkbait bite has been hit-or-miss over some of the brush piles. It's been conditional with the water temperatures starting to come up. Del says he's been having to do as much as a 5 to 8 count on the jerkbait to get bit on. Or throw a Mega Bass or a Mix Stick, whichever one you cater to. Then there's also a swimbait bite that's starting to happen now. As the water temperature approaches that magic 50-degree mark, that's going to come more into play and you're going to see some of that spinnerbait stuff come back. The bites should be getting real good here, Del says. Also, check with the Marina about the upcoming Big John Fishing Tournament scheduled for early March.
K Dock Marina will reopen for the season in March.
As of Wednesday, the Army Corps of Engineers reports the lake's elevation at 546.09 feet msl (normal conservation pool: September-April 552.00 feet msl; April-September, 554.00 feet msl).
(updated 2-21-2018) Tom Reynolds of STR Outfitters said that last week he fished Norfork Lake for walleye up by Calamity Beach and the state line. The first day the water temperature was 40 degrees at Calamity and 43 degrees at the state line. The first day Tom's group caught one short walleye and missed three more. The next day the water temperature was 43 degrees at Calamity and 52 degrees at the state line. The first day they caught their fish at the state line, but the next day the fish had moved from the line because of the warmer water. They tried moving up the river but about a mile up the lake the water level was too low to continue. They moved back to the colder water and started fishing near the shore in 5 feet of water and caught a 19-inch keeper and a short one in quick succession. He said they did not catch anymore, but it was late in the morning and the bite was over. What surprised him, he said, was the farther up the river the water temperature continued to rise. It seems just opposite of what he expected. The crappie are also being caught off the brush piles on both sides of the state line. Tom said he plans on continuing chasing walleye and crappie in the upper part of the lake and creeks on the main lake. Right now they are catching both off brush piles using small jigs and minnows. He said he'll be fishing up near Udall using live bait for walleye and long-line trolling for crappie in the creeks off the main lake like Bennett's, Pigeon Creek and Big Creek. Lots of big crappie are caught trolling small jigs and minnows.
(updated 2-21-2018) Lou Gabric at Hummingbird Hideaway Resort said winter fishing is slowly coming to an end and he's looking forward to the warmer weather fishing of spring. The lake surface water temperature is rising slowly, which will help make all species more active. At this time bass fishing has been good and walleye fishing is starting to pick up. Lou has been catching some nice-sized spotted bass and largemouth bass with many shorts among the keeper-sized fish. Monday morning he tried out a tube jig, working it in about 25-30 feet of water with good success. The slower he worked the bait along the bottom the better. He has also been picking up some nice fish vertical-jigging a spoon in 30-45 feet of water. Brush piles are also holding some nice fish.
Lou said walleye are starting their spawning run. Some of the fish are staging out in 20-30 feet of water and others are heading into shallower water. Gravel banks will be some of the best areas to find these spawning fish. One of the well-known spots to fish for walleye is upriver in the Calamity area and farther north into Missouri. Berkley's Flicker Shad and Smithwick Rogues are a couple of good baits to cast out for those shallow spawning fish. For the deeper walleye, drag a crawler harness or a live shiner on the bottom at a very slow speed. Remember, with live bait you may need to feed line out once you get a strike to let the walleye take the whole bait into it mouth. Other areas that will be holding walleye are back in the major creeks. Also look for those gravel banks.
The last several mornings (not including Tuesday) Lou said he was out looking for striped bass in the Cranfield area. He is finally marking a few big fish following bait balls, but every time he finds a few fish he is graphing and not fishing. When he starts to fish he says he loses sight of them. The good sign is that he is starting to mark bait balls suspended down 20-40 feet in 50-60 feet of water. As the water warms, the larger bait will continue coming off the bottom and the fish will follow. What he has found in the bait balls are white bass. This is telling Lou the whites are starting to move toward their spawning areas. It will not be long before the Bennetts and Calamity areas will be filled with spawning whites.
Lou notes that Hummingbird Hideaway Resort's fourth annual fishing derby commences on March 1. Last year produced some really nice fish and the winners won nice monetary prizes for the longest striped bass, crappie and large/smallmouth bass. All of our guests can enter for a chance to win the longest fish categories as well as a drawing for a free week stay.
The Norfork Lake level is starting to rise with the rains we are having and sits at 545.56 feet msl. If we get the rain that is forecast, he can see a substantial rise in the lake level over the next couple of days. Norfork Lake is currently 8 feet below normal pool. The surface water temperature is also on the rise and currently is in the mid-40s. The main lake is clearing as well as the creeks and coves. The lake is still not as clear as it typically is this time of year. Norfork Lake is shaping up to be in great condition for spring fishing.
(updated 2-21-2018) John Berry of Berry Brothers Guide Service in Cotter (870-435-2169) said Norfork Lake fell 0.2 feet to rest at 8.3 feet below seasonal power pool of 553.75 feet msl and 34.5 feet below the top of flood pool. The Norfork saw less generation and more wadable water. The water is has cleared substantially but has fished poorly. Navigate this stream with caution as things have changed a bit during last year's flooding. There has been major gravel recruitment at the bottom of Mill Pond and the dock hole. The most productive flies have been small midge patterns (sizes 18, 20, 22) like ruby midges, root beer midges, zebra midges (black or red with silver wire and silver bead) and soft hackles (sizes 14, 16) like the Green Butt. Egg patterns have also been productive. Double-fly nymph rigs have been very effective. Try a small bead-headed nymph (zebra midge, Copper John or pheasant tail) suspended 18 inches below a brightly colored San Juan worm (hot fluorescent pink or cerise size 10). The fishing is better in the morning. John's favorite rig has been a Y2K with a ruby midge dropper. Dry Run Creek has cleared some and still fishing well. The brown trout have moved in for the spawn. The hot flies have been No. 14 sowbugs, No. 12 Y2Ks and various colored San Juan worms (worm brown, red, hot fluorescent pink and cerise size 10). It is cold out there. Take frequent breaks, bring cocoa and dress your children warmly.
Buffalo National River/Crooked Creek
(updated 2-21-2018) John Berry of Berry Brothers Guide Service in Cotter (870-435-2169) said the Buffalo National River and Crooked Creek are low and clear. With the cold weather the smallmouths are less active. John's favorite fly is a Clouser minnow. Carefully check the water level before entering Crooked Creek or the Buffalo River. There are no dams on these streams. They both have large drainages and are prone to flooding during and following any rain event. The water can rise very quickly.
---
As of Wednesday, the Army Corps of Engineers reports the lake's elevation at 1,114.32 feet msl (normal conservation pool: 1,121.00 msl).
(updated 2-21-2018) Southtown Sporting Goods (479-443-7148) said the water is muddy and the level is high. Surface water temperature on Wednesday was 44 degrees. Anglers report that the crappie bite is good. Crappie are at a depth of 8-12 feet and are around the brush piles. Minnows are working as well as bright colored or pink jigs. Bass are fair. Bass are in 10-12 feet of water. Use a crankbait, a jerkbait or a broiler rig. No reports on catfish. Walleye are active and are taking to jerkbaits and Flicker Shad. No reports on bream.
(updated 2-21-2018) Bailey's Beaver Lake Guide Service (479-366-8664) said stripers are using the mouths of coves, creek arms and the channel adjacent to shallow gravel bars. You should look for warmer water temperatures that are concentrating bait as only a degree or two can attract baitfish. Use these intersections of warmer water/structure to your advantage as it will often concentrate schools of bait and Beaver Lake stripers. There has also been an ongoing shad kill, so fishing with cut bait on the bottom will be productive. You will need to identify areas that the dead shad are drifting into and make your presentation there. Possible places would be river channel bends, gravel bars and banks where the wind is blowing in. For you diehard live baiters, fishing free lines, balloons and downlines between the surface and about 40 feet deep should get you some stripers. For the artificial baits you can try trolling umbrella rigs with white or chartreuse jigs/grubs or plugs like Rapala No. 14 husky jerks in black back or purple back colors, as well as 5-6-inch Smithwick Rogues in similar colors on planer boards to stagger your presentation. You should also try dead-sticking with 1- or 2-ounce jigheads and a fluke or soft jerk of your choice. Dead-sticking is the act of presenting a soft plastic lure by a vertical drop and allowing the bait to remain motionless for an extended period of time before retrieval. Make sure that when dead-sticking you present the lure above or in the top of the schools of bait. Fish location is greatly influenced by lake level and current flow. Current in the lake from generation will generally position fish on upstream or downstream edges of structure. Check the daily lake level and flow data link on Mike Bailey's website linked above. And remember: Live bait is always the go-to approach on Beaver Lake when fishing for trophy stripers.
Water surface temperatures as of Tuesday were in the high 30s-low 40s. On the mid and upper sections, Mike says to check out these areas: Rambo Creek Arm (check the back near War Eagle Cavern), Rocky Branch (check the back of Larue near the boat ramp), Ford and Cedar creeks (check backs of these and pay attention to where tree line intersects channel), Larue (check the main channel bends and cuts), Coppermine, Ventris, Shaddox Hollow, Highway 12 bridge- (check main lake structures, humps and secondary points in the area where the channel intersects), Prairie Creek, Coose Hollow, Blackburn Creek, Beaver Shores (check main lake structures, humps and secondary points in the area where the channel intersects), Escapalia Hollow/Falls Hollow, Horseshoe Bend, Mont Ne, War Eagle and the War Eagle/White River junction.
Walleye are in wintering locations, and the spawn will begin in a few weeks. So walleye are fattening up and can be found from 20-40 feet deep depending on areas you fish. Use three-way rigging Rapalas in natural colors for clear water or chartreuse/orange and clown colors in areas of stained water. Try Rapala Tail Dancers, Bagley Rumble B's, Flicker Shad, Bandit 300 Series and Arkie 350s in colors that include orange and chartreuse. Try slow death rigs and spinner rigs on bottom bouncers in orange/chartreuse. Bink Pro Scale 1-ounce jigging spoons in white or white/chartreuse combo, a variety of jigs and blade baits are producing walleye
(updated 2-14-2018) Guide Austin Kennedy (479-244-0039) said the trout bite has very good this week. Most trout are being caught between Spider Creek, Parker Bottoms and Arkansas Highway 62 bridge. Trout are biting on various quarter-ounce spoons and various PowerBaits fished with light terminal tackle. The water temperature in the area mentioned above has been between 45 and 50 degrees. The big issue is lack of water. The river is extremely low right now, so the use of a boat may not be practical. The spots mentioned above were accessed by the bank. If you do not mind a bit of walking, the effort is likely to pay off.
(updated 2-14-2018) Beaver Dam Store said the river below the dam sure is low right now. The fish don't care, though. The Bertrand ramp area has been fishing well. Fish upstream from Parkers Bottom in the Trophy Management Area as well as Campground C, Riverview walk-in areas. Nymphs and midges are working well. Always be attentive to rising water conditions. Conventional fishermen are catching nice fish using PowerBait and waxworms. Typical good lures here are gold and silver Colorado Spoons, red and gold Bouyant Spoons, and Flicker Shad in Pro Series Nos. 4 and 5. Good PowerBait colors are white, red, orange, yellow, chartreuse and peach. Good flies are pheasant tails, midges in blue dun, black, olive, hare's ear, tungsten Copper Johns, WD 40s, Trout Magnets and San Juan worms. Winter store hours are 7 a.m. to 5 p.m. Thursday through Saturday.
(updated 2-21-2018) Lake Fayetteville Boat Dock (479-444-3476) reported on Tuesday the water was stained with a surface temperature of 45 degrees. Water level was high. Crappie are good and are suspended in 10-12 feet depth. Use jigs. Bass are good in 5-6 feet of water. They'll react to jerkbaits and crankbaits nicely. No reports on bream. No reports on catfish.
(updated 2-21-2018) Lake Sequoyah Boat Dock (479-444-3475) reports that rains that came Tuesday night and into Wednesday morning have left the lake severely flooded as of mid-day Wednesday. Clarity is muddy. No reports.
---
(updated 2-21-2018) Ome Coleman at Lake Poinsett State Park says that while the lake is in total drawdown and being repaired for the next couple of years, "We sure don't want you to forget about us here at Lake Poinsett State Park. Although they won't have a lake for a while, they are still selling bait and other fishing accessories. They are selling a lot of minnows and have a fresh supply of nightcrawlers. They expect to have crickets in 6 to 8 weeks.
(updated 2-21-2018) Boxhound Marina (870-670-4496) said the water is clear and the surface water temperature is 40 degrees. The level is low by 2 feet. Very few reports came in this past week. Bass were fair on jigs. No reports on bream, crappie or catfish.
(updated 2-21-2018) Mark Crawford with springriverfliesandguides.com (870-955-8300) said water levels are at 235 cfs and water clarity is clear. Forecast for heavy rains for the next few days should get river levels up. The river has been over a foot low. Fishing has been good with Woollies, Y2Ks and nymphs. Hot pink, white and red Trout Magnets are working great below a float. Fish it just off the bottom.
(updated 2-21-2018) John Berry of Berry Brothers Guide Service in Cotter (870-435-2169) said the Spring River is low and fishing well. This is a great place to wade fish when they are running water on the White and Norfork rivers. There are few boats on the river. Be sure to wear cleated boots and carry a wading staff. There is a lot of bedrock that can get very slick. The hot flies have been olive Woolly Buggers with a bit of flash (size 10), cerise and hot pink San Juan worms (size 10) and Y2Ks (size 10).
(updated 2-21-2018) Triangle Sports (870-793-7122) said the water is rising rapidly and there is no fishing due to the rain. Clarity is muddy and the level is high.
---
SOUTHEAST ARKANSAS
(updated 2-21-2018) Brandy Oliver at Lake Chicot State Park (870-265-9705) said crappie are biting at Lake Chicot. Anglers are having the best luck with electric chicken and crickets. Catfish are a little slow but catchable with patience. Meanwhile, bass fishermen should use black and blue jigs with craw and blackberry worms.
NOTE: Lake Monticello is being maintained at a lower level until the end of the summer for replanting of vegetation.
(updated 2-21-2018) Angler Chris Van Duren at Lucky's of Monticello reports that the backwater areas have water clarity that is muddy and the temperature is in the mid-50s. In the main lake, the clarity is clear and surface temperature was in the 40s. Bass reports have been good, both largemouth and white bass. Largemouth bass are biting on spinnerbaits, crankbaits and jerkbaits and are hanging around brush. While the lake has been drawn down, Chris said Tuesday that the lake level appears to be rising.
---
SOUTHWEST ARKANSAS
As of Wednesday, the Army Corps of Engineers reports the lake's elevation at 260.08 feet msl (normal conservation pool: 259.20 msl).
(updated 2-21-2018) Mike Siefert at Millwood Lake Guide Service said the lake level Monday was about 8 inches above normal conservation pool and rising at 259.9 feet msl; and there is current of about 2,800 cfs in Little River, according to the Army Corps of Engineers. The tailwater as of Monday is about 230 feet msl. Water temperatures have improved over the past week, ranging 45 degrees early to 55 degrees under full sun, depending on location. Mike said Tuesday that with the incoming thunderstorms and flash flood warnings later this week, be sure and check the most recent lake level on the guide service's website linked above, or at the Army Corps of Engineers website for updated gate release changes and inflow rates with rising and falling lake levels and conditions. Continue to use caution in navigation on Little River and Millwood, watching for broken or floating timber. Clarity and visibility are mostly stained heavy in places, especially current rolling upriver. The main lake and lower sections of Little River are not quite as stained or muddy as the northern sectors.
Largemouth bass activity continues to be typical late winter patterns. Bass were improved over the past few days with the warmer ambient conditions, and best on sunny and warm days, from 2-3 pounds each, up to 6 pounds. For suspended bass it was best to go with Z-Man Chatterbaits, slow-moving swimbaits or suspending jerkbaits, dead-sticking Trick Worms and Bass Assassin Shads on a light wire hook. Smithwick Rouges, Cordell Redfin and other suspending hard jerkbaits, along with slow-rolling heavy spinnerbaits and Rat-L-Traps in and near creek channels where any remaining vegetation and lily pad stems remained, have been taking a few stragglers. Heavy, large thumping, ½-ounce and up to ¾-ounce Rat-L-Traps in such colors as Natural (brown/orange) Crawfish, Red Chrome, Red Shad, Toledo Gold or Rayburn Red Zombie, and medium-diving Bomber Fat Free Shad crankbaits in Tennessee Shad or Citrus Shad, and slow-rolling heavy ¾-ounce War Eagle spinnerbaits in white/chartreuse or Spot Remover colors, used deep in the creeks, will pick up a few decent bass in the 2-5-pound class. You have to use a really slow roll or stop-and-go type retrieve to entice a bite these past couple of weeks. Big, slow-moving swimbaits with a stop-and-go retrieve are randomly picking up a few nice contenders in the 4-5-pound class in deeper creeks and ditches. Further upriver and into the oxbows away from muddy Little River current, you'll find a few reactive bass, and the clearer water near standing timber continues to be several degrees cooler than the dirty/stained water sections closer to the river. The back of the oxbows definitely have the best water clarity, yet have the most lethargic bass. Banging Rat-L-Traps and Echo 1.75 crankbaits into the standing timber on points in backs of the oxbows where feeder creeks dump into the oxbows, and deflecting them off stumps from 8-12 feet deep, were taking a few 14-17-inch bass away from the river, where better water clarity was located without current. Also, heavy ¾-ounce War Eagle Spinnerbaits continue working cypress trees 9-12 feet deep. Best colors over the past couple weeks were Spot Remover or white/chartreuse and FireTiger. Go-to colors of crankbaits, like the Echo 1.75 squarebills, in the clear water in back of the oxbows have been Millwood Magic, Ghost Minnow, Pro Blue, or Sexy Chrome. Oversized 3/4-inch tube jigs like Gitzits with internal rattles continue working most anywhere in clear or the heavy stained water areas where stumps, timber and any vegetation remain. Internal glass or brass heavy-knocking rattles are helping the bass locate the lure in the stained water. Black/blue tail, purple smoke/chartreuse tail, black neon or pumpkinseed/chartreuse tail were getting the best reactions over the past 3-4 weeks; the darker colors seem to draw better reactions in the more stained water areas. Real Deal Kustom Tackle jigs with a heavy craw worm trailer are picking up random, solitary bass on cypress trees and knees in 8-11 feet depth. Black/blue/purple, black/red or Texas Craw continue to be the go-to colors, all with a black or green pumpkin craw trailer. Texas rigged Berkley 10-inch Power Worms in black, blue fleck and black grape, slowly crawled by stumps and timber, continue finding a few 15-18-inch bass.
Mike says whites and hybrids have begun their annual spawning runs up Little River. Large schools were connected last week between the entrance to McGuire Lake and Brown's Slough. Another huge school was found between Cemetery Slough and U.S. Highway 71 bridge. These whites reacted well in 6-9-feet to deep-diving Bomber Fat Free Shad crankbaits in white, Citruse and Tennessee Shad colors; Rooster Tails in red/chrome; and Little Georges in white and blue colors. The ¾-ounce Rat-L-Traps in White Glass, Chrome Black Zombie, Gizzard Shad and Millwood Magic (Silverado), fished slow with a stop-and-go retrieve in 9-12 feet of depth, got good reactions from the whites over the past few days in the aforementioned locations, best behind primary points extending into Little River out of direct current flow, where creeks dump into the channel and where eddies are created with a backwash. Crappie improved late last week on jigs and minnows in 12-16 feet depth along standing timber and brush planted in Little River, just out of the current above Horseshoe oxbow. Blue catfish and channel cats improved on trotlines with increased current using punch baits, spoiled chicken livers, or gizzards and hearts, and hot dogs in heavy current along Little River in 12-18 feet of depth.
Lake Greeson Tailwater (Little Missouri River)
Visit www.littlemissouriflyfishing.com for a daily update on fishing conditions.
Lake Greeson
As of Wednesday, the Army Corps of Engineers reports the lake's elevation was 544.80 feet msl (full pool: 548.00 feet msl).
(updated 2-21-2018) Jason Lenderman with JL Guide Service (870-490-0804) said the lake level is 541.52 feet msl as of Tuesday and up almost a foot from last week, which is still well under normal pool. Water temperature is 44-49 degrees with some color throughout the lake, with more in the upper lake due to the recent rains. Although bass are biting fair to good using a variety of methods, quality bites are hard to come by. Booyah jigs in brown or green pumpkin colors are working well around brush and rocks from 10 feet to as deep as 30 feet. Bandit crankbaits in crawfish colors are catching several fish on rocky and windblown banks. Crankbaits are working better in the more colored water. Smithwick Rogue jerkbaits are also working well around windy main lake points. Crappie are fair to good around deeper brush using minnows or Kalin's Grubs.
DeGray Lake
As of Wednesday, the Army Corps of Engineers reports the lake's elevation was 403.41 feet msl (flood pool: 408.00 feet msl).
(updated 2-14-2018) Local angler George Graves said Surface water temperature is in the low 40s and the lake is clear up to Point 14 and is slightly dis-colored farther up. Only the diehards are fishing in this inclement weather and reports are hard to come by. A few bass are being caught in the upper end from Alpine Ridge to Point Cedar. Best pattern has been working crankbaits across main lake points and fishing a Texas rigged worm deeper on the same points. Best colors for the cranks has been natural shad with some chartreuse and green pumpkin or red shad for the worms. Remember, whatever you use, fish slow and near deep water. Crappie fishing is fair with some nice fish showing on the deep attractors in the Shouse Ford area. Look for cover at 20-25 feet and drop a 2-inch tube on a 1/16-ounce jighead into the densest part of the brush. Best color has been black/chartreuse. Fish the lure very slowly and pay attention to the slightest bite. Most times a bite won't be felt, so just slowly lift your rod a few inches every few seconds and if weight is felt, it's probably a fish. Don't forget the crappie nibble; one will do. A few hybrids now showing on the west side of Goat Island but very few are being caught due to the cold water. Slowly troll the small umbrella loaded with 4-inch curly tail grubs in either white or pink/white. The active fish will be suspended at about 15 feet down, so be sure to have the lure running just above the fish. Afternoons are the best time.
(updated 2-21-2018) Capt. Darryl Morris at Family Fishing Trips said the white bass and hybrid striper are biting very well. Water temperature is in the low 50s, so brush pile fishing for crappie should be getting better all the time and Darryl said he will be checking the spawning shallows (northwest corners warm up first).
(updated 2-7-2018) Lane Dodd of Trader Bill's Outdoor Sports said last week on US97, said that he'd had a few good reports from here. Some anglers are getting halfway back on the creeks with a Bomber Flat A crankbait, tearing them up in the 4-6 feet range of water.
---
White Oak Lake
NOTE: On Thursday, Feb. 22, AGFC biologists will hold a public input meeting regarding fisheries management on Upper White Oak Lake. The meeting is scheduled for 7 p.m. at the AGFC Camden Regional Office, 500, Ben Lane in Camden. The AGFC is developing a Fishery Management Plan for Upper White Oak Lake and want to include ideas from local anglers in the process. The plan will deal with regulations, stocking, habitat and any other concerns directly related to fishing on Upper White Oak Lake. The event will include a short presentation of the current status of the fishery followed by a structured public input concerning the fishery going forward. A follow-up meeting will be held at the same time and place on Thursday, March 1, to present the completed plan and solicit final public input. Call the regional office toll free at 1-877-836-4612 for more information.
(updated 2-14-2018) Andy Yung, AGFC district supervisor, says that the crappie bite has been excellent since the start of the new year. Lower White Oak Lake was renovated in 2012-13, and catch-and-release rules were in effect for crappie until Jan. 1. Now, anglers are taking out limits (30) of crappie in good sizes, Yung said. Bass and redear are also biting well, he said.
Felsenthal
(updated 2-14-2018) Sportsman's One Stop in El Dorado (870-863-7248) said fishing has been slow in the river bottoms, there are a few reports starting to trickle in. A few bass are being caught in current. A few crappie are being caught in the lakes but overall still slow. No report on catfish yet.
(updated 2-14-2018) Sportsman's One Stop (870-863-7248) said they had seen a few good bass caught the last couple weeks, Also, some crappie being caught on the brush tops.
---
Hot Springs Village Area Lakes
(updated 2-7-2018) Greeson Marine, hometown dealer of the Arkansas bred-and-built all-weld Xpress fishing boats, reports lake temperatures are varying in temperatures from the mid-40s to the high 40s with water clarity up to 20 feet. Needless to say the bass fishing has been poor. Jerkbaits have lost their appeal except for up creek channels and ditches where some stained water can be found in the 10-15 foot range. The best bet at the moment is to A) fish very deep over suspended bait (which is difficult to find) or B) fishing secondary point of rock near creek channels and working a shaky head or football head in green pumpkin very slowly down. Downsize your lines and rely on the spinning setups. Crappie report is average. Most fish are close to cover in 20-40 feet of water. Minnows and ice cream-colored jigs on the vertical are the way to go. The fisherman have been hard at work sinking Christmas trees and, with the aid of side scan imaging, they can't hide!
(updated 2-14-2018) Lucky Landing (479-641-7615) said fishing has been slow of late. The water is clear and the level is high. Monday's surface water temperature was 38 degrees. Crappie reports are poor. They will bite on jigs, though. Bass are fair on plastic worms. No other species reported.
Lake Catherine
For weekly flow releases from Carpenter Dam, visit www.entergy.com/hydro.
Lake Catherine (Below Carpenter Dam)
For weekly flow releases from Carpenter Dam, visit www.entergy.com/hydro.
(updated 2-21-2018) Shane Goodner, owner of Catch'em All Guide Service, reports that Entergy is only releasing water for a few hours every few days to maintain lake levels. Lake Catherine is now at a 3-foot drawdown until March 1, when refilling of both lakes Hamilton and Catherine will begin. Each lake will be brought back to normal summertime levels by March 15. However, with 5-7 inches of rainfall forecasted for this week, Entergy will be greatly increasing the amount of water generated from Carpenter Dam in an effort to control rising lake levels. Open flood gates are a real possibility with very heavy rainfall predicted for all of this week. Currently, rainbow trout are the main attraction below Carpenter Dam. More fishing has taken place this past week with the frigid temperatures moving on, and anglers have caught quality limits of trout. From the dam to the bridge, rainbows are present and thriving with recent large stockings of trout in the tailrace, and February is the next big month for trout stocking with 12,000 fish scheduled to be released. Periods of no generation are best for bank fishermen as these anglers are recording limits of fish using corn or waxworms with a marshmallow floater. Redworms and nightcrawlers used in the same manner have also produced nice catches. PowerBaits presented just on the bottom or under a bobber are also working well from the bank or boat. Spin fishermen casting small jigs across the current around exposed rock structure have taken the largest trout recently. Jigs imitate the small threadfin shad that are drawn through the turbines during periods of generation. Opportunistic trout feed heavily on these injured baitfish and grow strong from this protein source. Rooster Tails in white or brown are also effective fished in the current or slack water. Super Dupers and Little Cleos are proven artificial lures and should never be forgotten when targeting trout chasing shad. Trolling the main channel with shallow-running crankbaits is effective and far easier this year with only a 3-foot instead of a 5-foot drawdown. Crawfish or minnow imitations that run 3-5 feet deep will draw consistent strikes from rainbows looking to feed on injured shad. Fly-fisherman are able to wade to areas that hold good numbers of fish and are having success casting egg patterns in white or yellow under a strike indicator. Egg imitators are highly effective as all rainbow trout are born egg eaters. This technique will often catch fish when no other pattern will produce. Micro-jigs in white or black have quickly taken numbers of trout in the 12- to 15-inch class. San Juan worms in red or hot pink give fishermen a nice change in approach. Trout Magnets fished 3-7 feet deep have really racked up fish numbers. It seems that all colors are working, with a slight edge in white being noticed. Overall, trout fishing is very good and will become even better into February. While white and hybrid bass have been caught the last several weeks, none have been seen feeding this week. Striper activity is very slow with no reports of fish feeding or being hooked recently. The walleye spawn has begun with fish located from the bridge to the dam. Small males from 1 to 2 pounds entered the tailrace early this year to prepare the beds for the larger females. These fish normal run from 3 to 5 pounds and will be present until late April. Trolling shallow running crankbaits that imitate small shad or crawfish have accounted for the most fish caught in the last week. The main channels hold the biggest numbers of walleye and trolling against the current is key as these fish are bedding close to the banks. Carolina rigs tipped with live minnows are working well in periods of no generation.
Shane adds that crappie will begin migrating into the tailrace in mid-March to spawn and will remain until the first part of May. Rainbow trout are king below Carpenter Dam and anyone wanting to enjoy some very good fishing and better tablefare should try their luck in beautiful Lake Catherine. Anyone navigating the tailrace must always wear a lifejacket and be aware of the generation schedules. Observing all park and boating regulations can ensure a safe and memorable outing.
(updated 2-21-2018) Charles Morrison at Classic Catch Guide Service (479-647-9945) said upriver is stained. The mid-river and lower river and both dingy. Some creeks are dirty, and other creeks are clean. River temperature is 48 degrees; backwater temperature is 51 degrees. White bass and stripers have been excellent on swimbaits, Rat-L-Traps, Alabama rigs and live shad. White bass have been excellent as well on white jigs, spoons and small jerkbaits. Catfish have been very good on whole shad. Crappie have been fair on minnows, while chartreuse and black/chartreuse jigs also have been doing well, and some good success has been seen with pink-and-black jigs. Largemouth bass have been excellent on jerkbaits, jigs and bamboozles. Soft jerkbaits likes scam shad have been working well in the back of the pockets. It's hit-or-miss on Rat-L-Traps, though.
(updated 2-21-2018) Capt. Darryl Morris at Family Fishing Trips said crappie and bream are scattered and light-biting. Darryl says he's caught them as shallow as 8 feet and as deep as 45 feet.
(updated 2-21-2018) Lisa's Bait Shop in Benton said Lake Hamilton remains a hot spot as their customers report doing great on crappie using No. 6 crappie minnows.
(updated 2-7-2018) Greeson Marine in Hot Springs, hometown dealer of the t all times.Arkansas bred-and-built all-weld Xpress fishing boats, reported water temperatures in the mid- to high 40s as you move up the lake. Water clarity is 1-4 feet depending which end of the lake you are on. Bass have been very slow. Many anglers have thrown everything from an Alabama rig to a crankbait at the fish for a full day without a single bite.
(updated 2-7-2018) Phillip Kastner of Trader Bill's Outdoor Sports noted on US97 that cold weather crappie fishing is the deal right now. This is when all the old-timers would all go out and fill their deep freezers full. That's what's going on, on Lake Hamilton on brush piles; 10-12 feet seems to be the number. That means you have to have 15-20 feet deep brush. That's the trick, Phillip says he likes 18-20 feet of water with "a big, big tall pile of brush on it." That way you're fishing 10-12 feet around the edge of it where it comes up. Find a situation like that, that's where you're going to catch a bunch of good crappie right now. The water is very clear, so you're not using as many bright colors as you are black, silver, white, gray – colors that mimic a shad this time of year.
As of Wednesday, the Army Corps of Engineers reports the lake's elevation was 344.26 feet msl (full pool: 342.00 feet msl).
(updated 2-21-2018) Andrews Bait Shop and More (479-272-4025) said the water is clear and the surface water temperature is 47 degrees. Water level is low as of Tuesday, but it was on the rise Wednesday, 2 feet above full pool according to the Army Corps of Engineers. Bream are fair on worms. Bream are in about 5-6 feet depth. Crappie are good on minnows and red jigs. Crappie are in about 6-10 feet of water. Catfishing is good on chicken livers and cut shad. No reports on black bass or white bass.
(updated 2-14-2018) Good Ole Boys Trading Post (479-272-4710) said they're hearing good reports on crappie. Spinnerbaits are working best to catch them. Nothing else has been reported.
As of Wednesday, the Army Corps of Engineers reports the lake's elevation was 570.76 feet msl (full pool: 578.00 feet msl).
(updated 2-14-2018) Todd Gadberry at Mountain Harbor Resort and Spa (870-867-2191/800-832-2276 out of state) says black bass are still good. Jigs and Alabama rigs are producing some quality fish. Traps and jerk baits are starting to pick up as well. Walleye should be staging for a spawning run and will start to move up the river and major creek channels with any warmer rain the next two weeks. Stripers are fair on Bama rigs. Major creek channels on the central and western part of the lake are still the best for these fish. No report on bream. Crappie are still fair and being caught on minnows in 30-40 feet of water near structure. No report on catfish. Surface water temperature is ranging 44-48 degrees and the clarity is clear. Call the Mountain Harbor fishing guides – Mike Wurm (501-622-7717), Chris Darby (870-867-7822) or Jerry Bean (501-282-6104) for more information.
Blue Mountain Lake
As of Wednesday, the Army Corps of Engineers reports the lake's elevation was 388.12 feet msl (full pool: 384.00 feet msl).
No reports.
---
(updated 2-14-2018) Natalie Faughn, ranger at Mississippi River State Park (870-295-4040), said no major fishing action at Bear Creek this past week. Forecast calls for rain through the weekend, so they're not anticipating much action but would love to see some anglers out if the weather permits. The Bear Creek Lake boat ramp is still closed due to low lake levels – if folks have questions about reopening, they're invited to call the park.
---
Recent News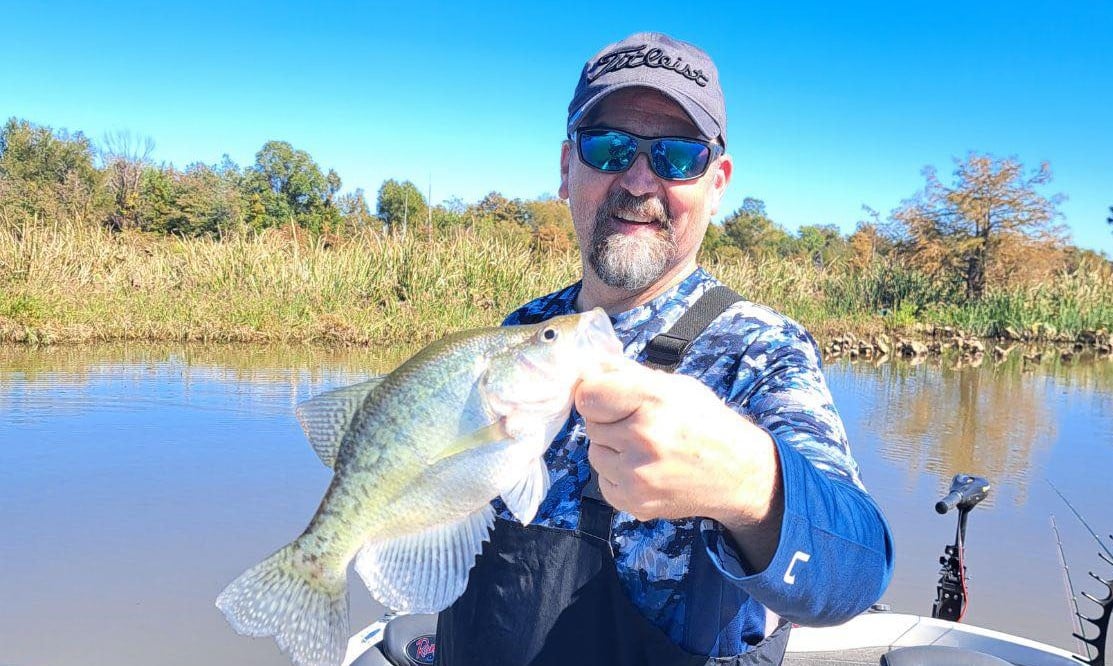 Subscribe to Our Weekly Newsletter E-mails
Don't miss another issue. Sign up now to receive the AGFC Wildlife Weekly Newsletter in your mailbox every Wednesday afternoon (Waterfowl Reports are published weekly during waterfowl season and periodically outside the season). Fishing Reports arrive on Thursdays. Fill in the following fields and hit submit. Thanks, and welcome!