Weekly Fishing Report
March 15, 2017
Jim Harris

Managing Editor Arkansas Wildlife Magazine
This is the Arkansas Game and Fish Commission's fishing report for March 15, 2017. If there is a body of water you would like included in this report, please email AGFCfishingreport@outlook.com with information on possible sources for reports about that lake or river. Reports are updated weekly, although some reports might be published for two weeks if updates are not received promptly or if reporters say conditions haven't changed. Contact the reporter for the lake or stream you plan to fish for current news.
Fishing Highlight of the Week:
Arkansas River and White River levels are available at:
http://water.weather.gov/ahps2/index.php?wfo=lzk
For real-time information on stream flow in Arkansas from the U.S. Geological Survey, visit:
http://waterdata.usgs.gov/ar/nwis/rt
For water-quality statistics (including temperature) in many Arkansas streams and lakes, visit:
http://waterdata.usgs.gov/ar/nwis/current/?type=quality
CENTRAL ARKANSAS
Craig D. Campbell Lake Conway Reservoir
(updated 3-15-2017) Bates Field and Stream (501-470-1846) said water is stained and is at a normal level. Surface temperature Tuesday was 54 degrees. Bream are fair and are about 6 feet deep, with decent catches from the creek channels. Use worms or crickets. The crappie bite continues nicely, this past week rating excellent. You'll find crappie around the cypress trees; use minnows or jigs. Bass fishing has been food, particularly around the shoreline. Try a white spinnerbait or a plastic lizard. Catfishing is excellent on limblines and trotlines using goldfish and trotline minnows.
(updated 3-15-2017) Hatchet Jack's (501-758-4948) said crappie are excellent, particularly in Gold Creek or near the Highway 89 bridge. Use minnows or a red and chartreuse jig.
Little Red River
(updated 3-15-2017) Lowell Myers of Sore Lip'em All Guide Service said that even with recent rains, the Little Red is in good shape with scheduled generation keeping all sections of the river clear and fishable. For fly-fishing, Lowell recommends gold ribbed hare's ear, pheasant tails, soft hackles, sowbugs and streamers. White and cotton-candy-colored Trout Magnet bodies on chartreuse heads are recommended for spin fishing. Always check before heading to the Little Red River by calling the U.S. Army Corps of Engineers Little Rock District water data system (501-362-5150) for Greers Ferry Dam water release information or check the Corps of Engineers website (swl-wc.usace.army.mil) for real-time water release and the Southwest Power Administration website (swpa.gov) to see forecasted generation schedule.
(updated 3-8-2017) Greg Seaton of littleredflyfishingtrips.com (501-690-9166) said after the heavy rain and storm on Monday night, the river was muddy Tuesday. Generation Tuesday morning and evening has begun clearing the river. It is still stained from below Sulphur Creek to the 305 bridge. They were scheduled to run two hours on Wednesday morning and evening so this should help clear that area. Warmer temperatures through Friday should keep the insects active during that time, but another front is due on Saturday with rain and colder weather. You may want to check that closer to the weekend. Heavy rain will muddy the river. Mayfly nymphs and midge pupas continue to be your best choices in the clearer upper river. Small emergers are producing near the dam.
(updated 3-8-2017) James Dillard at Tailwater Fishing Co. said recent heavy rains have left most of the river high and muddy. The best fishing will be in the clear water at the base of the dam for the next several days. Be safe when fishing high water.
Greers Ferry Lake
As of Wednesday, the Army Corps of Engineers reports the lake's elevation at 456.98 feet msl (normal conservation pool – 461.44 msl).
(updated 3-15-2017) Tommy Cauley of Fishfinder Guide Service (501-940-1318) said the water level at Greers Ferry Lake is rising and is less than 5 feet below normal pool. The temp has cooled somewhat – it is 52-56 degrees. The walleye fishing is on and off with all the cold fronts. It's hard to get to most of the river fish unless by foot. Some coming and going can be picked up in places, with a drop-shot or jighead tipped with a live bait. Grubs, crankbaits and rouges are working at times. Live bait for the lake fish is best in 25-40 of water. The bass fishing is pretty good with fish being caught real shallow or in 25 feet and some out in 40 feet of water; try spinnerbaits, crankbaits, drop-shots, spoons-rigs and football heads. A Rat-L-Trap and wacky rigs are working as well. The crappie are eating all over the lake suspended in 10-15 feet of water over the deepest water you can find, with some eating in the river channels on the bottom in 40 feet. No report on catfish. The hybrid and white bass bite is good all day at various times throughout the lake on spoons and in-line spinners. Some topwater action is going on as well. On tough days a swimbait or hair jig dead stuck is working the best. No report on bream.
(updated 3-15-2017) Cody Smith of Fish Greers Ferry guide service reports that currently the lake level is at 547.01 and rising slowly. Water surface temperatures have fallen back to the 51-52 degree range lake-wide after reaching the 57-58 degree range last week. This has, in turn, sent a lot of the gamefish that where moving shallow and staging for the spawn back out to greater depths. Our shad that where pushed to the middle and the back third of most major creeks and tributaries have also retreated to greater depths with the rapidly cooling water. With good inflow entering the lake it has brought cooler water but some much needed stain as well. These dirtier water areas will rebound quickly as the stained water will always warm more quickly than our clear water sections. I look for most all of our gamefish to reposition back shallow by next week with much warmer than average forecast on the way. We are still catching limits like we have been but we just have to relocate the same schools of fish most everyday while these dramatically colder temperatures persist.
Harris Brake Lake
(updated 3-15-2017) Harris Brake Lake Resort (501-889-2745) said water clarity is fair and the surface temperature is 54 degrees. Water level is normal. Bream catches have been food, with anglers using worms or crickets. Crappie has ranged from poor to fair and it's best in the early morning. Use minnows or jigs. No reports on bass. No reports on catfish.
Lake Overcup
(updated 3-15-2017) Johnny "Catfish" Banks at Overcup Bait Shop and R.V. Park (501-354-9007) said water level is up and clarity is medium and settling. Bream are slow but still catching on crickets around the shore and walkways. Bass are doing well on minnows and Rooster Tails around brush and grass. Crappie are slow but some are catching limits in 5-7 feet of water on jigs. Nothing over 11 inches long. Catfish are doing well on yo-yo's and jugs using bream, cut shad and bass minnows. We have had six good catfish in the past few months: 18-pounder, 21-pounder, 30-pounder and two 32-pound blues and a recent 52-pound flathead. Nobody has been able to fish these last couple of days, though (as of Tuesday this week).
Brewer Lake
(updated 3-8-2017) Larry Walters at Bones Bait Shop (501-354-9900) said water surface temperature ranges 57-58 degrees and the level is 5-6 feet low. Crappie reports are good. The crappie can be found in 6-8 feet depth around brush piles. Bass are good along the bank; try a blue and silver shad. Catfishing has been good. No reports on bream.
Lake Cargile
No report.
Lake Barnett
No report.
Lake Maumelle
(updated 3-8-2017) Jolly Rogers Marina (501-868-5558) said water temperature is 57-60 degrees, getting up to 60 on Monday, and the lake level is still 1 foot down. The black bass bite is excellent on crankbaits, wacky rig worms and spinnerbaits. Blacks can still be caught in 10-20 feet on drop-offs and creek edges. But most blacks are moving into shallow water. Last Saturday, Cody Bryant pulled in 16.04 pounds to win the Arkansas Bass Association tour tournament. Cody hauled in the Big Bass of 5.16 pounds. Brent Ellis took second with 15.11 pounds and John Smarof took 12.85 pounds of bass for third. The big fish are out there. Kentucky bass fishing is excellent. They are being caught on jigs and can be found mixed in with the largemouths. They're moving into shallow water. White bass are excellent still. Best bet is to go with Rooster tails, CC Spoons or deep-diving Bandits and Bombers. They remain scattered west on the edges. Watch the loons and the whites will be there in large quantities. Crappie are good and being caught on crappie minnows and jigs (chartreuse and white with a very light line). They are 20-25 feet deep. Look in the edges of the channel and you will find white bass mixed in with the crappie. There have been lots of 11- to 15-inch crappie caught recently. Still no reports on bream. Catfish are good and are being caught in 25 feet of water. Use stink bait, small bream or chicken livers.
(updated 3-15-2017) Hatchet Jack's (501-758-4948) reported that crappie are excellent. They're in about 8-12 feet of depth. Use pink minnows or white or red jigs. Bass fishing has been excellent as well. Best baits have been buzzbaits, Whopper Ploppers and creature baits.
Palarm Creek
No report.
Sunset Lake
(updated 3-15-2017) Lisa's Bait Shop (501-778-6944) said the lake was recently stocked with catfish and customers have been catching them on chicken livers and worms. Please remember this is a Family and Community Lake, stocked and managed by the AGFC to provide fishing fun and enjoyment for everyone. Daily limits are different from statewide limits for a reason. Know the rules and regulations and abide by them, please.
Bishop Park Ponds
(updated 3-15-2017) Lisa's Bait Shop (501-778-6944) said a few crappie have been caught recently on pink minnows but most of them have been small. Bream were picking up the bite a little before the cold front and were hitting crickets and redworms. Bass fishing has been slow, with minnows catching only a couple for some customers. Catfish have been biting fair at times on chicken livers and nightcrawlers.
Saline River Access in Benton
(updated 3-15-2017) Lisa's Bait Shop (501-778-6944) said fishing in the river has been tough to almost impossible this week due to the rain. The few customers that have fished it this week have provided no reports.
Lake Norrell

(updated 3-15-2017) Lisa's Bait Shop (501-778-6944) said bream fishing has been strange. Some have been caught but they seem to be scattered and slow. Still, crickets and redworms are your best shot. Bass have been hitting fair on minnows, Texas and Carolina rigged plastics and red or orange crankbaits. Catfish have been biting fair on minnows, black salties and nightcrawlers. A few crappie have been biting around some of the docks and deep brush piles.
Tommy L. Sproles Lake Pickthorne
No report.
Lake Winona
(updated 3-15-2017) Lisa's Bait Shop (501-778-6944) said crappie are still biting fair on No. 6 and No. 12 minnows for the few that know where they are. Bass have been biting minnows and various artificial baits. One customer says he'll catch one or two on this and then change to that and catch a couple more. Catfish are biting fair on minnows, nightcrawlers and chicken livers. Bream are confused about the weather, but some have been biting crickets.
Lake Valencia
(updated 3-15-2017) Hatchet Jack's (501-758-4948) reported catfishing is excellent. They prefer chicken hearts or nightcrawlers now.
Lake Willastein
(updated 3-15-2017) Hatchet Jack's (501-758-4948) reported bass are fair, and the best time to catch them is mid-day. Use a Texas rigged trick bait or a buzzbait. Catfishing is fair around the launching ramp. Use nightcrawlers or minnows.
Arkansas River at Morrilton
No report.
Arkansas River (Cadron Pool)
(updated 3-1-2017) Professional angler Cody Kelley, owner of Best in Bass Guide Service (501-733-5282), reported that fishing is great right now. The days slowly getting longer are really starting to help the bite. That extra sunlight is really helping the backwater areas warm, and that is exactly where you will find the fish. Bass are definitely in a solid pre-spawn pattern. Check backwaters that have good depth to them. Good lures to try include jigs and spinnerbaits with very large blades. Look for areas where the fish can get back to the deeper water easily. More crappie are beginning to show up. Look in the deep areas just off the main river where they can escape the current of the river. Many of these deep "scour" holes behind wing dams will hold structure, along with crappie. Go-to colors are still black and chartreuse. Cody says he hasn't been looking for catfish this week, but they should still be in the main river deep holes. Look on the outside turns of the river. Set up 50 yards about the hole and use the current to "walk" your offering back to the big girls. Fishing will only be getting better from here. Check out Cody's new Facebook page by clicking the Best in Bass link above. Tight lines!
Little Maumelle River
(updated 3-15-2017) River Valley Marina (501-517-1250) said water is clear and at a normal level and current. Crappie moved back into deeper water over the weekend. The bite was good on minnows and jigs. Bass were reported good on crankbaits and plastic worms. No report on bream. No report on catfish.
(updated 3-15-2017) Hatchet Jack's (501-758-4948) reported crappie good. Use red or black jigs, or medium minnows. Crappie seem most prevalent around the marina.
Arkansas River (Maumelle Pool)
(updated 3-15-2017) Hatchet Jack's (501-758-4948) reported crappie are fair. Use red or black jigs.
(updated 3-15-2017) Zimmerman's Exxon (501-944-2527) reported that white bass are in Maumelle Creek and the bit is good. Use a white Rooster Tail.
Arkansas River (Little Rock Pool)
(updated 3-15-2017) Vince Miller from Fish 'N' Stuff (501-834-5733) said water was muddy and the surface temperature was 55 degrees. Water level and current was normal. Crappie are good and being caught on in the backwater on blue, red or chartreuse jigs. Bass are good in shallow water on spinnerbaits and jigs. No reports on bream. No reports on catfish.
(updated 3-15-2017) McSwain Sports Center (501-945-2471) said bream were biting well on worms and crickets. Crappie were good on minnows and jigs. Bass were good on spinnerbaits, crankbaits and plastic worms. Catfishing was poor in Clear Lake, but it was rated good near the Terry Lock and Dam. Bream action, though, fell off near the dam. Crappie and bass were good there.
(updated 3-15-2017) Hatchet Jack's (501-758-4948) said at around Murray Lock and Dam, crappie are good on red or black jigs. Catfishing is fair using skipjack or shad. White bass are biting fair on chartreuse twister tails.
(updated 3-15-2017) Zimmerman's Exxon (501-944-2527) reported the water as clear. Bream are good below Murray Dam. The bream are in 10-15 feet of water, with purple and pink/chartreuse jigs and crappie magnets working nicely. Crappie are good on minnows or jigs. Bass fishing is good both on spinnerbaits and crankbaits. Catfishing is good; use skipjack. White bass are biting well on Rooster Tails. Below the Terry Dam, crappie are excellent in 10-15 feet depth. Use white or black and chartreuse jigs. White bass are good; try a 3-inch white grub. Catfishing below the Terry dam is good on skipjack. Bream are fair.
Peckerwood Lake
(updated 3-15-2017) Herman's Landing (870-241-3731) said it was not a good weekend for fishing there. A few crappie were caught. Some catfish were reported biting. That was it for reports.
NORTH ARKANSAS
White River
(updated 3-15-2017) Sportsman's White River Resort (870-453-2424) said the fishing, even though it was cold, was similar to the previous week. Clarity of the river is fair. Trout bite is good, with some good catches reported for brown trout. Rainbows seem to be favoring PowerBait and pink worms.
(updated 3-15-2017) Cotter Trout Dock (870-435-6525) says it looks like winter waited for spring break to occur. They received their first snow of the year on Saturday and have had some pretty cold days this past week. Lots of brave fishers out there, continuing to catch lots of fish even in snow showers. The most consistent catch has been with shrimp and a bright-colored egg. Gold spinners have attracted some attention from the rainbows; the browns are responding to minnows as is typical in the spring. They have been fishing in very low water for a couple of months, but this week they're seeing some pretty big water from Bull Shoals Dam. Be prepared to change your fishing tactics in the middle of the day as the water rises. Worms work very nicely as the water level increases. Happy St. Patrick's Day; stay safe and keep fishing.

(updated 3-15-2017) John Berry of Berry Brothers Guide Service (870-435-2169) said that last week, a couple of rain events combined for about three quarters of an inch in Cotter, along with milder then cold temperatures and heavy winds (to include lake wind advisories). The lake level at Bull Shoals rose 0.3 feet to rest at 7.6 feet below seasonal power pool of 659 feet. This is 43.6 feet below the top of flood pool. Upstream, Table Rock remained steady at 8.2 feet below seasonal power pool and 24.2 feet below the top of flood pool. Beaver Lake rose 0.5 feet to rest at 9.3 feet below seasonal power pool and 18.9 feet below the top of flood pool. On the White, we had significant wadable water with almost no generation. On the White, the bite has been spotty. Some days have been excellent and some poor. The hot spot has been the catch-and-release section at Rim Shoals. The hot flies were olive Woolly Buggers (sizes 8, 10), Y2Ks (sizes 14, 12), prince nymphs (size 14), zebra midges (black with silver wire and silver bead or red with silver wire and silver bead sizes 16, 18), pheasant tails (size 14), ruby midges (size 18), root beer midges (size 18), pink and cerise San Juan worms (size 10), and sowbugs (size 16). Double-fly nymph rigs have been very effective (John's current favorite is a size 14 hare and copper nymph with a size 18 ruby midge suspended below it). Berry says the caddis hatch is their best hatch of the year and it should arrive soon. He says he has already observed a few caddis on the Norfork tailwater and on the White. With the lower lake levels they should have perfect flows to target this hatch. Before the hatch, when the trout are feeding on the surface but you see no insects, use a soft hackle like John's Green Butt or a partridge and orange. When the trout begin to target insects on the surface of the water, switch over to an elk hair caddis. Match your fly to the hatching insect based on size, shape and color.
Berry adds, "Late last week I guided Lynn, a regular client, and two of his buddies. While Lynn is an accomplished angler, John and Mark either had never fly-fished or had little experience. I began the day with a brief casting class. When I am guiding three anglers in the boat, I only have two fishing at a time to limit the tangles due to the close proximity of the fly-fishers. We were fishing at Rim Shoals. The weather was cool, the sky was overcast and the wind was unrelenting. The parking lot was at maximum capacity because, in addition to the guides that fish there regularly, there were several additional guides that generally work the Norfork fishing there. They told me that the Norfork was fishing poorly and they thought the fishing would be better at Rim Shoals.
"In fact, the going was slow, despite having a stellar day here, on the day before. We were fishing a size 16 pheasant tail nymphs tied on a jig hook with a slotted copper bead and a ruby midge as a dropper. We caught few fish in the morning. I talked with many of the other guides as we passed on the river and all said that the bite was slow. I pumped the stomachs of the few fish we caught and noted that they had not been feeding.
About 10:30 a.m., the wind picked up. It was colder to me than was forecast. I was wearing a cotton turtleneck, a down sweater and a rain jacket and I was freezing. I motored over to the ramp and got my rain bibs, a fleece-lined jacket, some wool fingerless gloves and a warmer hat. John was also cold so I loaned him a down vest I had in the boat. We returned to the water and were much more comfortable. We fished until lunch and picked up a precious few more trout.
"Lynn had been letting his buddies do all the fishing for most of the day. He finally decided to fish some. The going was slow and though Mark and John landed several, he had not hooked a trout. All of a sudden I saw his indicator go down and yelled out, "Ho!" He set the hook and immediately felt a good fish. I could tell by the bend in his rod and the way the fish was moving that it was a trophy. It was hugging the bottom like a brown.
"I ran to the front of the boat and pulled my drag chain up on the deck so that there was nothing the fish could get tangled in. Mark pulled in his line and we just sat there and watched Lynn fight the fish. It took run after run and circumnavigated the boat a couple of times. Lynn kept constant pressure on the fish and took his time. After about ten minutes the fish finally gave up and surrendered to the net. One of the guys had videoed the fight.
"When we looked in the net we saw a gorgeous twenty-four-inch brown trout with good girth and gorgeous color. It had spit the hook in the net. Lynn had landed a trophy brown trout on a size eighteen ruby midge. That is not much metal to hold a fish that big and that hot. We posed for a few photos and then carefully released the brown unharmed into the river. It was the only trout Lynn landed that day and was the biggest brown that he had ever landed.
"Sometimes one trout is all you need."
Bull Shoals Lake
As of Wednesday, the Army Corps of Engineers reports the lake's elevation at 651.59 feet msl (normal conservation pool – 659.00 msl).
(updated 3-15-2017) K Dock Marina was scheduled to reopen March 3. So far, no report on catches.
(updated 3-8-2017) Bull Shoals Lake Boat Dock said great fishing at the lake has started early this year. The water temps are staying in the low 50s around the lake. The dogwood trees, redbud trees and marigolds are all blooming now. That usually doesn't happen until mid-April or so. If we don-t get some type of cold snap or snow then things should start soon. We fish year around and you can fish every day. However, the easier fishing is keyed to water temperature. The fish will move up to shallower water to feed and try to get fat before they spawn. With the early spring we are having this is going to happen early it looks like. The lake is still low around 10 feet. The state of Arkansas and southern Missouri is in a moderate drought. All of the lakes are lower than normal for this time of year. Visibility is great. Bass fishing continues to be great and hasn't really slowed up over the winter. There are several patterns working depending on who you talk to. Swimbaits, crankbaits, jigs, Carolina rigged lizard, jerkbaits for the shallow running patterns. A-rigs in deeper water along with drop-shots. Spooning is still working on bright sunny non-windy days. Walleye are in staging for spawn. They are being caught in shallow water on stickbaits on warmer windy nights. We are catching mostly males they are spraying when put in boat. Colder nights they seem to be deeper and not on the bank as much. Crankbaits and jigs are working for the deeper patterns. Some white bass are being brought in. They are finding them way back in the creeks in the warmer colored water. Yes it is early but everything is early this year.
As of Wednesday, the Army Corps of Engineers reports the lake's elevation at 545.23 feet msl (normal conservation pool: September-April – 552.00 msl, April-September – 554.00 msl).
(updated 3-8-2017) Tom Reynolds of STR Outfitters says March's first week of weather keeps pushing their spring up by three weeks for fishing. The trees are in full bloom, the water temperature is climbing up and is now in the mid-50s, and the fish are biting all over the lake. Crappie, bass, stripers and hybrids are being caught very shallow for this time of year. Tom says he has seen schools of stripers in waters less than 15 feet. If you present the right bait, you will catch fish. Right now, stripers are hitting threadfin and gizzard shad. Some days, size does not matter but other days the stripers seem to want the small 3-inch baits. Find the warmest off-color water with bait and you will find feeding stripers. Make sure you're on the water before sunrise as it's an early bite; this will change when the time changes, but for now it's an early rise to be in place to catch the stripers. All these things point to a very early spring. But a cold blast could send the bite back a week, so let's hope for a continuation of this weather. Some brave guys have started fishing for stripers at night with some success, so get your stickbaits ready. The night bite will get in full force if the warm south winds continue.
Tom said he and his son have been doing some pre-fishing looking for active fish for their upcoming trips. Tom has been fishing the north section of the lake up around Fout Marina. There is lots of bait and schooling stripers and hybrids that are feeding early. Tom's son, Sean, has been fishing the Brushy Creek and Big Creek areas and finding numerous schools of stripers. On Friday he took their friend Kyle out looking for stripers. When they shut the boat down they stopped right on a school of stripers. They started getting bites right away and caught five in a very short time, the bite lasted for 45 minutes and then the stripers shut down. They were still in the area but would only mouth the bait. They hooked up with nine stripers but only boated five, yet for that short time they had a lot of action.
(updated 3-8-2017) Lou Gabric at Hummingbird Hideaway Resort said Norfork Lake has entered the early spring bite pattern. Some species are spawning and others are moving out of the deep, cold water to shallower water following the shad. The shad are moving shallower due to the warmer water. Walleye and white bass have started their early spring spawn while other species are feeding very heavily on threadfin shad. The flowering trees have blossomed out and the redbuds are just starting to bloom. Remember the old saying that when the dogwoods are in bloom the crappie are not far behind on their spawn. Well, Lou says, he bets the crappie are not far away from moving into the shoreline. The lake water warmed quickly this year and is still 2-5 degrees warmer than past years. Last year the surface temperature in the morning was around 50 and two years ago it was in the upper 40s. Yesterday our morning surface temperature was 54.5 degrees. As always, the surface temp warms several degrees more during the afternoon with the warm sun. The striped bass bite has been good. They have moved to the shallower water of the major creeks. Lou is finding big schools of fish roaming large flats as well as close to the creek channels. Sunday he was fishing with a friend with live shad. They were in 40 feet of water and a school came under them with fish from 15 feet to 40 feet. All of sudden one pole got buried, then the second, and so forth. They had four big stripers and hybrids hooked at the same time and it was total chaos on Lou's boat. They ended up landing three of the four, with one getting too close to the motor and cutting the line. (That must have been Kyle's 40 pounder, Lou said with a smile). Locations vary, but Lou likes to fish secondary points that have the creek channel swinging in close to the shore. Lou says he has found fish both on the deeper bluff line side, as well as, points on the shallower side. The best bite at this time, for him, has started around 9 a.m. and goes until the early afternoon. Live bait is working great, but spooning has also picked up a few fish. Tolling with swimbaits or Alabama rigs are also working very well. You need to get your baits down to around 20-40 feet deep as the fish are at all levels. Lou has also started to fish after dark when the wind allows him. His first time out for the evening was after he wrote his last fishing report and he landed a couple stripers. He has fished several other times after dark and caught either stripers or hybrids each time. The fish have started to feed after dark, so check the hooks on your suspending stick baits and find a good shallow point with deep water close and give it a try. It is a blast hooking into a large striper when you cannot see anything and everything is by feel. A couple of Hummingbird Hideaway Resort Facebook followers read his last report and headed out after dark and landed a couple really nice fish.
Lou adds that largemouth bass are also starting to move a little closer to the shoreline. He has caught a few in the early morning up tight throwing a jerk bait, but most have been on the short side. He suggests looking at about 15-30 deep off of bluff line points. Some will be suspended, but the bigger ones will be on the bottom. It will not be long until they start moving in with a vengeance and start their pre-spawn feed. Another great spot to fish will be brush piles in 20-30 feet of water. The bass will be hanging around the outsides of the brush watching for those shad that decide to venture away from the brush. Plastics worked along the bottom are working and crank baits are starting to pick up some nice fish. White bass are still back in the creeks and coves finishing up their spawn. Try casting out Rooster Tails or Road Runners up close to the shoreline and retrieve slowly. You will also start to pick up some nice crappie fishing this way. After the majority of white bass finish up spawning, they will start moving out to the flats and then topwater action for whites will start. Lou says he looks forward to this time, as it is a blast. He is seeing a few whites come up early in the morning, but nothing to get real excited about yet. Norfork Lake level rises slowly when power generation stops and drops when the generators are turned back on. Currently minimal generation is occurring and the lake level was at 546.16 for this report. The surface water temperature in the morning has been 53-55 degrees depending on how far back in the creeks you go. The water is stained back in the creeks and the main lake is clear to partly stained.
Norfork Tailwater
(updated 3-15-2017) John Berry of Berry Brothers Guide Service said Norfork Lake rose 0.5 feet to rest at 7 feet below seasonal power pool of 553.75 feet and 33.2 feet below the top of flood pool. On the Norfork, we had less generation with more wadable water. There has been more wadable water on the Norfork but it has fished poorly. Daphnia has been spotted on the upper river and could adversely affect the bite. The most productive flies have been small midge patterns (sizes 18, 20, 22) like ruby midges, root beer midges, zebra midges (black or red with silver wire and silver bead) and soft hackles (sizes 14, 16) like the Green Butt. Egg patterns have also been productive. Double fly nymph rigs have been very effective. Try a small bead-headed nymph (zebra midge, copper John or pheasant tail) suspended 18 inches below a brightly colored San Juan worm (hot fluorescent pink or cerise size 10). There have been reliable hatches of small midges (try a size 24 Adams parachute) and caddis (try a size 18 elk hair caddis). The fishing is better in the morning. John's favorite rig has been a hare and copper nymph with a ruby midge dropper. Dry Run Creek has been very crowded due to spring break. The hot flies have been sowbugs (size 14), Y2Ks (size 12) and various colored San Juan worms (worm brown, red, hot fluorescent pink and cerise size 10). While you are at the creek you should visit the Norfork National Fish Hatchery. It is fascinating. Be sure and remove your waders before entering to prevent the spread of aquatic diseases. Remember that the White and Norfork Rivers and Dry Run Creek are infected with didymo, an invasive alga. Be sure and thoroughly clean and dry your waders (especially the felt soles on wading boots) before using them in any other water. Many manufacturers are now making rubber soled wading boots that are easier to clean and are not as likely to harbor didymo.
Buffalo National River
(updated 3-15-2017) John Berry of Berry Brothers Guide Service in Cotter (870-435-2169) said the Buffalo is navigable. With warm weather, the smallmouths should be more active. Berry's favorite fly is a Clouser minnow. Carefully check the water level before entering the Buffalo River. There are no dams, it has large drainages and is prone to flooding during and following any rain event. The water can rise very quickly.
Crooked Creek
(updated 3-15-2017) John Berry of Berry Brothers Guide Service in Cotter (870-435-2169) said the creek is navigable. With warm weather, the smallmouths should be more active. Berry's favorite fly is a Clouser minnow. Carefully check the water level before entering Crooked Creek. There are no dams, it has large drainages and is prone to flooding during and following any rain event. The water can rise very quickly.
NORTHWEST ARKANSAS
Beaver Lake
As of Wednesday, the Army Corps of Engineers reports the lake's elevation at 1,111.72 feet msl (normal conservation pool – 1,121.00 msl).
(updated 3-15-2017) Southtown Sporting Goods (479-443-7148) said the water is muddy and the level is low. Bream are good on worms and crickets. Crappie are fair. They're around brush piles in 4-8 feet of water; use minnows or jigs. Bass are good; try spinnerbaits, plastic worms or an Alabama rig. Catfish reports were poor.
(updated 3-15-2017) Bailey's Beaver Lake Guide Service (479-366-8664) said the fishing has been hot. Beaver Lake stripers remain in the creek arms and on the feed, with most stripers using 20-60 feet of water. You'll find some using gravel bars, points, humps, treetops and cuts in the bank to corner bait. Fishing free lines and lightly weighted downlines will definitely get you some fish. Water surface temperature is in the low 50s. Check out these hot spots on the mid- and lower sections of the lake: Indian Creek, Lost Bridge North, points 5 and 6, check in 10-60 feet of water for stripers; Rambo Creek Arm, check 10-60 feet of water for stripers; and Shaddox Hollow, check in 20-60 feet of water for stripers as they make they are making their way up the creek arms. In the upper section, check: Highway 12 bridge, look in the main channel as they are making their way up the creek arms, and check Bear Creek; Prairie Creek is hot in 20-50 feet of water; Coose Hollow, check in 20-50 feet of water; Blackburn Creek, check in 20-60 feet of water; Beaver Shores, check in 20-50 feet of water; Monte, check in 20-60 feet of water; Hickory Creek, 40-60 feet of water; War Eagle, 20-60 feet of water; and War Eagle/White River Junction (Point 12), check in 20-60 feet of water. At Horseshoe Bend, white bass are surfacing and walleye are being caught in numbers as well. Walleye can be found scattered still around the lake and are on the feed. Walleye can be found from 10 to 30 feet deep depending on areas you fish. Go with three-way rigging Rapalas in natural colors for clear water or chartreuse/orange and clown colors in areas of stained water. Also try Rapala Tail Dancers, Bagley Rumble B's, Flicker Shad and Bandit 300 Series in colors that include orange and chartreuse. Also might try slow death rigs and spinner rigs on bottom bouncers in orange/chartreuse. Bink Pro Scale 1-ounce jigging spoons in white or white/chartreuse combination and a variety of jigs are also producing walleye.
There continues to be some topwater activity from stripers and white bass. Try trolling small umbrella rigs with white or chartreuse grubs for stained water, or plugs like Rapala's No. 14 Husky Jerk in black back or purple back colors and Smithwick Rogues in similar colors in 5-6-inch model on plane boards with snap weights to get some depth and stagger your presentation. Jerkbaits like flukes, swimbaits and jigs will also produce. Topwaters like 7-inch Redfins, spooks, Pencil Poppers need to be tied on and ready. Fish location is greatly influenced by lake level and current flow; current in the lake from generation will generally position fish on upstream or downstream edges of structure. Check Mike Bailey's website on the link above for the daily lake level and flow data. Live shad as always is the go-to on Beaver Lake when fishing for trophy stripers.
Beaver Tailwater
(updated 3-15-2017) Guide Austin Kennedy (479-244-0039) said fishing the week has been good if you could stand the cold. Trout are being caught on light terminal tackle with various PowerBaits. Spoons, Rapalas and nightcrawlers have produced nicely, too. One or two walleye have been caught each outing, but not in high numbers. Further downstream from Houseman, Small mouths are being caught on soft plastics, U-rigs and drop shots. Crappie are being found around structure in the 20ft range, but have not moved into the shallows. Still, the river is quite low. We need significant rain to bring the lake levels and river levels up to get most boat up into the tailwaters.
(updated 3-15-2017) Beaver Dam Store said that when you're using fly tackle, use a micro jig under strike indicator. PJ's Jig is working well. In your conventional tackle, make sure you're trying Rapala crankbaits, Flicker Shad, worms with white and yellow PowerBait and Colorado and Bouyant spoons for best results there. Good luck, and bring the crew a fish story to tell. The store will have longer hours for the spring-breakers, open daily from 7 a.m. to 5 p.m. March 15-28; after that, the store real return to its Friday through Sunday, 7 a.m. to 5 p.m. schedule until the season warrants full-hours.
Lake Elmdale
(updated 3-15-2017) Lucky Key at Duck Camp Fishing Retreat (479-871-6305) said Tuesday that on most of the past few days at Lake Elmdale, the weather hasn't been fit for man or beast. Lucky even closed early and went to the house a couple of times. For largemouth bass, try using a suspending jerk bait, and fish the length of the dam. Drift with the wind along the Old Road Bed, or drop anchor just off Preachers Point, and use a jig-n-pig in brown and green. On a sunny day, try a chartreuse/white spinnerbait. For crappie, use a small white jig (1/64-ounce) tipped with a white crappie nibble, and fish 5-6 feet deep in front of the flood overflow area at the end of the dam. Use a minnow or jig at 12 feet over the brush piles, just off the deep side of Rock Island. (See the map in the bait shop.) Some nice bluegills have been caught with redworms fished 4-5 feet under a bobber at 12 foot, and deeper water. A cricket will work, too. Catfish can be caught on jug lines using cut and stressed perch with lines 15 feet deep in water 16 feet and deeper. A minnow might work, but stressed perch is what they are smelling for this time of year. Lucky said he's happy to explain the cut/stress issues and why perch seined from other water doesn't work. Lucky sometimes has to close the bait shop early on some days for issues besides the weather – mainly health issues dealing with his back – so anglers, please take that into account if the closed sign is on the door and the neon sign is off and don't knock on his home door, he asks. "Thank you for your business, and good luck on your next visit to Lake Elmdale," Lucky says. Regular bait shop hours are Friday through Monday, 7 a.m. to 7 p.m.
Kings River
No report.
Lake Fayetteville
(updated 3-15-2017) Lake Fayetteville Boat Dock (479-444-3476) reported the water was a little cloudy and surface temperature was 48 degrees on Tuesday. Bream were reported good on jigs. Crappie were good and were biting minnows and jigs. Bass are good on spinnerbaits and plastic worms. No reports on catfish.
Lake Sequoyah
(updated 3-15-2017) Lake Sequoyah Boat Dock (479-444-3475) reported water conditions as muddy with temperature about 53 degrees and the water level high. Catfish were good on chicken livers and shad. No reports were available on bream, crappie or bass, however.
NORTHEAST ARKANSAS
Lake Poinsett
(updated 3-15-2017) Seth Boone at Lake Poinsett State Park said Lake Poinsett was slowed a little by snow and cold, but he did hear a few good reports about crappie before the storm. They were biting well suspended in the deep water. Bass were slow last weekend, as were bream and catfish. That being said, the park is getting ready for a big year. They recently stocked up on rice slicks, large minnows, rosy reds, regular minnows and goldfish. This should be a great fishing season!
Crown Lake
(updated 3-15-2017) Boxhound Marina (870-670-4496) said water level is normal and the water is clear. Surface temperature was 54 degrees. The fishing has been slow the past week. Crappie are fair and have moved deep. Use minnows or jigs. No reports on bream, bass or catfish.
Lake Frierson
(updated 3-15-2017) Lake Frierson State Park had no report.
Spring River
(updated 3-8-2017) Mark Crawford with springriverfliesandguides.com (870-955-8300) said water levels are running at 305 cfs at the spring and water clarity has been mostly clear. The river has been low for easier wading, but this is the rainy season and things could change overnight. With temperatures up and down, some days are really good catching and some are tough fishing. Hatches have been high with everything from tan caddis to mayflies to black caddis. Plenty of bugs. Nymphs, Y2Ks and olive Woollies have been working well. Hot pink Trout Magnets will get a hit on even the toughest days. Chartreuse and white have also been working well. It's a great time to be on the river!
(updated 3-1-2017) John Berry of Berry Brothers Guide Service in Cotter (870-435-2169) said the Spring River is fishing well. This is a great place to wade fish when they are running water on the White and Norfork Rivers. Canoe season is over and there are fewer boats on the river. Be sure to wear cleated boots and carry a wading staff. There is a lot of bedrock that can get very slick. The hot flies have been olive woolly buggers with a bit of flash (size 10), cerise and hot pink San Juan worms (size 10) and Y2Ks (size 10).
White River
(updated 3-15-2017) Triangle Sports (870-793-7122) reported that do the snow over the weekend, there were no reports. Everyone was just trying to stay warm, they said.
SOUTHEAST ARKANSAS
Arkansas River at Pine Bluff
(updated 3-15-2017) The University of Arkansas at Pine Bluff Bass Team had no report.
Cane Creek Lake
(updated 3-8-2017) Jennifer Albertson at Cane Creek State Park said the mornings are chilly, and the afternoons are sunny and beautiful there. Fishing is picking up for the season. Catfish are good, and biting on chicken livers and redworms. Crappie are fair and biting on shiners. The park bait shop is back to regular hours on weekends; check out the park's selection of live and artificial bait, seven days a week from 8 a.m.-5 p.m.
Lake Chicot
(updated 3-15-2017) Brandy Oliver at Lake Chicot State Park (870-265-9705) said bass and crappie are biting on chartreuse and black. Catfish are biting on nightcrawlers. Bream aren't really biting because of the cold. Due the rain, all the fishing has been slower.
Lake Monticello
No report.
SOUTHWEST ARKANSAS
Millwood Lake
As of Wednesday, the Army Corps of Engineers reports the lake's elevation at 259.78 feet msl (normal conservation pool – 259.20 msl).
(updated 3-15-2017) Mike Siefert at Millwood Lake Guide Service said lake level as of Monday (March 13) was about 12 inches above normal conservation pool and rising. There is current in Little River, with the gates releasing around 5,000 cfs as of Monday. Water temps rose over the past week, and on Monday were ranging 58-62 degrees. There were good numbers of fishermen on the lake over the past week. Largemouth bass staging for pre-spawn. White Bass are still stacked up Little River. Crappie staging. As of Monday the tailwater level was 234.0 feet msl. Be advised there are new no-wake river buoys at White Cliffs Boat Ramp and the no-wake zone extends from the north end of the park to south end of the park in Little River. Clarity and visibility stained and muddy this week, due to high wind, thunderstorms, and incoming fresh water from the Tri-Lakes. As of Monday on main lake structure away from current, clarity and visibility ranged 2-3 inches. Little River's visibility ranges 3-5 inches depending on location and current. The oxbow's clarity is ranging 10-15 inches depth of visibility depending on location. Clarity and visibility can change dramatically on Millwood in just a few hours with high winds, rain, or thunderstorms.
Siefert says some bass beds are being seen in spawning areas. They continue to catching male and female largemouth bass from 2 to around 7 pounds each, running in and out of bedding areas preparing to build beds. Big 7-inch bulky lizards, brush hogs, 10-inch worms, Rat-L-Traps, slow moving crankbaits and chatterbaits have been taking staging bass on points, ditches and in creek channels. The key continues to be finding water temps that are 5-8 degrees warmer than surrounding areas, and clearer water with the current conditions. The pre-spawn females are moving into spawning areas, and several in the 5-9 pound range full of eggs continue to be caught and released over the past week. The clearest water you can find away from river flow has been the best location for big females over the past several weeks. The further from Little River current and heavy stain water, and in deeper sections of creeks over the past couple weeks, will produce best largemouths. Rouges and Cordell Redfins continue taking nice size bass from 2-4 pounds each in south Hickory pockets of the area of main lake by the golf course and the Millwood Lake State Park. Chatterbaits in black/blue/purple and spring bream colors are taking nice 4-6 pound largemouth females full of eggs along creeks and ditches. War Eagle spinnerbaits in Cole Slaw, Spot Remover and white/chartreuse continue taking nice keeper-size largemouths in Mud Lake, Horseshoe and McGuire oxbows upriver. Squarebill crankbaits in crawfish patterns, Echo 1.75's and large Rat-L-Traps continue working slow and deflecting off stumps and timber, deeper in the creek channels. Best colors over the past few weeks continue to be the Spring Bream, Toledo Gold, Red Chrome on sunny days, around 5-10 feet depth ditches and flats near creek channel swings, deflecting off stumps in the clearest water you can locate away from muddy water or Little River current. Bass Assassin Shads continue catching nice and fat pre-spawn largemouths and best colors for the past couple weeks include Houdini Salt & Pepper, Grey Ghost and Gold Pepper Shiner colors along old vegetation lines, dead lily pad stems and buckbrush. Jingle Bugs are working in these same areas, and best colors over the past week or two have been the Okeechobee Craw, Black/Red Glitter and Red Shad/Green Glitter.
Siefert also said that white bass continue moving upriver between McGuire Lake and Patterson Shoals in a pre-spawn condition. Points all along north end of Little River are holding large schools of white bass and hybrids, and areas all along Little River were giving up a great number of whites and hybrids over the past couple weeks on shad colored Bomber and XCalibur crankbaits, chrome/blue or Smokey Joe Rat-L-Traps. Whites continue their annual migration to spawning grounds. Little Georges, Rocket Shads, Little Cleos, Spin Traps and Blakemore Road Runners were all catching these whites over the past week, but the Little River continues to be heavy stain to muddy over the past week with all the rain and fresh water coming into the lake. The Crappie are moving in right with the largemouths. Good locations over the past week were around cypress trees in 5-8 feet of depth with a white/blue or white/chartreuse jig, and a flat-tail grub in smoke with a chartreuse tip. With the current in Little River, blues cats and channel cats continue biting well; use cut shad, chicken livers, dog food chunks or Punch baits.
To volunteer for one of the cleanup dates, or for ramp and U.S. Army Corps of Engineers information, contact Tony Porter at the Millwood Tri-Lakes Project Office. To receive project updates, daily lake level information updates, gate release flows, tailwater information, park and campground information, or volunteer, Corps' toll-free Millwood Project information line at 888-697-9830 or the Corps' main number, 855-444-6777, to verify another Corp of Engineers project is open.
As of Wednesday, the Army Corps of Engineers reports the lake's elevation was 542.02 feet msl (Flood pool – 548.00 msl).
(updated 3-15-2017) Darryl Morris at Family Fishing Trips said crappie are staging and moving into the shallows for spawn.
Lake Greeson Tailwater (Little Missouri River)

Visit www.littlemissouriflyfishing.com for a daily updated on fishing conditions.
Cossatot River

Cossatot River State Park had no report this week.
DeGray Lake

As of Wednesday, the Army Corps of Engineers reports the lake's elevation was 407.87 feet msl (flood pool – 408.00 msl).
(updated 3-15-2017) Local angler George Graves said surface water temperature is in the mid-50s and the lake is clear up to Point 14 and a slightly stained farther up. Overall fishing really slowed due to the cold windy weather. The cold weather has slowed bass fishing, with only a few fish reported. The fish have dropped to deeper water off secondary points in major coves and creeks. Try a Texas or Carolina rigged worm or lizard fished slowly off the deep side of the point. Green pumpkin and red shad are reliable colors. Also for bigger fish, a jig with a critter trailer is hard to beat. Look for fish in the upper end between Shouse Ford and Cox Cove. Like bass, crappie fishing has slowed with the cold weather. The fish were starting to move up to the shallow cover, but have now retreated to the deep cover at 20-25 feet. Fish like you would in the winter, which means vertically. Try a 2-inch tube in black /chartreuse or red/chartreuse on a 1/16-ounce jig head. Look for attractors between Shouse Ford and Point Cedar. Most hybrids are now upriver making their false spawning run; however, no reports of any catches. Some white bass showing on the main river just above Point Cedar. Look for fish on the sonar and drop a white jigging spoon.
(updated 3-15-2017) Darryl Morris at Family Fishing Trips said crappie are staging and moving into the shallows for spawn.
(updated 3-15-2017) Trader Bills said brush is being put out by the AGFC and the Corps of Engineers. Barges up in Brushy Creek, the chain saws are going, they're getting out at 8 a.m. to put brush out there and up around Iron Mountain. Now is your chance to see where they are putting out a lot of the brush. They are making structure right in front of the spawn, and the fish right after the hatch will have to have somewhere to go. That will be good habitat for them.
SOUTH-CENTRAL ARKANSAS
Felsenthal
No report.
Lake Columbia
No report.

Mike Knoedl Tri-County Lake
No report.
Moro Bay
Moro Bay State Park, at the junction of the Ouachita River, Raymond Lake and Moro Bay, had no report this week.
White Oak Lake
(updated 3-15-2017) White Oak Lake State Park (870-685-2748) had no report.
WEST-CENTRAL ARKANSAS
Lake Atkins

(updated 3-1-2017) Lucky Landing (479-641-7615) said water is clear and the surface temperature was 56-57 degrees. Water is lower than normal but not bad. Anglers are catching a lot of small bream. Crappie are good on minnows and jigs, but you'll find better success off the bank. Bass are good and crankbaits are working best. You'll find the bass out in the lake. No report on catfish.
Lake Bailey (Petit Jean State Park)
No report.
Lake Catherine

For weekly flow releases from Carpenter Dam, visit www.entergy.com/hydro.
(updated 3-15-2017) Shane Goodner, owner of Catch'em All Guide Service, reports that water temperature below Carpenter Dam is 48 degrees with clear conditions in the tailrace. The 5-foot winter drawdown has ended with Lake Catherine brought back to normal summertime pool as of Monday (March 13). Rainbow trout are in the tailrace from the dam to the bridge with thousands of fish thriving in the nutrient rich water. Thousands more trout are scheduled to be stocked this month, which will make fishing opportunities excellent for area anglers. Fly-fishermen are handicapped somewhat with the lake at normal levels but still able to access areas that hold good numbers of trout and are recording limits by casting micro-jigs in black or white colors with a strike indicator. Current is key so targeting the head and rear sections of shoals has produced the best results. Olive-colored Woolly Buggers and black midges have also taken trout in the 15-inch class. Egg patterns in yellow or white will often draw strikes from finicky fish that refuse other offerings. Bank fisherman have done well on live-bait presentations such as wax and meal worms, redworms, crickets and small live minnows. Whether fished just off the bottom or under a bobber, these baits are proven trout killers in slack or moving water situations. Spin fishermen have accounted for the largest trout caught in the last several weeks by using Super Dupers and Rooster Tails in white or silver colors. These lures imitate a dying shad and often attract larger rainbows that feed on the baitfish drawn through the turbines from Lake Hamilton. Trolling shallow running crankbaits against the current below the bridge is highly effective during periods of current flow. Shad killed from the freezing temperatures provide large amounts of food for all the tailrace gamefish and should be imitated by anglers serious about catching numbers of rainbow trout. No reports of striper or white bass caught near the dam. This can change overnight as more and more trout are stocked in the area. Shad are plentiful during freezing temperatures and will attract numbers of bass in any weather or current flow. The walleye spawn is in full swing with both male and females present in the tailrace from the bridge to the shoal areas. The larger females have migrated into the area ready to spawn and protect the nests. These fish can be found by trolling shallow running crankbaits in the main channel during periods of generation. Carolina rigs tipped with live minnows or nightcrawlers will also work well in current or slack water. The majority of fish will be in the 3- to 5-pound range. Crappie will be making their way into the tailrace in the next week to 10 days for the spawn. Live minnows and small jigs are key when targeting these finicky eaters. Rock structure and sand bars are prime locations to fish as these fish tend to spook easily at any noise from motorboats. Current flow keeps crappie near the bank out of the main flow. Trolling motors are highly recommended when approaching areas that hold spawning fish.
Lake Dardanelle

(updated 3-15-2017) Charles Morrison at Classic Catch Guide Service (479-647-9945) had no report.
Lake Hamilton
(updated 3-1-2017) Darryl Morris at Family Fishing Trips said that due to the early spring-like weather, the water has warmed considerably. All bass and crappie will quickly move up to spawn. Shallow to mid-range water depth should be your strike zone.
(updated 3-15-2017) Phillip Kastner of Trader Bill's Outdoor Sports said on US97 that no two ways about it, the cold weather through the middle of this week will slow things down a bit. On Tuesday they were scheduled for three more nights of 30-degree temperatures. But then you see 70 for a high on Saturday and Sunday almost 80, and the long-range forecast shows 70s with lows at night in the 50s. Who knows what's going to happen April? But the next week might be one heckuva week for spring break or calling in sick. Next week you're liable to see fish spawning on the banks. Sunday, with a low of 55-60 at night, that's going to be the sign that it will be a heckuva day to be out Monday or Tuesday. Saturday, that won't be the big recovery day from the cold. It will be Sunday night with the 55-degree low. Unless something stupid happens with the weather before then, Monday and Tuesday are when water temperatures will jump. It's not the high of 80 in the day, it's the low of 55 at night that is really what will drive surface temperatures up. For fishing now, though, a half-ounce jig has to be right up there with one of the best tools you can use. I'd have a hard time putting that down all day long. You can throw a 10-foot deep running crankbait as a lot of fish are suspended in the timber right now. Lots of guys are catching fish on Carolina rigs in the guts of pockets. The trick to that is finding pockets that are inundated with slime moss. You go anywhere east of Buckville and it's hard to fish pockets with C-rigs with all that moss ganged up. Got a good report Monday morning, people catching by throwing a crankbait and a jig, but Monday afternoon everybody pretty much got blown off the lake, the wind was heavy right down the middle of the lake and there were white caps on the banks. Start your mornings simple the next few days with a crankbait.
(updated 3-15-2017) Bill's Bait Shop (479-637-7419) had no report this week.
Lake Nimrod

As of Wednesday, the Army Corps of Engineers reports the lake's elevation was 345.78 feet msl (flood pool – 342.00 msl).
(updated 3-15-2017) Andrews Bait Shop and More (479-272-4025) reported water being fair and a surface temperature of 55 degrees. The water level is normal. Bream have been poor to fair. Anglers are finding crappie good, with the crappie in 3-5 feet or water. Minnows and black jigs were working best. No reports on bass, catfish or white bass.
As of Wednesday, the Army Corps of Engineers reports the lake's elevation was 571.88 feet msl (flood pool – 578.00 msl).
(updated 3-8-2017) David Draper of the Lake Ouachita Striped Bass Association said he had the opportunity to fish Lake Ouachita on Saturday and it was a good day. He and his party fished the east side of the lake and caught three striper and some large mouth. The water is still a little cloudy and has some floating sticks, and with more rain on the way, David doesn't see it getting better. The surface temp is 57 degrees and probably climbing. Brood minnows seemed to be the choice bait Saturday anywhere from 15 to 20 feet deep, didn't matter how deep of water they were in. Spring is coming and the lake is already seeing lots of boat traffic. Be safe out there and don't forget to adjust your clocks Saturday night.
(updated 3-1-2017)Todd Gadberry at Mountain Harbor Resort and Spa (870-867-2191/800-832-2276 out of state) said black bass are still very good and being caught with chatterbaits fished 6-10 feet deep or lipless crankbaits, crawfish color, in major creek basins. Walleye are fair and being caught up the rivers during their spawning run. Stripers are very good on Bama rigs. The west end of the lake is the best area for these fish. They are making their spawning run up the rivers. No report on bream. Crappie are still very good. Try using minnows or crappie jigs at depths around 15-20 feet deep fished near brush. No report on catfish. Water temperature is ranging 50-55 degrees. The water is clearing.
(updated 3-8-2017) Phillip Kastner of Trader Bill's Outdoor Sports said on US97 radio spring fishing in Arkansas always a battle. "We need the rain, in case you haven't heard we're in a drought situation for this time of the year. Lake Ouachita is very low. It needs a big influx of water before the spawn starts. We need a couple of more rainfalls like we had, stick about 5 feet of water into Ouachita. It's a long ways away from the buckbrush right now. His advice for Ouachita was like it was for Hamilton: There are a lot of fish in these pockets right now. Take a 1/2-ounce Rat-L-Trap and a floating worm. You can also catch them on a jighead worm. You can just about catch them on anything you want to throw. You can literally throw the tackle box on the deck, grab something, and it'll work.

Blue Mountain Lake

As of Wednesday, the Army Corps of Engineers reports the lake's elevation was 385.74 feet msl (flood pool – 384.00 msl).
No reports.
EAST ARKANSAS
Bear Creek Lake
(updated 3-15-2017) Natalie Faughn, ranger at Mississippi River State Park (870-295-4040), said Bear Creek has been slow this week. Some reports of bass biting, but no major hits with this cold weather. Had some decent reports when weather was warmer, so hopefully it will pick up soon.
Maddox Bay
(updated 3-15-2017) Maddox Bay Landing (870-462-8317) has closed.
Storm Creek Lake
(updated 3-15-2017) Mississippi River State Park (870-295-4040) said Storm Creek have been slow this week. There were reports of light bass activity, but no major hits with the onset of cold weather. Some decent reports came in before the cold spell, so hopefully it will pick up soon.
---
Recent News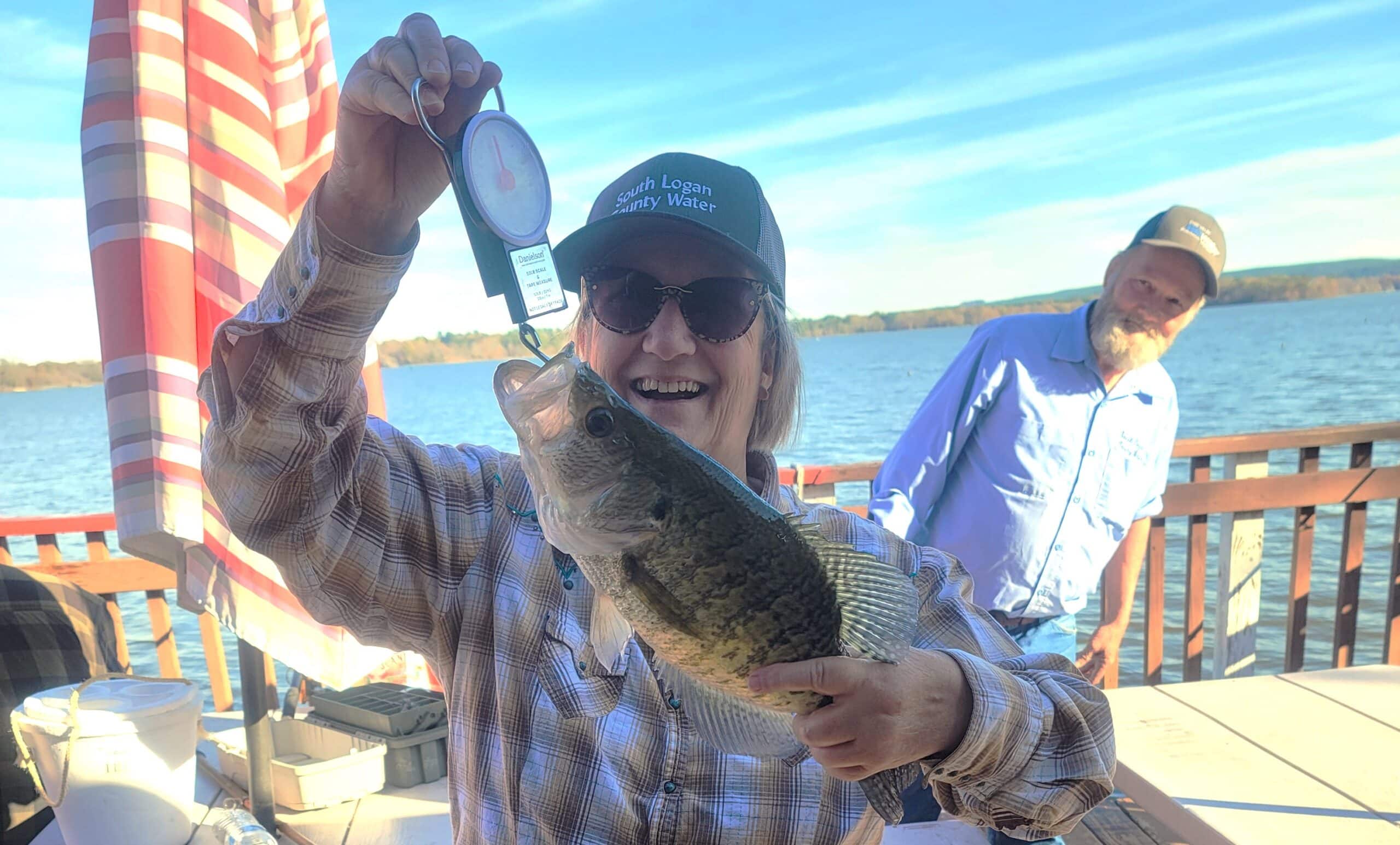 Subscribe to Our Weekly Newsletter E-mails
Don't miss another issue. Sign up now to receive the AGFC Wildlife Weekly Newsletter in your mailbox every Wednesday afternoon (Waterfowl Reports are published weekly during waterfowl season and periodically outside the season). Fishing Reports arrive on Thursdays. Fill in the following fields and hit submit. Thanks, and welcome!